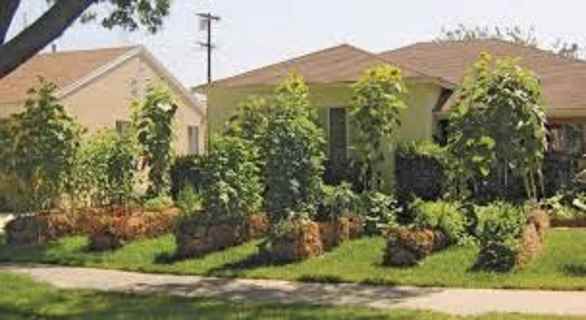 What is Straw Bale Gardening?
Straw Bale Gardening is a simply a different type of container gardening.  The main difference is that the container is actually the straw bale itself, held together with two or three strings, the outside crust of the bale serves as the container.  Once the straw inside the bale begins to decompose, the straw becomes "conditioned" and ready to plant.  The step by step process of conditioning creates an extraordinarily productive, warm, moist and nutrient rich rooting environment for young seedlings. 
Getting the straw bales conditioned is an essential part of the process, and should be started approximately two weeks prior to the target planting date in your area.  This planting date varies greatly depending on where you are in the world but this gardening technique works anywhere in the world for seasonal spring/summer or for winter gardens.
Written by Joel Karsten
Why Straw Bale Gardening?
Growing a successful vegetable garden is difficult enough if you have terrific soil to plant your garden into, but with poor soils it can be virtually impossible.  Straw Bale Gardening allows anyone, even those with the worst soil conditions, to grow a terrific garden that is productive and much less labor intensive.  For anyone with difficulties bending over or doing the heavy work that is usually involved in turning the soil and digging to plant and harvest crops, the raised height of the Straw Bale Garden makes those chores obsolete.  Harvesting potatoes means simply knocking over the bale at the end of the season and picking them up, no digging required.   Weeding will also become a thing of the past, there are no weeds in a Straw Bale Garden.  Stop spending money buying containers, building raised beds, and buying special planting mixes.  Minimal maintenance resulting in maximum production, through Straw Bale Gardening.  It will completely change everything you thought you already knew about gardening.  Try this method and I assure you that soon you will understand why this is the perfect way to grow a vegetable garden.
Can I do this where I live?
The short answer here is absolutely yes.  This method of gardening works very well from areas inside the Arctic Circle, to the heat of the Caribbean.  If you can find bales of straw, or similar bales of tightly compressed organic material, you can garden this way.   Simply replacing existing soil with a "container" filled with beautiful "conditioned" compost as your growing media.  From airid desert regions to the rainiest places in the world, if you have access to sunlight and water then this method of growing will work.  No special tools are required, and no knowledge of gardening is really required to be successful.  The elimination of many of the most common problems associated with vegetable gardening, makes this method great for beginning gardeners, organic growers, or those experienced gardeners that are just tired of all the hard work.
Old-time gardeners were ahead of their time! Their ideas for wildflower gardens, children's gardens, organic pest controls, decorating with houseplants, healing with herbs, and more are at the forefront of modern gardening trends. Take a look back to the future of gardening with this incredible collection of gardening advice from successful 17th-, 18th-, 19th-, and early 20th-century gardeners.
Early gardeners knew what they were doing–they had to, since they depended on their plants for food, medicine, home decorations, and recreation! Whether you're growing vegetables, flowers, herbs, fruits, trees, shrubs, wildflowers, houseplants, or lawn grass, these old-time tips will help you get the most out of your plantings. Do you want a lusher lawn? How about more beautiful flowerbeds or hints for making your yard look bigger? You'll find all that and more in Old Time Wisdom.
Old-Time Wisdom" boxes present early gardeners' best planting notions.
* Tried-and-true recipes from early kitchens will tickle your tastebuds.
* "Strange but True" boxes reveal weird, wacky, and wonderful gardening techniques.
* A source list makes it easy to locate wonderful old-time plants.
* Authentic old-time illustrations take you back to a time when garden tips were on everyone's lips.
* A "Recommended Reading" list guides you to more great ideas from the past.
Who should plant a Straw Bale Garden?
Can't do heavy lifting?  If you are less capable or less interested in doing the heavy work of traditional gardening, such as tilling the soil, constant weeding, unending insect battles and persistent disease spraying, Straw Bale Gardening virtually eliminates these challenges.
Can't bend over?  If you have a physical limitation or handicap that restricts you from getting down on the ground, you will appreciate the easier access to the higher surface of a straw bale, which eliminates the bending to plant and harvest.
Poor soil or limited space?  If your have a low soil quality, or if you have limited space that you can devote to a garden, you will love Straw Bale Gardening with its low cost, flexibility in garden placement, and great performance of the straw once it's properly conditioned.
Interested in broadening your gardening horizons?  If you are a seasoned gardener looking for a fun new method, you will be amazed at the results!
Using many of the tips and tricks Joel offers in his classes and the written material he offers as a guide to new straw bale gardeners, you are guaranteed to be successful with your first straw bale garden experience.
How can I learn more?
Joel started teaching "Straw Bale Gardening" as a community education class in the spring of 2008, and has become a popular instructor for many School Districts around the country, teaching this new style of gardening in a classroom settings at garden shows and seminars.   See the STORE tab to purchase the book.
And click on the banner below to find out how our ancestors survived crisis and to learn their tricks!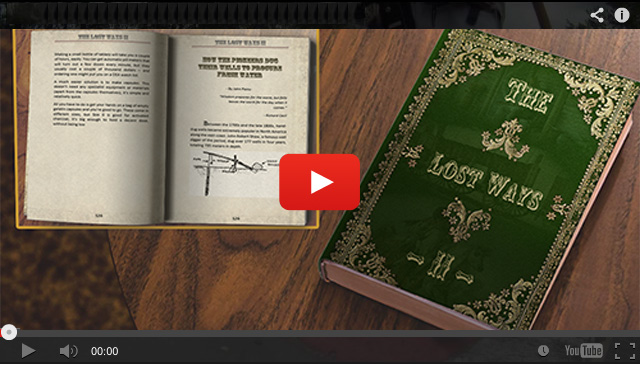 Books can be your best pre-collapse investment.
Old Time Wisdom ( Timeless Bits of Wisdom on How to Grow Everything Organically, from the Good Old Days When Everyone Did  you can prepare yourself for war by moving to the countryside and building a farm, but you must take guns with you, as the hordes of starving will be roaming. Also, even though the elite will have their safe havens and specialist shelters, they must be just as careful during the war as the ordinary civilians, because their shelters can still be compromised.")
The Lost Ways (Learn the long forgotten secrets that helped our forefathers survive famines,wars,economic crisis and anything else life threw at them)
LOST WAYS 2 ( Word of the day: Prepare! And do it the old fashion way, like our fore-fathers did it and succeed long before us, because what lies ahead of us will require all the help we can get. Watch this video and learn the 3 skills that ensured our ancestors survival in hard times of famine and war.)