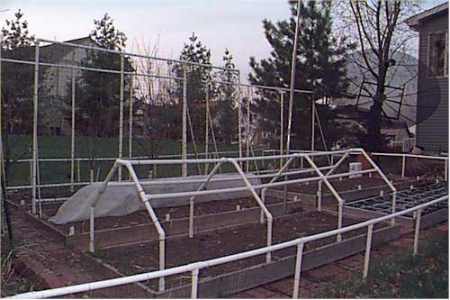 Grow and Store Your Own Food
One of the first steps that you can take to become self-sufficient is to start a vegetable garden. In doing so, you will not only practice self-sufficiency, but you will also eat healthier. The key is to start small. Don't overwhelm yourself by planting a huge garden. There's a learning curve here, so don't try to do everything in one year. Take your time with it and get a good understanding of what it takes to grow a vegetable garden. Here's a few ideas to get you started.
1. Start by using a very small area to grow your garden. Four feet by twelve feet would be sufficient. Use some untreated lumber or cinder blocks to wall off an area. If your soil is already rich and fertile, go ahead and fill this "box" with good soil. If you do not have good soil, obtain a rich humus soil from a local source or buy top soil by the bag, along with some peat moss and some composted manure. (Be careful where you get your local soil, sometimes the soil isn't that good or it may contain weed seeds. Bagged products, at least in our neck of the woods is the best with very little clay.) You may also want to pick up Mel Bartholomew's book on Square Foot Gardening. His book will give you all of the details of how you can grow a lot of vegetables in small square foot sections.
Word of the day: Prepare! And do it the old fashion way, like our fore-fathers did it and succeed long before us, because what lies ahead of us will require all the help we can get. Watch this video and learn the 3 skills that ensured our ancestors survival in hard times of  famine and war.
2. Choose some vegetables that are easy to grow, store well and that you like to eat. Some suggestions are varieties of dried bean, green bean, onion, broccoli, cauliflower, sugar snap peas, and carrots. You could also try your hand at plum tomatoes, although you will need to learn how to can them. Dried beans are about the easiest to store. In most cases, you can leave them dry right on the plant and then harvest them at the end of the season. Onions are easy too. Green beans, broccoli, cauliflower and sugar snap peas can be blanched and frozen in freezer bags. Carrots can stay in the ground until early winter. Freezing vegetables is not the ideal way of storing food due to the reliance of a powered (electric or gas) freezer, but it's an easy way to get started.
Remember this is your first year at this. You probably won't have a whole lot to store at the end of the year, but you will get a good understanding of what it takes to store your own food. If your interested in a more advanced approach read on.
4. For those of you who have a larger garden area, there's quite a bit more that you can do. If you have the space, a larger vegetable garden can greatly reduce the need for outside resources for your food source. But be aware that there will always be crop failures and other unforeseen things that might effect your ability to store food. And speaking of storing food, the best option for storing most of this food is a root cellar.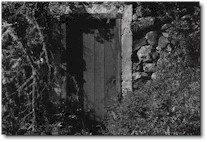 A root cellar can be built directly into the ground or it could be a cool damp area set aside in a basement. Either way a root cellar is an excellent way to store food without the use of electricity or other outside resources. Root vegetables such as carrots, potatoes,turnips, beets, parsnips and celeriac can be stored for a number of months in a root cellar. Squash does quite well in a root cellar as well as apples, oranges and grapes. And if you are into canning, this is a great place to store all of your canned goods too. Just be sure to rodent proof it, so the critters don't get to your food before you do.
5. A food dehydrator is also a good way of preserving your vegetables without leaching out any of the nutrients. Food dehydrators are great for most vegetables and fruits as well. There's quite a few good commercial dehydrators available on the market, but you might want to build your own. There are quite a few good plans available for solar dehydrators. With a little ingenuity, you can dry most of your vegetables using a home built dehydrator and a few days of sun. Using a solar dehydrator is a great way to become more self-sufficient without the need of any outside resources.(source)
Survival MD (Best Post Collapse First Aid Survival Guide Ever)
Backyard Innovator (A Self Sustaining Source Of Fresh Meat,Vegetables And Clean Drinking Water)
Blackout USA (EMP survival and preparedness)
Conquering the coming collapse (Financial advice and preparedness )
Liberty Generator (Build and make your own energy source)
Backyard Liberty (Easy and cheap DIY Aquaponic system to grow your organic and living food bank)
Bullet Proof Home (A Prepper's Guide in Safeguarding a Home )
Family Self Defense (Best Self Defense Strategies For You And Your Family)
Sold Out After Crisis (Best 37 Items To Hoard For A Long Term Crisis)
Survive The End Days (Biggest Cover Up Of Our President)
Drought USA(Discover The Amazing Device That Turns Air Into Water)