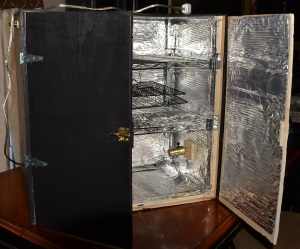 How to Build a Food Dehydrator
Next to bacon, beef jerky has got to be the best thing god has given us the ability to make and eat. The problem is that we all know we need protein and meat in our long term food storage plans, but I can't seem to keep any beef jerky around for longer than a week. But I think I found the solution, make my own, and make so much that we get tired of eating it…that's a win win situation right?
After researching the different models of store bought food dehydrators and finding that the cost of some of the better ones exceeds $400 I began to research how to build my own food dehydrator for less than $50. I found quite a few methods ranging from using a storage bin to using a cardboard box and some tin foil to full out food dehydrator building plans that included a heater a fan and all the bells and whistles you would get in a store bought dehydrator.

Because my goal was to make this a cheaply as possible, but still have a final product that will last over time I decided to take the basic principles of food dehydration and combine it with the more complex plans and make a food dehydrator for as little as possible using stuff I had laying around the house.
The average cost of 1lb of beef jerky is about $30. But you can buy 4 1lb flank steaks for that price and make your own.  So by having your own food dehydrator you can cut your cost by 75%.
You can dehydrate all sorts of other thinks like apples, bananas and other fruits, make trail mix which is a great way to get needed calories without all the added weight in a bug out bag. I wonder how a dehydrated doughnut tastes?
I made this video that walks through the process of what I did and the supplies I used. Keep in mind, the food dehydrator you build can be a simple or as complex as you like. And your cost will vary depending on what you have laying around your house. This one cost about $50.
In this video:
I explain the dimensions and spacing.

I explain the building process

I explain the supplies needed.

I explain the doors, hinges and what screws to use.

I explain light install and venting process.
Other useful resources: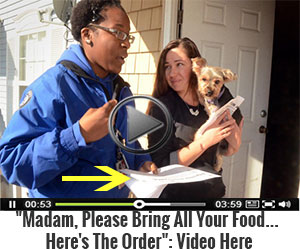 Survival MD (Best Post Collapse First Aid Survival Guide Ever)
Backyard Innovator (A Self Sustaining Source Of Fresh Meat,Vegetables And Clean Drinking Water)
Blackout USA (EMP survival and preparedness)
Conquering the coming collapse (Financial advice and preparedness )
Liberty Generator (Build and make your own energy source)
Backyard Liberty (Easy and cheap DIY Aquaponic system to grow your organic and living food bank)
Bullet Proof Home (A Prepper's Guide in Safeguarding a Home )
Family Self Defense (Best Self Defense Strategies For You And Your Family)
Sold Out After Crisis (Best 37 Items To Hoard For A Long Term Crisis)
SOURCE : survivalistprepper.net
About Dale
Survival and being prepared should not only be a passion, it should be a lifestyle. The definition of a prepper is "An individual or group that prepares or makes preparations in advance of, or prior to, any change in normal circumstances, without substantial resources from outside sources" Like the Government, police etc.
I don't believe that the end of the world will be the "end of the world" I believe it will be the end of the world as we know it now.