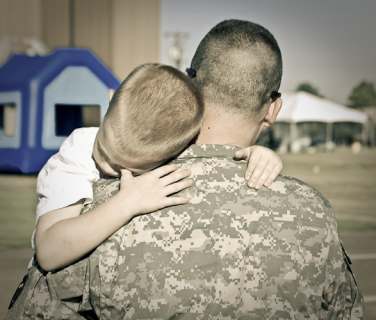 Popular picture of "true survivalist" can often fool you down if you are easily get under the influence of stereotypes.
So for example you gonna see true survivalist with his favorite rifle standing while world is going to hell behind him, and he is tough. He has rifle and lots of ammo.
It is good picture, but rarely you are gonna see picture of that true survivalist with rifle in one hand, and 1 year old baby with bad case of diarrhea and vomiting in other hand.
It is not nice picture, but it is realistic. Personally I did not have kids during my SHTF time, but I saw how relatives had problems with kids and babies. And more important is that I have kids now, so I want to be prepared for some stuff.
I get question what to do about kids on regular basis and I speak in detail about this in my course and also wrote about how to help children with traumatic experiences.
When SHTF all you people who have small kids can count on multiplying all of your problems with kids so it is good to be prepared to some of those. Having kids during SHTF can be burden but at same time it is not, because if you have kids it becomes your reason for everything. Some people might fight harder or see more sense in staying alive to protect family than just for themselves. In my opinion there is no "right way" here and we still have to live in present moment and not in future that looks dark but we do not know what and when things will turn really ugly.

All this is also if you have very old people or people with handicap in group of course. You can replace babies and small children simply with "people who need help".
1. Health problems
Be ready for "usual" emergencies that can strike your kid, remember that most probably you are not gonna be able to take your kid to the pediatrician, so you gonna be forced to solve emergencies like:
Fever
Typical first aid "cases" (cuts, scrapes, fractures etc.)
Vomiting
Diarrhea
Ear or throat infections and similar
Talk to other mothers and fathers what works with their kids with typical child illnesses.
Research what kind of illness you can expect, usual symptoms, therapy, care etc. Lot of that knowledge can be found online, but also be ready to invest in some literature.
If your kid lives with some health problems already, learn about it and also learn alternative treatments so you can help your kids when modern medicine is not there anymore.
2. Store things
One very valuable thing during SHTF was baby food. Very valuable. It may sound too "heartless", but it is simply mathematics – kids are precious to the parents, and because of that baby food became very valuable. People have been ready to do a lot to get some of that.
So do not become some of those desperate folks when SHTF. If you have baby be ready to store A LOT of baby food, especially if your kid is allergic to some ingredients and you need to have some unusual baby food.
You can imagine how rare and expensive it will be to get that stuff.
3. Be there for them
When SHTF we had many other things on our minds so for kids it was only about how to keep them safe, and that was it. I mean somehow most of the folks thought that if they put kids in some safe room inside house, provide them food it will be somehow all OK when everything ends.
But in lots of cases it was not OK at all. Great number of those "safe" kids grow up and become very troubled people. Lots of them adopted philosophy that violence is key for everything, or others simply grow up without influence of their parents. No surprise, everyone struggled to pick up and rebuild life from nothing after war was over.
They have been safe, but not paid attention to.
So keep in mind that part of survival is also raising your kid into a normal person. If you failed to do that, somebody could say that there was no sense in surviving. Do not let part of your children die when you can avoid it. It is maybe crazy if you hear me talk about this now but maybe one day you remember this and use the last bit of energy after long and hard day getting things in order to survive you spend some time with kids instead of just relaxing. This can make huge difference.
Include your kids in everything and be there for them on bad days. They see everything, and if they do not have someone who is explaining to them what is going on, they could come to their own conclusions, wrong ones and that can mark them for rest of their lives.
As a part of preparing, be ready to teach your kids at home (homeschooling) and to spend time with them with games and teaching. It is survival too. Just the family side of it.
Never forget that even during collapse time still goes by. It is not like you are in frozen space and everything is different. It looks like that but we all keep learning and experience shapes what we become later. A "master" survivalist also manages to be good father or mother even in times of hardship. Many generations before us did and so can we.

Check out also :
Conquering the Coming Collapse  Real, Proven Survival Strategies When Money Turns Into Dust
Home defense (Bulletproof your home)
Alternative power generator DIY
DIY Aquaponic System (this is the best and cheapest out there)
SOURCE : shtfschool.com