This is Incredible! The Self Watering Grow Bag Grow System! You got to see this!
Why grow in grow bags
Grow bags are made of breathable fabric which means superior drainage and aeration. It is the aeration that makes them superior to other garden containers. If a container has no aeration and the roots reach the walls of the container, they give a signal to the plant to make more roots, resulting in a root bound plant. Eventually the plant just kills itself with a mass of roots going round and round in the container. 
Don't wait until food becomes scarce; start preparing for the future now by becoming as self-reliant as possible. Your long-term chances of survival could very well depend on your ability to feed yourself and your family without relying on someone else.
Soil for grow bags
Soil is the heart of any container gardening.  It is a great mixture for any gardening, also container gardening. The mix is 1/3 moss, 1/3 compost mixture (for example chicken manure, horse manure, and mushroom composts), and 1/3 vermiculite. This mix preserves moisture which is very important for grow bag gardening.
Watering grow bags
Watering  is always a challenge in container gardening. To much makes the plants sit in water, too little makes them dry out. It also depends on what the container is made of. Grow bags do dry out much faster than pots. The drainage and aeration of the grow bag leads to more frequent watering needs. Also it is difficult to really soak a grow bag, the water will come right out. Two things can be helpful.
Drip system
Install a drip system, so the grow bags get a constant moisture supply. We tried the bottle drip system. It did not do so well for us, even though many have great success with it. A pipe drip system would work well, too.
Self watering system
Have a container underneath the grow bag that you can fill with water so it can be wicked up. Any container would work, we got the idea from the  Kiddie pool grow system. But if the container is too deep, you will need an overflow. You want most of the roots to be in air.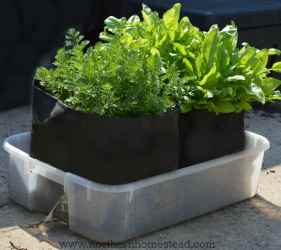 Here a build box out of styrofoam, it is not very deep, so an overflow is not needed. It looks like a raised bed. In this we planted cucumbers. Cucumber like water a lot.(source)
Easy and cheap DIY Aquaponic system to grow your organic and living food bank
Grow Bag Garden Systems Has What You Need To Get Started Today! The Largest Selection Of Root Pouch Grow Bags, Pond Liners, Net Cups, Kerick Float Valves And Also Complete Rain Gutter Grow System And Hybrid Kiddie Pool Kits!
Survive Attack to Our Power Grid System (Weapon That Can Instantly End Modern Life in America)
Survival MD (Best Post Collapse First Aid Survival Guide Ever)
Backyard Innovator (A Self Sustaining Source Of Fresh Meat,Vegetables And Clean Drinking Water)
Blackout USA (EMP survival and preparedness)
Conquering the coming collapse (Financial advice and preparedness )
Liberty Generator (Build and make your own energy source)
Backyard Liberty (Easy and cheap DIY Aquaponic system to grow your organic and living food bank)
Bullet Proof Home (A Prepper's Guide in Safeguarding a Home )
Family Self Defense (Best Self Defense Strategies For You And Your Family)
 Survive Any Crisis (Best  Items To Hoard For A Long Term Crisis)
Survive The End Days (Biggest Cover Up Of Our President)
Drought USA(Discover The Amazing Device That Turns Air Into Water)