Have you ever stopped to think what people did long before refrigeration? I've already touched the subject on how to live without refrigeration, but have you ever really stopped and thought what life would be like without it?
Well, one way was with the help of root cellars.
The great news is that they are still around today.
So today I wanted to bring you different root cellar options. If you are someone interested in going off-grid, you might find some inspiration here. And if you aren't interested in giving up your refrigerator, then hopefully this will be of interest to you for extra food storage.
So without further ado, here they are—
1. DIY In-Ground Root Cellar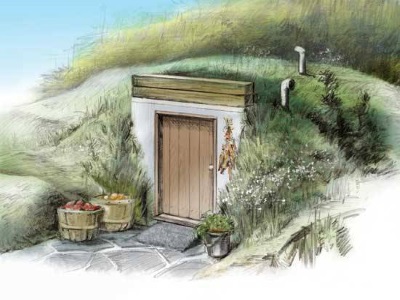 This root cellar is a beautiful, traditional in-ground root cellar. I love the way that it is very well disguised so it doesn't stand out on your property. This root cellar could offer lots of storage for your root vegetables and canned goods.
But it can also offer great protection from storms because it is in the ground. This root cellar is just an all-around great addition to any home.
RELATED : 24 Lost Gardening Tips from 100 Years Ago
2. Earthbags Root Cellar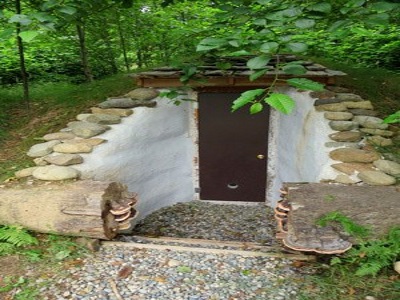 This is another great in ground DIY root cellar. Instead of having walls built of cinder block, these walls are built of earthbags. You can purchase your own earthbags here or you can make your own sandbags which are one in the same.
So beyond the fact that the materials are extremely economical, look at the pictures that come with the set of instructions and materials list. They are very detailed and honestly, make me want to build one of these for myself.
3. Robert's Root Cellar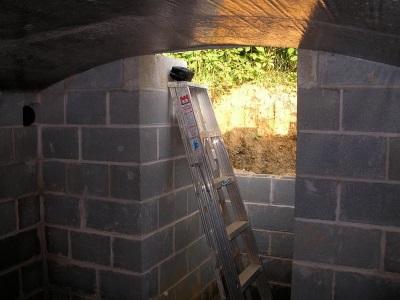 I love this site. He does a great job at giving instructions as to how he built this root cellar. But I also love the pictures that accompany his details. It is great to be able to see the progress to give you an idea of where you are going.
But I'll be honest, if you are not someone that is super handy this would be a large project to undertake. Yet, if you are someone that is comfortable building items around your property then this would be a great project to undertake.
4. The Multi-Purpose Root Cellar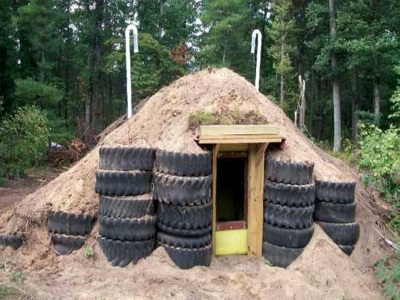 This root cellar is a great project. It is not only a root cellar but also an above ground storm shelter. I love how they recycled so many different materials to make it work.
Another great bonus to this project is that they wanted it sealed. This means no snakes, mice, or spiders. So if you are like me and don't particularly love creepy, slithery, crawly things then this root cellar might be a great addition to your home.
5. The Low-Cost Earth Bag Building

This root cellar is actually a multi-purpose building. You could use it as a root cellar, storm shelter, or a storage building too. Because of its smaller size, you may not even have to worry with a building permit.
But what is so great about this building is that the materials are extremely cost effective. It has a very cute shape to it and is definitely unique. So if you are looking for a structure to use as a root cellar and do so uniquely and with little cost then this might be a good option for you.
What happens if we lose power indefinitely — foods that require freezing or refrigeration for long term storage are going to go bad? Emergency food storage in advance will be the only way to feed yourself and your family.
6. Earth Bag Dome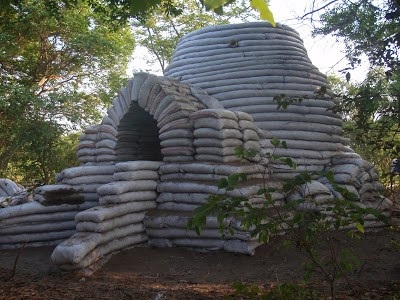 This too is built from earthbags. Earthbags are great building materials because they are made by simply placing sand and other earth matter in a bag. They are then stacked together like bricks.
So this structure is not only cost effective but it too is very unique. It can certainly be used as a root cellar option.
7. The Green Roof Root Cellar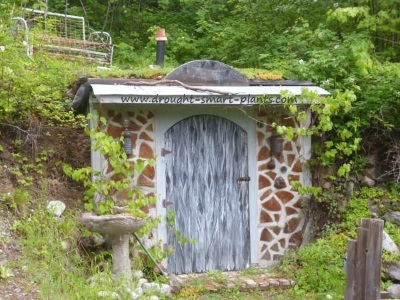 This root cellar is very unique and beautiful to look at. They built this structure out of cord wood and created a green roof too. It is backed into the earth which helps to keep your vegetables nice and cool all year long.
But what is so unique about this particular root cellar is the green roof. The author of the post tells you how she created a modular green roof. It is a really neat idea and one I'm sure many would love.
8. Four DIY Root Cellar Options
This site gives you 4 great DIY root cellar options. They range in ideas from placing a trash can in the ground and covering it with hay bales to converting a barrel into a root cellar.
So these ideas are obviously very economical. They are also easy to construct so even those that are unfamiliar with carpentry skills could construct their own root cellars. So if you are in the market for an economical and simple root cellar then these ideas might be for you.
9. The Backyard Root Cellars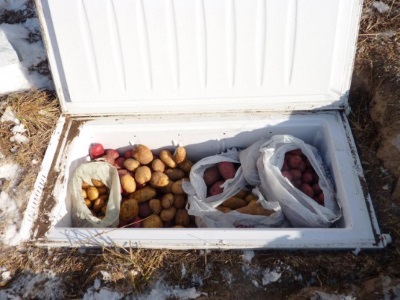 This site offers two great ideas for backyard root cellars. One of the options was similar to one mentioned above. They use a pail, dig a hole, and place it in the ground. Then cover the hole with a bale of straw or a piece of wood and place a rock on top of it to keep it secure.
But the other option is one not discussed just yet. It is using an old freezer and placing it in the ground to use as a root cellar. The ideas are, again, economical and easy to construct. So if you are looking for one that fits into those criteria then this site is sure to not disappoint.
10. The Common Ground Root Cellars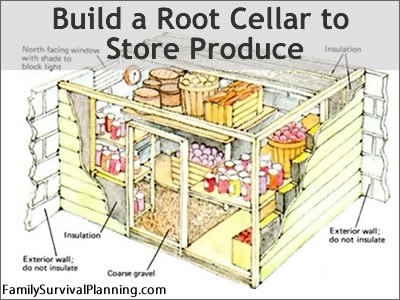 These root cellars may look totally different but they share some common ground. They both have the ability to store your food all year round.
So how do they work? Well, one is the traditional root cellar that is built with cinder blocks. While the other is a less traditional form of a root cellar. It is a barrel filled with straw that can be placed underground and provide proper food storage for your vegetables.
11. Amy's Dream Root Cellar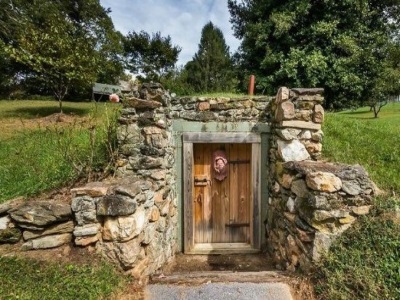 This root cellar is absolutely gorgeous. It has this beautiful, rustic look that would fit in perfectly into any farm or homestead. It is no wonder she (Amy) calls it her dream root cellar. It would be a dream for me to own one like this too.
But what is even better is it doesn't have to remain a dream. She offers the plans to build this beautiful root cellar so you can make it your very own. So if you desire to have a dreamy looking root cellar then look no further.
12. The 7-Step Root Cellar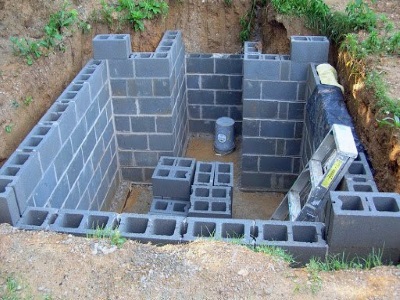 Does the thought of building your own root cellar seem overwhelming? Yes, I can certainly understand it feeling that way. But this site can certainly help. They simplify building your root cellar to the point they break it down into 7 steps, with pictures.
And I have to say that this root cellar is a good one. It appears very sturdy as it is in the ground and built with cinder block walls. It also has a dome type roof that offers a unique touch to the design. So if you are looking for sturdy and unique then this might the root cellar of your dreams.
13. The Organic Garden Blanket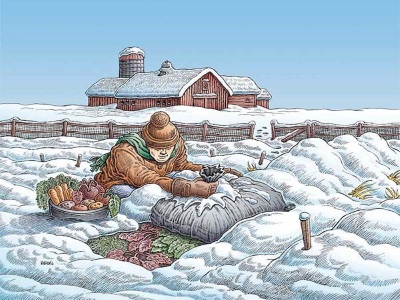 This is a unique form of a root cellar. Let's say you don't have the finances to build a massive walk-in root cellar with cinder block walls. Then what?
Well, you can use the idea of the organic garden blanket where you fill bags full of organic matter and place them over your root vegetables. That way you can harvest them all year long.
14. The Rustic Root Cellar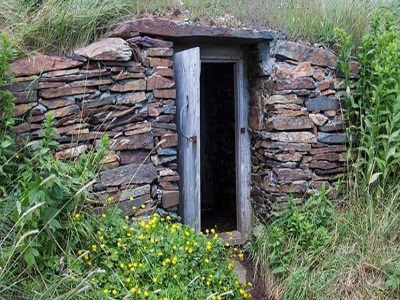 This root cellar is gorgeous and rustic to boot. I love this article because they cover all of the important aspects of building a successful and safe root cellar.
But they also let you know how to build this beautiful cellar too. It is gorgeous with its wooden door and stone front. It would be a beautiful treasure to add to your property.
15. The Modern Root Cellar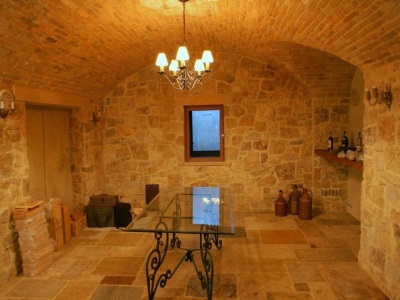 Okay, when I tell you this cellar is unique and gorgeous, please understand that this cellar is unique and gorgeous. They begin building it like all of the other in ground cinder block root cellars.
But what makes this one so different is that they finish it out with gorgeous décor. And instead of having a basic door to enter it, think again. They offer a sliding glass door in the ground with a spiral staircase.
16. 'Thinking Outside Of The Box' Root Cellar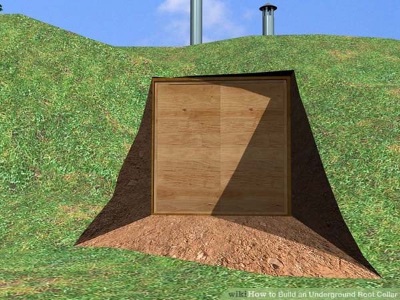 This is one of my favorite articles on building a root cellar. I love the pictures that accompany this article.
But I also love how they offer multiple different ideas to use as the body of your root cellar. There are so many different options. So this articles has a way of breaking the whole process down and making it appear as a much more feasible task.
17. The Simple Root Cellar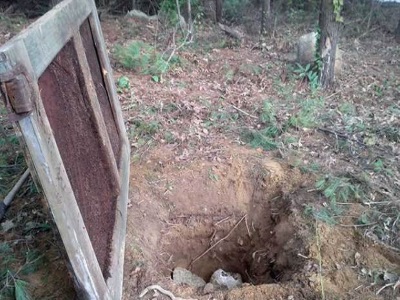 This root cellar is another super simple idea. You basically just dig a hole in the ground. Then you create a wooden hinged door that covers the hole.
So if you are in the market for a sturdy and economical idea for a root cellar then this one might do it. I love the rustic appearance and also the ease of constructing it as well.
18. The Mini Root Cellar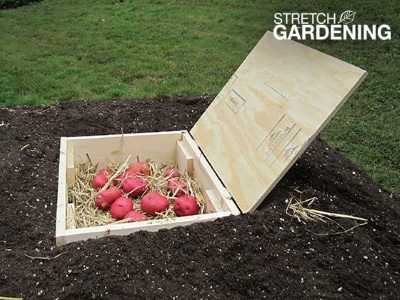 This article is a great resource for anyone wanting to build a root cellar whether you are a beginner or an experienced carpenter. So if you need a smaller root cellar that can be built via a detailed resource then this may be right up your alley.
19. The A-Frame Root Cellar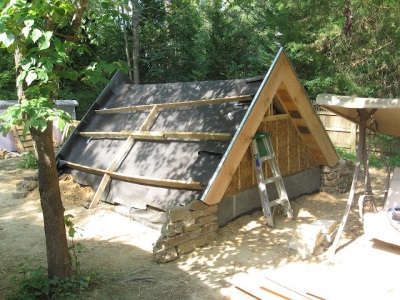 This is a unique root cellar. But when you first look at it, don't get distracted by the gorgeous hobbit house that it sits behind. Though the house is a masterpiece, the root cellar isn't bad looking either.
So if you want a sturdy, DIY root cellar then this would certainly fit that category. I love how they used straw for insulation, and I also like the fact that it is a more permanent of a structure. Though that obviously takes more work and more preparation.
20. Hobbit Hole Root Cellar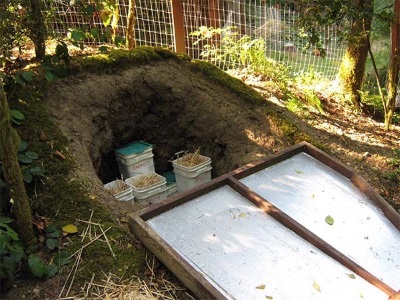 This root cellar is another inexpensive but unique idea for a root cellar.  They basically just dig a hole and place the food inside of it.
Then they place a wooden door over the hole and cover it with mulch and other organic matter for insulation. I'm not sure it would be the easiest to get into but it would certainly work if you need a root cellar on a budget.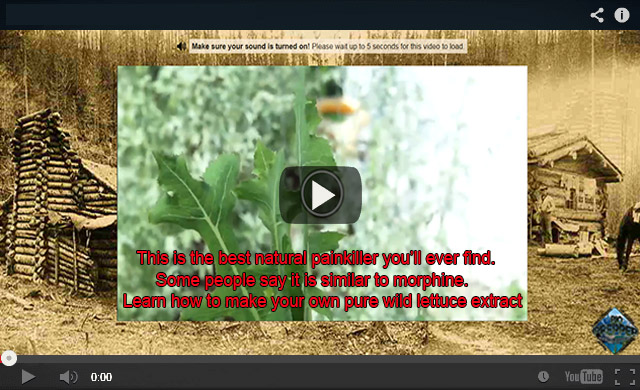 21. School Bus Root Cellar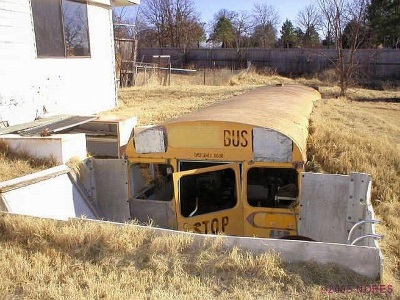 This root cellar is definitely a different option. If you have an old vehicle (or school bus in this case) sitting around your property don't just let it sit there. No, dig a huge hole and put it in the ground.
And when you do, you will have a large root cellar to fill with food. I have to give it to them. It may be a little unorthodox but it will work and is a great use for something that was put out of commission.
22. A Boat Root Cellar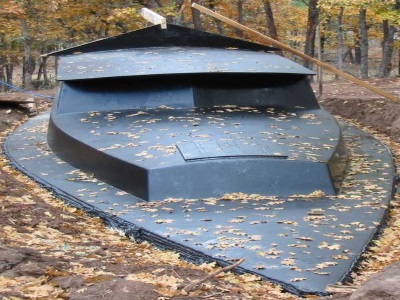 This root cellar is similar to the school bus root cellar. Basically, they took an old boat and put it back into commission by recreating it.
So if you have an old boat sitting around your property then dig a hole and put it in the ground. Then fill it with food and you have one awesome root cellar.
23. Deck Root Cellar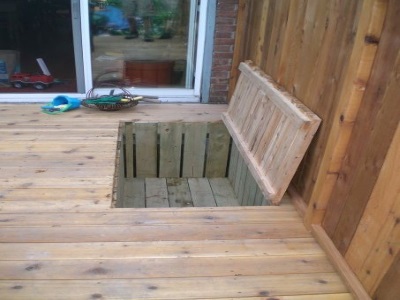 This root cellar is the epitome of convenience. As I mentioned earlier, some of these root cellars are very unique, smart designs, and economical. But they aren't all convenient.
Well, this one is definitely convenient as it is built right into the deck out your back door. So if you have a back deck then place a hole in it, insulate it, and store your bounty for the winter.
24. Shipping Container Root Cellar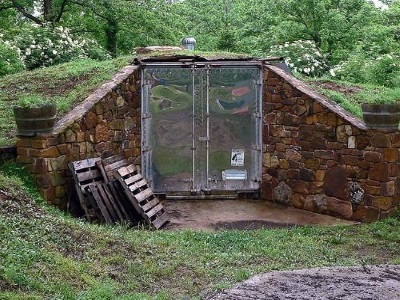 This idea is a great idea, times 2. Why? Because it doubles as a root cellar and a storm shelter. If you live in a part of the country where you need a storm shelter then this might certainly peak your interest.
So all they did was dig a hole into a hill and place a large shipping container in it. It would obviously need proper ventilation but it looks great and would certainly serve its purpose.
25. Ground Fridge Root Cellar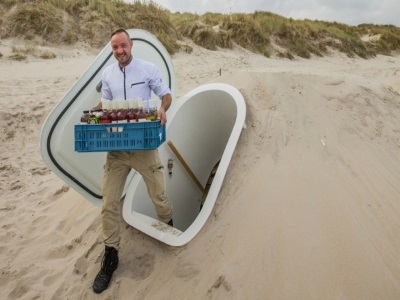 This is another really awesome idea for a root cellar. You actually purchase an item called a Ground Fridge. It keeps your food cool and is basically an easy insert.
So if you are looking for a more simple option for a root cellar then you might consider purchasing one of these. I like how it is pretty much ready to use. It has a way of simplifying what could be an intense project. (source)
Well, there are 25 DIY root cellar options for your consideration.
"MY SURVIVAL FARM"
…and it's like nothing you've ever seen before… An A to Z guide on survival gardening that is easy to read and a joy to put into practice, full of photos, diagrams and step by step advice. Even a kid can do this and, in fact, I encourage you to let the little ones handle it, to teach them not just about self-reliance but also about how Mother Nature works.
Here is just a glimpse of what you'll find inside:
How to plan, design and put into action high-yield survival garden that will literally keep you and your family fed for life, no matter what hits you, even when everyone else around you is starving to death. No digging and planting year after year and no daily watering because you'll have more important things to worry about when TSHTF.
How to set up highly nutritious soil for your plants. Do this before you plant anything and you're on your way to setting your food forest on auto-pilot for decades to come. I'm gonna tell you this one "weird" thing to add to the mulch that's not only highly effective but also 100% free (because you already have it in your home right now).
Step-by-step instructions on how to plant over 125 plants inside your permaculture garden. Plus, special instructions on choosing the right ones for your climate. From Arizona to Alaska, you can do this anywhere…
How to "marry" your plants. We're gonna tell you which grow well together and help each-other survive and thrive, so they don't ever compete for sunlight and nutrients. You get the full table of plants that work well with one another as well as the ones you should NEVER be put together.
---
Our grandfathers had more knowledge than any of us today and thrived even when modern conveniences were not available. They were able to produce and store their food for long periods of time. The Lost Ways is the most comprehensive book available. All the knowledge our grandfathers had, in one place.Here's just a glimpse of what you'll find in the book:
Table Of Contents:
Making Your Own Beverages: Beer to Stronger Stuff
Ginger Beer: Making Soda the Old Fashioned Way
How North American Indians and Early Pioneers Made Pemmican
Wild West Guns for SHTF and a Guide to Rolling Your Own Ammo
How Our Forefathers Built Their Sawmills, Grain Mills,and Stamping Mills
How Our Ancestors Made Herbal Poultice to Heal Their Wounds
What Our Ancestors Were Foraging For? or How to Wildcraft Your Table
How North California Native Americans Built Their Semi-subterranean Roundhouses
Our Ancestors'Guide to Root Cellars
Good Old Fashioned Cooking on an Open Flame
Learning from Our Ancestors How to Preserve Water
Learning from Our Ancestors How to Take Care of Our Hygiene When There Isn't Anything to Buy
How and Why I Prefer to Make Soap with Modern Ingredients
Temporarily Installing a Wood-Burning Stove during Emergencies
Making Traditional and Survival Bark Bread…….
Trapping in Winter for Beaver and Muskrat Just like Our Forefathers Did
How to Make a Smokehouse and Smoke Fish
Survival Lessons From The Donner Party
Get your paperback copy HERE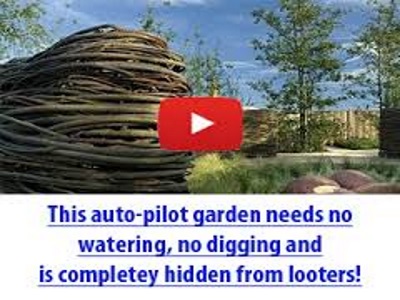 Here's just a glimpse of what you'll find in The Lost Ways:
From Ruff Simons, an old west history expert and former deputy, you'll learn the techniques and methods used by the wise sheriffs from the frontiers to defend an entire village despite being outnumbered and outgunned by gangs of robbers and bandits, and how you can use their wisdom to defend your home against looters when you'll be surrounded.
Native American ERIK BAINBRIDGE – who took part in the reconstruction of the native village of Kule Loklo in California, will show you how Native Americans build the subterranean roundhouse, an underground house that today will serve you as a storm shelter, a perfectly camouflaged hideout, or a bunker. It can easily shelter three to four families, so how will you feel if, when all hell breaks loose, you'll be able to call all your loved ones and offer them guidance and shelter? Besides that, the subterranean roundhouse makes an awesome root cellar where you can keep all your food and water reserves year-round.
From Shannon Azares you'll learn how sailors from the XVII century preserved water in their ships for months on end, even years and how you can use this method to preserve clean water for your family cost-free.
Mike Searson – who is a Firearm and Old West history expert – will show you what to do when there is no more ammo to be had, how people who wandered the West managed to hunt eight deer with six bullets, and why their supply of ammo never ran out. Remember the panic buying in the first half of 2013? That was nothing compared to what's going to precede the collapse.
From Susan Morrow, an ex-science teacher and chemist, you'll master "The Art of Poultice." She says, "If you really explore the ingredients from which our forefathers made poultices, you'll be totally surprised by the similarities with modern medicines." Well…how would you feel in a crisis to be the only one from the group knowledgeable about this lost skill? When there are no more antibiotics, people will turn to you to save their ill children's lives.
If you liked our video tutorial on how to make Pemmican, then you'll love this: I will show you how to make another superfood that our troops were using in the Independence war, and even George Washington ate on several occasions. This food never goes bad. And I'm not talking about honey or vinegar. I'm talking about real food! The awesome part is that you can make this food in just 10 minutes and I'm pretty sure that you already have the ingredients in your house right now.
Really, this is all just a peek.
The Lost Ways is a far–reaching book with chapters ranging from simple things like making tasty bark-bread-like people did when there was no food-to building a traditional backyard smokehouse… and many, many, many more!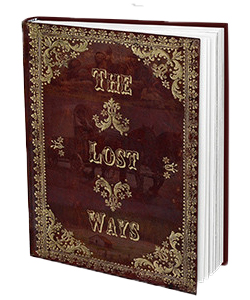 The Lost Ways (Learn the long forgotten secrets that helped our forefathers survive famines,wars,economic crisis and anything else life threw at them)
Survival MD (Best Post Collapse First Aid Survival Guide Ever)
Conquering the coming collapse (Financial advice and preparedness )
Liberty Generator (Build and make your own energy source)
Backyard Liberty (Easy and cheap DIY Aquaponic system to grow your organic and living food bank)
Bullet Proof Home (A Prepper's Guide in Safeguarding a Home )
Family Self Defense (Best Self Defense Strategies For You And Your Family)
 Survive Any Crisis (Best  Items To Hoard For A Long Term Crisis)
Survive The End Days (Biggest Cover Up Of Our President)