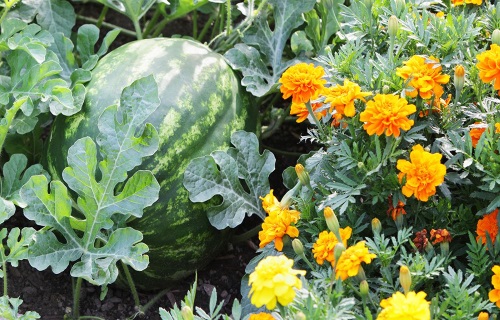 PHOTOGRAPH BY WILLOWPIX/GETTY
Organic gardeners know that a diverse mix of plants makes for a healthy and beautiful garden. Many believe that certain plant combinations have extraordinary (even mysterious) powers to help each other grow. Scientific study of the process, called companion planting, has confirmed that some combinations have real benefits unique to those combinations—and practical experience has demonstrated to many gardeners how to mate certain plants for their mutual benefit. 
Companions help each other grow—tall plants, for example, provide shade for sun-sensitive shorter plants. And the technique uses garden space efficiently. Vining plants cover the ground, upright plants grow up, allowing for two plants in the same patch. Companions also prevent pest problems. Plants like onions repel pests and other plants can lure pests away from more delicate plants; or one plant may even attract the predators of another plant's pests.
Here, 26 plants that are way better together. 
(Whether you're starting your first garden or switching to organic, Rodale's Basic Organic Gardening has all the answers and advice you need—get your copy today!)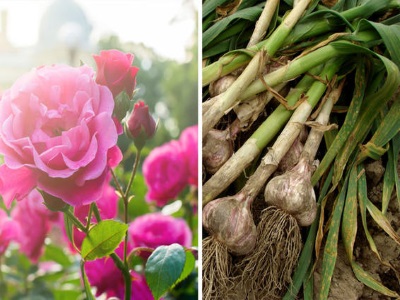 Roses + Garlic
Gardeners have been planting garlic with roses for eons. since garlic can help to repel rose pests. Garlic chives probably are just as repellent, and their small purple or white flowers in late spring looks great with rose flowers and foliage.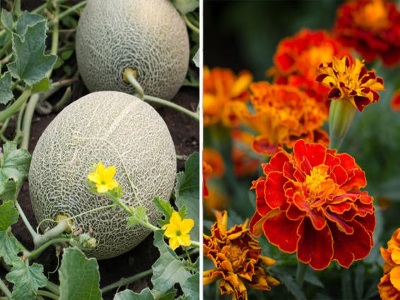 Certain marigold varieties control nematodes in the roots of melon as effectively as chemical treatments.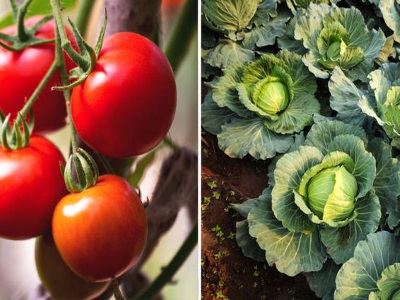 Tomatoes are repellent to diamondback moth larvae, which are caterpillars that chew large holes in cabbage leaves.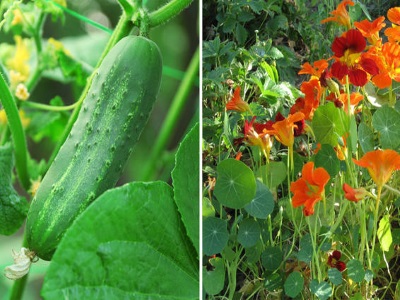 The nasturtium's vining stems make them a great companion rambling among your growing cucumbers and squash plants, suggests Sally Jean Cunningham, master gardener and author of Great Garden Companions. Nasturtiums "are reputed to repel cucumber beetles, but I depend on them more as habitat for predatory insects," such as spiders and ground beetles.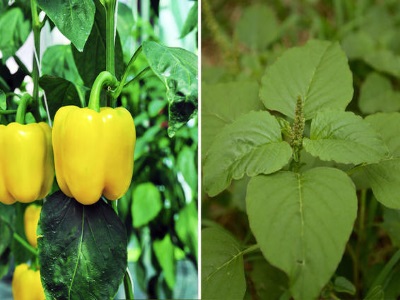 Leafminers preferred both pigweed and ragweed to pepper plants in a study at the Coastal Plains Experiment Station in Tifton, Georgia. Just be careful to remove the flowers before the weeds set seed.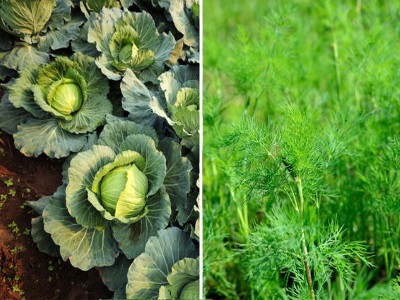 "Dill is a great companion for cabbage family plants, such as broccoli and brussels sprouts," Cunningham says. "The cabbages support the floppy dill," while the dill attracts the tiny beneficial wasps that control imported cabbageworms and other cabbage pests. (But, you should absolutely never grow carrots and dill side-by-side.)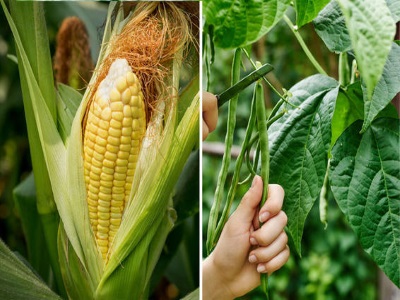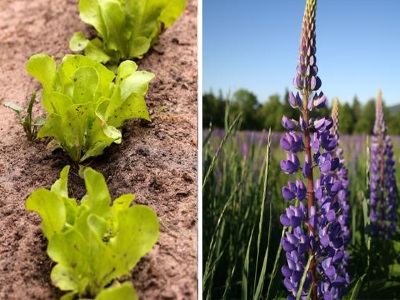 Nicotiana (flowering tobacco) and cleome (spider flower) give lettuce the light shade it grows best in.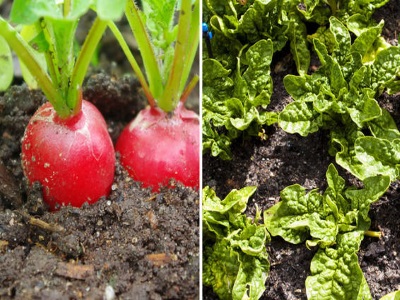 Planting radishes among yor spinach will draw leafminers away from the spinach. The damage the leafminers do to radish leaves doesn't prevent the radishes from growing nicely underground. (Here are 3 easy ways to eat radishes.)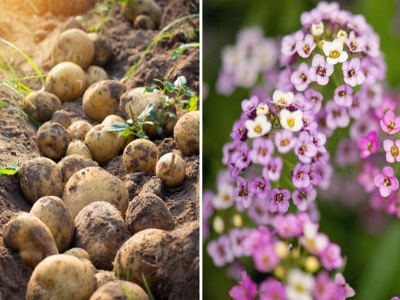 The sweet alyssum, which is one of these 81 border plants that are better than a fence, has tiny flowers that attract delicate beneficial insects, such as predatory wasps. Plant sweet alyssum alongside bushy crops like potatoes, or let it spread to form a living ground cover under arching plants like broccoli. Bonus: The alyssum's sweet fragrance will scent your garden all summer.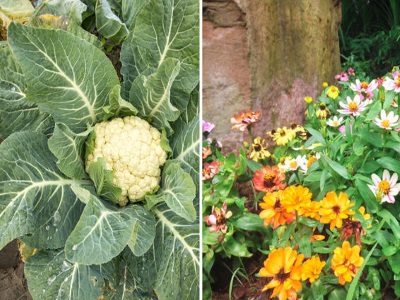 Cauliflower + Dwarf Zinnias
The nectar from the dwarf zinnias lures ladybugs and otherpredators that help protect cauliflower.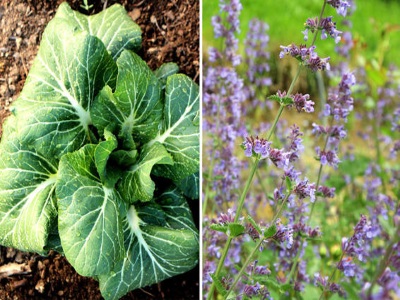 Collards + Catnip
Studies have found that planting catnip (one of 8 plants that repel mosquitos naturally) alongside collards reduces flea-beetle damage on the collards.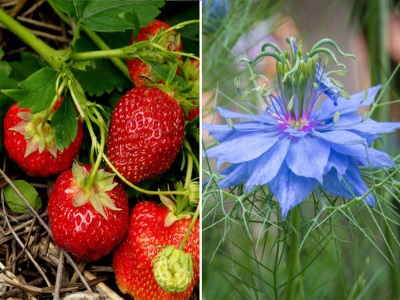 Strawberries + Love-In-A-Mist
Tall, blue-flowered love-in-a-mist (Nigella damascena) "looks wonderful planted in the center of a wide row of strawberries," Cunningham says. (Source)
---
"MY SURVIVAL FARM"
…and it's like nothing you've ever seen before… An A to Z guide on survival gardening that is easy to read and a joy to put into practice, full of photos, diagrams and step by step advice. Even a kid can do this and, in fact, I encourage you to let the little ones handle it, to teach them not just about self-reliance but also about how Mother Nature works.
Here is just a glimpse of what you'll find inside:
How to plan, design and put into action high-yield survival garden that will literally keep you and your family fed for life, no matter what hits you, even when everyone else around you is starving to death. No digging and planting year after year and no daily watering because you'll have more important things to worry about when TSHTF.
How to set up highly nutritious soil for your plants. Do this before you plant anything and you're on your way to setting your food forest on auto-pilot for decades to come. I'm gonna tell you this one "weird" thing to add to the mulch that's not only highly effective but also 100% free (because you already have it in your home right now).
Step-by-step instructions on how to plant over 125 plants inside your permaculture garden. Plus, special instructions on choosing the right ones for your climate. From Arizona to Alaska, you can do this anywhere…
How to "marry" your plants. We're gonna tell you which grow well together and help each-other survive and thrive, so they don't ever compete for sunlight and nutrients. You get the full table of plants that work well with one another as well as the ones you should NEVER be put together.
---
Our grandfathers had more knowledge than any of us today and thrived even when modern conveniences were not available. They were able to produce and store their food for long periods of time. The Lost Ways is the most comprehensive book available. All the knowledge our grandfathers had, in one place.Here's just a glimpse of what you'll find in the book:
Table Of Contents:
Making Your Own Beverages: Beer to Stronger Stuff
Ginger Beer: Making Soda the Old Fashioned Way
How North American Indians and Early Pioneers Made Pemmican
Wild West Guns for SHTF and a Guide to Rolling Your Own Ammo
How Our Forefathers Built Their Sawmills, Grain Mills,and Stamping Mills
How Our Ancestors Made Herbal Poultice to Heal Their Wounds
What Our Ancestors Were Foraging For? or How to Wildcraft Your Table
How North California Native Americans Built Their Semi-subterranean Roundhouses
Our Ancestors'Guide to Root Cellars
Good Old Fashioned Cooking on an Open Flame
Learning from Our Ancestors How to Preserve Water
Learning from Our Ancestors How to Take Care of Our Hygiene When There Isn't Anything to Buy
How and Why I Prefer to Make Soap with Modern Ingredients
Temporarily Installing a Wood-Burning Stove during Emergencies
Making Traditional and Survival Bark Bread…….
Trapping in Winter for Beaver and Muskrat Just like Our Forefathers Did
How to Make a Smokehouse and Smoke Fish
Survival Lessons From The Donner Party
Get your paperback copy HERE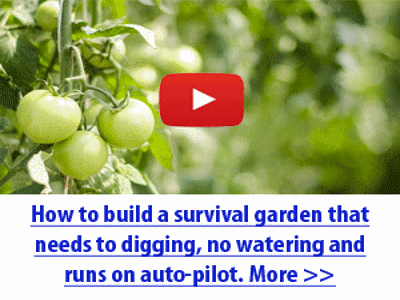 Here's just a glimpse of what you'll find in The Lost Ways:
From Ruff Simons, an old west history expert and former deputy, you'll learn the techniques and methods used by the wise sheriffs from the frontiers to defend an entire village despite being outnumbered and outgunned by gangs of robbers and bandits, and how you can use their wisdom to defend your home against looters when you'll be surrounded.
Native American ERIK BAINBRIDGE – who took part in the reconstruction of the native village of Kule Loklo in California, will show you how Native Americans build the subterranean roundhouse, an underground house that today will serve you as a storm shelter, a perfectly camouflaged hideout, or a bunker. It can easily shelter three to four families, so how will you feel if, when all hell breaks loose, you'll be able to call all your loved ones and offer them guidance and shelter? Besides that, the subterranean roundhouse makes an awesome root cellar where you can keep all your food and water reserves year-round.
From Shannon Azares you'll learn how sailors from the XVII century preserved water in their ships for months on end, even years and how you can use this method to preserve clean water for your family cost-free.
Mike Searson – who is a Firearm and Old West history expert – will show you what to do when there is no more ammo to be had, how people who wandered the West managed to hunt eight deer with six bullets, and why their supply of ammo never ran out. Remember the panic buying in the first half of 2013? That was nothing compared to what's going to precede the collapse.
From Susan Morrow, an ex-science teacher and chemist, you'll master "The Art of Poultice." She says, "If you really explore the ingredients from which our forefathers made poultices, you'll be totally surprised by the similarities with modern medicines." Well…how would you feel in a crisis to be the only one from the group knowledgeable about this lost skill? When there are no more antibiotics, people will turn to you to save their ill children's lives.
If you liked our video tutorial on how to make Pemmican, then you'll love this: I will show you how to make another superfood that our troops were using in the Independence war, and even George Washington ate on several occasions. This food never goes bad. And I'm not talking about honey or vinegar. I'm talking about real food! The awesome part is that you can make this food in just 10 minutes and I'm pretty sure that you already have the ingredients in your house right now.
Really, this is all just a peek.
The Lost Ways is a far–reaching book with chapters ranging from simple things like making tasty bark-bread-like people did when there was no food-to building a traditional backyard smokehouse… and many, many, many more!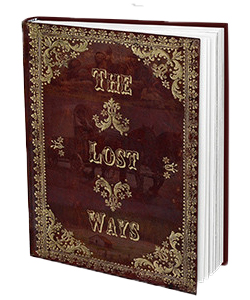 The Lost Ways (Learn the long forgotten secrets that helped our forefathers survive famines,wars,economic crisis and anything else life threw at them)
Survival MD (Best Post Collapse First Aid Survival Guide Ever)
Conquering the coming collapse (Financial advice and preparedness )
Liberty Generator (Build and make your own energy source)
Backyard Liberty (Easy and cheap DIY Aquaponic system to grow your organic and living food bank)
Bullet Proof Home (A Prepper's Guide in Safeguarding a Home )
Family Self Defense (Best Self Defense Strategies For You And Your Family)
 Survive Any Crisis (Best  Items To Hoard For A Long Term Crisis)
Survive The End Days (Biggest Cover Up Of Our President)