Prepared for ECONOMIC COLLAPSE
There are a lot of things that can impact your access to food, but one of the scariest and most viable disasters doesn't come from a volcano or earthquake or even a terrorist. The most possible disaster that could impact your food is an economic collapse and civil war. Without the economy to support and regulate business and the nation as a whole, food as we know it will disappear.
All over America, there are millions of Americans that are quietly preparing for doomsday.  They are turning spare rooms into long-term food storage pantries, they are planting survival gardens, they are converting their homes over to alternative sources of energy, they are taking self-defense courses and they are stocking up on just about anything you can imagine.  They are called "preppers", and their numbers have absolutely exploded in recent years.  In fact, you might be living next door to one and never even realize it.  According to a recent Daily Mail article, there are approximately 3 million preppers in the United States today.  Others believe that the true number is significantly higher than that.  This movement has become so popular that there are now even television shows being done about preppers.  The most popular is probably "Doomsday Preppers" on the National Geographic Channel.  This movement is still growing and is not going to go away any time soon.  In fact, as the world continues to become even more unstable it is likely that a lot more Americans will find themselves becoming preppers in the years ahead.
So what exactly are all these people so concerned about?  Exactly why are there millions of Americans that are feverishly preparing for doomsday?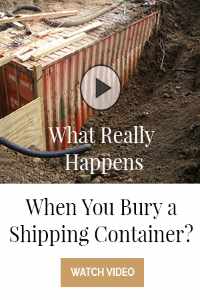 Well, the truth is that you will never find two preppers that are exactly alike.  Some are deeply concerned about the potential for natural disasters and believe that we are now entering into a time when there will be catastrophic earth changes.  Other preppers believe that terrorism is the most significant threat to our way of life.  Killer pandemics, an EMP attack, World War III, martial law, solar megastorms, asteroid strikes and societal chaos are some of the other things that some preppers are worried about.
Of course an economic collapse is one of the biggest concerns for preppers, and without a doubt the U.S. economy is deeply troubled.  A collapse of the financial system would change all of our lives permanently.
Why would the government want to punish people that are just trying to work hard, become more self-sufficient and take care of their families? There are approximately 3 million preppers in the United States today, and often they appear to be singled out for punishment by bureaucratic control freaks that are horrified at the thought that there are families out there that actually want to try to become less dependent on the system. So if you use alternative methods to heat your home, or if you are not connected to the utility grid, or if you collect rainwater on your property, or if you believe that parents should have the ultimate say when it comes to health decisions for their children, you could become a target for overzealous government enforcers. Once upon a time, America was the land of the free and the home of the brave, but now we are being transformed into a socialist police state where control freak bureaucrats use millions of laws, rules and regulations to crack down on anyone that dares to think for themselves.
RELATED : How to Build a Straw Bale Garden Cheap And Easy – This Gardening Technique Works Anywhere In The World For Seasonal Spring/Summer Or For Winter Gardens
---
So what can you do to protect yourself from this scary giant looming over your grocery store? How can you make sure you and your family have an uninterrupted food supply for the foreseeable future? The short answer is emergency food storage, but there's more to it than just that.
When you get right down to it, the economy is far shakier than anyone involved with it would ever admit. While there are safeguards in place for stock market crashes, there are few protections to stop rampant inflation or the loss of your job.
Start your emergency food storage now and no matter the disaster that strikes, you'll be prepared with one of the most valuable things around: food.
Food storage is viewed as a part of emergency preparedness. It is also a part of the program of a gardener to preserve and store away some of the fruits of his or her labor.
Whatever the reason a person has for storing food beyond immediate needs, planning must be done to avoid waste.
There are a number of approaches to building a food storage program. Only two will be outlined, which can be adapted to fit individual needs. A major reason for not having food storage is the expense. A simple way to avoid a large cash outlay is to merely purchase double the items on the grocery list with each shopping excursion. The extra items are then marked with the purchase date and put into storage to be rotated out and replaced on the next shopping trip.
Perishable items such as fluid milk or eggs are difficult to work into this system.
Therefore substitutes such as nonfat dried milk may be purchased for storage. Keep in mind, however, that there is a limit to the length of time that even these semi-perishable or dehydrated items can be stored.
A disadvantage of the double purchase system is that it is not as easy to benefit from sales prices. One advantage is that items are only purchased that are routinely used in menu planning, thereby reducing waste and improving rotation.
Another approach to beginning a food storage program is to use a lump sum of money such as a tax refund or a bonus check to purchase a large amount of basics for your family.
As A Way To Introduce You To Skilled Survival, We're Giving Away Our 'Family First' Food Planning Guide. Click Here To Get Your Copy.  
The pamphlet "Essentials of Food Storage" has suggested that basics should include wheat, sugar or honey, salt and nonfat dried milk. While it is true that these items do store well, it is important that the family will use what they store. This list could be modified to include grain products such as wheat and white flour, pasta products, rolled oats, rice, dried beans, split peas, lentils and other dehydrated fruits and vegetables. Cracked or whole wheat products do not store well because the membranes are broken that keep the oil in the wheat germ away from the iron and other minerals in the endosperm and the bran layer. Rancidity occurs at a rapid rate. Rolled oats are heat treated which destroys the lipase enzyme and therefore will store quite well.
When establishing a food storage program do not forget:
1. Store only those items you will use. If you do not currently include a food in your diet it is not likely that you will use it.
2. Do not purchase more than you will rotate and use within a 2 to 3 year period of time to reduce waste.
3. Insure that the quality of the item you purchase is acceptable. Quality does not improve upon storage for most foods.
Planning before you begin a food storage program will help to avoid pitfalls.
Many families or individuals desire to maintain a 12 month supply of food. Most food storage systems in Utah involve growing and preserving food at home from gardens and orchards. Generally, these sources provide a major portion of foods to the storage systems between June and October. Home meat supplies are most commonly obtained in the fall of the year when wild game seasons occur, and following pioneer traditions of slaughtering domestic animals during the cooler months to take advantage of natural refrigeration.
If you were to sample most Utah family food storage programs in November, about 45 percent would have adequate stores of food for one year. If the same families were resampled in May only 20 percent would still have a years supply on hand. Families which did not have a years supply in May had used food from storage and had no garden or orchard to replenish the supply during the winter months. For this reason, it is suggested that an 18 month supply be stored in order to maintain a 1 year supply of food. The extra 6 months supply of food would be available between December and June when most systems are at their lowest level.
Families that were resampled and still had a years supply in May did so because they never used food from their storage system. We have analyzed over 10,000 food storage systems in Utah and found that many people are under the illusion that food lasts forever. Their food storage systems are designed so that a years supply is purchased and stored until needed. Consequently they have some stored food that is 10, 20, and 25 years old.
In view of what is known about shelf-life, these systems are quite wasteful and inefficient. One pound of dry matter provides about 1600 calories of energy. Because energy is the most critical item in a food storage program (it will prevent the baby from being hungry) it should be considered first. Thus dried beans, flour, wheat, rice, sugar, dried fruits or vegetables, pastas or dried skim milk all provide about 1600 calories per pound. While 1600 calories will not adequately meet the energy needs of a hard-working large man it will quiet hunger pangs for individual members of a family. One pound of dry matter per person per day serves as a basis for a food storage program. Generally in Utah with our home gardens a family will supplement the dried products with fresh fruits and vegetables in a storage pit or
cellar as well as canned or frozen fruits and vegetables.
The cooler your storage, the longer the food will maintain quality.
Properly processed canned, dried, and frozen (never thawed) foods do not become unsafe when stored longer than the recommended time, but palatability and nutrient quality are diminished. family will supplement the dried products with fresh fruits and vegetables in a storage pit or cellar as well as canned or frozen fruits and vegetables.
The cooler your storage, the longer the food will maintain quality.
Properly processed canned, dried, and frozen (never thawed) foods do not become unsafe when stored longer than the recommended time, but palatability and nutrient quality are diminished.
RELATED : It is NOW Time to Leave the Cities! Prepare Yourself For What's Probably Coming
Panic And Apocalyptic Global Economic Collapse Coming 2018
---
Take a look at this collection The Lost Book Of Remedies, taken word for word out of a circa 1845 manual.
What is The Lost Book of Remedies? The Lost Book of Remedies PDF contains a series of medicinal and herbal recipes to make home made remedies from medicinal plants and herbs. Chromic diseases and maladies can be overcome  by taking the remedies outlined in this book. The writer claims that his grandfather was taught herbalism and healing whilst in active service during world war two and that he has treated many soldiers with his home made cures.
How does it work?
The premise is that many modern day medicines work on the basis that they treat the symptoms and not the cause, but contained within The Lost Book of Remedies are a number of tinctures and tonics made from plants and leaves that will treat the cause of the illness, thus eradicating the disease altogether.
The book is a direct copy of the little notebook carried around by the author's grandfather when treating his patients.  However, the illustrations of the plants have been updated to photographs so that they are easier for you to identify.

The Lost Ways (Learn the long forgotten secrets that helped our forefathers survive famines,wars,economic crisis and anything else life threw at them)
Survival MD (Best Post Collapse First Aid Survival Guide Ever)
Conquering the coming collapse (Financial advice and preparedness )
Liberty Generator (Build and make your own energy source)
Backyard Liberty (Easy and cheap DIY Aquaponic system to grow your organic and living food bank)
Bullet Proof Home (A Prepper's Guide in Safeguarding a Home )
Family Self Defense (Best Self Defense Strategies For You And Your Family)
 Survive Any Crisis (Best  Items To Hoard For A Long Term Crisis)
Survive The End Days (Biggest Cover Up Of Our President)