Benefits Of Food Storage During Economic Collapse Or Civil Unrest, Rioting
Chances are high that you have come across a few stories from the media regarding the increasing risk of economic collapse, or perhaps you have spotted several situations of rioting in Baltimore or Ferguson. You have probably witnessed photographs of shops boarding up their doors and long, empty food store shelves that were a result of looting. You may ask, however, "What is my family to do during such uncontrollable events?".
Although a possible economic collapse or state of civil unrest is out of your control, (96% of Americans expect more civil unrest in US cities next year !*) it is very possible to prepare yourself and your family for such scenarios. One of the most important things that can be secured to greatly increase the chances of making it through an economic shutdown of your community, state or country, or a sudden state of emergency from riots erupting, is a substantial food storage supply.
When faced with the reality of sudden travel restrictions, whether it be cross-country or as close as your neighborhood supermarket, the importance of securing necessities for your family becomes much more apparent. You may have created a supply of items that will help keep your family safe when things outside the home are getting out of hand, however, food is something that no one can go without. Nearby stores will most likely not have the option to remain open to serve customers during a riot in the community, and if economic collapse were to strike, your community's infrastructure would be gravely affected as well.
An adequate food storage supply for your family can help you weather the storm of an economic collapse as you start to make adaptations to your suddenly different lifestyle, or possibly move to another more promising location. It can also increase the safety of your family while your surrounding environment grows hostile, providing you with resources accessible from within the home.
Take a look at our extensive selection of freeze-dried food storage foods that will last you up to 25 years, are highly portable and convenient, and can be the perfect choice for your family to utilize when faced with the hardships of an economic collapse, or outbreak of rioting in the community.
Food and drink are the most important two things we rely on every single day. GO Foods Global has dozens of quick preparation of meals for people on the go. That's right. Food you can use every day. It tastes fantastic and prepares and minutes. Southwestern Tortilla Soup, Maui Chicken with Ginger Rice, and even Creamy Tuscan Pasta with Sun-Dried Tomatoes are just a few of the mouthwatering entrees you and your family can enjoy the very day you receive your GO Foods order. Our products are also made with an extended shelf life, so you never have to worry about expiration dates. When it's time to quench your thirst, grab a bottle of water, rip and tip one of our amazing stick pack beverages, and feel your mouth come alive. Extraordinary flavors, on-the-go convenience, and ease-of-use makes GO Foods the industry leader for the 21st century. GO Foods the ultimate do anything, go anywhere food. Serve it, save it, share it, and feed your freedom today with GO Foods.
How to Prepare Yourself for a Food Shortage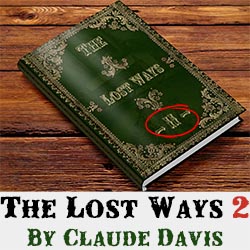 How I'm Preparing For Economic Collapse
---
Old-time gardeners were ahead of their time! Their ideas for wildflower gardens, children's gardens, organic pest controls, decorating with houseplants, healing with herbs, and more are at the forefront of modern gardening trends. Take a look back to the future of gardening with this incredible collection of gardening advice from successful 17th-, 18th-, 19th-, and early 20th-century gardeners.
Early gardeners knew what they were doing–they had to, since they depended on their plants for food, medicine, home decorations, and recreation! Whether you're growing vegetables, flowers, herbs, fruits, trees, shrubs, wildflowers, houseplants, or lawn grass, these old-time tips will help you get the most out of your plantings. Do you want a lusher lawn? How about more beautiful flowerbeds or hints for making your yard look bigger? You'll find all that and more in Old Time Wisdom.
Old-Time Wisdom" boxes present early gardeners' best planting notions.
* Tried-and-true recipes from early kitchens will tickle your tastebuds.
* "Strange but True" boxes reveal weird, wacky, and wonderful gardening techniques.
* A source list makes it easy to locate wonderful old-time plants.
* Authentic old-time illustrations take you back to a time when garden tips were on everyone's lips.
* A "Recommended Reading" list guides you to more great ideas from the past.

The Lost Ways (Learn the long forgotten secrets that helped our forefathers survive famines,wars,economic crisis and anything else life threw at them)
Survival MD (Best Post Collapse First Aid Survival Guide Ever)
Conquering the coming collapse (Financial advice and preparedness )
Liberty Generator (Build and make your own energy source)
Backyard Liberty (Easy and cheap DIY Aquaponic system to grow your organic and living food bank)
Bullet Proof Home (A Prepper's Guide in Safeguarding a Home )
Family Self Defense (Best Self Defense Strategies For You And Your Family)
 Survive Any Crisis (Best  Items To Hoard For A Long Term Crisis)
Survive The End Days (Biggest Cover Up Of Our President)