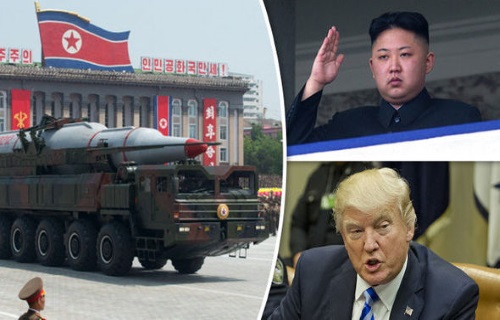 A North Korea official also slammed Vice President Mike Pence and said North Korea is prepared for a "nuclear showdown" if talks with the U.S. fail.
It wasn't so long ago that all seemed strangely rosy between the United States and North Korea. After exchanging threats, President Trump and Kim Jong-un agreed to meet in Singapore to discuss a peace agreement. The former announced he would dismantle a nuclear test site, which Trump called a "very smart and gracious gesture." Three American detainees were returned to the United States. Republicans called for their president to win the Nobel Peace Prize. The White House released a coin to commemorate the historic occasion. What could possibly go wrong?
As it turned out, just about everything. After a week of escalating tensions following an abrupt reversal of tone from North Korea, President Trump on Thursday sent a letter to Kim Jong-un canceling the summit.
Sadly, I was forced to cancel the Summit Meeting in Singapore with Kim Jung Un.
Trump met with South Korean President Moon Jae-in in Washington the following day to discuss the summit, but it doesn't appear Moon was able to convince the president that North Korea would be receptive to the administration's demands. Speaking to reporters with the South Korean leader at his side, Trump publicly expressed doubt the meeting would take place. "It may not work out for June 12th," Trump said. "If it doesn't happen, maybe it will happen later."
On Thursday morning, Kim made good on his promise to dismantle the site, staging a demolition spectacle in front of a group of international reporters. Several components of the site Punggye-ri in northern North Korea were destroyed with explosives, and although some hailed this as a major step toward denuclearization, others equated the gesture to nothing more than a means of destroying evidence. "The North Koreans have conducted all these tests here, every single weapons test, so if they let experts in to look at these tunnels before they let anyone else in, that would be potentially for us an intelligence boon," Bruce Bechtol, a political science professor who has written several books on North Korea, told CNN. Journalists who attempted to bring in equipment to measure the radiation of the wreckage had their tools confiscated.
But more consequential than the demolition was a statement released the same morning by North Korean Vice Foreign Minister Choe Son-hui, who was none too pleased with the comments made earlier in the week by Vice President Pence. "As a person involved in the U.S. affairs, I cannot suppress my surprise at such ignorant and stupid remarks gushing out from the mouth of the U.S. vice president," Choe said. "In case the U.S. offends against our good will and clings to unlawful and outrageous acts, I will put forward a suggestion to our supreme leadership for reconsidering the D.P.R.K.-U.S. summit."
Choe also suggested that North Korea is ready to go to war with the United States if the June 12th meeting should fall through. "Whether the U.S. will meet us at a meeting room or encounter us at nuclear-to-nuclear showdown is entirely dependent upon the decision and behavior of the United States."
Now that meeting has fallen through, and Trump is once again touting America's nuclear capabilities. "You talk about your nuclear capabilities," Trump wrote, "but ours are so massive and powerful that I pray to God they will never have to be used."
"United States will also have to undertake careful deliberations about the fate of the planned North Korea-U.S. summit in light of this provocative military ruckus jointly conducted with the South Korean authorities," the report noted.
North Korea has frequently criticized joint exercises by the United States and South Korea. In March, a high-level South Korean delegation, after its visit to Pyongyang, said that Kim Jong-un had communicated that he understood that military drills would have to go on between the allies.
"Our stance on the joint military drills is that it is hard to postpone the exercises again or suspend them and there is no justification for doing so. But Kim said that he understands the South's stance," an official from South Korea's presidential office had told Yonhap News Agency at the time.
The ongoing Max Thunder exercises come a month after the alliance concluded its large-scale Foal Eagle and Key Resolve exercises. The exercises began on Monday and will run through May 25.
In a statement released by the U.S. Department of Defense, spokesperson Col. Rob Manning said that the exercises are "defensive" in nature and "are part of the [Republic of Korea]-U.S. Alliance's routine, annual training program to maintain a foundation of military readiness."
Last year, ahead of the start the U.S.-South Korea springtime exercises, North Korea conducted a ballistic missile launch exercise, firing four short-range ballistic missiles into the Sea of Japan.
The U.S. Department of State said that despite the threat and the cancellation of the inter-Korean meeting, the United States would continue planning for the June 12 summit meeting.
"We have not heard anything from that government or the government of South Korea to indicate we would not continue conducting these exercises or would not continue planning for our meeting between President Trump and Kim Jong-un next month," State Department spokesperson Heather Nauert said at a news briefing on Tuesday.
In conclusion, the upcoming inter-Korean summit and potential U.S.-North Korea summit will take place in an era of unpredictability, especially in terms of U.S. decision-making while Donald Trump is at the helm. Trump longs to set himself apart from previous administrations and to leave his mark on presidential history. Approaching the North Korean nuclear issue differently than his predecessors and learning from the mistakes of previous administrations' denuclearization approaches would be a good start. The other key player in this drama, South Korea's President Moon Jae-in, is seemingly also onboard for trying a new approach for the North Korean nuclear problem. Moon said on April 19 that "creative" and "bold" steps were needed to find a solution to the North Korean nuclear problem. Does that mean the one-way expectation of the denuclearization approach is no longer in favor?
Trump, for all his shortcomings, is known as a deal maker and thus surely knows deals require compromise; a little give and take. Denuclearization doesn't require any concessions of any kind from the United States or South Korea; only North Korea is expected to yield. A nuclear weapons free zone, on the other hand, requires compromises and concessions from both sides; both sides must keep their nuclear arsenals in check. This NWFZ approach could just be the Trump card that the U.S. can play to finally make progress on this long-running nuclear conundrum.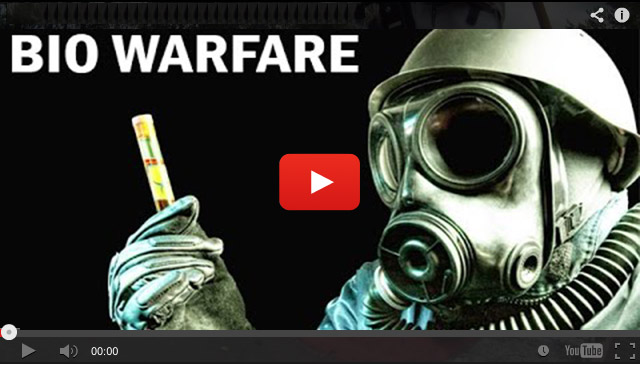 Old Time Wisdom ( Timeless Bits of Wisdom on How to Grow Everything Organically, from the Good Old Days When Everyone Did  you can prepare yourself for war by moving to the countryside and building a farm, but you must take guns with you, as the hordes of starving will be roaming. Also, even though the elite will have their safe havens and specialist shelters, they must be just as careful during the war as the ordinary civilians, because their shelters can still be compromised.")
The Lost Ways (Learn the long forgotten secrets that helped our forefathers survive famines,wars,economic crisis and anything else life threw at them)
Survival MD (Best Post Collapse First Aid Survival Guide Ever)
Conquering the coming collapse (Financial advice and preparedness )
Liberty Generator (Build and make your own energy source)
Backyard Liberty (Easy and cheap DIY Aquaponic system to grow your organic and living food bank)
Bullet Proof Home (A Prepper's Guide in Safeguarding a Home )
Family Self Defense (Best Self Defense Strategies For You And Your Family)
 Survive Any Crisis (Best  Items To Hoard For A Long Term Crisis)