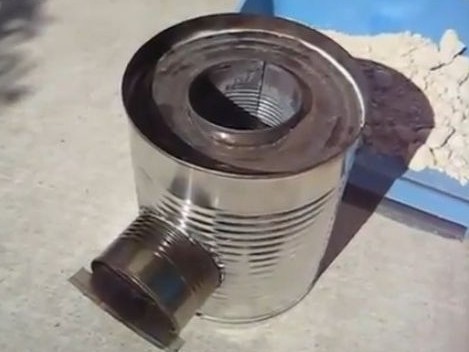 One common concern for prepping is how you will be able to heat up and cook any food if you don't have the nice stainless steel range to cook on? You might have a freezer full of the best steaks but they are awful tough eatin (yes that is the correct spelling) if they aren't cooked to a nice medium rare at a minimum. A great Prep to either have or know how to make is a Rocket Stove.
Rocket Stoves were developed by a man named Sam Baldwin back in the early 80′s. What makes them so great is that the Rocket Stove concept achieves efficient combustion of whatever you are burning (normally small pieces of wood) at a really high temperature. It can do this because the unique design of the Rocket Stove allows a good air draft into the fire and this ensures you have a near complete combustion of the fuel and associated gases. Because of its simple year ingenious design, it has been used for cooking purposes in many third-world locales (notably Rwandan refugee camps) as well as for space and water heating.
LDSPrepper has taken this idea and adapted it to 5 simple cans most of us would either have laying around or could easily get our hands on. Check out his video below.
When you are canning meat products remember these things.
Our grandfathers had more knowledge than any of us today and thrived even when modern conveniences were not available. They were able to produce and store their food for long periods of time. The Lost Ways is the most comprehensive book available. All the knowledge our grandfathers had, in one place.Here's just a glimpse of what you'll find in the book.
Carnivore's Bible (is a wellknown meat processor providing custom meat processing services locally andacross the state of Montana and more. Whether your needs are for domestic meator wild game meat processing)
The Lost Book of Remedies PDF ( contains a series of medicinal andherbal recipes to make home made remedies from medicinal plants and herbs.Chromic diseases and maladies can be overcome  by taking the remediesoutlined in this book. The writer claims that his grandfather was taughtherbalism and healing whilst in active service during world war twoand that he has treated many soldiers with his home made cures. )
Easy Cellar(Info about building and managing your root cellar, plus printable plans. The book on building and using root cellars – The Complete Root Cellar Book.)
The Lost Ways (Learn the long forgotten secrets that helped our forefathers survive famines,wars,economic crisis and anything else life threw at them)
LOST WAYS 2 ( Wordof the day: Prepare! And do it the old fashion way, like our fore-fathers did it and succeed longbefore us,because what lies ahead of us will require all the help we can get. Watch this video and learn the 3 skills that ensured our ancestors survival in hard times offamine and war.)
Survival MD (Best Post Collapse First Aid Survival Guide Ever)
Conquering the coming collapse (Financial advice and preparedness )
Liberty Generator (Build and make your own energy source)
Backyard Liberty (Easy and cheap DIY Aquaponic system to grow your organic and living food bank)
Bullet Proof Home (A Prepper's Guide in Safeguarding a Home )
Family Self Defense (Best Self Defense Strategies For You And Your Family)
 Survive Any Crisis (Best  Items To Hoard For A Long Term Crisis)
Survive The End Days(Biggest Cover Up Of Our President)
Drought USA(Discover The Amazing Device That Turns Air Into Water)