Creating a floating garden beds of straw and water hyacinths on which crops are grown – is making a comeback in the face of increased floods.
A floating garden is built using aquatic weeds as a base on which vegetables can be base on which vegetables can be grown. This approach can extend the growing capabil grown. This approach can extend the growing capabilities of ru ities of rural communities where ral communities where land would otherwise be unavailable. It is cheap and sustainable. d sustainable.
Although floating gardens have been successful for many people there are some who cannot make use of this farming technique. Some of the landless poor do not have access to areas where the gardens could be set up. Even when areas of water are available they can be some distance away from the household. Another difficulty that can arise is that the raw materials to make the raft may not be available.
Don't wait until food becomes scarce; start preparing for the future now by becoming as self-reliant as possible. Your long-term chances of survival could very well depend on your ability to feed yourself and your family without relying on someone else.
Gardens are relatively inexpensive to make requiring a small investment in fertiliser and seeds as well as the labour needed to construct them. Other materials such as the aquatic weed for the base of the raft can be obtained locally at no cost.
The base of the raft is often made from water hyacinth, which is a common weed in many parts of the world where it clogs up water systems and damages the ecosystems and aquaculture within ponds. It is better to use mature water hyacinth as green water hyacinth will decompose too quickly and the raft will not survive the growing season. If water hyacinth is not available other materials can be used such as paddy straw, nalkhagra – a freshwater wetland tree, and any available organic materials such as azola, coconut straw, bamboo, and old rope.
There is no fixed size of raft. Commonly, the rafts are around 8m long and 2m wide and are around 0.6 to 1m deep. The size of the raft can be made to suit the circumstances of the user. If there is a lack of space or if raw materials are in short supply then the rafts can be made smaller.
RELATED : The Best 10 Reasons To Try Straw Bale Gardening – How To Get Started-The Best Plants for Straw Bale Beds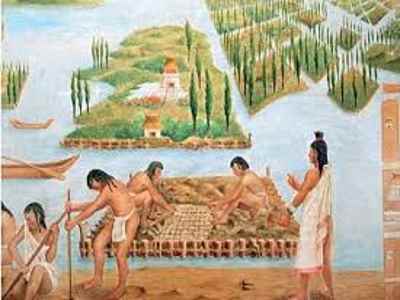 Creating a floating garden
The first step to making a floating raft is to collect the water hyacinth.
Floating water hyacinth is overlaid with bamboo poles of appropriate length to the size of the raft being constructed and this mass of plant matter is taken to one bank to be worked on.
Additional water hyacinth is collected with stick hooks and placed onto the bamboo layer and the thickness of the raft is built up. It is then woven into a buoyant raft.
Once the raft's basic structure has been created the bamboo poles can be pulled out.
After around 7 to 10 days more water hyacinth is added to top up the existing structure then a mulch can be added on to the water hyacinth base.
RELATED :  How to Grow Your Own Organic Sustainable Garden and How to Heat your Home With Biodiesel Renewable Fuels
Soil, compost and cow dung are added to cover the base of the raft to a depth of around 25cm. The compost is made up from azola, a good nitrogen fixing plant, and other readily available organic matter.
Seeds can then be sown. The technique used to improve the seeds' early development is to create round balls of compost comprising of decomposed water hyacinth and an organic fertilizer known locally as
Tema. A couple of seeds are planted into each ball and kept in a shaded area while germination takes place. Once the seedlings have begun to grow they can be planted out onto the raft.
Although rafts don't last indefinitely they can be reused, and hauled to a shadier or sunnier spot or on to a more protected canal to optimise the growing conditions.
Crops that can be produced include Kang Kong (leafy vegetables), okra (lady's finger), gourd, brinjal (aubergine), pumpkin, and onions. Eventually the raft will decay and cannot be used any longer. The rafts are then broken up and used as compost, usually at the end of the growing season and a new raft is prepared for the next crop.
Ducks, rats and other animals are attracted to the crops on the raft and may need some form of protection. Fencing can be set up around the perimeter of the raft using whatever materials are available. Broken fishing nets or sticks can be effective barriers.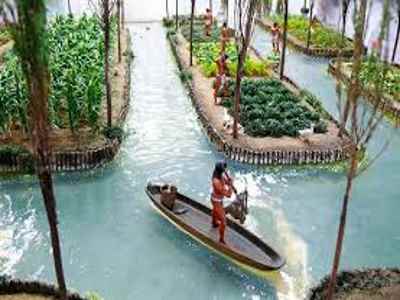 Using a floating Garden
The gardens should not be used on areas of water that are affected by tides or currents where they would be vulnerable to erosion and at risk of disintegrating. Flooded land or small ponds can be used. The floating gardens are kept in position by tethering them to poles.
Harvesting Harvesting
In some circumstances the raft can be accessed on foot, or by using a raft or boat if the garden is in deeper water.
The rafts can be used for summer and winter crops. Vegetables are harvested two or three time a week or when there is particularly high demand. The produce is sold either through direct selling in the local market or through an intermediary whole seller.
RELATED : The Best 5 Gardening System to Grow Food for all Your Family Every Year Even in a Desert
The floating garden is just one approach that can be used to improve the food resources of people.
Such approaches include small-scale fish farming, pigeon rearing, and duck rearing. Farming methods have to be suitable for small-scale farmers without the need for large financial investment. (source)

Other useful resources:
The Lost Ways (Learn the long forgotten secrets that helped our forefathers survive famines,wars,economic crisis and anything else life threw at them)
Survival MD (Best Post Collapse First Aid Survival Guide Ever)
Backyard Innovator (A Self Sustaining Source Of Fresh Meat,Vegetables And Clean Drinking Water)
Blackout USA (EMP survival and preparedness)
Conquering the coming collapse (Financial advice and preparedness )
Liberty Generator (Build and make your own energy source)
Backyard Liberty (Easy and cheap DIY Aquaponic system to grow your organic and living food bank)
Bullet Proof Home (A Prepper's Guide in Safeguarding a Home )
Family Self Defense (Best Self Defense Strategies For You And Your Family)
 Survive Any Crisis (Best  Items To Hoard For A Long Term Crisis)
Survive The End Days (Biggest Cover Up Of Our President)
Drought USA (Discover The Amazing Device That Turns Air Into Water)