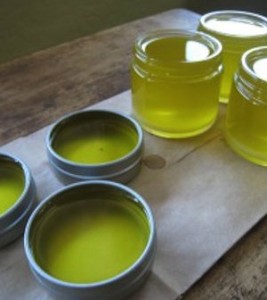 For treating minor cuts, scrapes, abrasions and whatnot, most people will reach for the Neosporin or some other antiseptic ointments.
These are great items to keep in your first aid kit, but hold on just a second before you rush out the the pharmacy to stock up on these…
Did you know that instead of wasting $5 to $10 on ointment, you can make your own DIY antiseptic from scratch?
This homemade antiseptic ointment is packed with germ-killing properties that will help treat those everyday minor cuts, scrapes, and abrasions you might have, and best of all, it's really easy to make.
Here's all you need:
1 1/2 ounces beeswax, grated
1 cup olive, almond, or coconut oil
1/4 teaspoon vitamin E oil
1/2 teaspoon tea tree oil
20 drops lavender essential oil
10 drops lemon essential oil
Ointment Recipe Directions:
1. In a small pot, and melt the oils (except the lavender and lemon essential oils) and beeswax using low heat (very low heat).
2. Remove pot from the heat and add Vitamin E oil, lemon, and lavender essential oil. Stir with a chopstick or a small wooden spoon.
3. Pour the mixture into a small sterilized jar(s) (or a mason jar). Then let stand and cool on the counter.
4. Store it in a dark cool place.
When you get a cut, scrape or abrasion, use this ointment as needed on the wound(s).
It should keep for roughly 5 years.
How does it work?
The antiseptic properties include:
Tea tree oil: antibiotic, anti-fungal, antiviral, antibacterial
Lavender: analgesic (pain relief), antibiotic, anti-fungal, antiviral, and antibacterial
Lemon: antibiotic, antifungal, antiviral, antibacterial
*For those who don't like the smell of lavender, you can substitute chamomile essential oils for lavender and fir essential oils for lemon.
Source and Credits: Source