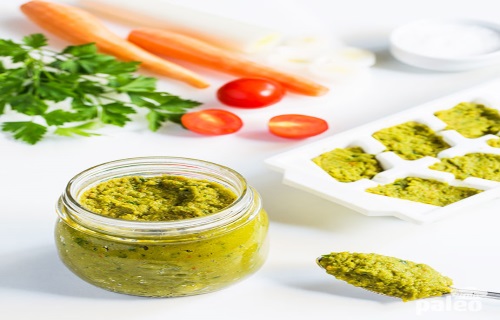 No one likes bland food. That's why herbs and spices and things like bouillon cubes exist. But, have you looked at the sodium content in bouillon powders?! Yikes! Just 1/2 a tablet (950 mg of sodium) accounts for 40% of your daily value (and that's calculated on a 2000 calorie diet). Health Canada recommends a sodium intake of 1500 mg/day.
Those who are concerned about the ingredients used in making stock cubes. You know, some of us really want to know what we put in our mouth and there are lots of chemical ingredients added to stock cubes. If you are one of those people, you need to start making your own stock cubes.
But, you don't have to sacrifice taste in exchange for low sodium. You can make your own chicken bouillon powder in just a few minutes.
Homemade Stock Cubes [Video]
Homemade stock cubes are perfect for those intolerant to MSG, for kids recipes and for those concerned about what goes into their food.
Homemade stock cubes are perfect for:
Usage: Add the cubes to your taste. It is all natural so there is no risk of adding too much.
Ingredients for Homemade Stock Cubes
For basic homemade stock cubes prepared without vegetables, only beef/chicken, visit the Basic Homemade Stockcubes page.
For chicken flavoured homemade stock cubes, you will need:
500g Chicken bones or minced chicken breast
3 leeks (or 6 Spring onions)
1 onion
3 big carrots
Salt to taste (optional)
For fish flavoured homemade stock cubes, you will need:
3 Mackerel/Titus heads
1 leek (or 2 spring onions)
1 onion
3 big carrots
Salt to taste (optional)
For beef flavoured homemade stock cubes, you will need:
500g of cow ribs (costilla de tenera/vaca in Spanish)
3 leek (or 6 spring onions)
1 onion
3 big carrots
Salt to taste (optional)
For vegetable homemade stock cubes:
Here, you will need to use your favourite vegetables and herbs. Cut them up, put them in a pot, add vegetable oil and salt and cook till they are very soft. Blend and pass through a sieve then pour in ice cube trays and freeze.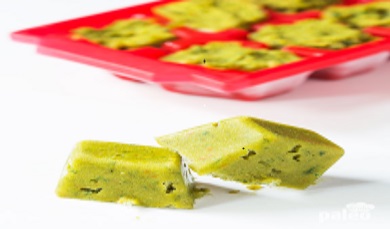 Vegetables and herbs you can use include:
Leeks (or spring onions)
Onions
Carrots
Scent leaves or parsley
Garlic
Ginger
Basil
Rosemary
Notes on the ingredients
Leeks are root vegetables that belong to the same family as onions. They look like giant spring onions. They are not common in Nigeria so use spring onions as alternative.
Where I live, I buy chicken bones from the chicken sellers. They usually take out the chicken breast and the remaining bone still has enough meat for you to make your stock cubes with.
You can add salt when making your stock cubes but I usually prepare mine without salt.
I don't use the very green parts of leek because it makes the stock cubes taste so "green" that my food tastes almost bitter.
I use cow ribs for my beef flavoured stock cubes because this part of beef is very tasty, contains bones and some natural oils, perfect for making stock cubes. So you get all the benefits by using this part of beef.
>> Click Here To Watch His Short Video <<<
Procedure
The directions described here is for making chicken flavoured stock cubes in your home but the same procedure applies to beef flavoured and fish flavoured homemade stock cubes.
Cut up the chicken and vegetables into small pieces.
Put everything in a pot, add water to half the level of the contents of the pot and cook on medium to high heat for 45 minutes or till everything is soft and tender.
Set aside to cool down completely.
Remove the bones from the chicken.
Blend the chicken and vegetables.
Strain with a sieve to remove all traces of bones and other particles that did not blend well.
Pour into ice cube trays and place in the freezer overnight.
Once frozen, bring out from the ice cube trays and put in a container with a cap.
Cover and put back in the freezer. That's it!
Add to your cooking as you would use store-bought stock cubes.
How to Make Your Own Vegetable Bouillon Cubes
Ingredients:
• 1 cup nutritional yeast flakes
• 2 Tbsp onion powder or dried minced onion
• 2 Tbsp dried parsley
• 1 tsp garlic powder
• 1 tsp celery seed
• 1 tsp thyme
• 1 tsp dried marjoram
• 1 tsp dried rosemary
• 1 tsp paprika (regular or smoked)
• 1/2 tsp basil
Mix all ingredients in a blender or food processor. Pulse until well blended. Keep in an airtight container or bag for up to 6 months.
Add 1 Tbsp of bouillon powder to a cup of hot water for a cup of soup or broth. You can use the powder in any recipe calling for commercial bouillon cubes. It can be a great way to flavor rice or quinoa. Just add to water before adding the rice/quinoa.
Remember… back in those days, there was no electricity… no refrigerators… no law enforcement… and certainly no grocery store or supermarkets… Some of these exceptional skills are hundreds of years of old and they were learned the hard way by the early pioneers.
Homemade Vegeta All-Purpose Seasoning
(Makes 2 cups)
3 medium onions, cut into 2-inch cubes
5 celery ribs, diced
3 medium russet potatoes, peeled and diced
3 medium red bell peppers, diced
3 large green bell peppers, diced
3 large carrots, peeled and diced
2 large parsnips, peeled and diced
8-10 garlic cloves
1 bunch fresh parsley
4-5 tablespoons chicken or beef bouillon granules
In a saucepan over high heat, add diced potatoes and carrots in enough water to cover them. Cook for 5 minutes until soft. Drain.
Instant vegetarian bouillon cubes
If you don't have time to boil and reduce the stock for hours, use this instant recipe to make vegetarian bouillon cubes at home:
Ingredients
3 medium sized coarsely chopped carrots
½ cup leeks, chopped
½ cup medium sized onion, quartered
½ cup peeled and diced celeriac
 2 cloves of garlic
 3 chopped celery stalks
 4-5 chopped cherry tomatoes
 ½ cup coarsely chopped parsley
3 tbsp salt
Recipe
Place carrots, leeks, onion, celeriac and garlic in the blender
Blend until smooth
Use the temper of your blender to push down the ingredients
Add all the remaining ingredients in the blender
Pulse until you form a moist paste
Pour the paste into an ice tray
Keep in the freezer and let it freeze until they become solid
You can use these cubes in your recipe as you want
Combine all the ingredients except the bouillon in a blender or food processor and whirl until fully processed. Place on a jelly roll tray in food dehydrator at a setting of 135-145 degrees for 5 hours or until dried and crumbly. Once the mixture is thoroughly dried, add bouillon granules to taste. Store in a jar for up to 1 year.
Every natural pantry should have homemade bouillon on hand to add for cooking. Turning your existing bone broth into bouillon is a fast and nutritious way to ensuring you have a long lasting way to add flavor and additional nutrients to your dishes. Use your favorite broth recipe and try this simple dehydrating method today.
---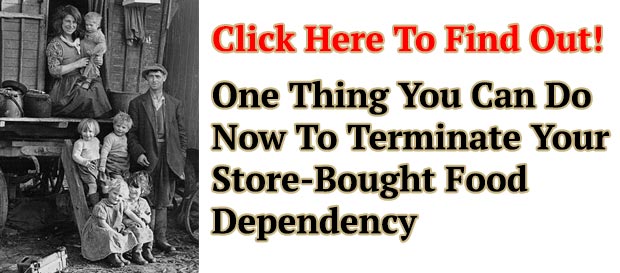 Survival Food Prepping Ideas/ULTIMATE Top Skills 2017
Discover how to survive: Most complete survival tactics, tips, skills and ideas like how to make pemmican, snow shoes, knives, soap, beer, smoke houses, bullets, survival bread, water wheels, herbal poultices, Indian round houses, root cellars, primitive navigation, and much more at: The Lost Ways
Here's just a glimpse of what you'll find in The Lost Ways:
From Ruff Simons, an old west history expert and former deputy, you'll learn the techniques and methods used by the wise sheriffs from the frontiers to defend an entire village despite being outnumbered and outgunned by gangs of robbers and bandits, and how you can use their wisdom to defend your home against looters when you'll be surrounded.
Native American ERIK BAINBRIDGE – who took part in the reconstruction of the native village of Kule Loklo in California, will show you how Native Americans build the subterranean roundhouse, an underground house that today will serve you as a storm shelter, a perfectly camouflaged hideout, or a bunker. It can easily shelter three to four families, so how will you feel if, when all hell breaks loose, you'll be able to call all your loved ones and offer them guidance and shelter? Besides that, the subterranean roundhouse makes an awesome root cellar where you can keep all your food and water reserves year-round.
From Shannon Azares you'll learn how sailors from the XVII century preserved water in their ships for months on end, even years and how you can use this method to preserve clean water for your family cost-free.
Mike Searson – who is a Firearm and Old West history expert – will show you what to do when there is no more ammo to be had, how people who wandered the West managed to hunt eight deer with six bullets, and why their supply of ammo never ran out. Remember the panic buying in the first half of 2013? That was nothing compared to what's going to precede the collapse.
From Susan Morrow, an ex-science teacher and chemist, you'll master "The Art of Poultice." She says, "If you really explore the ingredients from which our forefathers made poultices, you'll be totally surprised by the similarities with modern medicines." Well…how would you feel in a crisis to be the only one from the group knowledgeable about this lost skill? When there are no more antibiotics, people will turn to you to save their ill children's lives.
If you liked our video tutorial on how to make Pemmican, then you'll love this: I will show you how to make another superfood that our troops were using in the Independence war, and even George Washington ate on several occasions. This food never goes bad. And I'm not talking about honey or vinegar. I'm talking about real food! The awesome part is that you can make this food in just 10 minutes and I'm pretty sure that you already have the ingredients in your house right now.
Really, this is all just a peek.
The Lost Ways is a far-reaching book with chapters ranging from simple things like making tasty bark-bread-like people did when there was no food-to building a traditional backyard smokehouse… and many, many, many more!
And believe it or not, this is not all…
Table Of Contents:
The Most Important Thing
Making Your Own Beverages: Beer to Stronger Stuff
Ginger Beer: Making Soda the Old Fashioned Way
How North American Indians and Early Pioneers Made Pemmican
Spycraft: Military Correspondence During The 1700's to 1900's
Wild West Guns for SHTF and a Guide to Rolling Your Own Ammo
How Our Forefathers Built Their Sawmills, Grain Mills,and Stamping Mills
How Our Ancestors Made Herbal Poultice to Heal Their Wounds
What Our Ancestors Were Foraging For? or How to Wildcraft Your Table
How Our Ancestors Navigated Without Using a GPS System
How Our Forefathers Made Knives
How Our Forefathers Made Snow shoes for Survival
How North California Native Americans Built Their Semi-subterranean Roundhouses
Our Ancestors'Guide to Root Cellars
Good Old Fashioned Cooking on an Open Flame
Learning from Our Ancestors How to Preserve Water
Learning from Our Ancestors How to Take Care of Our Hygiene When There Isn't Anything to Buy
How and Why I Prefer to Make Soap with Modern Ingredients
Temporarily Installing a Wood-Burning Stove during Emergencies
Making Traditional and Survival Bark Bread…….
Trapping in Winter for Beaver and Muskrat Just like Our Forefathers Did
How to Make a Smokehouse and Smoke Fish
Survival Lessons From The Donner Party
Books can be your best pre-collapse investment.
The Lost Ways (Learn the long forgotten secrets that helped our forefathers survive famines,wars,economic crisis and anything else life threw at them)
Survival MD (Best Post Collapse First Aid Survival Guide Ever)
Conquering the coming collapse (Financial advice and preparedness )
Liberty Generator (Build and make your own energy source)
Backyard Liberty (Easy and cheap DIY Aquaponic system to grow your organic and living food bank)
Bullet Proof Home (A Prepper's Guide in Safeguarding a Home )
Family Self Defense (Best Self Defense Strategies For You And Your Family)
 Survive Any Crisis (Best  Items To Hoard For A Long Term Crisis)
Survive The End Days (Biggest Cover Up Of Our President)
Drought USA (Discover The Amazing Device That Turns Air Into Water)