A famine is a widespread scarcity of food, caused by several factors including crop failure, population imbalance, or government policies. This phenomenon is usually accompanied or followed by regional malnutrition, starvation, epidemic, and increased mortality. Nearly every continent in the world has experienced a period of famine throughout history. Some countries, particularly in sub-Sahara Africa, continue to have extreme cases of famine. It remains to be the most affected area in the world. And due to climate change, the conditions only fluctuate more and more. Predicting the seasons, as well as when to expect rain to help plant more crops seems to be a challenge. Most programmes direct their aid, and most increased efforts towards this continent.
There are great deal of headlines making the news lately which all point towards the realistic possibility of a terrible drought. Drought, famine, pestilence—it's not exactly something that we spend much of our days thinking about. However, in my desire to fortify my Spiritual and Mental Preparedness (the first 2 priorities of the 10 Principles of Preparedness) I indulged in some major research into the history of famines in world history and the human response to these scenarios. What I discovered actually confirmed in my mind that any person who desires to be self-reliant, should do so with the reality of a seven year famine in their future.
RELATED : Famine, disasters, terror attacks, riots and looting will take place Across the Country – Time To Leave the Cities or be Prepared to face the Consequences
A story was featured recently in which those in West Virginia who received food stamps were panicking about the food that they lost during the week-long power outage that they experienced. When the news station ran the story about how dire the conditions were for those receiving assistance, their station was inundated by hundreds of viewers who were attesting that those who receive food stamps weren't the only ones suffering from a lack of food. There are, after all, those who barely make it without government subsidies; a week without power could have easily destroyed the majority of their primary food sources.
The compilers were able to show the specific reasons for the difficulties of food and hunger in rural and urban areas in the 30s via the documents published in the first volume. First of all, it's the wrong planning of mandatory public procurement of agricultural production by collective and state farms and individual farms, as well as gross violations of agriculture planting and harvesting. Grain procurement plans were calculated by the governing bodies in the administrative order on the basis of reports from the field about the size of cultivated areas in the districts and the average yield in them for several years. However, according to sources, there was mass registry of crops. In allocation of tasks for grain procurement the local authorities acted «randomly» regardless of the actual planting and yields. Particularly, the system of grain procurement had negatively affected on the individual sectors of the agrarian economy. To increase the force of entry the individual farmers they had excessive tasks that they could not perform and as a result they did not have seeds. In 1930, many of them were forced to cut crops. For Stalin's the reasons for the difficulties in the village consisted primarily in anti-state behavior of the peasantry, with whom he was forced to fight a war and the inability of local Party and Soviet bureaucracy to work with the peasants. Grain procurement crisis grew on the background of decreasing food security of cities and the different categories of the population not engaged in agriculture.
RELATED : It's Happening Now: Famine is Coming To A City Near You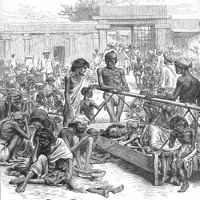 The Russian people were no strangers to famine. Russia was a nation of vast land reserves, however because most farming was done by hand, with little machinery or infrastructure, agricultural productivity was very low. The success of Russian harvests also hinged on favourable weather conditions. Russian farmers experienced droughts every five to seven years, each leading to crop failures and food shortages. These droughts were a significant causal factor of the Great Famine. In the Samara region, for example, the average May rainfall was 38.8 millimetres – but in 1921 the region received just 0.3 millimetres of rain. The drought took a severe toll on the Ukraine, the black soil region that produced more than one third of Russia's grain and cereal crops. Russia's total crop yield in 1921 was about half that of 1913. Approximately one quarter of all grain and cereal crops died in the ground before harvest. In some regions there was almost total crop failure. Bolshevik policies only exacerbated the disaster. Most of Russia's peasants prepared for crop failures by storing a year's grain in reserve, however most of their granaries were empty after years of war, drained by the constant requisitioning of war communism.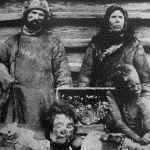 Suspected cannibals
   are photographed with body
  parts found in their home
In short, our forefathers lived more simply than most people today are willing to live and that is why they survived with no grocery store, no cheap oil, no cars, no electricity, and no running water. Just like our forefathers used to do, The Lost Ways Book teaches you how you can survive in the worst-case scenario with the minimum resources available. It comes as a step-by-step guide accompanied by pictures and teaches you how to use basic ingredients to make super-food for your loved ones.
The major famines and the emergency foods used to survive them include:
1# This was opened in Dublin and his "famine soup" was served to thousands of the poor for free. This is that soup;
INGREDIENTS:
450 g British stewing beef
5 litres water
200 g butter (was meant to be dripping)
3 onions
500 g flour
100 g brown sugar
200 g salt
PREPARE
My attentions for cooking this was out of pure curiosity, as there is no photograph or evidence that anyone else has tried to cook it online. There was something exciting about being able to have a literal taste of history.I also added two leeks as I read the ends would sometimes be added if available. The list of ingredients alarmingly shorter than recipes I am used to following, I guess our tastebuds have evolved to more deluxe exotic spices.
I roughly chopped the veg as I imagined the people who prepared chopped enough veg for 6000 people wouldn't have been very precise.
Melt the butter in a large pot (after realising the quantity the small price and amount of ingredients made, I quickly upgraded to my largest vessel!)
Add your vegetables to the butter and cook on a medium heat for 5 minutes.
Add your sugar to caramelise your vegetables.
Shortly after add your beef.
This soup is thickened with flour, unsure how to make it not lumpy I added hot water to the flour in a bowl and used an electric mixer. Once…not lumpy, I added the mixture to the soup.
I then added the salt, you can add more as the originally recipe had a lot!! As a student I didn't want to food to go to waste so I seasoned to taste. I cooked that on a low heat for 2 hours, then added the peal barley and cooked for another 75 minutes.
This is what I got! It actually taste ok, if you are alright with your soup being made from water and flour give it a go. A dish with a true historical background.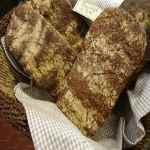 RELATED : Prepare for the famine that is coming: Get Food And Water Now!
Tree bark
Scandinavian traditions of using tree bark flours in cooking—in particular the use of birch and pine barks in the cuisines of indigenous.
The bark bread was seen as nutritionally deficient, more as "stomach filler" than as actual sustenance. Both the bishop Pontoppidan and others blamed the high mortality during the famine of the 1740s on the "unhealthy bark bread" and general lack of food.Among the Sami however, the bark and bark bread made from Scots pine served as an important source of vitamin C.
2 # Birch bark bread
600g whole grain flour
400g tipo 00 flour
75g birch flour
20g salt
925g water
200g sourdough starter
Combine ingredients and soak overnight. The next morning add 200g sourdough. Over the next 4-5 hours turn the dough every 45-60 minutes by pulling up one corner and folding it over onto itself. Give the bowl a quarter turn and repeat until you have made it all the way around.
Shape loaves into tight rounds and let them rest for 20 minutes. Then fold them into tight packages and place in a rising basket. Allow to rise for 2-3 hours.
Place Dutch oven with lid into oven and preheat oven to 250°C. Once hot, drop the dough into the pot, score, and put the lid back on. Decrease temperature to 230°C and bake for 20 minutes. Remove the lid and bake for another 25 minutes until the crust turns a beautiful golden brown.
3# PINE BARK COOKIES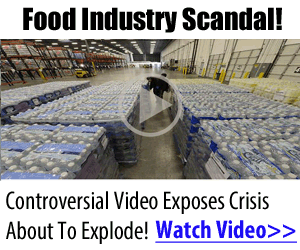 75g sugar
113g butter
1 egg white
60g pine bark flour
90g wheat flour
2g baking powder
2g salt
1. Oven 180˚C, 10% humidity.
2. Cream together the butter and sugar; add lightly beaten egg white.
3. Sift together dry ingredients and slowly add to creamed mixture. Stir till combined.
4. The mixture should be quite fatty. Wrap, and place in refrigerator for one hour.
5. Roll between sheets of parchment very thinly (at this point it may be helpful to put the rolled out sheet in the freezer for 5 minutes to firm it up a little bit), and then cut out cookie shapes (I used 30mm circle cutter).
6. Bake on silicone for 5 minutes—less if they are very small, and more if they are larger.
7. Cool and enjoy sandwiching this tasty bastard:
4# CELERIAC WHITE CHOCOLATE BUTTERCREAM
approx. 300g celeriac (½ large), peeled and cut into 5cm chunks
milk for poaching
90g white chocolate pieces
50mL heavy cream
2 sheets gelatin
1. Poach the celeriac till very soft in two changes of milk.
2. Let cool and strain away milk (save for delicious rooty toot tootin' lattes!!)
3. Purée with blender, then pass through tamis to remove fibres.
4. Heat the cream and chocolate over a bain marie, whisk to combine.
5. Soften gelatin in some water and melt over bain marie with a dash of cream. Whisk gelatin into chocolate mixture.
6. Pour over celeriac puree and blend thoroughly. Spread into container and let cool for at least 4 hours.
7. Purée celeriac white chocolate again for smoothness; spread on half of your pine cookies and ever so gently top with another pine cookie (they are delicate flowers).
8. Put in the refrigerator to set again, half an hour. Serve immediately and enjoy or they may become soggy.
Feast or Famine – A Cultural Food Journey of the North West of Ireland
5# Bread Recipe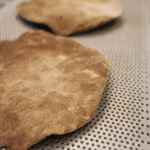 (with Metric & US Cup measurements)
Ingredients (makes 1 medium loaf)
1 Cup/150g Plain Flour
1 Cup/150g Wholemeal Flour
1 Cup/100g Rolled (Porridge) Oats
1 tsp salt
2 tspn Baking Powder
2 tblsp/40g Butter
2 tblsp/40g Caster Sugar
1 Cup/250ml Buttermilk
(if you have no buttermilk, add juice of 1/4 lemon to ordinary milk – zack)
Method:
1. Preheat oven to 180°C/Gas 4/ 350°F. Line a baking sheet with greaseproof paper.
2. Stir the flours, baking powder, salt and sugar together. Rub the butter into the flour mixture.
3. Pour in the buttermilk and work the mixture to a thick, but not too soft, consistency.
4. Shape the dough and place on your baking tray. Pierce the centre, cut an "X" on top, 1/3 of the way through and sprinkle with a little more wholemeal flour.
5. Bake for 35 minutes or until a skewer comes out clean. The bottom of the bread should sound hollow when tapped in the centre.
The potato has been around for a long time, and is one of the earliest ever cultivated foods, but only arrived in Europe in 1570, from South America. The Irish took to it quickly. It grew well in Irish conditions, provided bountiful harvests and, most importantly, could be easily stored and eaten during the winter months.
Its effect was nothing short of dramatic, but what seemed initially like the answer to a prayer would turn out to be a curse.
With access to this new staple food the Irish population began to grow, and grow extremely rapidly. When the potato arrived in 1580 there were fewer than 1 million people living in Ireland, by 1840 the population had exploded to more than 8 million, most of them poor.
The burgeoning population lived on a diet comprised mainly of potatoes and milk, which if eaten in sufficient quantity is a surprisingly nutritious, if monotonous, diet. It is also relatively tasty and easy to prepare.
HOW TO MAKE IRISH POTATO RECIPES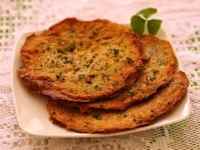 6# IRISH BOXTY RECIPE
3 Cups peeled and grated potatoes
2 Cups leftover mashed potatoes
1 Teaspoon salt
1 Teaspoon baking soda
¼ Cup flour (more for rolling)
½ Cup chopped onion
½ Cup chopped ham
¼ Cup bacon drippings
Combine raw potatoes and mashed potatoes in a large bowl.
Combine and mix flour, salt and soda in another bowl; add to the potatoes.
Add onions and ham; stir well to form dough.
Roll dough out in circle ½ inch thick on a well floured board; cut into serving wedges.
Heat bacon fat in a skillet until hot; brown wedges on both sides.
Drain on paper towels.
7# HAM AND POTATO CHOWDER RECIPE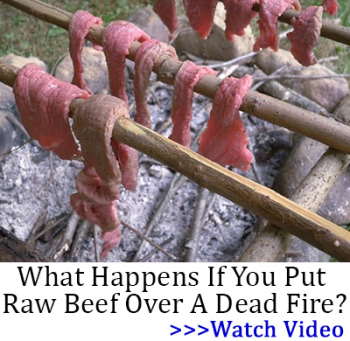 This is one of the Irish potato recipes so good and warming when it is cold and damp outside.
¼ Cup melted butter
1 Medium minced onion
¾ Cup diced ham
½ Cup chopped celery
1 ½ Cups finely diced raw potato
¼ Cup flour
1 ½ Teaspoons salt
¼ Teaspoon black pepper
4 Cups milk
Sauté onion, celery and ham in melted butter in a large saucepan.
Add potatoes and cook 10 minutes longer; remove from heat and add flour, salt and pepper.
Add milk and return to heat; warm slowly do not boil.
Serve immediately.
8#LAMB FILLING WITH GOAT CHEESE MASHED POTATOES
2 Tablespoons olive oil
¼ Cup flour
1 ½ Teaspoons salt
½ Teaspoon freshly ground black pepper
2 Pounds boneless lamb cut in cubes
1 Cup thick onion slices
3 Cloves garlic
1 Cup Guinness Beer
2 Cups chicken broth
1 ½ Teaspoons dried thyme
1 Bay leaf
1 Recipe goat cheese mashed potatoes
Preheat oven to 350F degrees.
Combine flour, salt and pepper in small bowl; toss lamb in flour mixture.
Heat oil in Dutch oven; brown lamb in oil.
Add onions and garlic and sauté until onions are tender 3 to 4 minutes.
Pour in the beer and scrape up any browned bits on bottom or sides of pan.
Add broth, thyme and bay leaf; stir to mix.
Cover pan and place in preheated oven for 30, minutes; remove bay leaf.
Make cheese mashed potato recipe and spread over the stew; dot top with pieces of butter.
Bake uncovered for an additional 20 minutes until potatoes are golden brown.
9# CHEESE MASHED POTATO RECIPE
4 Cups mashed potatoes
5 Ounces goat cheese
2 to 4 Tablespoons milk
Beat potatoes and cheese thinning with milk.
10# POTATO AND CABBAGE RECIPE
This potato and cabbage recipe is similar to other Irish potato recipes like the Colcannon; the difference is that these potatoes are not cook real tender so they do not mash as creamy.
2 Medium potatoes
2 Small leeks
Milk
½ Head cabbage
Salt/ pepper to taste
1/8 Teaspoon mace
½ Cup butter
Sprigs of parsley
Cook unpeeled potatoes in lightly salted water just until tender. (Not soft)
Trim leeks and chop both white and green; cover with milk and cook until soft.
Chop cabbage and cook for 5 minutes in lightly salted water; drain and chop in small pieces.
Drain potatoes, peel and put through ricer.
Beat potatoes with mixer; add leeks and milk mixture and season with salt, pepper and mace.
Beat in cabbage; shape mixture on serving platter.
Make well in center of mixture; pour hot melted butter in center well.
Serve immediately.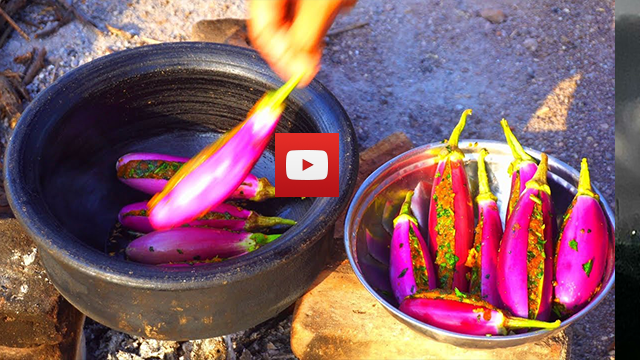 11# IRISH POTATO SCONE RECIPE
As I said, don't be surprised at any Irish potato recipes you might find. Whatever it is for, the potatoes will give it added texture and flavor as in this Irish potato scone recipe.
4 Tablespoons butter
¾ Cup water
1 Cup sifted flour
2 Eggs
1 Cup fresh mashed potatoes (barely a cup)
½ Teaspoon salt
Heat butter and water together in a small saucepan; after butter melts stir in sifted flour.
When mixture is smooth, break in the eggs one at a time beating with electric mixer.
Beat in hot mashed potatoes until smooth; add salt.
Turn dough out onto floured surface and let set to cool; sprinkle with flour, wrap and chill for several hours.
Remove dough from refrigerator and roll out to ½ inch thick into circle and cut into wedges.
Heat a little oil in large skillet until hot; cook scones until brown on both sides.
Serve hot with butter.
12# POTATO APPLES
This is one of the Irish potato recipes which makes a nice presentation to a pork dinner.
Shape well seasoned mashed potatoes into small apple shapes; use clove in place of stem.
Brush with egg yolk diluted with water; dust with paprika.
Brown in hot oven (425F degrees) and serve on plate with sliced pork.
Another traditional Irish food, black pudding, which is made from ox blood and oatmeal, gave those who had a cow access to protein without killing their valuable animal – the blood came from occasional bleeding of live animals.
In towns, shops began to emerge from the early 1600s, primarily butchers and bakers, where before only open markets would have taken place. They had a ready clientèle in the merchants who controlled the export trade, the administrators representing the English government, army garrisons and the agents of landlords. As well as locally produced food they sold imported delicacies, preserves, spices, sugar and tea.
12# Black pudding is a blend of onions, pork fat, oatmeal, flavourings – and blood (usually from a pig). As long as animals have been slaughtered to provide food, blood sausages like black pudding have been in existence
INGREDIENTS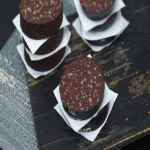 4 cups fresh pig's blood
2 1/2 teaspoons salt
1 1/2 cups steel-cut (pinhead) oatmeal
2 cups finely diced pork fat (or beef suet), finely chopped
1 large yellow onion, finely chopped
1 cup milk
1 1/2 teaspoons freshly ground black pepper
1 teaspoon ground allspice
PREPARATION
1 Preheat the oven to 325°F and grease 2 glass loaf pans. (If you don't have glass loaf pans, line metal loaf pans with parchment to keep the blood sausage from reacting with the metal and creating an off-flavor.) Stir 1 teaspoon of salt into the blood.
2 Bring 2 1/2 cups water to a boil and stir in the oats. Simmer, stirring occasionally, for 15 minutes, until just tender, not mushy.
3 Pour the blood through a fine sieve into a large bowl to remove any lumps. Stir in the fat, onion, milk, pepper, allspice and remaining 1 1/2 teaspoons salt. Add the oatmeal and mix to combine. Divide the mixture between the loaf pans, cover with foil, and bake for 1 hour, until firm. Cool completely. Seal in plastic wrap and wither freeze for extended use or store in the refrigerator for up to a week.
4 To serve, cut a slice about 1/2-inch thick off the loaf. Fry in butter or oil until the edges are slightly crisped and browned.
13# WHITE PUDDING– White pudding is a variety made without blood, but using minced liver instead..
Ingredients
1 quarter pint of fresh pig's blood
8 oz. bread cut into cubes
1 quarter pint of skimmed milk
1 lb. cooked barley
1 lb. fresh beef suet
8 oz. of fine oatmeal
1 tsp. salt
2 tsps. ground black pepper
2 tsp. dried mint
Directions
Put the bread cubes to soak in the milk in a warm oven. Do not heat the milk beyond blood temoerature. Have the blood ready in a large bowl, and pour the warm milk and bread into it. Stir in the cooked barley. Grate the beef suet into the mixture and stir it up with the oatmeal. Season with salt and pepper and mint.
Have ready two or three large roasting pans. Divide the mixture between them, they shouldn't be more than three-quarters full. Bake in a moderate oven (350*F. for about an hour or until the pudding is well cooked through. This makes a beautifully light pudding, which will keep well in a cold cupboard or fridge.
Cut into squares and fry until heated through and the outside is crisp, in bacon fat or butter.
Serves Six It is normally fried and is an essential part of a traditional Irish breakfast. Or– for supper with fried apples and mashed potatoes.
In France, Germany and Belgium During the Famine of WWI and WWII
Rutabagas were widely used as a food of last resort in Europe during the famine of World War I and World War II. The roots are prepared for human food in a variety of ways, and theleaves can be eaten as a leaf vegetable. Especially the French and the Germans boiled rutabaga making a stew.
'Stirabout,' si a substantial porridge made from two-thirds Indian corn meal and one-third rice, cooked with water. By the summer, three million Irish were being kept alive on a pound of stirabout and a four-ounce slice of bread each day.
Due to the war situation, tulip growers have not planted tulip bulbs that year; great amounts of tulip bulbs were stocked on farms throughout the country. During the famine authorities decided to use these stocks as food for the starving populations. The tulip bulbs were nutritious and relatively easy to cook.
Grass pea is a particularly important crop in areas that are prone to drought and famine, and is thought of as an 'insurance crop' as it produces reliable yields when all other crops fail.
Well that's something people eat when there's nothing else to eat, because eating grass pea may cause a disease that basically paralyzes the lower limbs. The disease occurs only when the seeds are consumed as a primary protein source for a prolonged period but safe to eat for days maybe weeks.
When a famine occurs, that's hell of a lot of people who end up eating this grass pea. The ratio is fairly small with about 10 out of 1000 people who get the disease.
Flour was made out of grass peas (named almorta) and they mixed it with wheat flour to eliminate the toxicity.
In a dire emergency, you may not have electricity, or it could be subject to black-outs. In that case, start your famine menu using lesser amounts of food than you'll need, since you won't be able to refrigerate the leftovers. With each meal, add a little more food until you're consuming everything within one day and tummies are all fairly satisfied.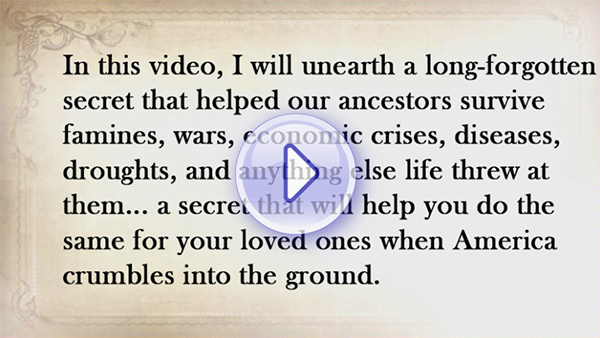 Carnivore's Bible (is a wellknown meat processor providing custom meat processing services locally andacross the state of Montana and more. Whether your needs are for domestic meator wild game meat processing)
The Lost Book of Remedies PDF ( contains a series of medicinal andherbal recipes to make home made remedies from medicinal plants and herbs.Chromic diseases and maladies can be overcome  by taking the remediesoutlined in this book. The writer claims that his grandfather was taughtherbalism and healing whilst in active service during world war twoand that he has treated many soldiers with his home made cures. )
Easy Cellar(Info about building and managing your root cellar, plus printable plans. The book on building and using root cellars – The Complete Root Cellar Book.)
The Lost Ways (Learn the long forgotten secrets that helped our forefathers survive famines,wars,economic crisis and anything else life threw at them)
LOST WAYS 2 ( Wordof the day: Prepare! And do it the old fashion way, like our fore-fathers did it and succeed longbefore us,because what lies ahead of us will require all the help we can get. Watch this video and learn the 3 skills that ensured our ancestors survival in hard times offamine and war.)