New Hampshire Proposes Ban on 'Police State'
With exception to arming the state's National Guard, New Hampshire House Bill 407 — the Police Equipment and Community Engagement Act — would bar officials from possessing any military equipment "not readily available in an open national commercial market."
New Hampshire's HB407 would effectively bring the state's participation in the 1033 program to an end. The program has supplied New Hampshire localities with more than $6,000,000 in military gear, the legislation's text states. However…
"New Hampshire cities and towns are required to repair and maintain this additional military grade hardware that consumes limited town and city funds that are needed for other functions."
In response to increasing police militarization in the US and the cost of doing so, legislation proposed in the New Hampshire state House would implement a ban on state and local officials obtaining or using certain military weaponry acquired from the Pentagon or other sources.
The militarization of state and local law enforcement agencies by federal programs which are dispensing "weapons and tactics of war, with almost no public discussion or oversight." may be coming to an end in New Hampshire. While the state is certainly low in the overall rankings of state's which might be considered 'police states', New Hampshire is saying 'no more'.
Local police forces across the United States have benefited from the militarized mindset of the post-9/11, "war on terror" era, as wars in Iraq and Afghanistan and funding from the likes of the US Department of Homeland Security have resulted in a mass proliferation of military-grade weaponry.
One way the US government distributes combat gear to local police departments is through the US Department of Defense's 1033 program, in which the Pentagon offers hundreds of millions of dollars of surplus military equipment to police forces throughout the US.
One major problem for the cities and towns who acquire these freebies from the US government is the extraordinary high cost of maintaining the equipment (at taxpayers expense).
New Hampshire has apparently come to the realization that a 'police state' is not necessary and it's just not worth it to keep and maintain equipment and weaponry that's meant for 'war'…
Do you think that other states will adopt this attitude? Or only just a few (or just NH)?
Other useful resources: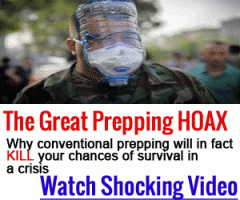 Survival MD (Best Post Collapse First Aid Survival Guide Ever)
Backyard Innovator (A Self Sustaining Source Of Fresh Meat,Vegetables And Clean Drinking Water)
Blackout USA (EMP survival and preparedness)
Conquering the coming collapse (Financial advice and preparedness )
Liberty Generator (Build and make your own energy source)
Backyard Liberty (Easy and cheap DIY Aquaponic system to grow your organic and living food bank)
Bullet Proof Home (A Prepper's Guide in Safeguarding a Home )
Family Self Defense (Best Self Defense Strategies For You And Your Family)
Sold Out After Crisis (Best 37 Items To Hoard For A Long Term Crisis)
SOURCE : modernsurvivalblog.com
Source: RT