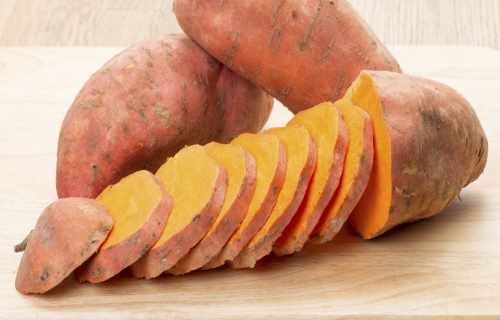 Some of the delicious old-fashioned recipes are now arcane knowledge that probably your grandma knew by heart .
My grandma grew up cooking from scratch. It's all she knew because convenience foods weren't an option. She learned how to cook from her mother by handfuls and pinches instead of cups and tablespoons. She cooked by memory and by feel. I bet your grandma or someone you know is the same way. These women carried around a vast amount of knowledge with them that is sadly becoming lost in today's culture.
Convenience foods are great, but when all you do to prepare dinner day in and day out is open a package, something important is lost. Food is appreciated more and tastes better when it's cooked from scratch and made with love. When you touch the dough and smell the yeast it truly feeds the soul. I want us to get back to hands on cooking and that's why I'm sharing with you a list of my favorite from scratch recipes. Some of these recipes have been adapted for modern cooking (hello slow cooker!), but I don't think grandma would mind.
Here are some delicious sweet potato recipes, including sweet potato fries, biscuits, casseroles, and desserts. Sweet potatoes are versatile, nutritious, and low in calories, making for the perfect addition to any meal.
While cooking sweet potatoes, keep in mind: Sweet potatoes have a few varieties that are interchangeable in cooking, and they will retain their color if you cook them with a slice of lemon. Enjoy the recipes, and happy eating!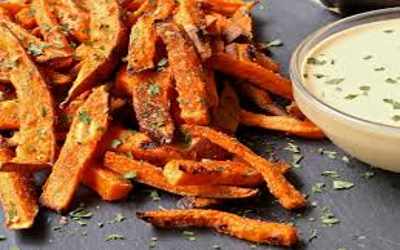 Sweet Potato Fries with Honey Mustard Dipping Sauce
Ingredients
2 sweet potatoes, cut into strips
2 tablespoons olive oil
salt
pepper
dried oregano
Honey Mustard Sauce
½ cup mayonnaise
2 tablespoons dijon mustard
2 tablespoons plus 2 teaspoons honey
¼ teaspoon salt
Instructions
Preheat oven to 425 degrees and line a baking sheet with aluminum foil.
Evenly spread sweet potatoes on the baking sheet and drizzle with olive oil. Toss to coat.
Bake for 43 minutes or until crisp, tossing twice during the baking time.
Immediately season lightly with salt, pepper, and oregano after you take them out of the oven.
To make honey mustard, whisk all ingredients in a bow until smooth. Serve with fries.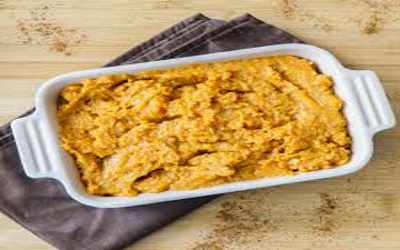 Chai-Spiced Sweet Potatoes
Chai-Spiced Sweet Potatoes Recipe
Mashed sweet potatoes perfectly spiced with the flavors of chai and a touch of brown sugar.
Prep Time: 10 minutes
Cook Time: 1 hour
Total Time: 1 hour 10 minutes
Yield: 4
Ingredients
2 lbs. sweet potatoes, pierced with fork
1/4 c. vanilla non-dairy milk (I used Silk coconut milk)
1 tbsp. brown sugar
1/4 tsp. cinnamon
1/8 tsp. ground ginger
1/8 tsp. ground cardamom
1/8 tsp. ground cloves
Instructions
Preheat oven to 400 degrees. Place sweet potatoes on a baking sheet and bake in oven for about an hour, until tender. Allow to cool slightly.
Remove skin from potatoes. Mash in a large bowl with a potato masher or ricer. Stir in vanilla milk, brown sugar and spices.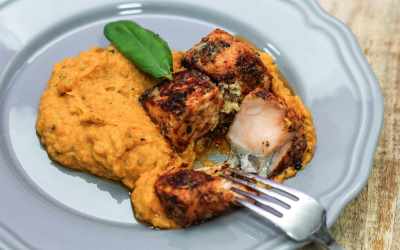 GARLIC SWEET POTATO MASH
INGREDIENTS:
2 lbs (4 medium) sweet potatoes, peeled & cubed
1 tbsp butter
3 cloves garlic, crushed
1/2 cup 1% milk
2 tbsp light sour cream
salt and fresh cracked ground pepper, to taste
Instructions
In a large pot boil sweet potatoes in salted water until tender, drain in a colander.
Meanwhile, melt butter and sauté garlic until lightly golden.
Return potatoes to the pan, add milk and sour cream; mash until smooth and creamy. Adjust salt and pepper to taste.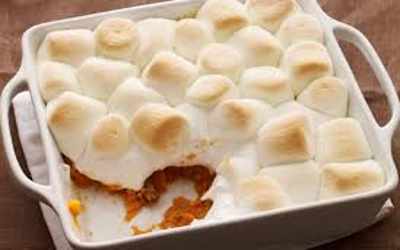 Sweet Potato Souffle
Ingredients
Souffle:
1/2 cup butter (1 stick), at room temperature, plus more to grease pan
5 medium sweet potatoes
2 large eggs
1 cup granulated sugar
1 1/2 teaspoons vanilla extract
1/2 cup milk
Pinch of salt
Topping:
1 cup finely chopped pecans
1 cup brown sugar, packed
1/2 cup all-purpose flour
1/4 cup butter (1/2 stick), softened
Instructions
Watch how to make this recipe.
For the souffle: Preheat the oven to 350 degrees F. Grease a 2 1/2-quart baking dish with butter.
Poke the sweet potatoes with a fork and bake on a foil-covered baking sheet until they are soft, 1 hour. When cool enough to handle, peel the potatoes, place the flesh in a large mixing bowl and mash until very smooth. Add the eggs, sugar, butter, vanilla, milk and salt. Combine well with an electric mixer or hand mixer. Turn the mixture into the baking dish.
For the topping: In a medium bowl, stir together the pecans, brown sugar, flour and butter until thoroughly combined. Spoon the mixture over the sweet potatoes, making an even layer. Bake the casserole until slightly browned, 40 minutes. Let the casserole sit for 5 minutes before serving.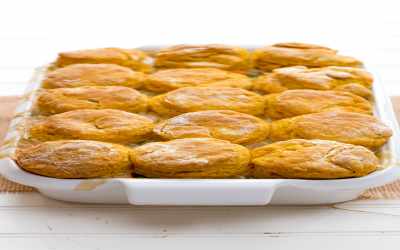 Fluffy Sweet-Potato Biscuits
Ingredients
3/4 cup cooked mashed sweet potato (about 1 large sweet potato)
1/3 to 1/2 cup whole milk, as needed
1 1/2 cups all-purpose flour, plus more for dusting
2 tablespoons sugar
1 tablespoon baking powder
1 teaspoon salt
6 tablespoons cold unsalted butter, cut into small bits
Instructions
Place a rack in the center of the oven and preheat to 425 degrees F. Grease a baking sheet (with butter, oil or cooking spray).
In a small bowl, whisk together the sweet potato and 1/3 cup milk. Set aside.
In a large bowl, whisk together the flour, sugar, baking powder and salt. Cut in the butter with your hands, a pastry blender or two knives until the mixture resembles coarse meal. Add the sweet potato mixture and fold gently to combine. Add the remaining milk a little at a time until all the flour is moistened. The amount of milk you will need will depend on the moisture of the sweet potato.
Sprinkle a small handful of flour on a work surface. Turn the dough out onto the surface and knead lightly 2 to 3 times with the palm of your hand until the mixture comes together. Pat the dough out into a 1/2-inch-thick round.
Using a 2 1/2-inch-round biscuit cutter, cut the dough into biscuits. Gently reroll the scraps and cut out more biscuits. Place the biscuits on the prepared baking sheet and bake until light golden brown and firm to the touch, 12 to 14 minutes. Serve these fluffy biscuits warm or at room temperature.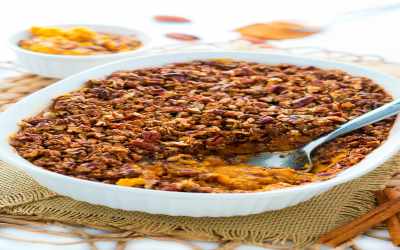 Pecan-Crusted Sweet Potato Casserole
What You'll Need
3 cups mashed sweet potatoes, cooled*
1 1/2 cups brown sugar (packed, divided)
2 large eggs, lightly beaten
1 teaspoon vanilla extract
1/2 cup milk
3/4 cup butter, melted (divided)
1/3 cup flour
4 ounces chopped pecans (1 cup)
Instructions
Heat the oven to 350 F (180 C/Gas 4).
Butter a 2-quart casserole or baking dish.
In a large bowl, combine the mashed sweet potatoes with 1 cup of the brown sugar, the eggs, vanilla extract, milk, and 1/2 cup of melted butter. Blend thoroughly; spoon the mixture into the prepared baking dish.
In another bowl combine the remaining 1/2 cup of brown sugar, the flour, the remaining 1/4 cup of melted butter, and the chopped pecans; blend thoroughly.
Sprinkle the pecan topping mixture over the top of the sweet potato casserole.
Bake the casserole for 35 to 40 minutes, until the filling is hot and the topping has browned.
*Peel 3 large or 4 medium sweet potatoes; cut them into 1-inch slices and put them in a saucepan. Cover with water, bring to a boil; and lower the heat to medium-low. Cover the pan and cook for about 15 minutes, or until the potatoes are very tender. Drain, mash, and let them cool slightly before using in the recipe.
To Make Ahead Prepare the sweet potato filling the day before. Transfer to the prepared baking dish, cover, and refrigerate. You may also prepare the topping in a separate bowl; cover and refrigerate. Take the casserole out of the refrigerator about 30 minutes before baking. Spread with the topping and bake as directed.
Variations
Marshmallow Topping – Omit the pecan topping and bake the casserole for 30 minutes. Top with about three to four cups of mini marshmallows. Return to the oven for 10 minutes longer, or until the marshmallows are lightly browned.
Pecan and Marshmallow Topping – Reduce the pecan topping ingredients by about half and sprinkle all around the edge of the baking dish. Bake for 30 minutes, then fill the center in with about two to three cups of miniature marshmallows. Continue baking for 10 more minutes, or until the marshmallows are lightly browned.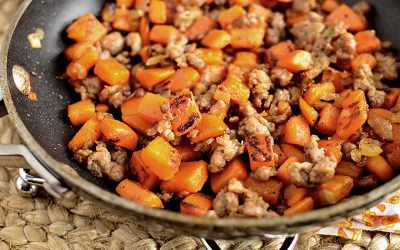 Roasted Sausage with Sweet Potatoes and Peppers
Ingredients
3 small sweet potatoes or jewel yams, about 1 pound, chopped into ½-inch pieces
12-16 ounces andouille kielbasa, or polish sausage (pork or chicken)
1 bell pepper sliced into 1-inch wide strips
1 small onion cut into wedges
3 tablespoons olive oil divided
1¼ teaspoon smoked paprika
½ teaspoon granulated garlic or garlic powder
¾ teaspoon kosher salt
¼ teaspoon freshly ground black pepper
Instructions
Preheat the oven to 425°F. Place the potatoes on a large baking sheet and drizzle with 1 tablespoon of oil. Toss with your hands to coat. Spread across the sheet and roast for 20 minutes.
Slice the sausage in half, or into 3-inch sections. Slice the peppers and onions. Stir together the oil, garlic, paprika, salt, and pepper in a large mixing bowl. Add the sausage and vegetables to the bowl and toss with your hands to thoroughly coat everything with the spices. Set aside.
When the potatoes have been in the oven for 20 minutes, use a spatula to stir them gently and flip them over. Add the sausage, peppers, and onions to the baking sheet. Stir to combine and spread everything across the baking sheet.
Roast an additional 20 minutes. The potatoes should be slightly crisp, the sausage should be plump and juicy, and the peppers should be slightly shriveled and beginning to brown.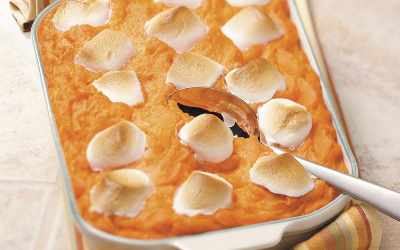 Sweet Potato and Pineapple Casserole
INGREDIENTS
6 medium sweet potatoes

1/2 cup butter, cubed

3/4 cup sugar

1 can (20 ounces) crushed pineapple, drained

2 eggs, beaten

1 teaspoon vanilla extract

1/2 teaspoon ground nutmeg

1/2 teaspoon salt

15 large marshmallows
Instructions
Place sweet potatoes in a large kettle and cover with water; bring to a boil. Boil gently until potatoes can easily be pierced with the tip of a sharp knife, about 30-45 minutes. Drain; cool slightly.Peel potatoes and place in a large bowl; mash. Stir in butter and sugar until butter is melted. Add pineapple, eggs, vanilla, nutmeg and salt.Spoon into a greased 2-qt. baking dish. Top with marshmallows. Bake, uncovered, at 350° for 40-45 minutes or until a knife inserted in the center comes out clean. Yield: 8 servings.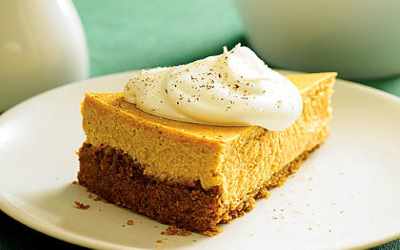 SWEET POTATO PIE AND CAKE RECIPES
INGREDIENTS:
2 1/2 cups all-purpose flour
2 teaspoons baking soda
2 teaspoons baking powder
1/2 teaspoon salt
1 tablespoon ground cinnamon
1 tablespoon ground ginger
16 tablespoons (2 sticks) unsalted butter, room temperature
2 cups granulated sugar
3 large eggs, lightly beaten
1 tablespoon vanilla extract
2 1/2 cups mashed cooked sweet potatoes, cooled (about 4-5 sweet potatoes)
1 cup whole buttermilk
Instructions
Preheat oven to 350-degrees F. Butter and flour two 9-inch round cake pans. Line bottoms with baking parchment and butter the top of those too.
In a large bowl, whisk together flour, baking soda, baking powder, salt, cinnamon, and ginger. Set aside.
In the bowl of a mixer, beat together butter and sugar on medium-high for 4-5 minutes until creamy, stopping to scrape down bowl at least twice. Gradually add beaten eggs. Beat on medium-high for 1-2 minutes until fluffy, scraping down bowl as needed. Add vanilla and sweet potatoes and beat until smooth, scraping down bowl as needed (scraping down the bowl is important stuff, y'all).
Add the dry ingredients into the butter mixture in thirds, alternating with buttermilk. Beat on low speed until just incorporated, scraping down bowl as needed.
Divide batter evenly between pans. Bake at 350-degrees F for 35-45 minutes, or until toothpick inserted in center comes out clean. Allow to cool in pans for 10 minutes, then invert onto cooling rack to cool completely.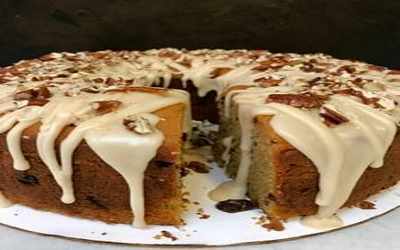 Pecan-Crust Sweet Potato Pound Cake
Ingredients 
3 cups all purpose flour
2 tsps baking powder
1 tsp baking soda
1 tsp salt
1/4 tsp nutmeg
1/4 tsp mace (optional)
1/4 tsp cinnamon (optional)
1 cup unsalted butter (softened) ? Tasty tip
21/2 cups sweet potato (cooked mashed)
4 eggs
11/2 tsps vanilla
11/2 cups granulated sugar
1/4 cup light brown sugar (packed)
1 Cup of Chopped Pecans
Instructions
Preheat oven to 350 degrees.
Grease and dust with flour a 10″ Tube Pan.
Mix flour, baking powder, baking soda, nutmeg, mace, and cinnamon in a medium sized bowl.
In a large bowl, beat at high speed with electric mixer, unsalted butter, granulated sugar and brown sugar until light and fluffy.
At low speed, add sweet potato and eggs one at a time until well mixed.
Beat flour mixture into the sweet potato mixture.
Add vanilla and mix.
Pour batter into Bundt Pan.
Add Pecans evenly on top of mix. (You can always add more before you bake if you like them a lot)
Bake for approximately 55 minutes to one hour and 10 minutes or until a toothpick inserted comes out clean. Check cake at 55 minutes.
Serve warm or cold and can be frozen.
Want to know THE secret to making good food?
It's not just about techniques or recipes. It's about ingredients: simple, wholesome, real ingredients.
When you're looking for fast, easy, and reliable recipes, the Pioneer Woman is the ultimate go-to source. You can always count on Lost Ways 2 recipes to be doable, flavorful, and incredibly comforting, no matter what you're in the mood for. Ahead, we've curated some of the Food Network host and Pioneer Woman magazine author's best and easiest recipes you'd be crazy not to try for yourself, like lemon-blueberry pancakes and butternut squash mac and cheese.
Has this ever happened to you? You've got a recipe that calls for something straightforward, like bread crumbs. You take the can down from the cupboard, and as you're measuring it out you notice the ingredients list.
Real Food doesn't come from a box, doesn't come with labels making health claims, and it isn't manufactured by food scientists.
Why should you believe those labels anyway? Who can trust the latest food scare of the week? First cholesterol was going to kill us. Now eggs are the ideal food. Remember when we all switched from butter to margarine because of the saturated fat? But then we found out the trans fat in margarine is several times worse.
Our grandmothers didn't have prefab meals, or the food police telling them what they weren't supposed to be eating this week. What they did have were recipes that had been handed down from mother to daughter, for generations. These were often the same recipes made with the same ingredients that people had been using for centuries.
It's never been easier to take control of what you eat!
In How To Cook Like Your Grandmother there are no prepared foods. If there are five ingredients listed for a recipe, that's what is in the dish: five ingredients. You won't have to read the fine print on the back of a box to tell what you're eating.
If you want to save time with prepared foods, it should be because you want to, not because you think you can't make it yourself.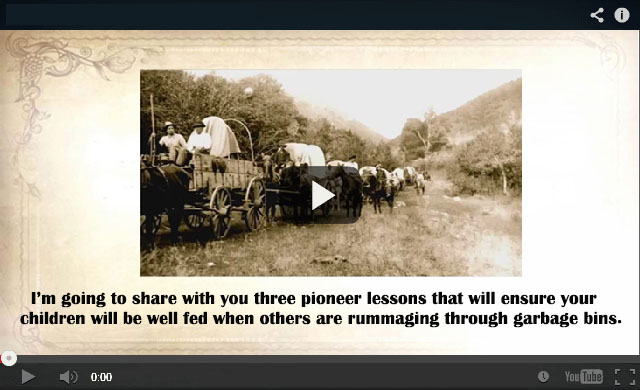 Books can be your best pre-collapse investment.
Old Time Wisdom ( Timeless Bits of Wisdom on How to Grow Everything Organically, from the Good Old Days When Everyone Did  you can prepare yourself for war by moving to the countryside and building a farm, but you must take guns with you, as the hordes of starving will be roaming. Also, even though the elite will have their safe havens and specialist shelters, they must be just as careful during the war as the ordinary civilians, because their shelters can still be compromised.")
The Lost Ways (Learn the long forgotten secrets that helped our forefathers survive famines,wars,economic crisis and anything else life threw at them)
LOST WAYS 2 ( Word of the day: Prepare! And do it the old fashion way, like our fore-fathers did it and succeed long before us, because what lies ahead of us will require all the help we can get. Watch this video and learn the 3 skills that ensured our ancestors survival in hard times of famine and war.)