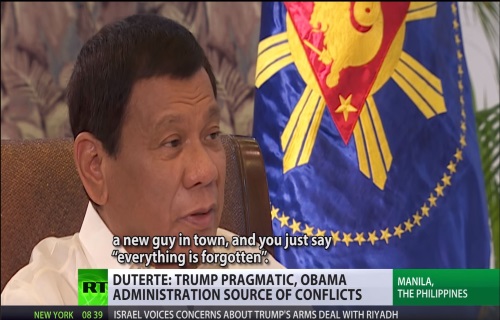 In the wake of a recent Daesh (ISIS) attack that claimed one of his country's cities, Philippine President Rodrigo Duterte has expressed concern that the U.S. may be seeking to destabilize the country, even suggesting that the U.S. could attempt to assassinate him. This comes ahead of the Philippines attempting to stray away from US influence.
MANILA– The Philippines has become the first nation in Asia to have one of its cities fall to the international terror group Daesh (ISIS). Clashes between militants and Filipino security forces began Monday night in the southern city of Marawi, as the government raided a home where the leader of the local branch of Daesh, Isnilon Hapilon, was believed to be hiding.
Hundreds of gunmen descended upon the city following the raid, including Daesh forces and members of militant groups that have pledged allegiance to Daesh, including Maute and Abu Sayyaf. Abu Sayyaf also shares links to al-Qaeda – an unusual arrangement, considering that al-Qaeda and Daesh are ostensibly at war with each other.
As Daesh takes control of numerous landmarks and most of the residential areas in the city, the Philippine Army continues to control most of the city's military bases and government buildings. Heavy fighting continues as the Philippine Army attempts to reclaim areas lost earlier in the week. Marawi, home to a population of around 200,000, has already seen several Christians taken hostage. In response to the chaos, Philippine President Rodrigo Duterte cut his visit to Russia short and declared martial law in the entire region of Mindanao, where Marawi is located.
The circumstances of Daesh's advances in the Philippines are interesting, as its takeover came hours after an RT interview with Duterte aired in which the president offered sharp rebukes of the United States, including the suggestion that the U.S., particularly the CIA, is seeking to destabilize his administration. Though Duterte asserted that he enjoys a friendly relationship with President Donald Trump, he added that Congress, the State Department and other arms of the U.S. political establishment are not in accord with Trump – making it difficult for him to count on the U.S. as an ally in his nation's fight against terrorism.
"ISIS has established a base in my country, down south. And we are fighting terrorism just like any country and we need arms," Duterte stated. "And suddenly, two senators of the U.S. Congress said they will not proceed with the exportation. And I said no problem, I can always go to China or Russia."
Duterte also made it clear in the interview that his foreign policy had "shifted from the pro-Western one." "I am now working on an alliance with China and I hope to start a good working relationship with Russia," he stated. At the the time of the chaos in Marawi, Duterte was visiting Moscow – assumably to negotiate an arms deal to replace one that has been stalled by the United States.
He also rebuked U.S. efforts to continue to treat the Philippines as a colony, asking rhetorically "You treat me as if I am your colony still? You must be kidding?"
Duterte also showed that he is aware of the price often paid by leaders who back out of strategic alliances with the United States, stating "I said about [removing] the American troops, that one day, during my term, if I survive the CIA, I still have five years to go." RT responded with the question, "You talk a lot about assassination. Do you really expect that to happen?" "They do it. Does it surprise you?," Duterte retorted "[…] They can even take the president out of his country for him to face trial in another country." These statements suggest that Duterte did not expect his pivot away from the U.S. to go unnoticed.
Duterte continued that the U.S.' refusal to approve the arms deal pertained to his government's violations of human rights. Duterte argued that this argument was hypocritical, stating that the U.S. has killed scores more civilians in nations around the world without "even a whimper" from the international community.
"[…] in the guise of human rights, countries like [those of] the EU and America are interfering in the affairs of other nations. In the guise of human rights. […] Just like the Americans, when they drop a bomb there, it is so powerful that it also kills others there. […] So it doesn't say that they are American they are exempted. And just because I am a small-time government official, I am not exempted. So, where's the fairness there? When they drop bombs, they kill so many villagers and there's not even a whimper."
Duterte said most of the Daesh terrorists active in his country are foreigners. When asked "Do you think ISIS militants here, in the Philippines, are they homegrown or were they imported?," Duterte responded, "There are so many, Caucasian-looking. We have captured or killed six already. They are from the Middle East mostly."
A declassified CIA report dating from 2012 claimed that the U.S. could use Daesh as a tool to destabilize and overthrow Syrian President Bashar al-Assad, a tactic that the U.S. has indeed utilized in the years since. It seems possible that Daesh's increased presence in the Philippines could be a sign that the U.S. is seeking to do the same to Duterte's government.
Whether this is the case or not, an increased Daesh presence in the Philippines will likely be used as justification by the U.S. to step up its military presence in the Philippines and keep Duterte from leaving the U.S. behind as he seeks to ally his nation with Russia and China.
Watch Philippine President Duerte speak with RT
"They want me to fight China. It's gonna be a massacre!'
– How to identify prophesies coded in the visions of four men whom God revealed information about the latter days to.
– How to survive each day with little necessities of life like little food, no technology as there will be no electricity, and sometimes poor housing.
– How to preserve medication and food at home without chemical preservatives or a refrigerator.
– How to identify biological weapons and chemicals thrown your way, understanding how they affect your body and what to do about it and also how to avoid it and stay safe.
– How to make protective clothing to shield you against chemical weaponry using simple household items. This covers you when an attack is imminent and you do not have the necessary gear or did not have time to buy required gear.
– How to craft a plan to survive even when times become challenging. Here, Cain explains simple military science to help you survive at home. You will need to use simple equipment and substances available at home.
– How to distinguish clean water and food from ones that have been contaminated after an attack. This keeps the family safe and free of diseases that may be caused by contaminated food or water.
– Besides teaching people how to survive when the latter days comes, individuals can use the eBook as a handbook for survival during war times.
Each of the strategies provided in the eBook is explained in simple English and well-structured in chapters to make it easy to comprehend. He starts by verifying the imminent end times and how they have been shown in the bible and then introduces the strategies one by one.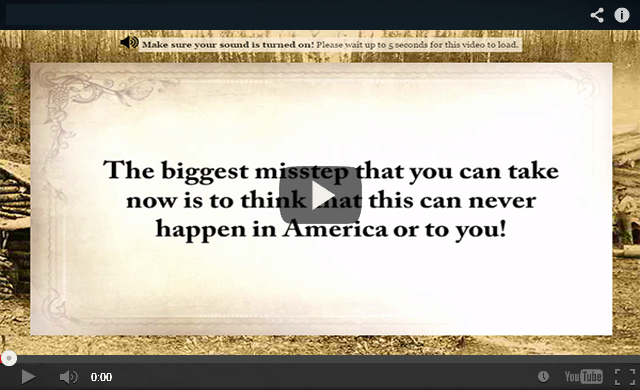 Books can be your best pre-collapse investment.
The Lost Ways (Learn the long forgotten secrets that helped our forefathers survive famines,wars,economic crisis and anything else life threw at them)
Survival MD (Best Post Collapse First Aid Survival Guide Ever)
Conquering the coming collapse (Financial advice and preparedness )
Liberty Generator (Build and make your own energy source)
Backyard Liberty (Easy and cheap DIY Aquaponic system to grow your organic and living food bank)
Bullet Proof Home (A Prepper's Guide in Safeguarding a Home )
Family Self Defense (Best Self Defense Strategies For You And Your Family)
 Survive Any Crisis (Best  Items To Hoard For A Long Term Crisis)
Survive The End Days (Biggest Cover Up Of Our President)
Drought USA (Discover The Amazing Device That Turns Air Into Water)
SOURCE : mintpressnews.com