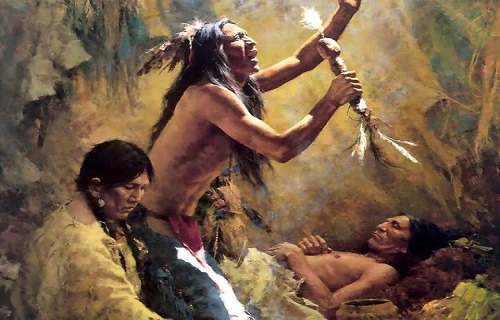 The Native American tribe Cherokee is indigenous to the Southeastern United States. This tribe believed that they have been given a gift by the Creator which enabled them to understand and use medicinal herbs.
They believed and used the benefits of nature's pharmacy. Moreover, as plants can become scarce over time, they had a unique gathering method and they picked every third plant they found and thus made sure that they will leave sufficient to continue to propagate.
However, the following plants were used by this tribe in the treatment of almost every single illness and health condition. However, before we explain their properties, we must warn you that they can be quite strong and dangerous if not used properly.
Keep in mind that the Cherokee healers were experienced as they had centuries of practice. Furthermore, it is of high importance to understand their value as powerful natural medications, so you should be gentle when scavenging them.
Also more information by WHITE WOLF PACK
The Cherokee have been gifted by the Creator with an understanding of the gathering, use and preservation of medicinal herbs. The Cherokee believe that these plants were put on this earth to provide not only healing methods, but preventative measures, as well.

Many plants have disappeared throughout the years or have become extremely scarce. Because of this, we recommend extreme care in gathering wild herbs and other plants. The old ones taught that when you gather, only pick or dig every third plant you find. This will ensure that enough specimens remain to continue propagation.

Many traditionalists carry on the practice of asking the plant's permission to be gathered, and leave a small gift of thanks. This can be a small bead or other such item. It is also recommended by Cherokee traditionalists that should you find a wild crop of useful herbs, do not share its location unless it is to a person very close to you. This will ensure that large numbers of people do not clean out an entire wild crop in a short time.

Additional information regarding the gathering, usage and application of medicinal herbs can be found by talking to the elders of a Cherokee family. Many of these people will still recall some of the home remedies that their families used, as well as provide information on herbs which they themselves use.

One of the herbs known the longest time for soothing stomach problems is the blackberry. Using a strong tea from the roots is helpful is reducing and soothing swollen tissues and joints. An infusion from the leaves is also used as a tonic for stimulating the entire system. A decoction from the roots, sweetened with sugar or honey, makes a syrup used for an expectorant. It is also healing for sore throats and gums. The leaves can also be chewed fresh to soothe bleeding gums. The Cherokee historically use the tea for curing diarrhea.

Cherokee healers use a mild tea made from small pieces of black gum bark and twigs to relieve chest pains.
Hummingbird Blossom (Buck Brush) is used by Cherokee healers by making a weak decoction of the roots for a diuretic that stimulates kidney function.

Cat Tail (Cattail) is not a healing agent, but is used for preventative medicine. It is an easily digestible food helpful for recovering from illness, as it is bland. Most all parts of the plant, except for the mature leaves and the seed head, are edible. Due to wide-spread growing areas, it is a reliable food source all across America. The root has a very high starch content, and can be gathered at any time. Preparation is very similar to potatoes, and can be mashed, boiled, or even mixed with other foods. The male plant provides a pollen that is a wonderful source for protein. You can add it as a supplement to other kinds of flour when making breads.

A decoction of the small roots of Pull Out a Sticker (Greenbrier) is useful as a blood purifier. It is also a mild diuretic. Some healers make a salve from the leaves and bark, mixed with hog lard, and apply to minor sores, scalds and burns. Some Cherokee healers also use the root tea for arthritis.

Do you know about the gift of nature to save the life of people from various health problems and make them feel secure by curing significant issues? How to live healthy in this world without having chronic diseases or illness or any other health issues which may hurt you physically and mentally? Due to dense population, people are trying to demolish the forest, garden areas to create shelter, so they forced to destroy the nature's gift such as natural ingredients, secret medicinal herbs and more which are grown in wild forest, mountains and other places. When you read this review entirely, sure you will get chance to know about secrets medicinal ingredients, herbs and more used by our ancestor to get back the lost health without losing your life. Claude Davis was highlighted all the stuff in the form of the e-book The Lost Book Of Remedies filled with a list of natural ingredients and remedies that you can quickly grow in the backyard or at free space to include it in your routine diet or external usage to get well soon.
Hummingbird Blossom (Buck Brush)
The Cherokee used this medicinal plant to treat mouth and throat issues, inflammation, cysts, and fibroid tumors, and it has been found to regulate high blood pressure and treat lymphatic blockages.
The Cherokee usually used it as a diuretic to stimulate the function of the kidneys, as well as in the case of:
enlarged spleens
hemorrhoids
inflamed tonsils
menstrual bleeding
enlarged lymph nodes
The Cherokee would steep the leave and flowers in a boiling water for 5 minutes and then consumed it warm in order to obtain best results.
Pull Out a Sticker (Greenbriar)
This plant's roots are rich in starch, which is full of calories, but has a strange flavor. The stems and leaves are high in numerous minerals and vitamins. As it has a rubbery texture, you can use its roots like potatoes.
This plant has been used as a mild diuretic in the case of urinary infections and to purify the blood. Its bark and leaves have also been used for the preparation of an ointment which heals burns and minor sores.
Its leaves can be added to tea in order to treat arthritis, and the berries can be either consumed raw, or made into jam.
Mint teas are a stimulant for the stomach, as it aids in digestion. The crushed and bruised leaves can be used as a cold compress, made into a salve, or added to the bath water which relieves itching skin. Cherokee healers also use an infusion of the leaves and stems to lower high blood pressure.
Tobacco-like Plant (Mullein) is one of the oldest herbs, and some healers recommend inhaling the smoke from smoldering mullein roots and leaves to soothe asthma attacks and chest congestion. The roots can be made into a warm decoction for soaking swollen feet or reducing swelling in joints. It also reduces swelling from inflammation and soothes painful, irritated tissue. It is particularly useful to the mucous membranes. A tea can be made from the flowers for a mild sedative.
All parts of Qua lo ga (common Sumac) have a medicinal use. Mild decoctions from the bark can be used as a gargle for sore throats, and may be taken for a remedy for diarrhea. A tea from the leaves and berries also reduces fevers. Fresh bruised leaves and ripe berries are made into a poultice which soothes poison ivy. A drink from the ripened or dried berries makes a pleasant beverage which is a good source of vitamin C.
The Cherokee commonly recommend a mild tea of Big Stretch, or Nuyigala dinadanesgi utana (Wild Ginger) made from the rootstock which is a mild stimulant for the digestive system. It can also help colic, intestinal gas, or the common upset stomach. A strong, hot infusion of the roots can act as an expectorant in eliminating mucus from the lungs. Fresh wild ginger may be substituted for the regular store-bought ginger roots as a spice for cooking.
The ripe fruit of What Rabbits Eat, or Jisdu unigisdi (Wild Rose) is a rich source of Vitamin C, and is a reliable preventative and cure for the common cold. The tea from the hips is a mild diuretic, and stimulates the bladder and kidneys. When the infusion of the petals is used, it is an ancient remedy for sore throats. Cherokee healers recommend a decoction of the roots for diarrhea.
Squirrel Tail, or Saloli gatoga (Yarrow) has many uses. The best known use is to stop excess bleeding. Freshly crushed leaves can be applied to open wounds or cuts, and the properties of the herb will cause the blood to clot. A fresh juice of yarrow, diluted with spring or distilled water, can halt internal bleeding such as stomach and intestinal disorders. The leaves, prepared as a tea, is believed to stimulate intestinal functions and aid in digestion. It also helps the flow of the kidneys, as well as the gallbladder. A decoction made of the leaves and stems acts as an astringent, and is a wonderful wash for all kinds of skin problems such as acne, chapped hands, and other irritations.
Looks Like Coffee, or Kawi Iyusdi (Yellow Dock) is not only a medicinal herb, but also a food. It is much like spinach, but actually contains more vitamins and minerals. Because of the long taproot, it gathers nutrients from deep underground. The leaves are a source of iron, and also have laxative properties. Juices from the stems, prepared in a decoction, can be made into an ointment with beeswax and olive oil, and used for itching, minor sores, diaper rash, and other irritations. Cherokee herbalists prescribe a warm wash made from the decoction of crushed roots for a disinfectant. Juice from the root, not prepared in any certain way, is said to be a cure for ringworm.
As always, remember that these plants are very valuable as medicines because of the great chemical powers they contain. At the same time, these chemicals can be potentially dangerous if used in the wrong way. Cherokee herbalists have great experience, and have gone through extensive training and observation. Novice herbal practitioners are advised to seek out and develop a close relationship with Cherokee herbalists or their elders to learn how to use these medicines properly.
The Lost Book of Remedies is the revolutionary e-book which is suitable for one of the tools in survival kit because the creator of this program was mentioned lots of benefits about natural medicinal herbs and ingredients to make you feel safe, secure by protecting the health of yourself and dependents in any crisis. Even you can plant it in your backyard to grow effective medicinal herbs to save the life of anyone without wasting your money and time. This e-book will guide you on the right path to provide security, water, food, and all the medicines for securing your life or loved ones at all the time. This guide discussed the common plants that are grown in your backyard, but you don't know the benefits of that plan which may help you to overcome any significant issues. Sometimes it may replace your antibiotic pills, reduce inflammations, stops bleeding, reverse arthritis, lowers cholesterol, regulates blood sugar level, defeats degenerative brain diseases and much more.

Carnivore's Bible (is a wellknown meat processor providing custom meat processing services locally andacross the state of Montana and more. Whether your needs are for domestic meator wild game meat processing)
The Lost Book of Remedies PDF ( contains a series of medicinal andherbal recipes to make home made remedies from medicinal plants and herbs.Chromic diseases and maladies can be overcome by taking the remediesoutlined in this book. The writer claims that his grandfather was taughtherbalism and healing whilst in active service during world war twoand that he has treated many soldiers with his home made cures. )
Easy Cellar(Info about building and managing your root cellar, plus printable plans. The book on building and using root cellars – The Complete Root Cellar Book.)
The Lost Ways (Learn the long forgotten secrets that helped our forefathers survive famines,wars,economic crisis and anything else life threw at them)
LOST WAYS 2 ( Wordof the day: Prepare! And do it the old fashion way, like our fore-fathers did it and succeed longbefore us,because what lies ahead of us will require all the help we can get. Watch this video and learn the 3 skills that ensured our ancestors survival in hard times offamine and war.)
Survival MD (Best Post Collapse First Aid Survival Guide Ever)
Conquering the coming collapse (Financial advice and preparedness )
Liberty Generator (Build and make your own energy source)
Backyard Liberty (Easy and cheap DIY Aquaponic system to grow your organic and living food bank)
Bullet Proof Home (A Prepper's Guide in Safeguarding a Home )
Family Self Defense (Best Self Defense Strategies For You And Your Family)
Survive Any Crisis (Best Items To Hoard For A Long Term Crisis)
Survive The End Days(Biggest Cover Up Of Our President)