Shocking Military Letter Confirms UN Plans To Soon Destroy America and More!
MWPVL did an in-depth study of Walmart's distribution centers and the conclusions are staggering as to what they can do and what they are up to. If one was to want to control food and medicine distribution and create an artificial shortage designed to get the needy to turn themselves into a FEMA camp to obtain critical resources, Walmart is your place. Here is a list of Walmart distribution centers across America. More support for the idea that the military/DHS will use a private contractor to control the use and release of critical resources (i.e. food and medicine) comes from a quartermaster report entitled Distribution and Supply Chain Management: Educating the Army Officer A Monograph by Lieutenant Colonel Mark E. Solseth U.S. Army, Quartermaster.
This very lengthy analysis described the Army's transition from a mass-based logistical system to a distribution-based system which matches Walmart and Sams Club. It also discussed supply chain management from both a military and commercial perspective. The dots are connecting in a very disturbing manner.  Dave  Hodges
According to Dave Hodges' latest article, we are in for big trouble very soon. Dave says he has sources, reliable contacts, and information that nearly proves this will happen very, very soon!
He writes, "A string of coincidences occurred, yesterday, to produce some undeniable conclusions which could very well have very dire consequences for millions of Americans."
But it doesn't end there. Hodges also states that Jade Helm is back, but this time, with a vengeance, now known as Unconventional Warfare Exercise 16 (UWEX 16).
The information and facts shared by Hodges is, in my opinion, unquestionable. And, it lines up perfectly with the things which must happen in order to fulfill end times Bible prophecy.
Hodges adds, "Jade Helm is back and it is back and it is back  with a vengeance. Jade Helm 15 has morphed into Unconventional Warfare Exercise 16 (UWEX 16). UWEX 16 is about fighting a civil war against rogue American troops who will, presumably, not go along with the imposition of tyranny under the banner of the UN flag with the complicit support of foreign troops. There is a new twist to Jade Helm 16 (i.e. UWEX 16)."
RELATED : A Disturbing Series of Events: Governments Around the World Seem to Be Preparing for War
RELATED : WARNING PREPPARED NOW – SOMETHING BIG IS ABOUT TO HAPPEN WORLD WIDE IN 2016?
RELATED : Is Martial Law Coming to the United States? All the Signs Indicate It's Coming Soon; Here Are Facts That You Should Know About
FEATURE VIDEO
UN Will Soon Control Food Distribution In America with Devastating Results
Hodges received a disturbing email. He says, "I have learned from reliable sources that Jade Helm 16 is also about controlling the shipment of all food. If one thinks this sounds outrageous, stay tuned, because the circumstantial evidence clearly points in this direction."
His investigation was initiated when he received a very disturbing email, which is included in the video.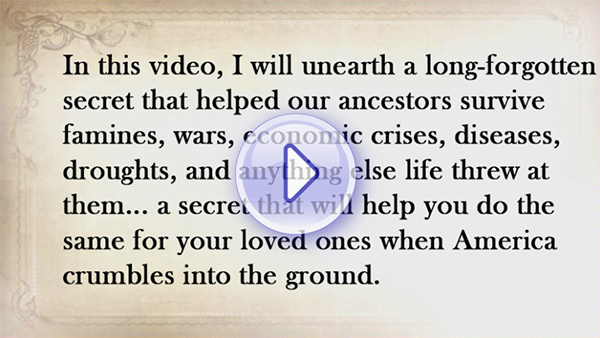 He goes on to add, "Since the beginning of 2016, I have received several confirmations that indeed  UWEX 16 is in part about controlling the distribution of food as well as protecting against a guerrilla attack upon food distribution centers which will be controlled by Wal-Mart and Sams Club under the auspices of DHS."
For the full story, please check out the feature video. The details of the video are literally chilling!
SOURCE : Before It's News
Are you worried about your future? Are you worried by the many disasters that you face in your everyday life? Worry no more. The Lost Ways comes in to solve your woes. This program was created by Davis Claude and its major role is to prepare and teach you how to handle worst-case scenarios using the least independence. This program will therefore motivate you to protect your family and friends during the worst period without the help of the modern technology.
Remember, calamities are everywhere: at work, home, school and many other places. These calamities cause tension and leads to a decrease in productivity. This may finally lead to a reduction in life. Fortunately, the lost ways review will provide solutions to these situations. It will give you the tips for preparing yourself when nothing seems to go as expected.
Generally, most people are optimistic. This makes them unprepared for failure. However, the best thing is to prepare for worst times. It is important to tell your kids about earthquakes, fire outbreaks, extreme weather conditions and other calamities. Tell them how to deal with these calamities in case they occur.
The Lost Ways (Learn the long forgotten secrets that helped our forefathers survive famines,wars,economic crisis and anything else life threw at them)
Survival MD (Best Post Collapse First Aid Survival Guide Ever)
Backyard Innovator (A Self Sustaining Source Of Fresh Meat,Vegetables And Clean Drinking Water)
Blackout USA (EMP survival and preparedness)
Conquering the coming collapse (Financial advice and preparedness )
Liberty Generator (Build and make your own energy source)
Backyard Liberty (Easy and cheap DIY Aquaponic system to grow your organic and living food bank)
Bullet Proof Home (A Prepper's Guide in Safeguarding a Home )
Family Self Defense (Best Self Defense Strategies For You And Your Family)
 Survive Any Crisis (Best  Items To Hoard For A Long Term Crisis)
Survive The End Days (Biggest Cover Up Of Our President)
Drought USA (Discover The Amazing Device That Turns Air Into Water)