1   "I am from Botswana and have developed interest in mushroom cultivation. So I would like you to help with where I can find the kit in South Africa and at what cost. I would be very happy if you can help me."
That was the inquiry that I recently received from Samson in South Africa and it got me to thinking about growing mushrooms and the many ways that the task can be accomplished. I've posted a video about mushroom log inoculation, and wrote several articles on the subject including; Outdoor Mushroom Growing and Growing Mushrooms Indoors.
Cultivating Mushrooms on Straw in South Africa
But the following account that I received last month from Linus in Namibia demonstrates that the best way to go about growing mushrooms can vary greatly depending on your climate and the local resources…
Hi Kenny! Thank you very much for sharing the little knowledge I have with you. To answer on the comment raised about time of growing mushrooms…
Mushrooms can be grown throughout the year provided it is well maintained outdoors. Here one can use a black plastic sheet that can accumulate more heat and humidity during winter as on the picture attached. Hence, here in Namibia we are experiencing winter this time though it is coming to an end.
Growing mushrooms on logs sometimes doesn't give a good flavour but it depends on the type of wood one is using. Here the customers don't like that. I prefer to use rice straws, wheat straws, or wild grass that can be soaked in water to overnight or at least two to three days to ferment.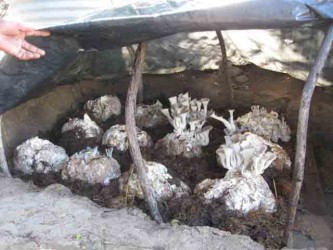 Then it has to be placed in a trench of one meter (width) by two meter (length). This should be a very thin layer at the first layer followed by the inoculated substrates and then another thin layer of fermented straws that will cover the spaces between.

Different varieties adapt to different temperatures otherwise, someone has to control the temperature. Hope you will get these tips useful and enjoy your mushrooms behind your house. Linus – Namibia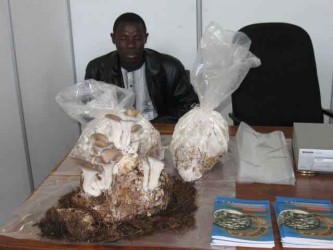 It's Always Great to Have Options when Growing in the Garden
Mushroom kits and hardwood logs work well in my home and backyard garden, but they may not be the most ideal, economical, or resourceful method to use everywhere.
I purchase mushroom cultivation supplies from Fungi Perfecti, and I believe they sell and ship to other countries, but there may be other alternatives for you to explore just as the one shown here today.
It's also great to learn different methods of doing things in case the need arises and in order to gain a better understanding of how the process works. I'm also always fascinated to see how others garden and grow things in other climates and foreign countries!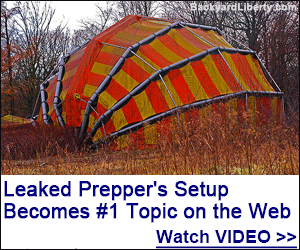 2   How to Grow Gourmet Mushrooms Video
SOURCE 1 : veggiegardeningtips.com
SOURCE 2 : veggiegardeningtips.com