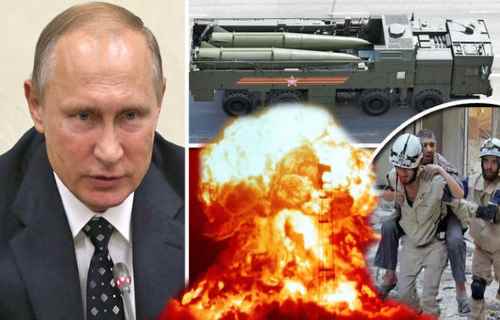 Originally appeared : express.co.uk
RUSSIA'S Vladimir Putin has issued an emergency decree that all officials urgently repatriate any family members living abroad amid fears the world is about to be plunged into a new global conflict.
According to reports, the Russian leader has told diplomats of all ranks to "bring relatives home to the Motherland".

Administration staff, politicians and public sector workers have been ordered to take their children out of foreign schools immediately.

Russian political analyst Stanislav Belkovsky told the Daily Star: "This is all part of the package of measures to prepare elites to some 'big war'."

The worrying development – which follows after President Putin suddenly cancelled a visit to France – applies to all state employees.

Workers were reportedly told to pull their children out of school immediately, even if it was in the middle of term.

Anyone who fails to act will put their chances of promotion at risk, local media reported.

Putin's cancellation is the latest deterioration in ties between Moscow and the West.
RELATED : Dr PAUL CRAIG ROBERTS WARNING – Putin Says We Are On The Brink Of WW3 – Economic Collapse and Financial Crisis is Rising any Moment
Among the recommendations is for students in foreign universities to shift to Russian institutions.
Older citizens should also return to Russia, the diktat seen by Znak.com apparently states.
Sources said Russian officials were irritated by the fact that the children of Russia's political elite were being educated abroad, while there parents were seen "talking about patriotism but surrounded by Russia's enemies".
Earlier, the Russian strongman said the United States would have to compromise in the war in Syria.
Mr Putin said: "There is a need to behave like partners and take each other's interests into account. We are ready for that."
He also launched a stinging attack on France, accusing President Francois Hollande of deliberately luring Moscow into vetoing a United Nations resolution on Syria and questioned whether Paris was doing the bidding of the US.
Originally appeared : metro.co.uk
Russia tells citizens 'nuclear war with the West could happen soon'
As tensions rise in the middle East, an official TV channels in Russia has issued a chilling warning that war with the West could be imminent.

Zvezda, a nationwide TV service run by the country's Ministry of Defence, said last week, 'Schizophrenics from America are sharpening nuclear weapons for Moscow.'

Russian President Vladimir Putin on Monday proposed a law suspending a Moscow-Washington agreement to dispose of weapons-grade plutonium.

Officials said on Friday that underground shelters had been built which could house 12 milion people – enough for the entire population of Moscow.

Russia has clashed with the Western powers over its policy in Syria – where it's accused of bombing civilians – and the U.S suspended negotiations with the country yesterday.

Both Russia and NATO are still in the position to unleash global-scale nuclear attacks – and the weapons are armed and ready.

The Arms Control Association says, 'United States and Russia still deploy more than 1,500 strategic warheads on several hundred bombers and missiles – far more than necessary to deter nuclear attack – and they are modernizing their nuclear delivery systems.
RELATED : Vladimir Putin : "Publish A World Map And Mark All The U.S. Military Bases On It. You Will See The Difference Between Russia And The US"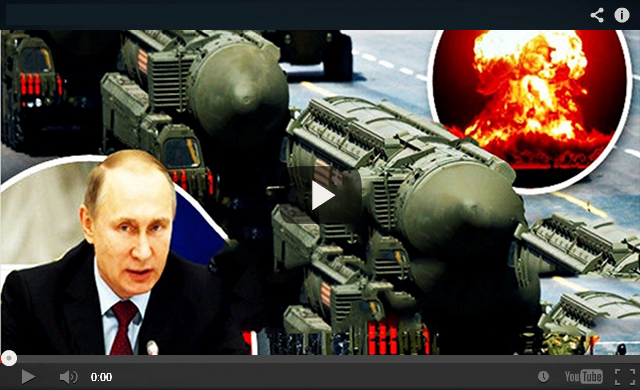 What would a nuclear blast actually do?
No state with a large nuclear arsenal – such as Russia or America – actively WANTS nuclear confrontation.

What observers fear is a military or political confrontation which builds up tensions around a nuclear missile attack – possibly leading one side to fire.

Hydrogen bombs would destroy most civilian buildings in a 10-mile radius (based on a 20-megaton weapon exploding 3.3 miles above the ground), according to calculations in Physics and Nuclear Arms Today.

The effects on people nearby would be even more frightening, with a blast killing thousands or millions instantly, followed by poisoning from radioactive fallout from the blast.

Witnesses of the Hiroshima attack said that people near the centre of the blast 'vanished'.

William Burchett said, 'Of thousands of others, nearer the centre of the explosion, there was no trace. They vanished. The theory in Hiroshima is that the atomic heat was so great that they burned instantly to ashes – except that there were no ashes.'
RELATED : BREAKING – Russia Prime Minister Warns US And Arab Countries: Invading Syria "Will Start a New World War" Putin Blaming America For Tearing Apart The Post-Cold War Stability. All Of Us Are Now In Great Danger
Russia Tells Citizens to 'Prepare For Nuclear War With West'
One of the best ideas suggested through The Lost Ways is the construction of bunkers. These bunkers have the potential to stand the impact created by the most devastating earthquake or missile attack. On the other hand, the readers will be able to learn how to preserve their food in a natural manner. They can also get to know about effective tips, which can be used to preserve the precious water supplies. Then we will be able to use them in the case of a disaster to survive.
First of all, The Lost Ways would convince readers that the natural disasters are inevitable. It will give them an excellent insight about the disasters that could take place in the future. Therefore, it is extremely important for all the human beings to stay prepared to face a disaster, which could happen at any given point of time. In the second part of this book, the readers will be able to discover the lessons learned by humanity when they encountered disasters in the past. Every disaster teaches us a lesson, and it is better to have a clear understanding of these lessons as they can be helpful in the future.
The Lost Ways (Learn the long forgotten secrets that helped our forefathers survive famines,wars,economic crisis and anything else life threw at them)
Survive Attack to Our Power Grid System (Weapon That Can Instantly End Modern Life in America)
Survival MD (Best Post Collapse First Aid Survival Guide Ever)
Backyard Innovator (A Self Sustaining Source Of Fresh Meat,Vegetables And Clean Drinking Water)
Blackout USA (EMP survival and preparedness)
Conquering the coming collapse (Financial advice and preparedness )
Liberty Generator (Build and make your own energy source)
Backyard Liberty (Easy and cheap DIY Aquaponic system to grow your organic and living food bank)
Bullet Proof Home (A Prepper's Guide in Safeguarding a Home )
Family Self Defense (Best Self Defense Strategies For You And Your Family)
 Survive Any Crisis (Best  Items To Hoard For A Long Term Crisis)
Survive The End Days (Biggest Cover Up Of Our President)
Drought USA (Discover The Amazing Device That Turns Air Into Water)