WARNING!!! The banks will collapse very soon
If the United States experiences a horrifying economic collapse (and it most definitely will), will that cause a complete and total collapse of society?  Will we experience crime, violence, riots and social unrest on a scale that is unprecedented in U.S. history?  Before you dismiss such notions as utter foolishness dreamed up by a few bloggers with too much time on their hands, perhaps you should consider what one of the biggest credit rating organizations in the world is saying.  According to a report on sovereign debt by Moody's, the world's five biggest AAA-rated countries (including the United States) are all at risk of soaring debt costs and will have to implement austerity plans that threaten "social cohesion".  In case you are wondering what happens when "social cohesion" starts to break down due to economic factors, just check out the recent examples in Iceland and Greece.  If even Moody's is warning that there is a realistic possibility that "social cohesion" in the United States may break down due to economic factors, perhaps we should all start listening.
Or if you will not listen to Moody's, then perhaps you will listen to the man who has been called the top trends researcher in the entire world.  Gerald Celente is the CEO of Trends Research Institute, and he is convinced that we are heading into what he calls "The Greatest Depression".  The picture that he paints of the future of America is extremely alarming and extremely sobering.  It would be easy to dismiss his forecasts as just the ramblings of another useless "talking head", but unfortunately Celente has been dead-on accurate time after time after time in the past.  Considering his exemplary track record, what Celente says is coming next for America is incredibly frightening….
This is a tough topic, because people either don't won't to believe it or are not capable because they lack the knowledge to comprehend what is being said. When you understand that our country can only operate based on debt/credit, not physical dollars, you finally see that the USA is a huge Ponzi scheme built on nothing more that our ability to borrow money. Our status as the world reserve currency has allowed us to borrow money that we do not have.
The government says that there are 10 trillion dollars sitting in the US Banking system that we can go and easily withdrawal. How can that be true when there only exists 1.4 trillion of real money in circulation (dollars and coins) and more than one half of that is outside the US. This doesn't include the 10s of trillions more that we owe other countries that have purchased our debt. If our creditors were to all come and ask for their money at one time there would be less than $1 dollar for every $1000 dollars owed. The world economy collapses. All Great empires based on fiat currencies end in this way. People I talk to like my wife and friends have no clue what is coming.
---
– How to identify prophesies coded in the visions of four men whom God revealed information about the latter days to.
– How to survive each day with little necessities of life like little food, no technology as there will be no electricity, and sometimes poor housing.
– How to preserve medication and food at home without chemical preservatives or a refrigerator.
– How to identify biological weapons and chemicals thrown your way, understanding how they affect your body and what to do about it and also how to avoid it and stay safe.
– How to make protective clothing to shield you against chemical weaponry using simple household items. This covers you when an attack is imminent and you do not have the necessary gear or did not have time to buy required gear.
– How to craft a plan to survive even when times become challenging. Here, Cain explains simple military science to help you survive at home. You will need to use simple equipment and substances available at home.
– How to distinguish clean water and food from ones that have been contaminated after an attack. This keeps the family safe and free of diseases that may be caused by contaminated food or water.
– Besides teaching people how to survive when the latter days comes, individuals can use the eBook as a handbook for survival during war times.
---
Each of the strategies provided in the eBook is explained in simple English and well-structured in chapters to make it easy to comprehend. He starts by verifying the imminent end times and how they have been shown in the bible and then introduces the strategies one by one.
This is a long video and I have edited it to half of its original length. It is the single most logical and credible documentary I have ever watched on the future of the US economy. It makes be sick that the Fed decided to bailout the corrupt bankers instead of the US citizens. Instead of bailing out the banks, the Fed could have paid off every consumer debt in the country and freed up trillions of dollars for the consumer. Instead they padded the pockets of the banking elite. I wanted to puke. Now they are setting things up to try one last historic cash grab. Driving the stock market to all time highs so then can short the hell out of it. I think Trump will snuff if he is not assassinated first. I am 58 years old and a registered professional engineer in Maryland. I have owned 3 very different types of businesses over the past 30 years. I am now retired. I have watched hundreds of videos on the economy and done years of research into past financial failures going as back before the Roman Empire.
Dr. Paul Roberts is one of my followers and referenced me in a video I produced on Sandy Hook. People do not want to acknowledge that the fall of fiat currencies is nothing new and that the US has made it this far ONLY because we are the default reserve currency of the world. There have been 440 economies based on fiat currencies in modern history…. They have all come to the same demise, FAILURE. Having an education in Engineering with a minor in mathematics I do not believe that the US is exempt from the natural laws of economics. Please watch the video and prepare as you deem appropriate. You may want to research "normalcy bias"; it explains why people have a hard time excepting the true outcome of a situation that has played out the same way again and again throughout history. I keep hearing from my friends and family that the US is different. That is true. The US is in much deeper shit than any country in history. If you doubt that watch the entire video. You cannot deny the logic!!
At this point you may be tempted to think that America has been through extremely tough economic times before (The Great Depression for example) and came through them okay.
So what is so different now?
Well, the truth is that the character of the American people is dramatically different.  At the time of the Great Depression, the American people were tough, self-sufficient people who knew how to live off the land.  Today, most Americans are weak, spoiled little children who will throw a temper tantrum whenever anyone tries to take their toys away.  The character of the American people has been decaying for decades, and there is no way that the current crop of Americans has any chance of weathering a horrible economic depression the way Americans back in the 1930s did.
Already we are seeing early signs of what the rest of America could soon be like.  The city of Detroit is a rotting, crime-ridden war zone that has a "real" unemployment rate of somewhere around 40 to 50 percent.  The state of California has become a cesspool of gang violence, rampant unemployment, rising foreclosures, unchecked drug dealing, and depressing economic decline.  Even in New York City we are seeing early signs of what is ahead.  Residents are quite alarmed about the dramatic rise in violent crime that is happening throughout the city.  Many New Yorkers were convinced that the days of "The Rotten Apple" were behind them, but economic problems are going to cause an increase in crime in just about any city.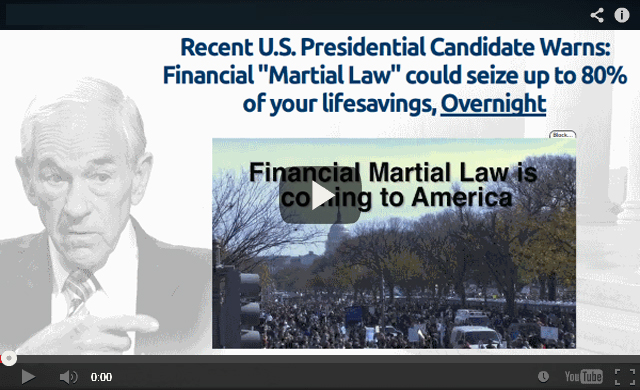 But it just isn't crime that is on the rise.  Millions of normal, law-abiding Americans are angry.  This anger is coming out in various ways – including the Tea Party protests that are sweeping the nation.  The majority of the American people are frankly disgusted with the government, and the approval ratings for both major parties continue to hover around record lows.  As things continue to get worse for the U.S. economy, the anger of the American people is going to continue to rise.
All of this is causing many in the U.S. government to view "troublemakers" inside the United States as one of the greatest threats to national security.
For a top U.S. government official to come right out and make a statement like that is absolutely mind blowing.
The reality is that as "necessary" as bills like that may seem to many as we edge ever closer to the breakdown of society, the reality is that the United States is quickly becoming just like so many of the other horrific totalitarian regimes that we have seen rise throughout the 20th and 21st centuries.
In fact a time may soon be coming when authorities in the U.S. may soon be able to legally utter this bone chilling phrase: "Your Papers Please!"  Lawmakers in Washington D.C. working to create a new immigration "reform" bill have decided on a way to prevent employers from hiring illegal immigrants: a national biometric identification card that all American workers would be required to obtain.
Can you imagine being forced to carry around a national identification card?
Or worse?
A startup company developing "chipless RFID ink" has already tested its product on cattle and laboratory rats.
Could one day we all be required to sport an "RFID tatoo" to prove our identity to authorities?
Let's hope not.
But many of us never thought that the day would come when we would see things such as the Patriot Act, "no fly" lists, the NSA's warrantless wiretapping program, DNA databases, Guantanamo Bay or full-body scanners at airports that reveal the graphic details of our naked bodies either.
America is quickly changing.  The next Great Depression is coming, and society is not going to be able to handle it.  How the U.S. government (and governments around the world) handle the coming social problems is going to be very interesting to watch.  Let's hope that all of this does not degenerate into the absolute societal nightmare that many are projecting that it could be.(source)
Survival Food Prepping Ideas/ULTIMATE Top Skills 2017
Discover how to survive: Most complete survival tactics, tips, skills and ideas like how to make pemmican, snow shoes, knives, soap, beer, smoke houses, bullets, survival bread, water wheels, herbal poultices, Indian round houses, root cellars, primitive navigation, and much more at: The Lost Ways
The Lost Ways is a far-reaching book with chapters ranging from simple things like making tasty bark-bread-like people did when there was no food-to building a traditional backyard smokehouse… and many, many, many more!
Here's just a glimpse of what you'll find in The Lost Ways:
From Ruff Simons, an old west history expert and former deputy, you'll learn the techniques and methods used by the wise sheriffs from the frontiers to defend an entire village despite being outnumbered and outgunned by gangs of robbers and bandits, and how you can use their wisdom to defend your home against looters when you'll be surrounded.
Native American ERIK BAINBRIDGE – who took part in the reconstruction of the native village of Kule Loklo in California, will show you how Native Americans build the subterranean roundhouse, an underground house that today will serve you as a storm shelter, a perfectly camouflaged hideout, or a bunker. It can easily shelter three to four families, so how will you feel if, when all hell breaks loose, you'll be able to call all your loved ones and offer them guidance and shelter? Besides that, the subterranean roundhouse makes an awesome root cellar where you can keep all your food and water reserves year-round.
From Shannon Azares you'll learn how sailors from the XVII century preserved water in their ships for months on end, even years and how you can use this method to preserve clean water for your family cost-free.
Mike Searson – who is a Firearm and Old West history expert – will show you what to do when there is no more ammo to be had, how people who wandered the West managed to hunt eight deer with six bullets, and why their supply of ammo never ran out. Remember the panic buying in the first half of 2013? That was nothing compared to what's going to precede the collapse.
From Susan Morrow, an ex-science teacher and chemist, you'll master "The Art of Poultice." She says, "If you really explore the ingredients from which our forefathers made poultices, you'll be totally surprised by the similarities with modern medicines." Well…how would you feel in a crisis to be the only one from the group knowledgeable about this lost skill? When there are no more antibiotics, people will turn to you to save their ill children's lives.
If you liked our video tutorial on how to make Pemmican, then you'll love this: I will show you how to make another superfood that our troops were using in the Independence war, and even George Washington ate on several occasions. This food never goes bad. And I'm not talking about honey or vinegar. I'm talking about real food! The awesome part is that you can make this food in just 10 minutes and I'm pretty sure that you already have the ingredients in your house right now.
Really, this is all just a peek.
The Lost Ways is a far-reaching book with chapters ranging from simple things like making tasty bark-bread-like people did when there was no food-to building a traditional backyard smokehouse… and many, many, many more!
And believe it or not, this is not all…
Table Of Contents:
The Most Important Thing
Making Your Own Beverages: Beer to Stronger Stuff
Ginger Beer: Making Soda the Old Fashioned Way
How North American Indians and Early Pioneers Made Pemmican
Spycraft: Military Correspondence During The 1700's to 1900's
Wild West Guns for SHTF and a Guide to Rolling Your Own Ammo
How Our Forefathers Built Their Sawmills, Grain Mills,and Stamping Mills
How Our Ancestors Made Herbal Poultice to Heal Their Wounds
What Our Ancestors Were Foraging For? or How to Wildcraft Your Table
How Our Ancestors Navigated Without Using a GPS System
How Our Forefathers Made Knives
How Our Forefathers Made Snow shoes for Survival
How North California Native Americans Built Their Semi-subterranean Roundhouses
Our Ancestors'Guide to Root Cellars
Good Old Fashioned Cooking on an Open Flame
Learning from Our Ancestors How to Preserve Water
Learning from Our Ancestors How to Take Care of Our Hygiene When There Isn't Anything to Buy
How and Why I Prefer to Make Soap with Modern Ingredients
Temporarily Installing a Wood-Burning Stove during Emergencies
Making Traditional and Survival Bark Bread…….
Trapping in Winter for Beaver and Muskrat Just like Our Forefathers Did
How to Make a Smokehouse and Smoke Fish
Survival Lessons From The Donner Party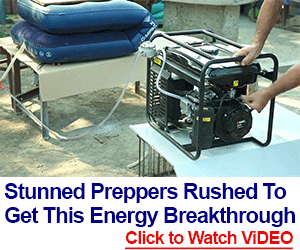 So get some books, find some websites, and start building up your skill-set. Here are some resources to get you started:
The Lost Ways (Learn the long forgotten secrets that helped our forefathers survive famines,wars,economic crisis and anything else life threw at them)
Survival MD (Best Post Collapse First Aid Survival Guide Ever)
Conquering the coming collapse (Financial advice and preparedness )
Liberty Generator (Build and make your own energy source)
Backyard Liberty (Easy and cheap DIY Aquaponic system to grow your organic and living food bank)
Bullet Proof Home (A Prepper's Guide in Safeguarding a Home )
Family Self Defense (Best Self Defense Strategies For You And Your Family)
 Survive Any Crisis (Best  Items To Hoard For A Long Term Crisis)
Survive The End Days (Biggest Cover Up Of Our President)
Drought USA (Discover The Amazing Device That Turns Air Into Water)