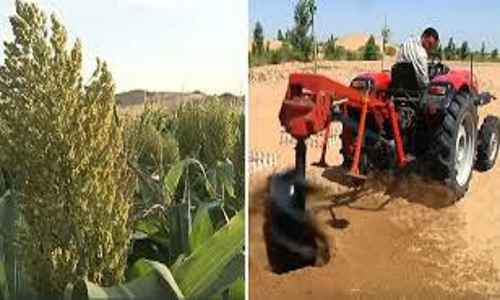 The host country, China, was praised for a law it passed in 2002 — the world's first integrated law dedicated to combating desert expansion.
With this goal in mind, China has carried out several projects that have been successful, including at one desert in northern China.
# From dead desert land to thriving ecosystem
As the climate in these regions gets drier, plants have a hard time. This is made even worse by overgrazing or farming practices that don't respect soil health. And as these plants die, their role in holding topsoil weakens. Strong winds can then blow this fertile layer away, leaving sand or rock in its place. This is how deserts grow, and the Green Wall of China is an attempt to stop that process by preventing wind erosion.
But Zhijian Yi and Chaohua Zhao from the Department of Mechanics at Chongqing Jiaotong University wanted to come at the problem from a different perspective. Rather than trying to 'fix' already dry soil in place with thirsty plants, they wanted to see if they could make sand grow crops. Their vision was nothing short of transforming desert into farmland.
If any, rain and scorching temperatures – not exactly ideal conditions to support vegetation.
However, turning that logic on its head is a desert in North China's Inner Mongolia Autonomous Region.
"According to our calculation, there are over 70 kinds of crops growing here. Many are not planted by us but they just grow themselves," said Zhao Chaohua, Associate Professor of Chongqing Jiaotong University.
Crops like corn, tomatoes, sorghum and sunflowers are transforming more than 200 hectares of sand dunes into an oasis – all within six months.
It's all thanks to new technology developed by researchers at Chongqing Jiaotong University. They developed a paste made of a substance found in plant cell walls.
When it's added to sand, it's able to retain water, nutrients and air.
"The costs of artificial materials and machines for transforming sand into soil is lower compared with controlled environmental agriculture and reclamation," Yang Qingguo, professor at Chongqing Jiaotong University said.
The research team has big future plans. This fall, it hopes to transform an additional 200 hectares of desert – and possibly more than 13,000in the next few years.
The people who live and farm on these drylands are sitting on an ecological time bomb that's ticking down fast. Global warming, climate change, overgrazing, and poor agricultural practices are quickly degrading the soil in these areas. China, for instance, loses about 3,366 km2 of farm and pasture to desertification every year, forcing entire villages to move or starve.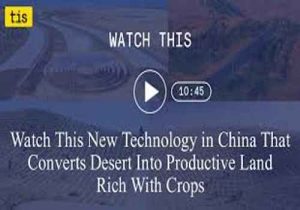 The Chinese government is aware of the problem. For years now, they've been planting green windbreaks in a massive strategy they call the "Three-North Shelter Forest Program" or the "Green Wall of China". Enormous stretches of new trees, it's hoped, can break the wind and secure the soil against erosion. But scientists have questioned this approach: planting thirsty trees in drylands can do more harm than good. And what's needed is something truly revolutionary.
The good news is that researchers are rising to that challenge. Scientists from China's Chongqing Jiaotong University have developed a paste made from plant cells that can reverse this damage. If they're right, this super-paste can turn desert back into arable land. That's not just clever tech — that's life-saving innovation!
The method could be promising for China. In three years, the country hopes to reforest 50 percent of degraded desert land that can be treated. By 2030, the United Nations is aiming to reach zero growth of desert farmland around the world.
China's breakthrough experiment in converting sand to soil is promising for making land seemingly hostile to life, fertile ground.
Their results were nothing short of miraculous. Plants grew, animals arrived, and an entire ecosystem took root. As they say, "At present, more than 70 kinds of plants (over 20 of which may have been introduced by wind or birds) are growing healthily and robustly in the field … and the growing of some algae on the 'soil' indicates that a new ecological cycle different from the one common in desert is forming. Insects, such as butterflies, mosquitoes, and ants, and other animals, such as birds, mice, and even frogs are staying and living in the experimental field (those animals can rarely be seen in the desert). Sometimes foxes and badgers are also seen in the field."
And as incredible as this innovation is, it makes economic sense, too. "The costs of artificial materials and machines for transforming sand into soil is lower compared with controlled environmental agriculture and reclamation," Dr Yang Qingguo, another professor from Chongqing Jiaotong University, explained. And that promises hope to the billions of people facing desertification.
An A to Z guide on survival gardening that is easy to read and a joy to put into practice, full of photos, diagrams and step by step advice. Even a kid can do this and, in fact, I encourage you to let the little ones handle it, to teach them not just about self-reliance but also about how Mother Nature works.
Here is just a glimpse of what you'll find inside:
How to plan, design and put into action high-yield survival garden that will literally keep you and your family fed for life, no matter what hits you, even when everyone else around you is starving to death. No digging and planting year after year and no daily watering because you'll have more important things to worry about when TSHTF.
How to set up highly nutritious soil for your plants. Do this before you plant anything and you're on your way to setting your food forest on auto-pilot for decades to come. I'm gonna tell you this one "weird" thing to add to the mulch that's not only highly effective but also 100% free (because you already have it in your home right now).
Step-by-step instructions on how to plant over 125 plants inside your permaculture garden. Plus, special instructions on choosing the right ones for your climate. From Arizona to Alaska, you can do this anywhere…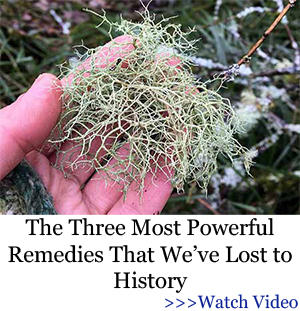 A grand encyclopedia of country Meat4All ,  weather wisdom, country remedies and herbal cures, cleaning solutions, pest purges, firewood essentials, adobe making and bricklaying, leather working, plant dyes, farm foods, natural teas and tonics, granola, bread making, beer brewing and winemaking, jams and jellies, canning and preserving, sausage making and meat smoking, drying foods, down-home toys, papermaking, candle crafting, homemade soaps and shampoos,  butter and cheese making, fishing and hunting secrets, and much more. Meat4 All : Traditional Skills for Simple Living
Natural Healing Meat4All gathers useful and fascinating information on every practice of natural health and healing in one handy volume. This new edition, with a smaller trim, includes all the must-have information from the original edition including chapters on herbal healing, naturopathy, homeopathy, Eastern medicine, energy healing, mind-body healing, and healing with foods. Information within these chapters includes various methods and techniques for managing and curing hundreds of ailments, as well as for maintaining a healthy constitution year-round.
The Lost Ways (Learn the long forgotten secrets that helped our forefathers survive famines,wars,economic crisis and anything else life threw at them)
Survival MD (Best Post Collapse First Aid Survival Guide Ever)
Conquering the coming collapse (Financial advice and preparedness )
Liberty Generator (Build and make your own energy source)
Backyard Liberty (Easy and cheap DIY Aquaponic system to grow your organic and living food bank)
Bullet Proof Home (A Prepper's Guide in Safeguarding a Home )
Family Self Defense (Best Self Defense Strategies For You And Your Family)
 Survive Any Crisis (Best  Items To Hoard For A Long Term Crisis)
Survive The End Days (Biggest Cover Up Of Our President)