World Health Organization Warns Zika Virus Will Spread Across The Americas
The Zika virus is likely to spread across nearly all of the Americas, the World Health Organization has warned.
The infection, which causes symptoms including mild fever, conjunctivitis and headache, has already been found in 21 countries in the Caribbean, North and South America.

Best Post Collapse First Aid Survival Guide Ever
It has been linked to thousands of babies being born with underdeveloped brains and some countries have advised women not to get pregnant.
No treatment or vaccine is available.
The virus was first detected in 1947 in monkeys in Africa. There have since been small, short-lived outbreaks in people on the continent, parts of Asia and in the Pacific Islands.
Via who.int :
But it has spread on a massive scale in the Americas, where transmission was first detected in Brazil in May 2015.

Large numbers of the mosquitoes which carry the virus and a lack of any natural immunity is thought to be helping the infection to spread rapidly.

WHO Director-General, Margaret Chan, will convene an International Health Regulations Emergency Committee on Zika virus and observed increase in neurological disorders and neonatal malformations.

The Committee will meet on Monday 1 February in Geneva to ascertain whether the outbreak constitutes a Public Health Emergency of International Concern.

Decisions concerning the Committee's membership and advice will be made public on WHO's website.

Outbreak in the Americas

In May 2015, Brazil reported its first case of Zika virus disease. Since then, the disease has spread within Brazil and to 22 other countries and territories in the region.

Arrival of the virus in some countries of the Americas, notably Brazil, has been associated with a steep increase in the birth of babies with abnormally small heads and in cases of Guillain-Barré syndrome, a poorly understood condition in which the immune system attacks the nervous system, sometimes resulting in paralysis.

A causal relationship between Zika virus infection and birth defects and neurological syndromes has not been established, but is strongly suspected.

WHO action

WHO's Regional Office for the Americas (PAHO) has been working closely with affected countries since May 2015. PAHO has mobilized staff and members of the Global Outbreak and Response Network (GOARN) to assist ministries of health in strengthening their abilities to detect the arrival and circulation of Zika virus through laboratory testing and rapid reporting. The aim has been to ensure accurate clinical diagnosis and treatment for patients, to track the spread of the virus and the mosquito that carries it, and to promote prevention, especially through mosquito control.

The Organization is supporting the scaling up and strengthening of surveillance systems in countries that have reported cases of Zika and of microcephaly and other neurological conditions that may be associated with the virus. Surveillance is also being heightened in countries to which the virus may spread. In the coming weeks, the Organization will convene experts to address critical gaps in scientific knowledge about the virus and its potential effects on fetuses, children and adults.

WHO will also prioritize the development of vaccines and new tools to control mosquito populations, as well as improving diagnostic tests.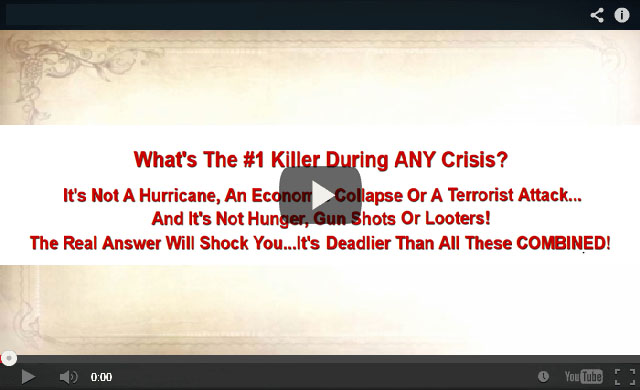 What is Zika virus? What are the symptoms? Should I avoid travelling? How can I protect myself and my family from Zika virus? Watch Zika Q&A and find the answers!
The mosquito-borne Zika virus, which has been linked to brain damage in thousands of babies in Brazil, is likely to spread to all countries in the Americas except for Canada and Chile, the World Health Organization.
Global Health Experts Warn Zika Could Spread Beyond Americas
The World Health Organization has set a special meeting for Monday to determine whether to declare the virus a public health emergency. But experts say the global health community is preparing for the worst, even possibly an epidemic.
These three old lessons will ensure your children will be well fed when others are rummaging through garbage bins. Click here to learn all about the 3 skills that will help you thrive in any crises situation.
RELATED : ZIKA VIRUS BIRTH DEFECTS from MOSQUITO!! DEPOPULATION CONSPIRACY 2.5 BILLION PEOPLE
Other useful resources:
Survive Attack to Our Power Grid System (Weapon That Can Instantly End Modern Life in America)
Survival MD (Best Post Collapse First Aid Survival Guide Ever)
Backyard Innovator (A Self Sustaining Source Of Fresh Meat,Vegetables And Clean Drinking Water)
Blackout USA (EMP survival and preparedness)
Conquering the coming collapse (Financial advice and preparedness )
Liberty Generator (Build and make your own energy source)
Backyard Liberty (Easy and cheap DIY Aquaponic system to grow your organic and living food bank)
Bullet Proof Home (A Prepper's Guide in Safeguarding a Home )
Family Self Defense (Best Self Defense Strategies For You And Your Family)
 Survive Any Crisis (Best  Items To Hoard For A Long Term Crisis)
Survive The End Days (Biggest Cover Up Of Our President)
Drought USA(Discover The Amazing Device That Turns Air Into Water)