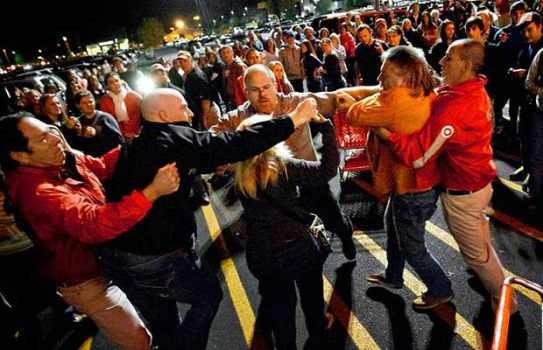 10 Things People Often Forget to Do Until It's Too Late in an Emergency
You never know when a disaster might strike. Not to sound too doom and gloom, but the fact is that all of us live in an area with at least some risk of an earthquake, flood, hurricane, tornado, tsunami, or other natural disaster.
You need to be prepared in the case of an emergency because by the time something terrible happens, it's too late to get ready. Store shelves will be bare within a few hours and there's little people can do but hunker down and wait for the trouble to pass or try to leave on potentially clogged or treacherous roads.
Even people who are smart and prepare 72-hour kits and food storage often forget about other basic necessities. This can make life miserable while they're waiting for help.

So here is a list of 10 things you should do as soon as possible to be prepared for problems, big and small:
1. Write your family members' names, phone numbers, and addresses on a piece of paper and laminate it
Most people store all of their friends' and family members' contact information on their phones. But when the power goes out, all of that information will become inaccessible when your phone runs out of battery power in a short amount of time. Put important information about your family members, such as their home address, work address, and various phone numbers on a piece of paper and make sure it's waterproof. Keep that paper in a handy spot, such as in your 72-hour kit, purse, or wallet. That contact list could also prove helpful to authorities if they find you unconscious and aren't sure who to inform about your condition.
Economic collapse, financial crisis, economic meltdown …
Hurricanes, tornadoes, volcanoes, earthquakes, flood
2. Store water, not just food
It seems so simple, and yet a surprising number of people I know who are well prepared with their food storage don't have enough water to make use of that food, let alone to stay hydrated for an extended period of time. You should plan on each person in your household requiring 1 gallon of water per day. This water is used not just for hydration and food preparation, but also basic hygiene needs, washing laundry, and other important uses.
3. Secure your water heater to the wall
If you have a tank-less water heater, this isn't an issue, but most houses, especially older ones, have large water heaters. Use plumbers tape to keep your water heater tight against the wall closest to it. Find the nearest stud on each side of the water heater and drive screws into them to make sure the plumbers tape won't rip free in the event of an earthquake. The last thing you want is a prime source of water to break loose during an emergency and spill everywhere.
4. Have an alternate power source

Being without power is not fun. Power outages can last quite a while, too, depending on how extensive the damage is. So be prepared with a backup source of electricity. It doesn't have to be a bulky gas-powered generator, like you might be thinking. Actually, I recently got a solar power kit from a local company in my state called Goal Zero, and it's turned out to be a simple, reliable way to get power if I'm ever in a bind. I'm sure there are plenty of other brands out there for this sort of thing. Solar power is definitely the way to go to have at least some electricity in an emergency.
5. Get a portable toilet
Toilets don't run on electricity, thank goodness. But don't expect the water supply running into your house to last forever, especially if the problem persists for a long period of time. And once the water runs dry, your bathrooms won't be very useful. To preserve your hygiene, get a portable plastic toilet. This may also come in handy if you have to leave your home and be on the road for a while.
6. Have more medicine than just what you require to fulfill your immediate needs
You can't rely on 911 during a catastrophic event. Emergency-response teams simply don't have enough workers and supplies to meet everyone's needs. If you take prescription drugs that are extremely important to your health, you may want to talk to your doctor about helping you get at least an extra month's supply of it in case something happens to prevent you from getting more for a while.
Check out this incredible way of becoming food independent on Backyard Liberty, and find out more about off-grid survival on Conquering the Coming Collapse.
7. Keep a sturdy pair of shoes close to your bed
The last thing you want to have in an emergency is an  injury that keeps you from being able to walk, especially if that injury could have been easily prevented. If your bedroom window gets shattered, you don't want to have to stumble through the dark in your bare feet on broken glass. Simply keep a good pair of shoes or boots under your bed so you don't have to worry about that.
8. Have candles and dry matches
I guarantee candles and matches will be gone from store shelves at the first hint of an approaching hurricane or other natural disaster. Stock up on them early. They don't have to be anything fancy. Just make sure they're kept in a dry place, preferably contained in resealable plastic bags.
9. Test your flashlights and keep fresh batteries
Like any device, flashlights need maintenance from time to time. Don't just assume that they work. Test them out periodically. Buy extra bulbs and batteries, and make sure the batteries don't go past their expiration date without being used. You want to have ample light sources when the power goes out. It's a good idea to keep a flashlight by your bed, too.
10. Have a reserve fund of hard currency in your home
In a power outage, it's likely that you won't be able to use a credit card or debit card for transactions. It's best to keep dollar bills on hand. You should probably store them in your home in a safe. Banks will also likely be closed and ATMs won't work, so don't expect to be able to get to your money for a while. Having cold, hard cash in your hand could be extremely helpful in getting last-minute supplies.
Make these preparations sooner rather than later, and by having the necessary prepper supplies you'll be able to rest easier in the event of a disaster. Good luck favors the prepared.
Survive Attack to Our Power Grid System (Weapon That Can Instantly End Modern Life in America)
Survival MD (Best Post Collapse First Aid Survival Guide Ever)
Backyard Innovator (A Self Sustaining Source Of Fresh Meat,Vegetables And Clean Drinking Water)
Blackout USA (EMP survival and preparedness)
Conquering the coming collapse (Financial advice and preparedness )
Liberty Generator (Build and make your own energy source)
Backyard Liberty (Easy and cheap DIY Aquaponic system to grow your organic and living food bank)
Bullet Proof Home (A Prepper's Guide in Safeguarding a Home )
Family Self Defense (Best Self Defense Strategies For You And Your Family)
 Survive Any Crisis (Best  Items To Hoard For A Long Term Crisis)
Survive The End Days (Biggest Cover Up Of Our President)
Drought USA(Discover The Amazing Device That Turns Air Into Water)
SOURCE : www.theprepperjournal.com
Derek Smith is the owner of Acorn Supplies, an emergency preparedness company that helps people be prepared with emergency survival kits and food storage to sustain disasters.