Islam vs. the World: World War III Has Begun–Islam Takung Over Europe ! Sharia law soon in Europe
The Third World War has begun, in spite of the fact that few people recognize it. The conflict isn't between communist and free, as we long expected, but instead between Muslim and the rest of the world. Although militant Muslims in Iraq and Syria have stolen the headlines, it is not long before we see them around the world, making a play for power.
LOS ANGELES, CA (Catholic Online) – Right away, one fact needs to be straightened out. Many apologists and politically correct people will make an immediate distinction between Islamic terrorists and what they refer to as mainstream Islam. According to these people, the terrorists are the extremists and Islam is a religion of peace.
RELATED : NWO 2016 Obama Vs Putin- ISIS Final Warning World War III Pope Francis

This thinking needs to be reframed. The militants are responding to the kafir (non-Muslims) as directed by the Quran. The book is very clear. You have a few basic options. You may convert, flee with nothing, pay a punishing tax, or die.
What are you going to do to save your neighbor? Help save Christians from genocide.
The Quran also instructs that the entire world is to be converted. Islam is not just for a few Middle Eastern countries. No, the banner of Islam is intended for all nations, all the world. And if enticements of paradise don't work, then that banner should be raised with the help of the sword.
This is mainstream Islam, not extremism. The extremists are the liberal Muslims who think Islam has little business spreading itself by violence. Those Muslims, although the vast majority, are apostates and they will be lumped together with the Christians, the Jews, and other infidels, kafirs, and devils that must be destroyed to make way for a new Islamic State.
RELATED : The Inevitable World War 3 and End of the World in 2016 : Shocking Documentary 2015
These people will not stop at the borders of their native states. The "Islamic State" will not stop at the Turkish or Saudi border. Boko Haram will not stop at the border of Nigeria. Abu Sayyeff will not stop in the Philippines, and Al Shabaab will not stop with Somalia. In fact, the world seems to be on the brink of a global Islamic uprising that will not only include the active, militant movements that exist across Africa and Asia, but may soon include outbursts of activity in Europe and the Americas.

It's coming, fast.
Christians are being murdered around the world at a rate unprecedented in history. Even during the time of the cruelest Roman emperors, persecutions were occasional, limited affairs-violent in their own way, deadly but brief.
RELATED : Nostradamus Predictions For The Future War World 3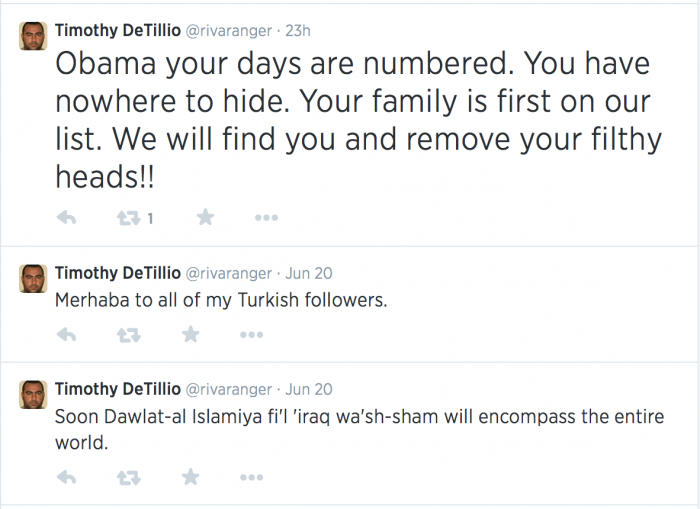 (source)
RELATED : 2015 Warning EMP Attack on America – Life After an EMP -90% of all Americans will die within 18 months after an EMP event.
RELATED : FINAL WARNING: Obama and Pope Francis Will Bring Biblical END TIMES [Full Documentary 2015]
Muslim Gangs Take Control of 55 Zones in Sweden
Muslim criminal gangs have taken control of 55 "no-go zones," according to a report released by Swedish police, which mapped out the areas law enforcement has handed over. The areas are overrun by organized crime and drug dealing and officers frequently face direct attacks when trying to enter them. We look at how the gangs have secured these zones from criminal authorities, and how authorities have been powerless to change the tide in this Lip News clip with Elliot Hill and Mark Sovel.
RELATED : EMP: Could it Start the Next War?
Gabberelroy – WAR IS COMING! EUROPE VS ISLAM !! EDL english defence league. 
RELATED : Warning America Attack By Isis on America Power Grid End of 2015 100% Chance it Will Happen
Survive Attack to Our Power Grid System (Weapon That Can Instantly End Modern Life in America)
Survival MD (Best Post Collapse First Aid Survival Guide Ever)
Backyard Innovator (A Self Sustaining Source Of Fresh Meat,Vegetables And Clean Drinking Water)
Blackout USA (EMP survival and preparedness)
Conquering the coming collapse (Financial advice and preparedness )
Liberty Generator (Build and make your own energy source)
Backyard Liberty (Easy and cheap DIY Aquaponic system to grow your organic and living food bank)
Bullet Proof Home (A Prepper's Guide in Safeguarding a Home )
Family Self Defense (Best Self Defense Strategies For You And Your Family)
 Survive Any Crisis (Best  Items To Hoard For A Long Term Crisis)
Survive The End Days (Biggest Cover Up Of Our President)
Drought USA(Discover The Amazing Device That Turns Air Into Water)