After Armageddon — The Worst Case Scenario For Global Disaster
BY CHRIS RAY
The worst case scenario for global disaster.  "This is not a real emergency."  The premise of the show is that a pandemic with high morbidity and mortality is sweeping across Europe, South America, Russia and Southern Africa.  At first the US government doesn't acknowledge there are any confirmed cases, but just a couple weeks after the first cases are discovered abroad, there are many affected in the US.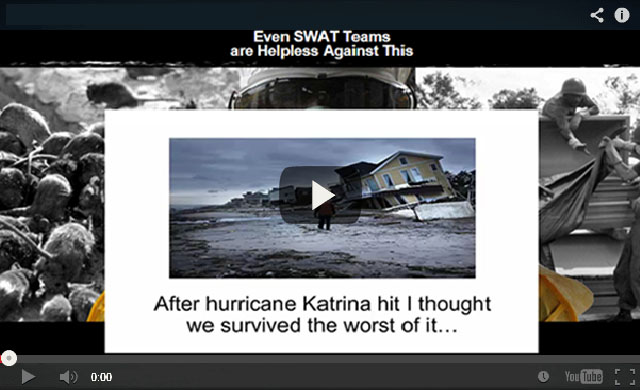 They have a panel of experts talking about the different aspects of how a pandemic will affect everyday life.  The fictional story follows a family from Los Angeles from before there are any acknowledged cases on US soil, to years after the pandemic.  The acting was pretty bad, but I didn't watch it for the acting.  As the shows disclaimer mentions, this is a theoretical account of a worst case scenario.  I have mentioned before that a pandemic is one of the "big ones" that concerns me the most.   We have had them multiple times in human history, and it could take weeks to months to produce a vaccine.  World travel is easier than ever before, so spreading of a pandemic would be faster than at any other time.  That being said, a large-scale, true pandemic, such as the one in 1918, is a very rare thing.
I used this show to play the "what would I do" game.  While some of the decisions the family in the show makes are not decisions I would have made, putting yourself in different scenarios and deciding the best course of action is a great way to practice"survival thinking".
The show covered a wide range of topics throughout the entire show, touching on such things as security throughout.  I am going to cover some of the general topics instead of going along the timeline the show used.
Healthcare
As I mentioned, the show has a pandemic spreading worldwide after only three weeks.  Because a trip that used to take weeks can now be made in less than a day, it is completely possible for someone who is newly infected to travel to another country before they begin to show signs of sickness.  As the pandemic is really taking hold in America they say that many healthcare professionals will not show up for work.  After some time, hospitals may close their doors and not take any new patients in.  This is in part because they are full and have no more room, because they don't have any way of treating patients and partly due to lack of staffing.  When I went through CERT, the county emergency manager said that it is expected that as many as 30% of first responders and healthcare professionals won't go in to work.  This could be due to fear of catching the illness or because either a loved one or they, themselves, have gotten sick.
The show said that the number of dead bodies would be overwhelming, with no one to come and remove them.  I think this could be true.  Also, what would you do with them all?  The only thing I can think of is mass graves.  If you live in a town of 10,000 and the pandemic had a morbidity rate of 30% and a mortality rate of 10% that would mean that your town alone would see 300 people die from the pandemic.   It is easy to see how healthcare and those who deal with the deceased could be quickly overwhelmed.
As I mentioned, the show covered a large time frame.  One of the things they said would take place months to years after the pandemic had run its course was that there would be limited healthcare, maybe going back to what it was in the early twentieth century.  People would get sick and die from things they haven't in ten to twenty years.  A cut that becomes infected could be deadly.
Preparedness
In the show, the father is a paramedic and goes to work one day to be told that the hospital has shut down.  He sneaks in and when he sees all the sick people his eyes are opened to how bad the situation is.  He goes to the store and buys whatever supplies he can find.  One of the commentators makes the statement that I am sure many of you have heard, "the average family has roughly around three days of food in their home".  He then says, "To really go to ground you need three months or more".  Since most of us are aware of the need to have much more than three days stored, I am going to leave this alone.
The family decides to self-quarantine until the crime rate and loss of electricity pushes them to flee for the wife's sister in Idaho.  They soon find the major highways out of the city gridlocked and must find an alternate route.  I bring this up because, while I think that in most situations battening down is the better choice, you should know multiple routes to bug out.  These routes, as one of the commentators puts it, "should be the road less traveled."
Along the way the family is forced to abandon the SUV and carry very little of their supplies.  The commentators talk about only carrying what is needed and that you may be forced to loot the things to keep you alive.   I wrote an article called "Is it ever okay to loot or salvage".  If you have never considered this subject, I recommend reading that article.
It is also mentioned that you will have to think of non-traditional places to get water.  Hotel pools and water heaters are mentioned and the father gets some water from a car radiator, which is not an option for most of the year in northern states.
I'll explain this more in the next section, but in the show, the power goes out for good and oil shipments are no more.  Due to this, it is mentioned that we will need to learn the skills our grandparents knew.  This is in relation to growing and harvesting food.  I have no way to prove this, but I imagine that just two generation ago most people either canned or knew someone who did.  I bet today there is maybe one in twenty who does.
Infrastructure
As I mentioned above the family decided to self-quarantine and would have stayed home had the rising crime and lack of power not driven them out.  It was said that there are 102 nuclear power plants in the US, and only 5000 people know how to run them.  Due to staff and fuel shortages there are multiple power station failures.  The show didn't get into this but it is important to be aware of.  Nuclear power plants have large generators on site to keep the pumps running that keep the rods cool.  I have heard that these generators have a two week supply of diesel on site.  If the power doesn't come back on line before the fuel runs out and if there is no more diesel brought in, we could be looking at a very serious situation at the end of those two weeks.
Related to the power stopping is the Internet going down.  This would impact just about every aspect of life.  I'm not talking just about email and surfing.  So many companies have integrated the internet into their business, from scheduling to inventory management, air traffic control to power management of remote systems.
Because there is no power, the water stops pumping.  This means that the toilets stop working.  The family in the show is forced to bury their waste outside.  One of the commentators says something to the affect "that due to the lack of a working sewage system this adds to the spreading of disease not associated with the pandemic."
There is also a mention of the lack of oil and power to push water to irrigation systems.  In terms of growing food, we would be back to the 1850's.  It is said that "without irrigation farms become wastelands."  Because of the lack of running water for irrigation, famine pushes the death toll even higher after the pandemic has run its course.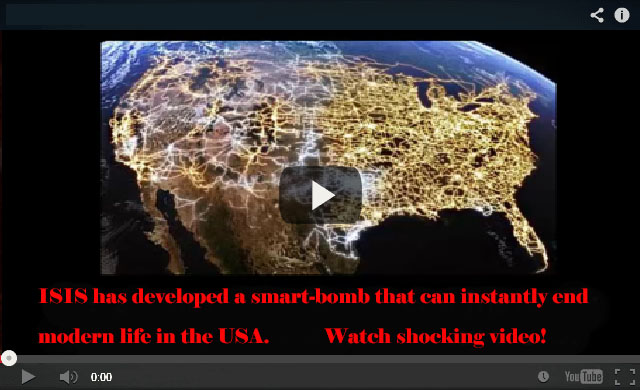 Society
One commentator remarks on lessons learned from hurricane Katrina (this might have been two different commentators, but the gesture is the same). "Katrina showed us how thin the polite veneer is.  It took four days to descend into anarchy."  Another comment is made that "we're only nine meals away from anarchy."  I think three to four days sounds about right.  Watching your loved ones go hungry for three days or going hungry yourself for that long could drive people to use violence to try and get what they don't have to survive.
They said that towns might take up arms, shut their borders and not allow anyone to enter or exit.  This will be done to prevent any sick from entering and also to keep Joe Dirtbag out.  In smaller towns, community food would be rationed and a triage would be set up to determine who will get to eat and how much they may get to eat.  Authority is local and can be guaranteed as long as there is a local Sheriff who is effective.  In one scene, bandits break in to steal from a small town.  They are caught and the sheriff executes them in the middle of the street.
One of the commentators, whom I believe was a professor said, "Both in destruction phase and in rebuilding phase, religion will be very popular."  There will be a lot of apocalyptic sermons and the pandemic blamed on the sins of the past.  I think this is probably true.  I remember hearing how full churches were after 9-11.
Security
It is said that violence will become the norm and security becomes the most important aspect.  When the family begins to run out of food, the husband goes in search of some.   He sees just how much things have deteriorated and begins to throw clothes out in the yard,  explaining to his wife how bad it is and that they have to make the house look like its already been looted and vandalized.
One night the son sees people going through their neighbor's house and they decide to leave the next day for the wife's sister's home in Idaho.   As I mentioned above, they find the main route clogged and attempt another route, which ends up having a "road block" with armed men who start firing shots as the SUV turns around to avoid them.  It is said that "the road less traveled is preferred", and that "not being seen is preferable to trying to fight."
The commentators talk of "people forming gangs to obtain the resources they need." And another said "They'll be looking for food, they'll be looking for drugs, they'll be looking for gold or silver or something thing will have value after."  The husband tried to barter with someone to get some food and finds that cash is worthless.  The people (thugs) with the food were still interested in his watch.
One of the commentators said something I didn't know, or at least hadn't thought of this way; "In a famine situation, children are often the most dangerous.  They are the most prone to violence."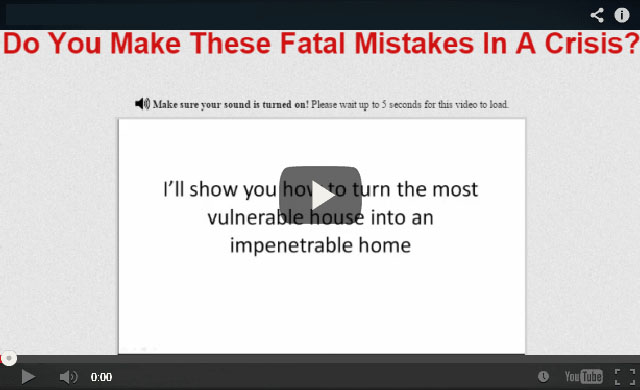 Final Thoughts
While I didn't learn anything new, I think this show is worth watching and I am glad I did.  A pandemic happening in the manner they depict is something I pray we never see.  Those who read this article or visit other preparedness sites might be better prepared for it, but all of humanity will feel the impact.(source)
Other useful resources:
Survive Attack to Our Power Grid System (Weapon That Can Instantly End Modern Life in America)
Survival MD (Best Post Collapse First Aid Survival Guide Ever)
Backyard Innovator (A Self Sustaining Source Of Fresh Meat,Vegetables And Clean Drinking Water)
Blackout USA (EMP survival and preparedness)
Conquering the coming collapse (Financial advice and preparedness )
Liberty Generator (Build and make your own energy source)
Backyard Liberty (Easy and cheap DIY Aquaponic system to grow your organic and living food bank)
Bullet Proof Home (A Prepper's Guide in Safeguarding a Home )
Family Self Defense (Best Self Defense Strategies For You And Your Family)
 Survive Any Crisis (Best  Items To Hoard For A Long Term Crisis)
Survive The End Days (Biggest Cover Up Of Our President)
Drought USA(Discover The Amazing Device That Turns Air Into Water)