The Pentagon shipped live anthrax spores around the United States.
Anthrax scare, as Pentagon ships live spores
Nine states affected by military mistake
A spokesperson for the Pentagon admitted live anthrax spores were accidentally shipped to nine states, as well as to a U.S. base in South Korea, Osan.
In a statement, the Pentagon said the "inadvertent transfer of samples containing live Bacillus anthracis," or anthrax, began with a U.S. defense department lab in Dugway, Utah, the Guardian reported.
Officials thought the spores were dead. Fox News reported four government workers are being treated for exposure.
Col. Steve Warren, acting press secretary for the Pentagon, said in a media conference there is "no known risk to the general public" and lab workers at Dugway were "working as part of a DoD effort to develop a field-based test to identify biological threats in the environment."
The Pentagon joined forces with the Centers for Disease Control to investigate the mishap. Officials declined to say when the shipment took place.

ABC News reported the affected states were California, Texas, Wisconsin, Tennessee, Maryland, Virginia, Delaware, New Jersey and New York.
This isn't the first government mistake involving anthrax.
A year ago, the Centers for Disease Control and Prevention reported staff in Georgia were mistakenly exposed to live anthrax spores while conducting an experiment.(source)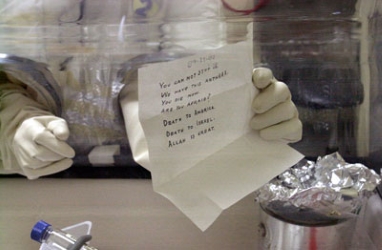 Soon after the terrorist attacks of 9/11, letters laced with anthrax began appearing in the U.S. mail. Five Americans were killed and 17 were sickened in what became the worst biological attacks in U.S. history.
The ensuing investigation by the FBI and its partners—code-named "Amerithrax"—has been one of the largest and most complex in the history of law enforcement.
In August 2008, Department of Justice and FBI officials announced a breakthrough in the case and released documents and information showing that charges were about to be brought against Dr. Bruce Ivins, who took his own life before those charges could be filed. On February 19, 2010, the Justice Department, the FBI, and the U.S. Postal Inspection Service formally concluded the investigation into the 2001 anthrax attacks and issued an Investigative Summary.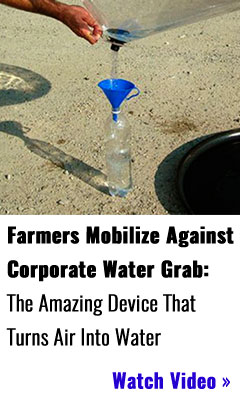 The Amerithrax Task Force—which consisted of roughly 25 to 30 full-time investigators from the FBI, the U.S. Postal Inspection Service, and other law enforcement agencies, as well as federal prosecutors from the District of Columbia and the Justice Department's Counterterrorism Section—expended hundreds of thousands of investigator work hours on this case. Their efforts involved more than 10,000 witness interviews on six different continents, the execution of 80 searches, and the recovery of more than 6,000 items of potential evidence during the course of the investigation. The case involved the issuance of more than 5,750 grand jury subpoenas and the collection of 5,730 environmental samples from 60 site locations. In addition, new scientific methods were developed that ultimately led to the break in the case—methods that could have a far-reaching impact on future investigations.(source)
Government health care has never in the history of the world, anywhere, delivered the same quality of medical care as has the free market. As we have lost the battle for competitive health care, today we are traveling along the path to a centrally controlled Soviet-style system that means doctor shortages, limited availability of procedures, scarcity of specialized drugs, long wait times and an overall increased cost for a decreased quality of our health care. Over half of the surgeons who cover emergency rooms are over 50 years old. Many are retiring early; many are dramatically reducing their patient load. And the new regulations required by Obamacare are only making this much worse. You need to be medically prepared.
"Surviving the Medical Meltdown" is a guide to preparing you and your household to prevent and deal with a multitude of medical issues. It explains how we got in this situation, tells how to plan ahead when doctors and insurance aren't there to help, offers the latest medical breakthroughs so you can best maintain good health, and provides a home care handbook full of health tips for everything from rashes and fevers to fractures and chest pain. It will help you prepare for a future where immediate access to the modern medical care of today is simply not available.(source)
Hope for the best, but prepare for the worst.
This is a good motto to live by, despite how you think about things.
Individuals can still hope for the best (that things can and will eventually work out), but what good is your prosperity going to do if you don't have anything to eat or a safe place to hang out for an extended period of time?
Why not prepare while you still can — when things are readily available and can still be purchased at cheap prices? The coming hyper-inflation will make any such purchases beforehand look very intelligent…
To prepare for the worst, you need a plan. Why are most people so against doing basic preparations that could be the difference on how they survive — or whether they survive?
History shows time and again that those who prepare always fare better than those who did not.
Having a plan and being determined to act on that plan will always be the best way to handle any contingencies, should they occur.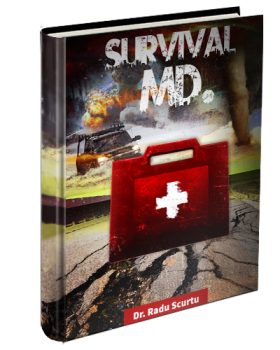 After disaster strikes, your mind is going to be racing around like a car on a race track. Preplanning and having a written set of measures to take will make someone's life go much smoother when the SHTF.
Other useful resources:
Survival MD (Best Post Collapse First Aid Survival Guide Ever)
Backyard Innovator (A Self Sustaining Source Of Fresh Meat,Vegetables And Clean Drinking Water)
Blackout USA (EMP survival and preparedness)
Conquering the coming collapse (Financial advice and preparedness )
Liberty Generator (Build and make your own energy source)
Backyard Liberty (Easy and cheap DIY Aquaponic system to grow your organic and living food bank)
Bullet Proof Home (A Prepper's Guide in Safeguarding a Home )
Family Self Defense (Best Self Defense Strategies For You And Your Family)
Sold Out After Crisis (Best 37 Items To Hoard For A Long Term Crisis)
Survive The End Days (Biggest Cover Up Of Our President)