Are you ready for a Collapse of the U.S Food Supply System and a Coming Food Crisis?
How to prepare for a Global Food Shortage 
You never ever thought this could happen in America. Well it is, and if you arent't prepared you could be putting your whole family in jeopard. While you're at it, think about storing food and some fresh water too. People thing are going to start getting really tough. Not to alarm you, but it won't be long when you see people fighting over the point of protecting what they have from thieves. 
In the event of a global food crisis, it is vital to be prepared. The key  to preparedness is storing food that is easy to get a hold of, will last  for several years or even decades, and is somewhat nutrient-dense. While it  is always important to purchase high quality organic foods, in the event of  a food crisis it is often essential to exercise your survival skills, which  may mean it is hard to come across optimal food sources.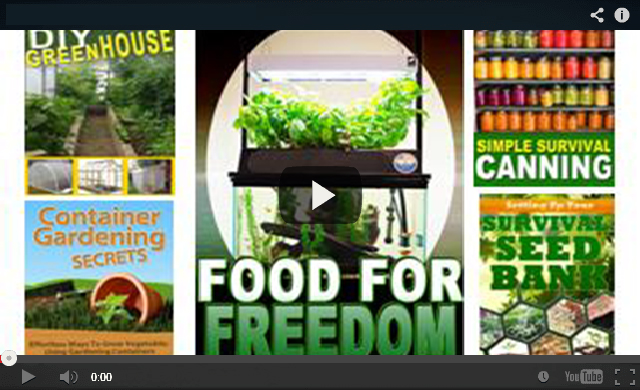 List of 17 Essential Foods : 
1# Beans and Legumes (beans, peas, and lentils his group also includes chickpeas, baked and refried beans, soy milk, tempeh, and texturized vegetable protein. Legumes are all good sources of fiber, protein, iron, calcium, zinc, and B vitamins, and other nutrients that may prevent cancer and heart disease)
2# Pasta (  pasta is generally eaten with nutrient-dense food partners, such as fiber-filled vegetables and beans, heart healthy fish and monounsaturated oils, antioxidant-rich tomato sauce and protein-packed cheeses, poultry and lean meats.  Pasta offers: SUSTAINED ENERGY: Carbohydrates like pasta provide glucose, the crucial fuel for your brain and muscles.  Pasta is an excellent source of complex carbohydrates, which provide a slow release of energy.  Unlike simple sugars that offer a quick, yet fleeting boost of energy, pasta helps sustain energy)
3# Rice ( Vitamin B : complex group plays various roles in the body's ability to produce energy. Wild, white and brown rice all contain varying amounts of vitamins B1 through B6. B12 is not found in rice, as it is only produced by animal food sources. Long grain brown rice contains higher amounts of B vitamins than does wild rice or white rice that has not been enriched)
4# Cereals ( Vitamin B12, or Cobalamin, is an essential vitamin necessary for maintenance of the nervous system and for preventing anemia. Commercial cereals are often fortified with Vitamin B12, and these cereals can serve as a good source of Vitamin B12 for vegetarians and vegans. Below is a list of fortified cereals highest in Vitamin B12. These cereals are ranked by 100 gram serving which can be between 1-2 cups of cereal. Calorie information, as well as sugar, carb, fat, and protein is included. When selecting a cereal try to find one which is low in refined sugars, and fats. Eating these cereals with milk, or Vitamin B12 enriched soy milk, can provide even higher levels of Vitamin B12)
5# Bread & Biscuits ( White bread has approximately the same carbohydrate and protein content as wholemeal bread, contains soluble and insoluble dietary fibre, and a good percentage of the whole wheat nutrients. It is made from unbleached flour made from the inner 78% of the wheat grain. If you prefer white bread to wholegrain breads, you can get your extra fibre from other wholegrain foods such as breakfast cereals, wholemeal crackers and biscuits)
6# Cans ( fish, meat, vegetables :  Fish High in Vitamin D (%DV per 3oz, cooked): Smoked Salmon (97%), Swordfish (94%), Canned Trout (86%), Salmon (75%), Smoked White Fish (73%), Mackerel (65%), Canned Mackerel (43%), Tuna Canned in Oil (38%), Halibut (33%), Herring (30%), Sardine (27%), Rockfish (26%), Tilapia (21%), Sole & Flounder (20%), and Tuna Steak (12%). Organ meats, barley, egg yolks, milk, chicken , pork also provide biotin)
7# Whole Grains ( When a grain is refined, most of the bran and some of the germ is removed, resulting in losses of fiber, B vitamins, vitamin E, trace minerals, unsaturated fat, and about 75 percent of the phytochemicals.  Consuming foods rich in fiber, such as whole grains, as part of overall healthy eating, reduces the risk of coronary heart disease and may reduce constipation)
8# Canned Fruits ( When stocking up on canned produce, watch for sodium and added sugar. Often times, sodium is added to canned goods to help preserve them. Look for low-sodium, reduced-sodium or no-salt-added labeled cans. Additionally, you can drain and rinse canned veggies to reduce the sodium content even more. For fruits, opt for those canned in water over juices or syrups, as these have significantly higher amounts of added sugar. It's a good source of fibre, as well as some disease-protective phytochemicals and vitamins, though it's not necessarily as rich in these as fresh fruit)
9# Oils ( Olive oil is mainly comprised of monounsaturated fatty acids. A healthier type of fat, it reduces total and low-density lipoprotein (LDL or "bad") cholesterol levels in the bloodstream, while raising high-density lipoprotein (HDL or "good") cholesterol levels. High quality extra virgin olive oil, in particular, provides a high content of antioxidants, like polyphenols, vitamins E & K, chlorophyll and carotenoids. Antioxidants are key to strengthening the immune system and protecting the body from the damaging effects of free-radical molecules. Olive oil contains anti-inflammatory agents, like oleocanthal, that act as a natural ibuprofen-like substance)
10# Seed and Nuts ( Rich in energy, protein, packed with antioxidants, vitamins, minerals and much discussed omega-3 fatty acids, nuts and seeds have it all!. Crunchy yet buttery, wonderfully delicious nuts are wonderful gifts to humankind by mother nature)
11# Seeds ( Sesame Seeds, Rye, Rice – Wild, Sunflower Seeds, Amaranth, Flax Seed, Millet, Oats. There is only one way to derive nutrition from seeds and that is to eat them raw. Once they are exposed to heat, they produce toxic substances and the vitamin, mineral and essential oil profiles are denatured. By roasting a seed, its classification moves from a living food to a dead food. There is no seed on earth that can withstand roasting or heating without breaking down its nutritional components. Always remember, eat seeds naturally…eat them raw. This also means they can be soaked, ground or mashed (i.e. tahini), especially if a seed's shell or coat is too difficult to pierce with the teeth. – Choose raw and unsalted seeds – Avoid coated or roasted seeds – Avoid sugar coated seeds)
12# Dried Fruits ( Dried fruits are very popular for a multitude of reasons! Eating fruit is associated with improved health and provides many of the essential minerals, vitamins, phytonutrients and fiber that you need every day. Dried fruit doesn't spoil as quickly and is an easy snack to pack, especially for activities like hiking)
13# Honey ( Hence, honey is a source of carbohydrates, containing * 80% natural sugar — mostly fructose and glucose. Due to the high level of fructose,honey is sweeter than table sugar. * 18% water. The less water content the honey has, the better the quality of honey. * 2% minerals, vitamins, pollen and protein. The vitamins present in honey are B6, thiamin, niacin, riboflavin, pantothenic acid and certain amino acids. The minerals found in honey include calcium, copper, iron, magnesium, manganese, phosphorus, potassium, sodium and zinc. I learnt that "conductivity" is an indirect way of measuring the mineral content of a honey. Manuka honey has a higher than normal conductivity — about 4 times that of normal flower honeys. The higher the conductivity, the better the value of the honey. Also, one of the most encouraging honey nutrition facts – this natural sweetener hasantioxidants and is free of fat and cholesterol)
14# Salt ( The favorite choice for the term "Salt" is 1 dash of Salt which has no vitamin C. The percent daily values of Vitamin C, Vitamin A, Calcium and Iron)
15# Vinegar ( Vinegar is made in a two-step process, related to how alcohol is made The first step exposes crushed apples (or apple cider) to yeast, which ferment the sugars and turn them into alcohol. In the second step, bacteria are added to the alcohol solution, which further ferment the alcohol and turn it into acetic acid… the main active compound in vinegar. In French, the word "vinegar" actually means "sour wine."Organic, unfiltered apple cider vinegar (like Bragg's) also contains "mother," strands of proteins, enzymes and friendly bacteria that give the product a murky, cobweb-like appearance)
16# Vitamins ( RIBOFLAVIN (vitamin B2) Helps convert food into energy. Needed for healthy skin, hair, blood, and brain, NIACIN (vitamin B3, nicotinic acid) Helps convert food into energy. Essential for healthy skin, blood cells, brain, and nervous system, PANTOTHENICACID (vitamin B5) Helps convert food into energy. Helps make lipids (fats), neurotransmitters, steroid hormones, and hemoglobin )
17# Water ( Increases Energy & Relieves Fatigue – Since your brain is mostly water, drinking it helps you think, focus and concentrate better and be more alert. As an added bonus, your energy levels are also boosted )
There's a reason why the U.S government is so eager to disarm the American people.
It's got little to do with crime rates or mass murders… but everything to do with the very reason the 2nd Amendment was created for: to protect the people from a tyrannical government.
Because when a major disaster hits the USA, a recent executive order allows FEMA to confiscate your food stockpile... and just like in the old USSR, to give it to the government-dependent masses
The Four Horsemen of the Food Apocalypse"
…because they bring with them a deadly social and economic crisis… with immediate effects on your ability to feed your family.
And if you don't act fast, if you don't act now, you're going to miss your chance forever… a chance to finally become self-sufficient and independent, a chance to make your family "recession-proof" and "disaster proof", while the unprepared "zombies" will be starving and killing each other over a loaf of rotten bread.
The first horseman is Hunger… and it came with the searing heat of last year.
The summer of 2012 brought massive drought, devastation and despair to farmers all over the globe. World granaries like Russia and Kazakhstan were scorched by hellish temperatures. Crops in Ukraine were pummeled, corn was reduced to desolating burnt stalks. And with a 15% drop in the Indian monsoon… a historical drought in Australia… and an appalling harvest in Mexico… you may be wondering…
Because the second horseman is GREED.
Just as the drought was causing soy, corn and meat prices to soar 10% alone in July 2012… the US turned on the printing machine, and dumped two trillion dollars in the laps of the biggest banks… through "quantitative easing". The official story is that all this money should go back into the economy… to help small businesses and people like you and I.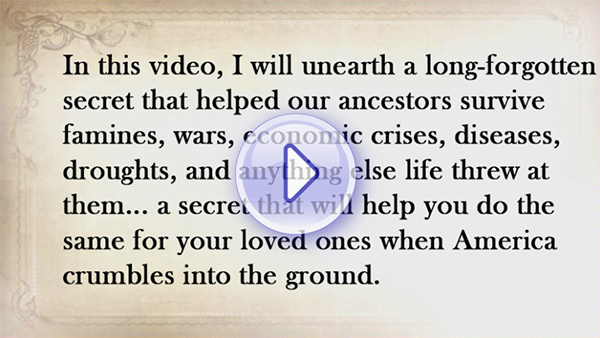 Easy and cheap DIY Aquaponic system to grow your organic and living food bank
How to cool your food or drinks withut electricity ! This DIY project uses a red clay pot and sand to cool the contents inside from evaporation. Evaporator coolers work great and they are very easy to make. This Zeer pot might have been what the ancients used to keep their produce fresh in the summer seasons to last longer. I think this could be very handy if we were to loose power..
Other useful resources:
Survive Attack to Our Power Grid System (Weapon That Can Instantly End Modern Life in America)
Survival MD (Best Post Collapse First Aid Survival Guide Ever)
Backyard Innovator (A Self Sustaining Source Of Fresh Meat,Vegetables And Clean Drinking Water)
Blackout USA (EMP survival and preparedness)
Conquering the coming collapse (Financial advice and preparedness )
Liberty Generator (Build and make your own energy source)
Backyard Liberty (Easy and cheap DIY Aquaponic system to grow your organic and living food bank)
Bullet Proof Home (A Prepper's Guide in Safeguarding a Home )
Family Self Defense (Best Self Defense Strategies For You And Your Family)
 Survive Any Crisis (Best  Items To Hoard For A Long Term Crisis)
Survive The End Days (Biggest Cover Up Of Our President)
Drought USA(Discover The Amazing Device That Turns Air Into Water)