Are You Ready For Forced Vaccination, RFID Chips And FEMA Camps ?
Evidence of Internment Camps in America. Recent legislation attempting to legitimize the use of internment camps to detain U.S. citizens in the event of an uprising or civil unrest has many people asking what nation they live in. In a country born out of political dissent, we watch our leaders in Washington slowly pass bills that label ordinary Americans as thought criminals and potential domestic terrorists for simply questioning the actions of their government.
We see third party candidates and their impassioned supporters listed in secret government reports that call their allegiance into question and brand them as fanatics and extremists. Senate committee hearings and official FBI documents further illustrate the mindset of our elected officials as they classify homeschoolers, gun rights activists and anti-abortionists as threats against the existing social and political order; by default creating an entire nation of radicals and revolutionaries – where everyone is a suspect… equally guilty until proven otherwise.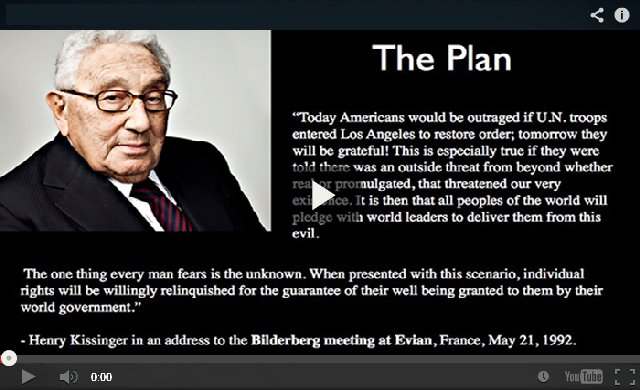 How has our government shown that they will deal with these people? The same way as every other totalitarian regime throughout history – marginalize their activities then lock them up. Prisons are being built; internment camps constructed and laws passed that deal severely with anyone who dares to step out of line or ask too many questions. Who are the potential domestic terrorists that will end up in these camps? Read the documentation for yourself and hear what our experts have to say. States rights take a front row seat in this new political thriller that is guaranteed to send shivers up your spine. Find out where the true power of the people rests in halting these treasonous activities NOW!»
Video : LibertyTruthJustice
RFID CHIPS :
A brand New Executive Order issued By Barack Obama on September 18, 2014, which in the minds of some, give the U.S Government the power to force and\or make 'mandatory', vaccines and RFID Chips implants upon the general populace.
The Executive Order signed by President Obama directs Federal departmens and agencies to implement the National Strategy and address the PCAST report.
The National Strategy provides a five-year plan for prevent and contain outbreaks of antibiotic – resistant infections, maintain the efficacy of current and new antibiotics, and develop and deploy next – generation diagnostics, antibiotics, vaccines and other therapeutics.
Could this mean that vaccination will be manadatory in the event of a pandemic outbreak ? This new Executive order, as well as the 'coincidental'July 31, 2014 adding "acute respiratory"syndrome right before this "rare"EV 68 virus started attacking children across the United State, they was confirmed in 22 states, seems to imply that mandatory vaccination are on the way.
Could any viruses make way for mandatory RFID Chips and |Fema Camps?
Thing about it….Fema Camps could be used to jail people who refuse to get vaccinated.
You choice will be probaly….Take the vaccine or get put in camps !
And all those who take the vaccine will probably be chipped to show they are "normal" law abiding citizens who can still be integrated to society. Everything is pointing to the NWO and the system of the beast.
Video : Jamie Whittaker
Word of the day: Prepare! And do it the old fashion way, like our fore-fathers did it and succeed long before us, because what lies ahead of us will require all the help we can get. Watch this video and learn the 3 skills that ensured our ancestors survival in hard times of  famine and war.
Swedish Companies implant RFID Chips in employees
Video : HAWAYAAHLA
FEMA is the executive arm of the coming police state and thus will head up all operations. The Presidential Executive Orders already listed on the Federal Register also are part of the legal framework for this operation.
The camps all have railroad facilities as well as roads leading to and from the detention facilities. Many also have an airport nearby. The majority of the camps can house a population of 20,000 prisoners. Currently, the largest of these facilities is just outside of Fairbanks, Alaska. The Alaskan facility is a massive mental health facility and can hold approximately 2 million people.
Via Dave Hodges : 
Executive Orders associated with FEMA that would suspend the Constitution and the Bill of Rights. These Executive Orders have been on record for nearly 30 years and could be enacted by the stroke of a Presidential pen:..
Would you be able to sustain your loved ones when all hell brakes loose?In this video, I will unearth a long-forgotten secret that helped our ancestors survive famines, wars, economic crises, diseases, droughts, and anything else life threw at them… a secret that will help you do the same for your loved ones when America crumbles into the ground.I'm also going to share with you three old lessons that will ensure your children will be well fed when others are rummaging through garbage bins. Click here to learn all about the 3 skills that will help you thrive in any crises situation.
EXECUTIVE ORDER 10990
Allows the government to take over all modes of transportation and control of highways and seaports.
EXECUTIVE ORDER 10995
Allows the government to seize and control the communication media.
EXECUTIVE ORDER 10997
Allows the government to take over all electrical power, gas, petroleum, fuels and minerals.
EXECUTIVE ORDER 10998
Allows the government to seize all means of transportation, including personal cars, trucks or vehicles of any kind and total control over all highways, seaports, and waterways.
EXECUTIVE ORDER 10999
Allows the government to take over all food resources and farms.
EXECUTIVE ORDER 11000
Allows the government to mobilize civilians into work brigades under government supervision.
EXECUTIVE ORDER 11001
allows the government to take over all health, education and welfare functions.
EXECUTIVE ORDER 11002
Designates the Postmaster General to operate a national registration of all persons.
EXECUTIVE ORDER 11003
Allows the government to take over all airports and aircraft, including commercial aircraft.
EXECUTIVE ORDER 11004
Allows the Housing and Finance Authority to relocate communities, build new housing with public funds, designate areas to be abandoned, and establish new locations for populations.
EXECUTIVE ORDER 11005
Allows the government to take over railroads, inland waterways and public storage facilities.
EXECUTIVE ORDER 11051
Specifies the responsibility of the Office of Emergency Planning and gives authorization to put all Executive Orders into effect in times of increased international tensions and economic or financial crisis.
EXECUTIVE ORDER 11310
Grants authority to the Department of Justice to enforce the plans set out in Executive Orders, to institute industrial support, to establish judicial and legislative liaison, to control all aliens, to operate penal and correctional institutions, and to advise and assist the President.
EXECUTIVE ORDER 11049
Assigns emergency preparedness function to federal departments and agencies, consolidating 21 operative Executive Orders issued over a fifteen year period.
EXECUTIVE ORDER 11921
Allows the Federal Emergency Preparedness Agency to develop plans to establish control over the mechanisms of production and distribution, of energy sources, wages, salaries, credit and the flow of money in U.S. financial institution in any undefined national emergency. It also provides that when a state of emergency is declared by the President, Congress cannot review the action for six months.
National Security Act of 1947
Allows for the strategic relocation of industries, services, government and other essential economic activities, and to rationalize the requirements for manpower, resources and production facilities.
Defense Production Act 1950
Gives the President sweeping powers over all aspects of the economy.
Act of August 29, 1916
Authorizes the Secretary of the Army, in time of war, to take possession of any transportation system for transporting troops, material, or any other purpose related to the emergency.
International Emergency Economic Powers Act
Enables the President to seize the property of a foreign country or national. These powers were transferred to FEMA in a sweeping consolidation in 1979.
Where are these camps?
ALABAMA
Opelika – Military compound either in or very near town.
Aliceville – WWII German POW camp – capacity 15,000
ALASKA
Wilderness – East of Anchorage. No roads, Air & Railroad access only. Estimated capacity of 500,000 Elmendorf AFB – Northeast area of Anchorage – far end of base. Garden Plot facility.
ARIZONA
Ft. Huachuca – 20 miles from Mexican border, 30 miles from Nogales Rex '84 facility.
Fully staffed and presently holding prisoners!!
ARKANSAS
Ft. Chaffee (near Fort Smith, Arkansas) – Has new runway for aircraft, new camp facility with cap of 40,000 prisoners Pine Bluff Arsenal – This location also is the repository for B-Z nerve agent, which causes sleepiness, dizziness, stupor; admitted use is for civilian control.
CALIFORNIA
Vandenburg AFB – Rex 84 facility, located near Lompoc & Santa Maria. Internment facility is located near the oceanside, close to Space Launch Complex. Oakdale – Rex 84 camp capable of holding at least 20,000 people. 90 mi. East of San Francisco. McClellan AFB – facility capable for 30,000 – 35,000 Sacramento – Army Depot – No specific information at this time. Mather AFB – Road to facility is blocked off by cement barriers and a stop sign.
COLORADO
Trinidad – WWII German/Italian camp being renovated. Granada – Prowers County – WWII Japanese internment camp Ft. Carson – Along route 115 near Canon City
ILLINOIS
Marseilles – Located on the Illinois River off Interstate 80 on Hwy 6. It is a relatively small facility with a cap of 1400 prisoners. Though it is small it is designed like prison facilities with barred windows, but the real smoking gun is the presence of military vehicles.
INDIANA
Possible FEMA detention center or holding facility. Camp Atterbury – Facility is converted to hold prisoners and boasts two active compounds presently configured for minumum security detainees. Located just west of Interstate 65 near Edinburgh, south of Indianapolis. Terre Haute – Federal Correctional Institution, Satellite prison camp and death facility. Equipped with crematoria reported to have a capacity of 3,000 people a day. FEMA designated facility located here.
KANSAS
Ft. Riley – Just north of Interstate 70, airport, near city of Manhattan. El Dorado – Federal prison converted into forced-labor camp, UNICOR industries. Topeka – 80 acres has been converted into a temporary holding camp.
KENTUCKY
Ashland – Federal prison camp in Eastern Kentucky near the Ohio River. Louisville – FEMA detention facility, located near restricted area US naval ordnance plant.. Just scant miles from Fort Campbell in Tennessee.
MASSACHUSETTS
Camp Edwards / Otis AFB – Cape Cod – This "inactive" base is being converted to hold many New Englander patriots. Capacity unknown. Ft. Devens – Active detention facility. More data needed.
MICHIGAN
Camp Grayling – Michigan Nat'l Guard base has several confirmed detention camps, classic setup with high fences, razor wire, etc. Guard towers are very well-built, sturdy. Multiple compounds within larger enclosures. Facility deep within forest area. Sawyer AFB – Upper Peninsula – south of Marquette – No data available. Bay City – Classic enclosure with guard towers, high fence, and close to shipping port on Saginaw Bay, which connects to Lake Huron. Could be a deportation point to overseas via St. Lawrence Seaway. Southwest – possibly Berrien County – FEMA detention center. Lansing – FEMA detention facility.
MINNESOTA
Duluth – Federal prison camp facility. Camp Ripley – new prison facility.
MISSISSIPPI
These sites are confirmed hoaxes. Hancock County – NASA test site De Soto National Forest. "These two supposed camps in Mississippi do not exist. Members of the Mississippi Militia have checked these out on more than one occasion beginning back when they first appeared on the Internet and throughout the Patriot Movement." – Commander D. Rayner, Mississippi Militia
MISSOURI
Richards-Gebaur AFB – located in Grandview, near K.C.MO. A very large internment facility has been built on this base, and all base personnel are restricted from coming near it. Ft. Leonard Wood – Situated in the middle of Mark Twain National Forest in Pulaski County. This site has been known for some UN training, also home to the US Army Urban Warfare Training school "Stem Village". Warsaw – Unconfirmed report of a large concentration camp facility.
MONTANA
Malmstrom AFB – UN aircraft groups stationed here, and possibly a detention facility.
NEBRASKA
Scottsbluff – WWII German POW camp (renovated?). Northwest, Northeast corners of state – FEMA detention facilities – more data needed. South Central part of state – Many old WWII sites – some may be renovated.
NEW JERSEY
Ft. Dix / McGuire AFB – Possible deportation point for detainees. Lots of pictures taken of detention compounds and posted on Internet, this camp is well-known. Facility is now complete and ready for occupancy.
NEW YORK
Ft. Drum – two compounds: Rex 84 detention camp and FEMA detention facility. Albany – FEMA detention facility. Otisville – Federal correctional facility, near Middletown. Buffalo – FEMA detention facility.
NORTH CAROLINA
Camp Lejeune / New River Marine Airfield – facility has renovated, occupied WWII detention compounds and "mock city" that closely resembles Anytown, USA. Fort Bragg – Special Warfare Training Center. Renovated WWII detention facility. Andrews – Federal experiment in putting a small town under siege. Began with the search/ hunt for survivalist Eric Rudolph. No persons were allowed in or out of town without federal permission and travel through town was highly restricted. Most residents compelled to stay in their homes. Unregistered Baptist pastor from Indiana visiting Andrews affirmed these facts.
OKLAHOMA
Tinker AFB (OKC) – All base personnel are prohibited from going near civilian detention area, which is under constant guard. Will Rogers World Airport – FEMA's main processing center for west of the Mississippi. Renovated federal internment facility with CURRENT population of 12,000 on Route 66.
OREGON
Sheridan – Federal prison satellite camp northwest of Salem. Josephine County – WWII Japanese internment camp ready for renovation. Sheridan – FEMA detention center. Umatilla – New prison spotted.
SOUTH CAROLINA
Greenville – Unoccupied youth prison camp; total capacity unknown.
Charleston – Naval Reserve & Air Force base, restricted area on naval base.
SOUTH DAKOTA
Yankton – Federal prison camp
Black Hills Nat'l Forest – north of Edgemont, southwest part of state. WWII internment camp being renovated.
VIRGINIA
Ft. A.P. Hill (Fredericksburg) – Rex 84 / FEMA facility. Estimated capacity 45,000.
Petersburg – Federal satellite prison camp, south of Richmond.
WASHINGTON
Seattle/Tacoma – SeaTac Airport: fully operational federal transfer center
Okanogan County – Borders Canada and is a site for a massive concentration camp capable of holding hundreds of thousands of people for slave labor. This is probably one of the locations that will be used to hold hard core patriots who will be held captive for the rest of their lives.
WISCONSIN
Ft. McCoy – Rex 84 facility with several complete interment compounds.
Oxford – Central part of state – Federal prison & staellite camp and FEMA detention facility.
OVERSEAS LOCATIONS
Guayanabo, Puerto Rico – Federal prison camp facility. Capacity unknown.
Guantanamo Bay, Cuba – US Marine Corps Base – Presently home to 30,000 Mariel Cubans and 40,000 Albanians. Total capacity unknown.
Video : JediWitness2
MAY DAY! They are trying to kill us! Even without a nuclear attack, they are killing us in so many other ways: vaccines, aspartame, msg, pharmaceuticals, fluoride and more! Get active! Stock up on food! Stock up on water! Stock up on guns and ammo (for defense only)!

Other useful resources:
The Lost Ways (Learn the long forgotten secrets that helped our forefathers survive famines,wars,economic crisis and anything else life threw at them)
Survive Attack to Our Power Grid System (Weapon That Can Instantly End Modern Life in America)
Survival MD (Best Post Collapse First Aid Survival Guide Ever)
Backyard Innovator (A Self Sustaining Source Of Fresh Meat,Vegetables And Clean Drinking Water)
Blackout USA (EMP survival and preparedness)
Conquering the coming collapse (Financial advice and preparedness )
Liberty Generator (Build and make your own energy source)
Backyard Liberty (Easy and cheap DIY Aquaponic system to grow your organic and living food bank)
Bullet Proof Home (A Prepper's Guide in Safeguarding a Home )
Family Self Defense (Best Self Defense Strategies For You And Your Family)
 Survive Any Crisis (Best  Items To Hoard For A Long Term Crisis)
Survive The End Days (Biggest Cover Up Of Our President)
Drought USA (Discover The Amazing Device That Turns Air Into Water)