Ark Two Underground Bunker
This is about helping mankind evade extinction and restore civilization in case of nuclear war or other world-wide cataclysmic catastrophe.
Built out of 43 School Buses, the Ark Two Complex in Canada as a 10,000 sq/ft nuclear fallout shelter and refuge facility, is without any political or religious funding probably the largest Privately Constructed Doomsday catastrophe refuge in the world!
The Ark Two SAFE (Safe America For Everyone) Community's purpose is to mitigate the consequences of a nuclear war or other world-wide cataclysmic catastrophe, no matter if it be from a Super Storm or the long feared Zombie Apocalypse. This is about helping mankind to evade extinction and to restore civilization.

According to the original doctrine, anyone is welcome to join the Ark Two Refuge Facility (located in Ontario, Canada) – so long as they do so before the catastrophe occurs – though I would check it out before making plans, by emailing them at: [email protected]
The first room inside the shelter is the decontamination room. It contains a shower, a stainless steel double sink and table for decontaminating such things as vegetables, and a full-size bathtub with shower head for decontaminating children and incapacitated individuals.
There are two large diesel generators that supply the facility. There is on-site a three month fuel storage capacity for the generators. The main generator, in the foreground, was replaced in 1999 with a new 75KW.
Check out this incredible way of becoming food independent on Backyard Liberty, and find out more about off-grid survival on Conquering the Coming Collapse.
Either of the diesel generators will more than completely supply the facility's needs. The yellow Caterpillar back up generator is started by a hand-pull pup engine.
There is also an external 5KW emergency gasoline generator that can actually light the whole shelter or run fire fans for emergency movement of air. Other electrical supply resources are being developed.
People would of course prefer to be housed by families and each person have their own private bed that they could use at any time. However, in order to get the number of people into the shelter that the government standard says that a shelter this size is supposed to shelter, we have to do this in this manner. Each of the bunk rooms has 24 bunks.
The children's bunk room for children age 2-5 has capacity for 96 children. In addition to this, there is a nursery, and play room.
There are also sex separated bunkrooms for older children – grouped by ages.
In reality – Ark Two is an underground orphanage.
Though the Ark Two may not be what some people consider a comfortable, modern utopia, but it is the best model for group survival I've come across.
Other useful resources: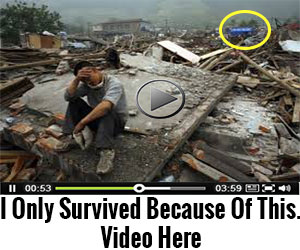 Survival MD (Best Post Collapse First Aid Survival Guide Ever)
Backyard Innovator (A Self Sustaining Source Of Fresh Meat,Vegetables And Clean Drinking Water)
Blackout USA (EMP survival and preparedness)
Conquering the coming collapse (Financial advice and preparedness )
Liberty Generator (Build and make your own energy source)
Backyard Liberty (Easy and cheap DIY Aquaponic system to grow your organic and living food bank)
Bullet Proof Home (A Prepper's Guide in Safeguarding a Home )
Family Self Defense (Best Self Defense Strategies For You And Your Family)
Sold Out After Crisis (Best 37 Items To Hoard For A Long Term Crisis)
SOURCE : conspiracy-watch.org