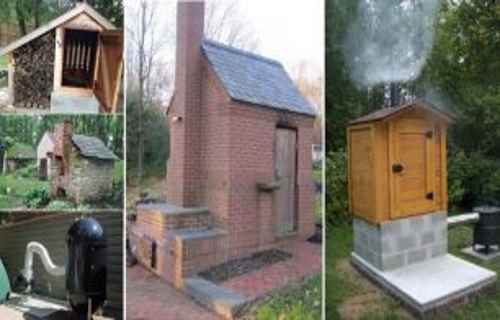 Do you enjoy smoking your meat?
I mean, who doesn't love homemade bacon or ham? After exploring the world of smoking meat here recently, I have to tell you I think everyone should have some type of a smoker and make their own meat creations. It is so tasty!
But how do you build a smoker? What are your choices for having a smoker on your property?
Well, after doing lots of research before building my own smoker, I've learned that there are lots of different options.
So I'm going to bring you the best plans and ideas for a smoker and/or smokehouse that the internet has to offer.
Awesome Smokehouse Plans and Ideas
1. DIY Cedar Smokehouse
This smoker is a beautiful option. It is constructed from concrete blocks and cedar wood. It has plenty of room to hang lots of meat.
Also, it has the option to store your wood for smoking on the side with a covered location. But the tutorial is what sets this smoker apart. It is very thorough and has lots of pictures to make the build a little easier.
The perfect medium for preserving & cooking all kinds of food is by using a smokehouse. Not only is it extremely practical, but when designed well it can also become a center piece or talking point for your backyard get togethers.
And with summer fast approaching, what better DIY project could you want.
Outlined below is the build of a very stylish smokehouse from start to finish. You can replicate this for your own project and/or tailor it to meet your own needs. The only tools required for this project were a trowel, an electric drill, a hand saw, a power drill and a level.
A full list of supplies can be found at the end…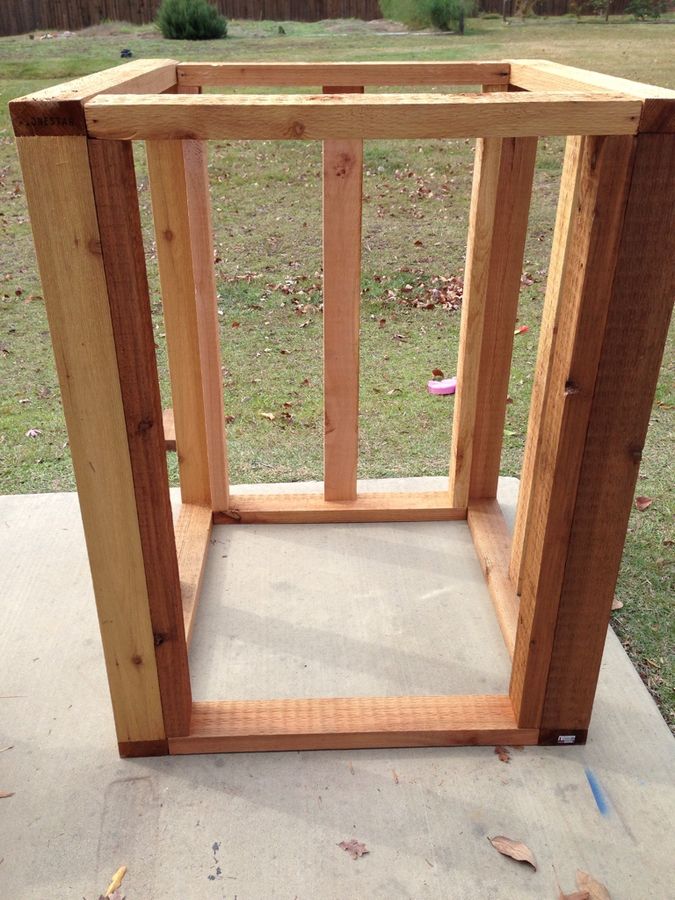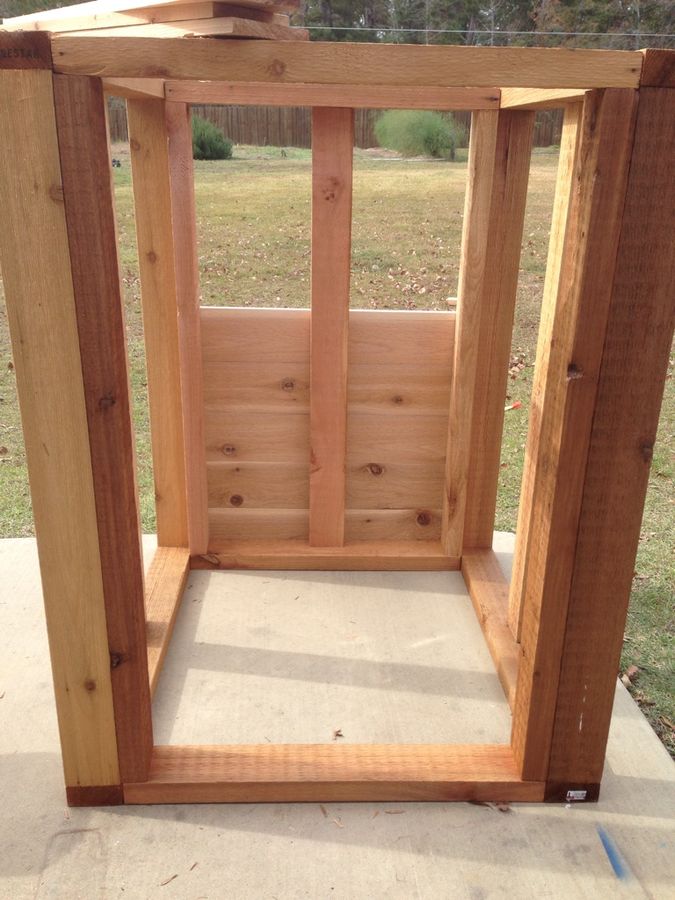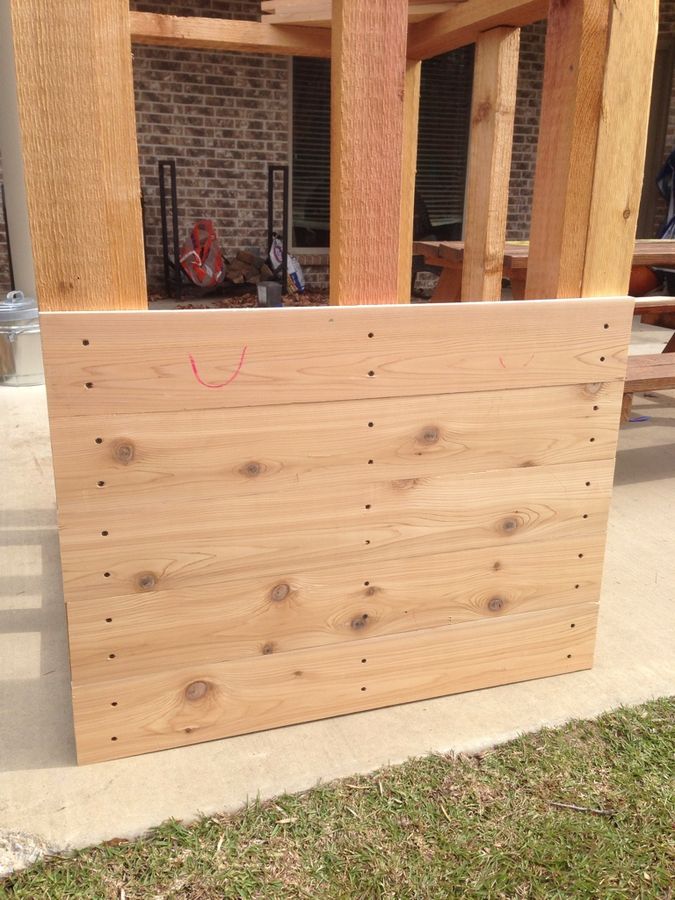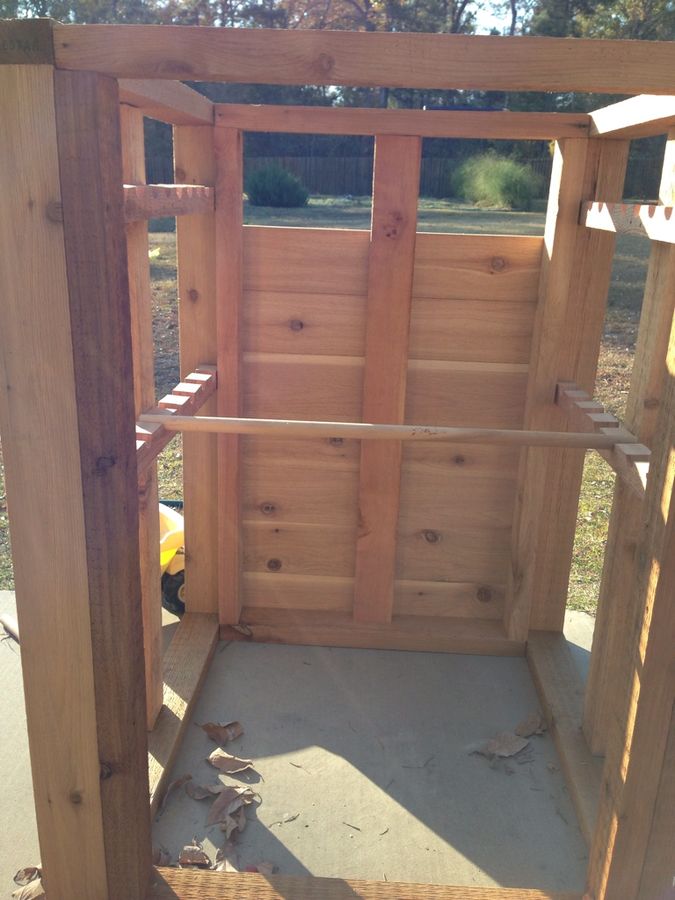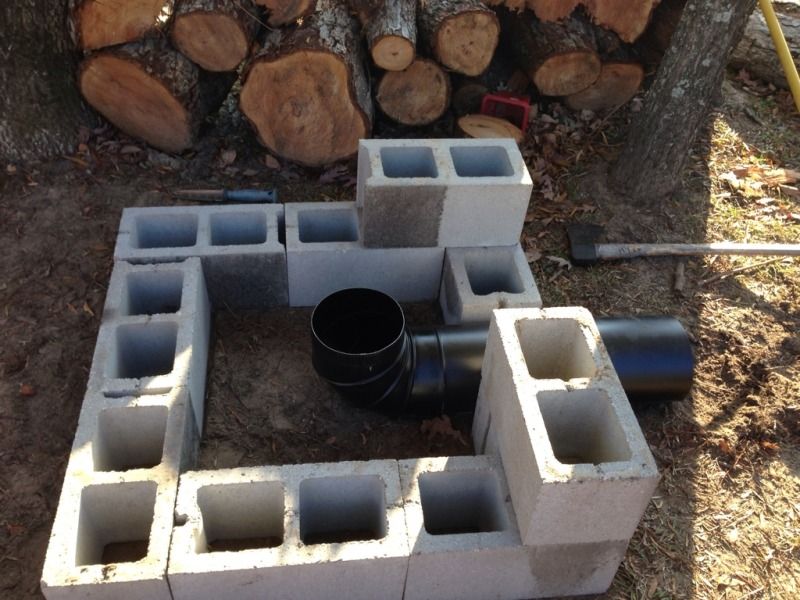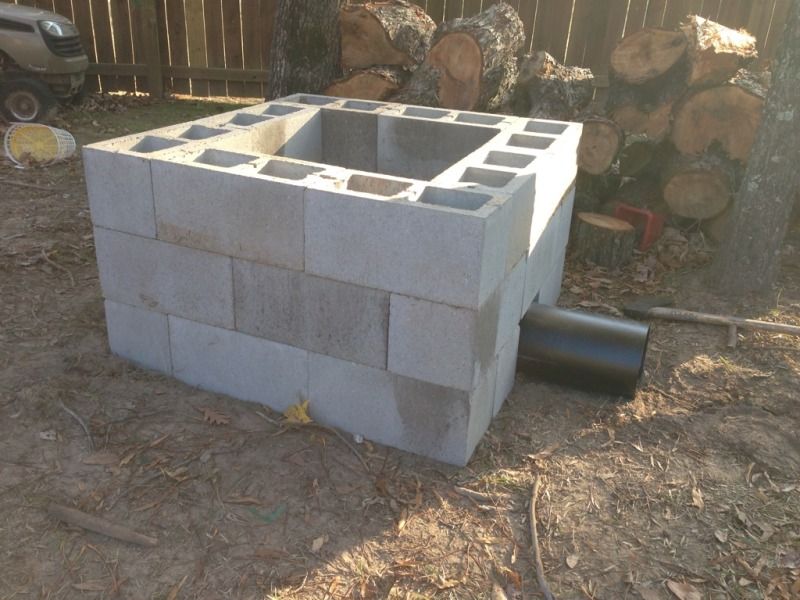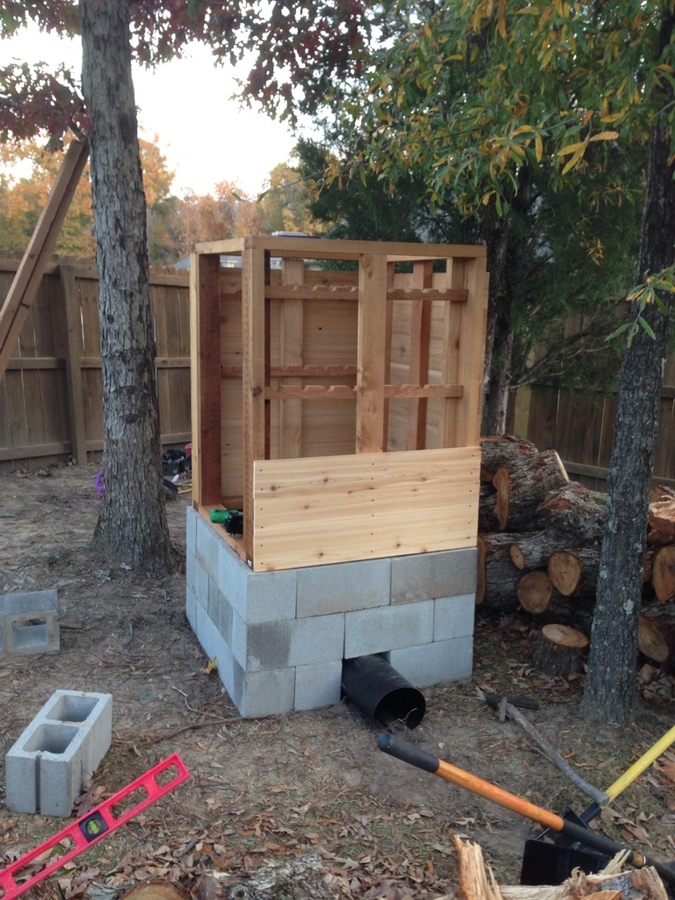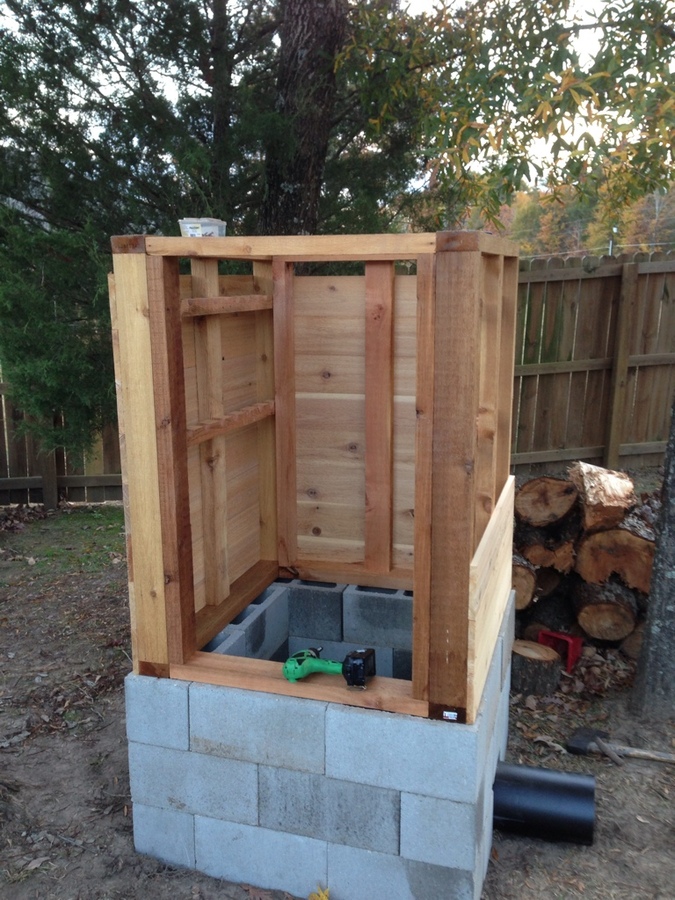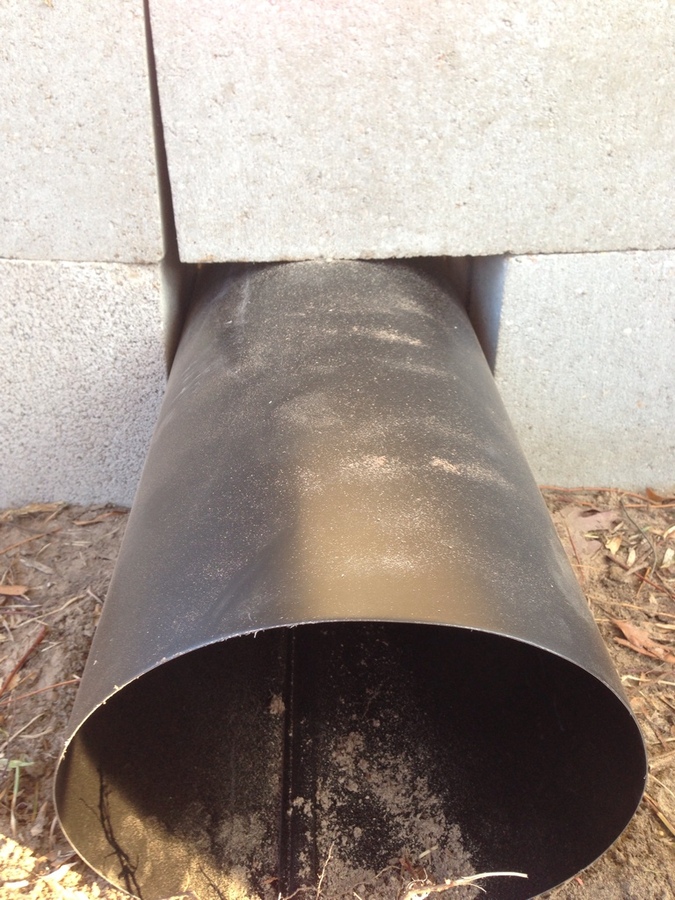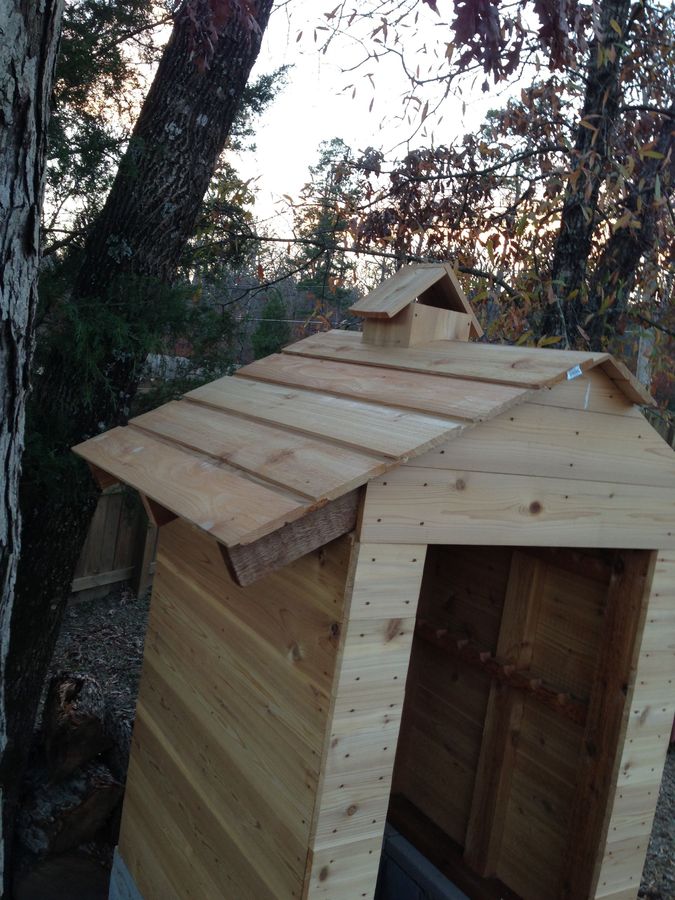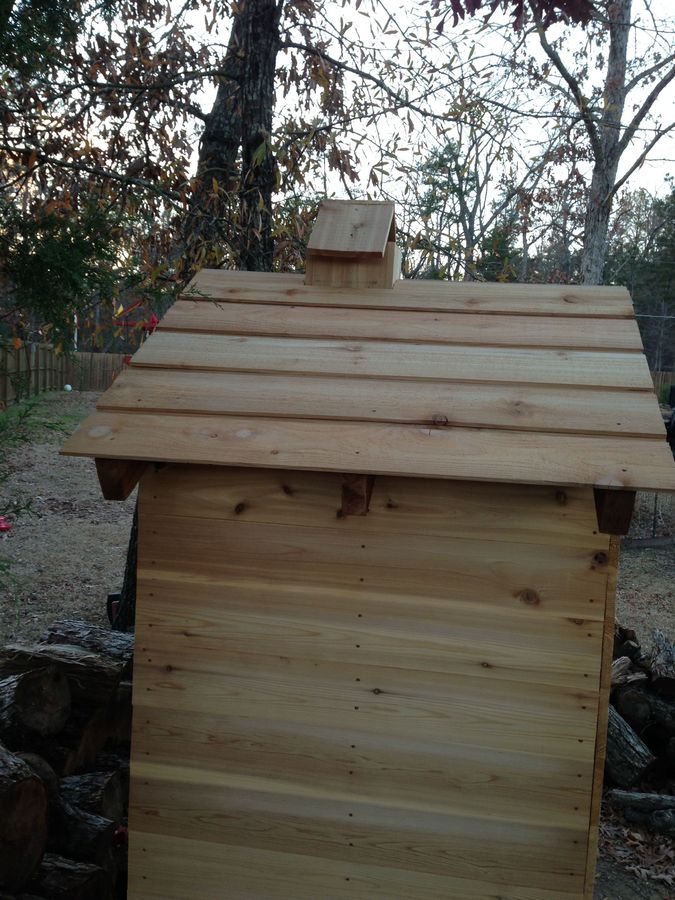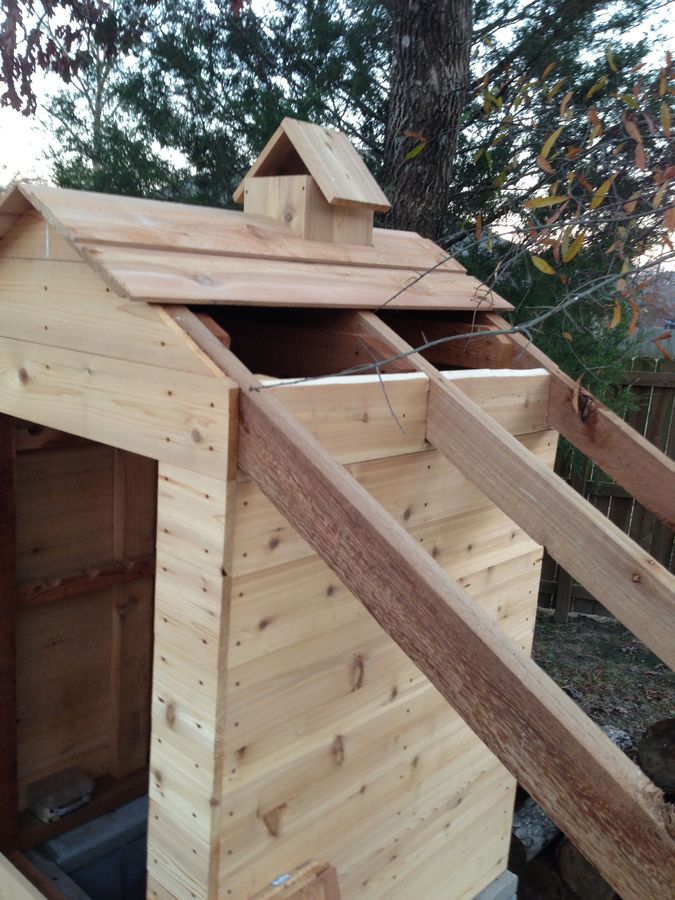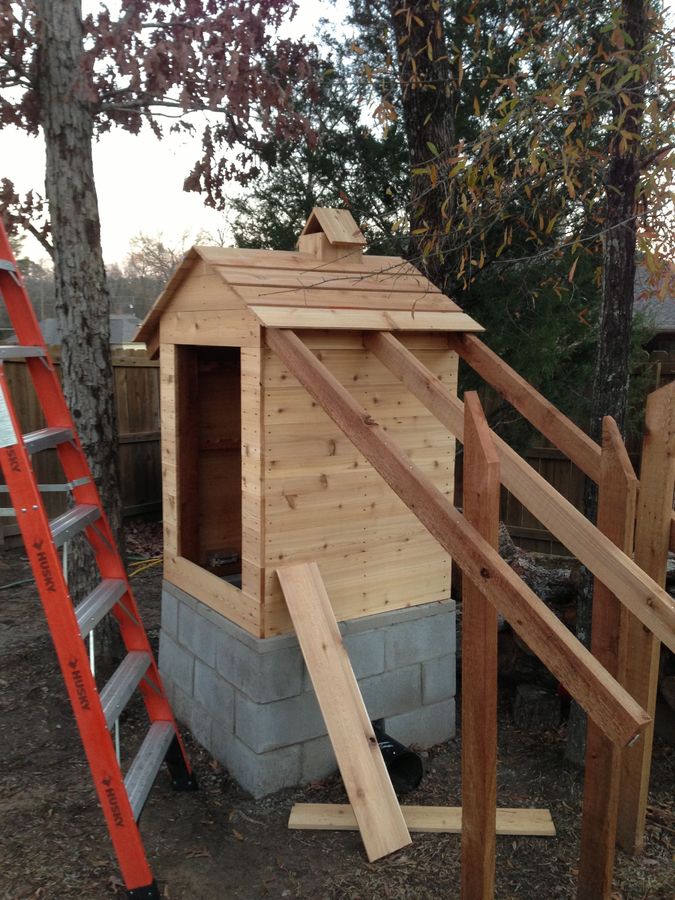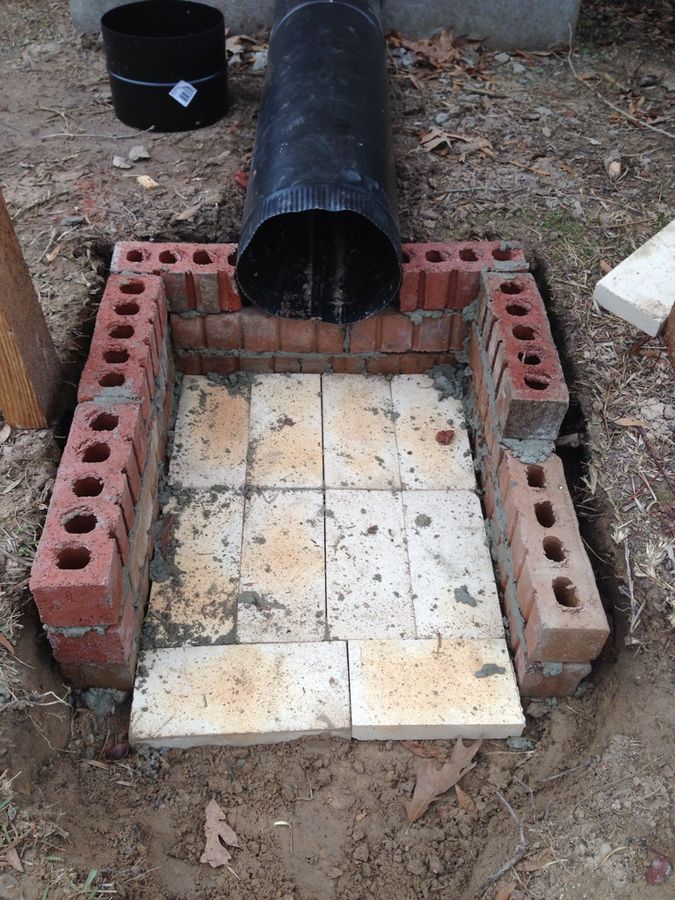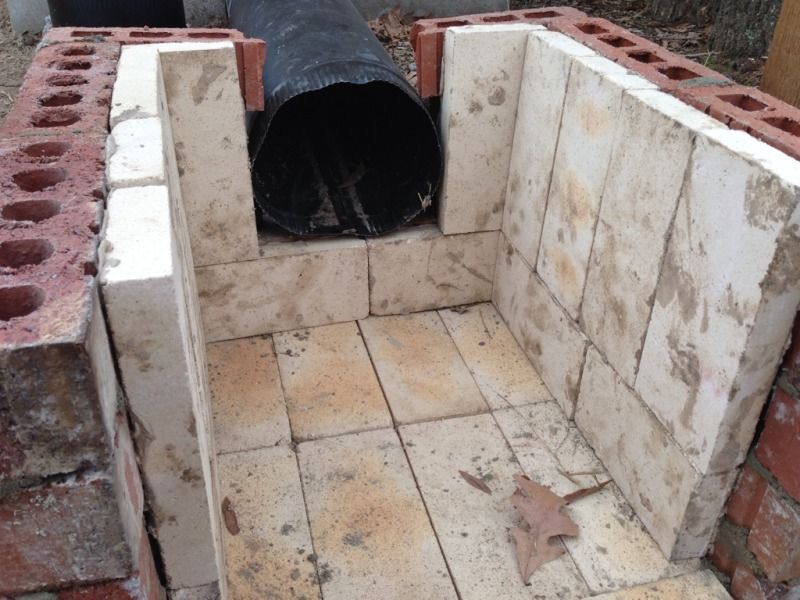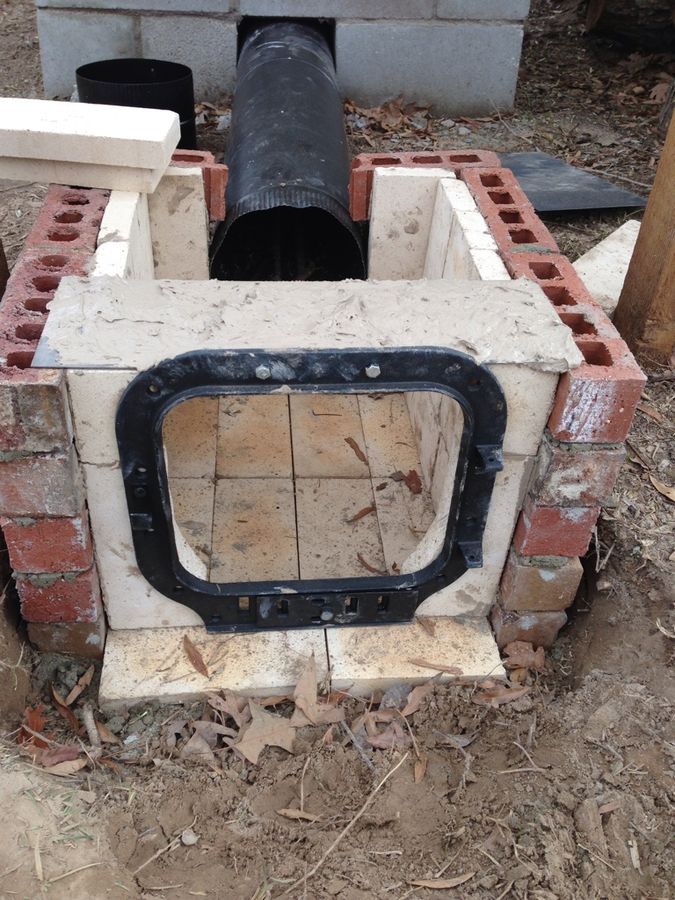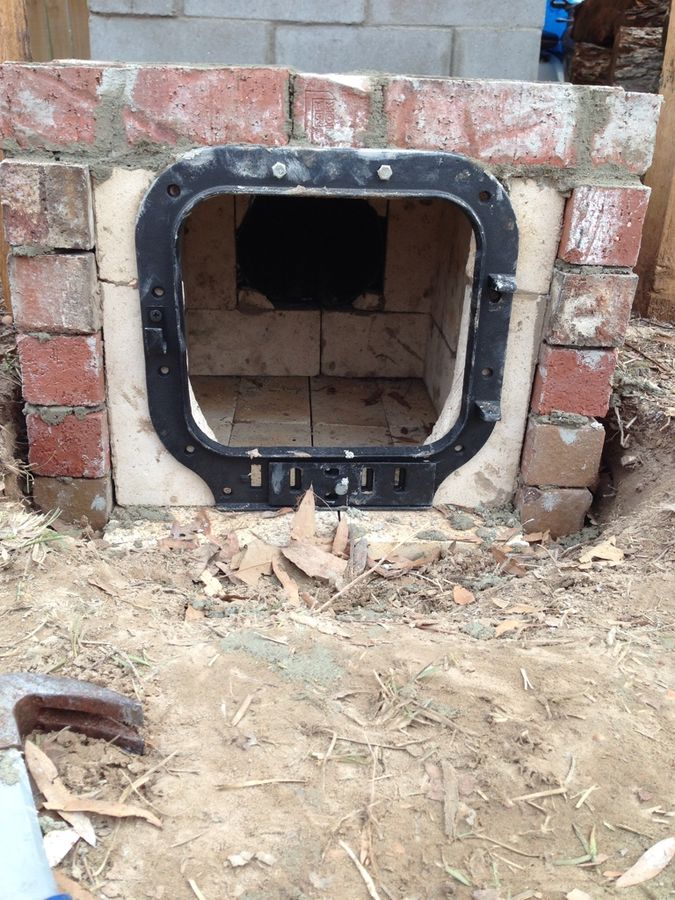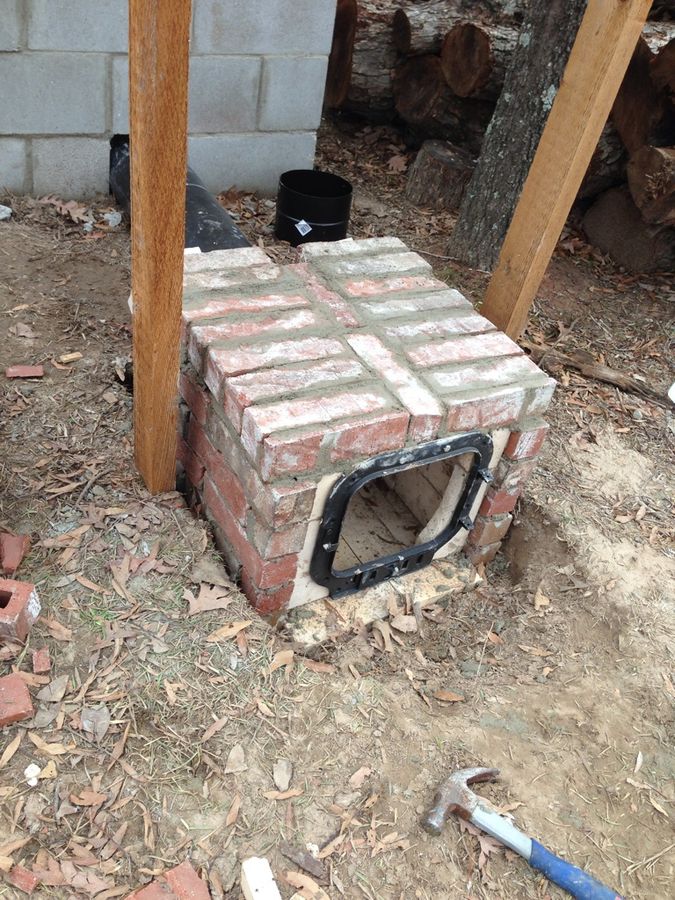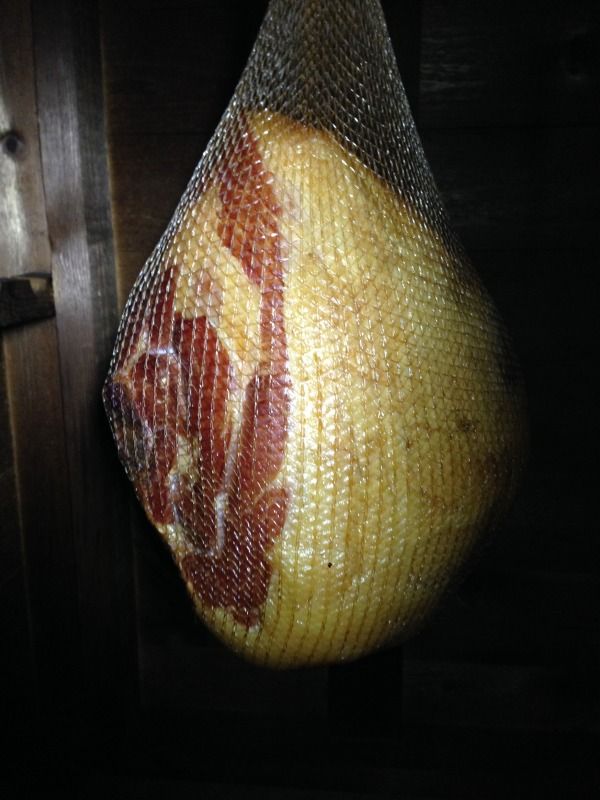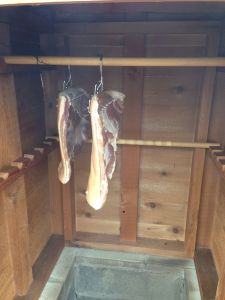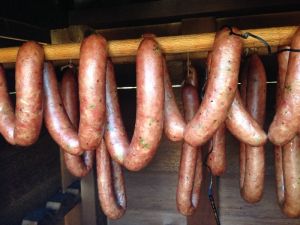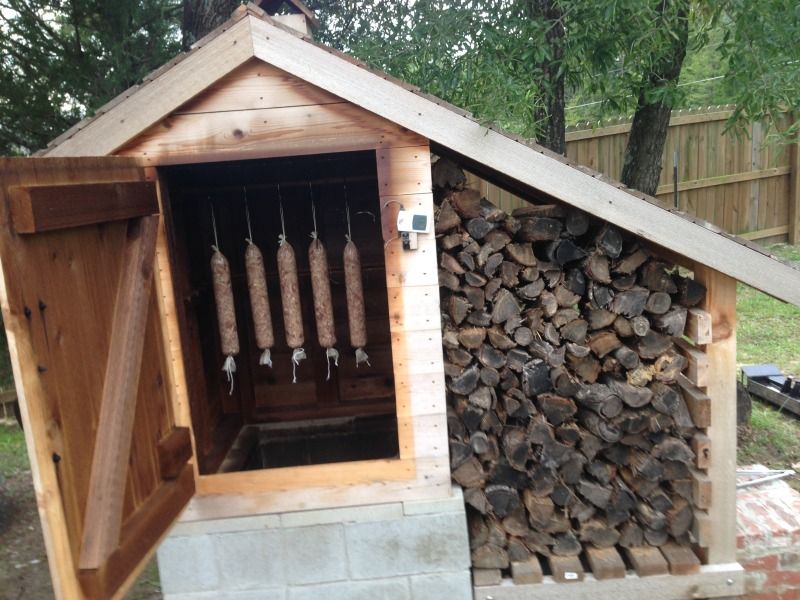 Materials Used Include:
2 x 4 Cedar Wood
Black Stove Pipe
Stove Door
Concrete Blocks
Clay Bricks
Fire Bricks
Fire Clay Mortar
Bolts
Door Hinges
Door Knob
Bolt Lock
2-1/2 inch Deck Screws
Wood Screws
3 pieces 16 Gauge Steal Plates
Metal Mesh
2. The 11-Step Smoker
This smokehouse is an easy option to build. It looks rustic, but will definitely do the trick. When people walk up on this smoker on your property, they just might think it is an outhouse.
However, it is really a simple wooden shed that is meant to smoke meat. The tutorial is thorough, so walking through the process should be simple. But this little smoker still has room for lots of meat too.
3. 8×6 Smokehouse Plans
This is a really adorable style smoker. It has a concrete foundation and is finished out with cedar so it should last for a long time.
However, these are just plans that you have to purchase. But if you can build by just looking at something, then you could also use this smoker idea as inspiration for your own build. If not, you can always order the plans. They are inexpensive and are available for immediate download per the description.
Check out this food smoking option
4. The Smokehouse Plans
These are literal plans to build a quaint little smokehouse that is sure to get the job done. The plans include a list of necessary materials.
Plus, it also shows how to build the smoker down below the actual smokehouse so you can use wood instead of propane or any other type of smoke material. The plans are detailed and easy to read so this should be a good option for most.
Check out this food smoking option
5. The Smokehouse with Wood Storage
This smokehouse is a lot like the first one I showed you. It has a cement block foundation and is covered in cedar wood.
Plus, it has a nice covered area to store your wood. This smokehouse design has a little more finesse than the first option just with the different uses of hinges and knobs. Either way, it is still a really nice and very functional smokehouse option.
Check out this food smoking option
6. DIY Pallet Smoker for Less Than $100
Are you working on a tight budget? If so, then you'll definitely want to check out this smokehouse option. He uses pallets to construct the smoker.
Then he lines the smokehouse in heavy-duty foil to help with the smoking process. This is an inexpensive option with a great use of materials. You may even be able to build it for less depending on what you already have at home.
What You Need to Know Before Building a DIY Smoker:
Yes, with a pile of old pallets, less than $100 and a bit of work, we built this really cool smokehouse. 3′ x 3′, it is big enough to smoke a whole animal or at least a few big trays of meat plus some links of sausage.
I love this project – It still amazes me what you can build with repurposed wood and how great it looks. We really wanted to make a big DIY smoker, but most of the plans we looked that showed you how to build a smokehouse were too small and/or they called for using quite a bit of expensive materials. We never found plans that really met our requirements, so we ended up making our own.
Our considerations for DIY smoker plans were:
Size – it needed to be big enough to a lot of items at once and also smoke large items
Cost– it needed to be as inexpensive as possible while still allowing you to smoke meat well
Skill level required – it needed to be something you could do with basic woodworking knowledge
I don't know if you have ever smoked meat before, but it is a rewarding, yet time-consuming task. Since your meat will be preserved, and therefore good for a long time, it makes the most sense to be able to smoke a lot at once. After determining how much wood we needed for a decent size smoker, we decided to go with repurposed pallets. For less than $100, we were able to put together this great smokehouse that can hold a ton of meat. Multiple racks for smoking as well as a place to hang sausages, you can even hang a whole deer in it if you like.
Here are the supplies you need to get started and the instructions and video for this cool project:
What You Need for a Smokehouse Build From Pallets:
20-30 pallets, deconstructed (need pallets? read this post about finding free pallets and this post about finding the safest pallets to use for your project)
2 1/2 inch screws *you should choose a good outdoor screw, we used plastic coated decking screws
1 1/4 inch screws
Aluminum flashing
Corrugated tin roof (4'x3′) *this must be raw metal, not galvanized
Heavy duty tin foil
Roll of aluminum screen
Handle (for the door)
Hinges (3)
Tools You Will Need to Build a Smokehouse:
reciprocal saw with a bimetal blade (used to take pallets apart)
drill gun, preferably a cordless one
drill bits 1/8 bit and countersink bit
measuring tape
metal/tin snips
utility knife
Skil saw or table saw
Staple Gun
Safety Glasses
Work Gloves
Step 2: Cut Clean Ends on Board and Make Cuts Below
Once you have your pallets deconstructed, you need to make your cuts. Start by making clean cuts on the ends of all your pallet boards. You should only need to remove a little bit. We chose our 3′ design to accommodate for this loss of wood from your pallets.
Cut these from 2x4s
(part 1) 2 top braces front and back @ 33"
(part 2) Door frame 2 pieces @ 70"
(part 3) Door frame 2 pieces @ 29"
(part 4) Wall frame front 2 pieces @ 6'
(part 5) Wall frame back 2 pieces @ 5' 6"
(part 6) Back frame 2 pieces @ 5'4"    1×1
(part 7) Shelf supports 8 pieces @ 33"
(part 8) Shelf frames 8 pieces @ 32 ¾"
(part 9) And 8 pieces @ 30 ½ "
Cut these from Pallet Panels
(part 10) Left side @ 36 ¼ "
(part 11) Right side @ 34 ½ "
(part 12) Door @ 35 ¾"
(part 13) Back @ 35 ¾"
(part 14) Roof @ 38"
(part 15) Vent covers 2 pieces @ 18" to 24"
(Part 16)  Bottom front brace 1 piece @ 36"
Corrugated Metal roof 4'x3'
Step 3: Layout and Secure Racks and Frame for Left and Right Sides
You will be making two sides frames here that also have cross pieces that will hold your racks. This DIY smoker utilizes a neat design – the racks make the structure itself, and you can even easily adjust the rack heights in the design. The parts that hold the racks in place end up being the ribbing that holds the frame in place. We marked ours at 24″, 36″, 44″ and 52″ so we could place bigger meats close to the fire and smaller meats further away. You can even add hooks at the top for sausage if you allow enough room to hang. The only important consideration is your firebox, which we set at 24″ NOTE: Make sure your firebox fits under the 24" bracing. Adjust your shelves as needed. These measurements are not set and can be placed at any useable height as long as you allow ample room for your firebox.
Assemble and Secure:
Take one each of (part 4- Wall frame front,  6')and (part 5 – Wall frame back, 5' 6") square the bottoms, and secure 4 pieces of (part 7- Shelf Support, 33″) at 24", 36" 44" and 52" When securing parts 7 to part 5, leave a 1 ½" gap for part 6. You will repeat these same steps for the second side, leaving you with the frame for the right and left side of your smoker.
7. The Brick Foundation Smokehouse
This smokehouse is simply meant to be used as an idea. Unfortunately, I can't find where it originated from so there is no tutorial to accompany it.
However, if you are someone who can look at a picture and get an idea to build, then this might still be a great option. It is a very sturdy yet visually appealing smoker that a lot of people may find a great addition to their property.
8. The Ana White Smokehouse
This smokehouse is actually the one that I loosely based my smokehouse on. I love the shed effect where it is petite enough to go on almost any size property.
Plus, it has the double doors which make for easy access when placing and removing the meat in the smoker as well.
Check out this food smoking option
9. The V8 of Smokehouses
I really like the simplicity of the design of this smokehouse. It has a single door design with quality shelving inside too.
Then they added really nice smoke adaptors to make it a quality smokehouse. But this smokehouse was built from simple, untreated plywood which also makes it a cost-effective option.
10. Smokehouse with a Porch
Would you like to have a smokehouse with just a tad more style than a traditional style smokehouse? Well then, you need to check this smokehouse out.
Basically, it has the traditional smokehouse design with a single door, wood sided, and shelving to smoke. But they amped it up a notch or two by adding a quaint porch to the front of it. It certainly makes this smokehouse appeasing to the eye.
11. The Brick Smokehouse
This smokehouse would obviously be a little more costly than the wood style smokehouses because brick is usually more expensive.
Plus, you'd need to have some know-how in masonry work. But if you can afford it and know how to put it together, this would be a smokehouse that would probably last a lifetime. Plus, this design also includes a pizza oven too.
12. The Cadillac of Smokehouses
This smokehouse design will have to be used as inspiration only. It does not come with a tutorial, but if you are someone that can look at a picture and use it for your own creativity, then this could still work for you.
So I'm sure you noticed the beautiful, rustic double doors on this smokehouse. Not to mention, the gorgeous brickwork as well. It would certainly catch a lot of visitor's eyes.
13. The Dutch Door Smoker
This smoker has a unique design. It looks like the typical 'shed style' smokehouse from all angles but the front.
However, things get switched up a little when you look at the doors. There are two doors on the front, but they are Dutch door style. Beyond that feature, the smoker works like most other DIY smokehouses.
Check out this food smoking option
14. The Ugly Drum Smoker
Are you on a tight budget and think that there is no way you can afford a smoker? Well, think again! Thanks to this design, smoking meat just became very cost effective.
Also, it has a great tutorial that walks you through the whole process with wonderful pictures and instruction. It seems like a rather simple build.
15. The Food Smoker
This smoker is a traditional design as well. It is a petite shed that was put on a cinder block base for security.
Then they ran a pipe out of the back to a wood smoker so the smoke would funnel up and cold smoke the meat. It is a very classic design that should work well for most meat smoking set-ups.
16. The Smokehouse Shed
This smokehouse literally reminds me of a little shed because of the roof that slants backward. This is a good design because water should stay off of the smoker which you need since it should be built with untreated wood.
However, the rest of this design is very traditional. It has been a tried and true method for many years, so it should get the job done for those looking to smoke their own meat.
17. The Clay Pot Smoker
This is a really unique idea for someone on a tight budget, who doesn't have a ton of room for a smoker, or who just wants to smoke a small amount of meat at a time.
So you'll use a clay pot and put a small amount of smoking material in the bottom. Then put a grate over top and place the meat on top. It is that simple.
18. Gas Grill Smoker Transformation
Maybe you don't have a lot of money to spend on building a smoker. Or maybe you aren't the handiest person on the planet. So you kind of give up on ever having a smoker of your own.
Well, you don't have to. Thanks to this tutorial, if you have a gas grill, then you can learn how to transform it into a smoker with very little cost. Cost-effective and simple…that sounds like a win all the way around.
Check out this food smoking option
19. Cinderblock Smokehouse
This smokehouse is one that would be a sturdy option to smoke your meat in. It is constructed of cinderblocks and has a wooden door on the front.
Also, it has a pitched roof that looks like you could hang quite a lot of meat in this smokehouse. So if you plan on smoking meat for a larger family, then you might want to consider this option.
20. Cold Smoker Conversion
You can purchase hot smokers pretty easily, but what if you like to cold smoke your meats instead? If so, then you'll want to check into this conversion idea.
So basically, this conversion kit allows you to convert any hot smoker into a cold smoker. It looks pretty cool too.
21. Whiskey Barrel Smoker
Do you want a smokehouse that is going to be a conversation piece as well? If so, then you'll definitely want to consider this one.
Also, it would definitely add some charm to any backyard setting as well. Who says your smoker has to look traditional? Thanks to this design, it doesn't have to be.
22. File Cabinet Smoker
Do you have an old file cabinet that you don't really have any use for? Before you toss it, read this tutorial on how to make it work for you again.
So you can actually use that old filing cabinet as a smoker. The drawers can be used for holding wood to smoke the food or the food itself. It is actually a really ingenious idea!
23. My $20 Smoker
We wanted to build a smokehouse after realizing how simple and delicious it is to smoke meat. So we began looking for smokehouse ideas.
Then we took a few of the ideas we saw, utilized the materials we already had hanging around our property, and constructed a pretty unique but functional smokehouse for around $20.
Check out this food smoking option
Well, you now have over 20 different options for building your own smokehouse. Surely there is a design that will work for practically any situation.
But I'd like to hear your thoughts on the matter. Do you have a smoker or a smokehouse? What type of smoker do you think produces the most flavorful meat?
A grand encyclopedia of country Meat4All ,  weather wisdom, country remedies and herbal cures, cleaning solutions, pest purges, firewood essentials, adobe making and bricklaying, leather working, plant dyes, farm foods, natural teas and tonics, granola, bread making, beer brewing and winemaking, jams and jellies, canning and preserving, sausage making and meat smoking, drying foods, down-home toys, papermaking, candle crafting, homemade soaps and shampoos,  butter and cheese making, fishing and hunting secrets, and much more. Meat4 All : Traditional Skills for Simple Living
Natural Healing Meat4All gathers useful and fascinating information on every practice of natural health and healing in one handy volume. This new edition, with a smaller trim, includes all the must-have information from the original edition including chapters on herbal healing, naturopathy, homeopathy, Eastern medicine, energy healing, mind-body healing, and healing with foods. Information within these chapters includes various methods and techniques for managing and curing hundreds of ailments, as well as for maintaining a healthy constitution year-round.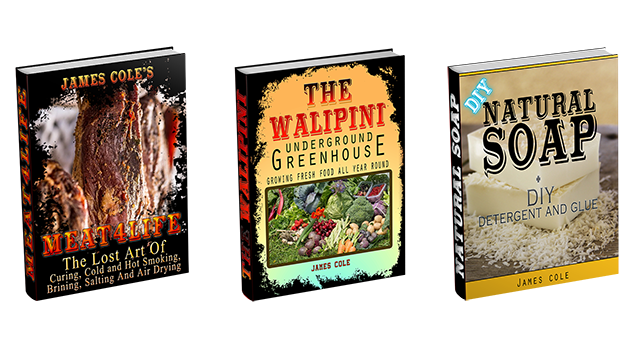 The Lost Ways (Learn the long forgotten secrets that helped our forefathers survive famines,wars,economic crisis and anything else life threw at them)
Survival MD (Best Post Collapse First Aid Survival Guide Ever)
Conquering the coming collapse (Financial advice and preparedness )
Liberty Generator (Build and make your own energy source)
Backyard Liberty (Easy and cheap DIY Aquaponic system to grow your organic and living food bank)
Bullet Proof Home (A Prepper's Guide in Safeguarding a Home )
Family Self Defense (Best Self Defense Strategies For You And Your Family)
 Survive Any Crisis (Best  Items To Hoard For A Long Term Crisis)
Survive The End Days (Biggest Cover Up Of Our President)