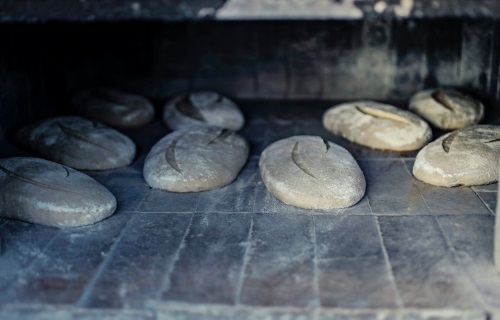 Crusty, sweet, chewy bread. Who doesn't like ciabatta lightly grilled and spread with tapenade, or French toast made with challah, sautéed in butter, dusted with sugar, and covered in pure maple syrup?
While it's been a staple of human consumption for thousands of years, most modern recipes for bread call for flour, water, salt and "active dry yeast." This type of yeast is made of single-celled living organisms named saccharomyces cerivisiae. Like humans, yeast cells consume oxygen and exhale carbon dioxide. When mixed with gluten, a type of protein found in wheat, rye and barley, fermentation begins and the cells expel carbon dioxide, creating bubbles which make the dough rise and give it texture. Without it, you typically end up with unleavened bread, aptly called 'flatbread'.
Active dry yeast has only been around since WWII, thanks to the Fleischmann Company which dried, granulated and vacuum-sealed the substance, bestowing on it a one to two-year life expectancy. Previously, bakers used fresh yeast which had a very short shelf life. The granules are dormant, like those sea monkeys you ordered from the backs of comic books when you were a kid. Moisture, food, and warmth activate the yeast cells and presto, you are ready to lighten your loaf.
Active dry yeast was a boon as much for reliability as for convenience, but at a price. Bread made with it just isn't as good as it can be. So if packaged yeast compromises quality, how do you make great bread?
You make great bread without yeast.
That's exactly what the baking team at Balthazar Bakery, a wholesale outlet in Englewood, NJ does. They supply bread to the deliciously hip and fun Balthazar Restaurant in New York City, and have their own line of breads and viennoiserie, pastries made with leavened dough like croissants and brioche. The Bakery's ovens are overseen by bakers Paula Oland and B Young, and connoisseurs regard their bread as simply the best.
"There's yeast everywhere," says Oland. "It's wild yeast. It's present in flour, in the air, on your skin. For bread, you create an environment where it will thrive. You create a 'starter.' Commercial yeast is incredibly potent and reactions happen very quickly. With wild yeast the reactions unfold more slowly over time. The bread is so much better because it slowly ferments. And that slow fermentation develops complex flavors and a variety of textures. It's an older form of baking. It's actually the original form of baking."
The wild yeast and bacteria occurring naturally in the flour and air is all that you need. A 'starter' is a living culture that needs food, water, oxygen and constant temperature to ferment and multiply, a process which can take anywhere from a few days to a few weeks. Paula and B's sourdough starter is simply flour, water and salt.
You feed the starter with water and flour daily at regularly scheduled intervals. Small bubbles and a mild yeast smell after about three to seven days are its way of thanking you for your care. If after a few days there's nothing there, well, you've killed it. Wash out the bowl and try again. A portion of it is used for baking and the rest is reserved and fed to keep it going. Starters can last for years.
B explains, "It's just flour, water and salt. What makes it is the nuance of time and temperature. The starter has life cycles and we make interventions at certain points to feed, stir, etc. It's so simple, but the simpler something is, the more important the steps are."
This is how breads were made historically, but there's a good reason that people today use packaged yeast. Using a natural starter can be challenging. The process is labor-intensive and ultra temperature-sensitive.
"If there's too much acidity the bread breaks down and becomes dense and gummy. You've got to pay attention to the miniscule changes," says Paula.
Even the raw ingredients have to be at the right temperature. For B and Paula, steamy summer days mean the flour in their silo gets too hot and has to be cooled because too much heat kills the yeast. Extreme cold has the same effect. Your starter could be fine one day and dead a few days later.
"Good bread," says Paula, "is the result of time and attention. A long fermentation allows for a wide spectrum of flavor. The flavors and textures just can't be achieved with packaged yeast. And you need a good oven, one with consistent temperatures. That will give you a tasty, well-roasted crust."
Balthazar bakes dozens of types of hearth breads, rustic, hearty and elegant from their signature Pain de Siegle, Pain au Levain, and sculpted dinner rolls. Its breads are beautiful and they taste better than they look. Bread-making here is an art form.
Here are some of my favorite canning recipes. I guess they are my favorites because I grow many of these items myself in my garden and orchard. You can also find literally hundreds of canning recipes, and more information on canning techniques in The Lost Ways
And that's not because the bakers are straining to be rarefied. B and Paula are aware of tradition and appreciate what's come before simply because that's how you make the best bread. Their baking is as much about the absence of pretension as it is the presence of flavor and texture. But it's still somewhat of a surprise to hear that the bakery isn't even organic.
"We've worked with some organic rye, organic whole wheat, some white, even some heirloom flours. It's not that they're not good, they're too expensive," says Paula. "We work with a mill that has the expertise and resources to provide the blends we need. You need that consistency on a wholesale level."
The same goes for butter. "We use a regular butter with cultured cream and low moisture that is perfect for us. The organic label is not a guarantee of quality…What's important is knowing your supplier, knowing the farmers. Clean and local food is more important to us than being certified organic. We know where our ingredients come from, says Paula."
So, is it worth it to buy bread at your local bakery rather than at the grocery store? Only you can decide, but as B points out "bakery bread is only a little more expensive than store-bought. It's not like wine where an elite wine is 1000% percent more expensive than the cheapest table wine. The margin on bread is narrow."
And from the looks of their thriving business, customers seem to agree.
---
BREAD
Ingredients:
4 cups flour
3 teaspoons dry yeast
1 3⁄4 cups lukewarm water
3 tablespoons honey or 3 tablespoons sugar
3⁄4 teaspoon salt
1⁄3 cup vegetable oil
Directions
Dissolve yeast in water, add honey and let stand until it bubbles, approx 5 to 10 minutes.
Add salt and oil to yeast mixture, then add flour a little at time until you have a stiff dough.
Turn dough out on a floured surface and mold into a ball shape. Place in pan and cover; let rise for about an hour.
Punch down the ball of dough and mold it into a loaf shape to fit you bread pan. Cover with a towel and let raise again until it doubled in size.
Bake in a preheated oven at 350°F for about 45 minutes. Bread is done when it is golden brown and sounds hollow when thumped.
Recipe: Salt Rising Bread With No Yeast
There are a half-dozen or so recipes for the pioneer bread on the Internet. This one is featured on Susan Brown's website and comes from Pearl Haines, a Pennsylvania woman who started making the bread when she was about five years old and baked it for nearly 90 years. (Haines passed away this year.) Her starter, or "raisin," as she called it, uses fewer ingredients than most recipes and has no sugar or salt.
Ingredients:
3 teaspoons cornmeal
1 teaspoon flour
1/8 teaspoon baking soda
1/2 cup scalded milk
Preparation:
Pour milk onto dry ingredients in an ungreased quart glass jar or metal, glass, or pottery bowl that holds about four cups. Stir. Cover with saran wrap — and punch a hole in the wrap to keep it from sinking.
Keep starter warm, at 105-115 Fahrenheit, overnight until foamy. Three suggestions: 1) Wrap the bowl in a heating pad at the lowest setting, then wrap a towel around it. 2) Set the bowl in an electric skillet with about half an inch of water, set at the lowest temperature. 3) Put it in an oven if there's a light bulb inside that's about 60 watts and you can keep the bulb turned on, or if the oven has a "proof" setting.
Brown suggests having a thermometer on hand to check the starter's temperature several times during the rise.
After "raisin" has foamed and has a "cheesy" smell, put it in a medium-size bowl. Add 2 cups of warm water, then enough flour (about 1 ½ cups) to make a thin pancake-like batter. Stir and let rise again until foamy. This usually takes about 1 1/2 to 2 hours. Monitor the temperature during this stage as well.
Next, for each loaf you want to make, add one cup of warm water and 2 to 3 cups of flour (enough to be able to form the dough into a ball). Shape the dough into a loaf and place in a small loaf pan (about 8 1/2 inches by 4 1/2 by 2 1/2) greased with butter, Crisco, Pam or oil.
Let rise 2 to 3 hours. (If it doesn't rise at that point, you'll likely have to start over, Brown says.)
Bake at 350 degrees Fahrenheit for 35 to 40 minutes, or until the loaf is a light golden color and sounds hollow when tapped.
The bread has a long shelf life. "It can keep on your counter for a good week to ten days without going bad," says Brown, "and if you put it in your refrigerator it'll keep for another couple of weeks."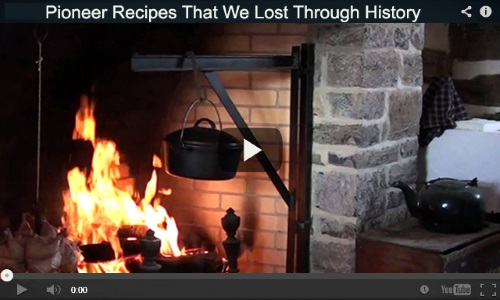 HOMEMADE FRENCH BREAD RECIPE
Ingredients:
1 1/4 cup warm water (80-90 degrees)
2 teaspoons sucanat (regular sugar will work too)
1 teaspoon sea salt
3 to 3 1/2 cups flour *see note below
1 1/2 teaspoons active dry yeast
Instructions:
Place the yeast and sucanat in a large bowl and stir in the warm water until everything is dissolved. Add in the salt, then stir in as much flour as you can. You might not need the full amount, or you may need more– it just depends. You are looking to create a soft, pliable dough that isn't too sticky.
Knead on a lightly floured surface for 6-8 minutes, or until the dough is smooth and elastic.
Place the dough back in the bowl and cover with a kitchen towel. Allow it to rise for about an hour, or until doubled in size.
Plop the risen dough back out on your counter top and divide in half. Roll each half into a rectangular shape (it does NOT need to be perfect. Look to make the shape about 10″ by 8″. However– I will repeat– it does NOT need to be perfect.)
Roll up the rectangle starting with a long side. Pinch the ends of the loaf to seal and shape in a "log." If your seam doesn't want to stick down, you might need to dip your finger in a bit of water and moisten the dough to encourage it to adhere. Otherwise, it'll try to unroll during the baking process.
Grease a pizza stone or stoneware baking sheet and place the loaves on it to rise for another 30 minutes.
Meanwhile, preheat the oven to 375 degrees, and prepare an egg wash by beating one egg with one tablespoon of water. (The egg wash is optional– however– it gives the loaves a lovely, shiny brown finish)
Right before you pop the loaves into the oven, brush the tops with the egg wash and make 4 diagonal slashes across the top using a sharp, serrated knife.
Bake for 20-25 minutes, or until golden brown. Allow to cool on wire racks before serving.
Serve warm, with lots of butter.
Today is your chance to be part of saving our ancestors' lost ways. I wanted to make this information available to every family out there without having to spend years of their lives or thousands of dollars.

So I came up with this great idea to edit all my manuscripts and to turn all this lost knowledge into one of the greatest books of this century:

The Lost Ways
Saving Our Forefathers' Skills
Bread in a Bag Recipe
Ingredients
3

 

C

 

all purpose flour

 

divided

3

 

Tbsp

 

white sugar

1

 

.25 package rapid rise yeast (2 1/4 tsp)

1

 

C

 

warm water

3

 

Tbsp

 

olive oil or vegetable oil

1 1/2

 

tsp

 

salt
Instructions
In a resealable plastic bag place 1 C flour, sugar and yeast and add in warm water.

Squeeze air out of the bag and seal.

Squish with your hands until well mixed together.

Let it rest for 10 minutes at room temperature. Bubbles will form.

Open bag and put in 1 C of flour, oil and salt.

Seal bag again and squish until well blended.

Add last cup of flour and continue mixing in the same manner until well blended.

Remove dough from bag and put onto a lightly floured surface.

Knead for 5-10 minutes or until smooth.

Divide dough in half and place each half into a greasedmini loaf pan. Or make one large loaf

Cover with a towel and allow to rise for about 30 minutes.

Bake in a 375 degree oven for 25-30 minutes or until bread is golden brown.
Our grandfathers had more knowledge than any of us today and thrived even when modern conveniences were not available. They were able to produce and store their food for long periods of time. The Lost Ways is the most comprehensive book available. All the knowledge our grandfathers had, in one place.Here's just a glimpse of what you'll find in the book:
Table Of Contents:
Making Your Own Beverages: Beer to Stronger Stuff
Ginger Beer: Making Soda the Old Fashioned Way
How North American Indians and Early Pioneers Made Pemmican
Wild West Guns for SHTF and a Guide to Rolling Your Own Ammo
How Our Forefathers Built Their Sawmills, Grain Mills,and Stamping Mills
How Our Ancestors Made Herbal Poultice to Heal Their Wounds
What Our Ancestors Were Foraging For? or How to Wildcraft Your Table
How North California Native Americans Built Their Semi-subterranean Roundhouses
Our Ancestors'Guide to Root Cellars
Good Old Fashioned Cooking on an Open Flame
Learning from Our Ancestors How to Preserve Water
Learning from Our Ancestors How to Take Care of Our Hygiene When There Isn't Anything to Buy
How and Why I Prefer to Make Soap with Modern Ingredients
Temporarily Installing a Wood-Burning Stove during Emergencies
Making Traditional and Survival Bark Bread…….
Trapping in Winter for Beaver and Muskrat Just like Our Forefathers Did
How to Make a Smokehouse and Smoke Fish
Survival Lessons From The Donner Party
Get your paperback copy HERE
Here's just a glimpse of what you'll find in The Lost Ways:
From Ruff Simons, an old west history expert and former deputy, you'll learn the techniques and methods used by the wise sheriffs from the frontiers to defend an entire village despite being outnumbered and outgunned by gangs of robbers and bandits, and how you can use their wisdom to defend your home against looters when you'll be surrounded.
Native American ERIK BAINBRIDGE – who took part in the reconstruction of the native village of Kule Loklo in California, will show you how Native Americans build the subterranean roundhouse, an underground house that today will serve you as a storm shelter, a perfectly camouflaged hideout, or a bunker. It can easily shelter three to four families, so how will you feel if, when all hell breaks loose, you'll be able to call all your loved ones and offer them guidance and shelter? Besides that, the subterranean roundhouse makes an awesome root cellar where you can keep all your food and water reserves year-round.
From Shannon Azares you'll learn how sailors from the XVII century preserved water in their ships for months on end, even years and how you can use this method to preserve clean water for your family cost-free.
Mike Searson – who is a Firearm and Old West history expert – will show you what to do when there is no more ammo to be had, how people who wandered the West managed to hunt eight deer with six bullets, and why their supply of ammo never ran out. Remember the panic buying in the first half of 2013? That was nothing compared to what's going to precede the collapse.
From Susan Morrow, an ex-science teacher and chemist, you'll master "The Art of Poultice." She says, "If you really explore the ingredients from which our forefathers made poultices, you'll be totally surprised by the similarities with modern medicines." Well…how would you feel in a crisis to be the only one from the group knowledgeable about this lost skill? When there are no more antibiotics, people will turn to you to save their ill children's lives.
If you liked our video tutorial on how to make Pemmican, then you'll love this: I will show you how to make another superfood that our troops were using in the Independence war, and even George Washington ate on several occasions. This food never goes bad. And I'm not talking about honey or vinegar. I'm talking about real food! The awesome part is that you can make this food in just 10 minutes and I'm pretty sure that you already have the ingredients in your house right now.
Really, this is all just a peek.
The Lost Ways is a far–reaching book with chapters ranging from simple things like making tasty bark-bread-like people did when there was no food-to building a traditional backyard smokehouse… and many, many, many more!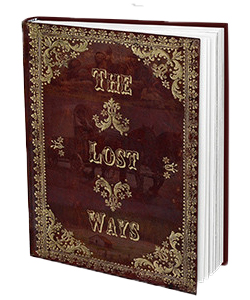 The Lost Ways (Learn the long forgotten secrets that helped our forefathers survive famines,wars,economic crisis and anything else life threw at them)
Survival MD (Best Post Collapse First Aid Survival Guide Ever)
Conquering the coming collapse (Financial advice and preparedness )
Liberty Generator (Build and make your own energy source)
Backyard Liberty (Easy and cheap DIY Aquaponic system to grow your organic and living food bank)
Bullet Proof Home (A Prepper's Guide in Safeguarding a Home )
Family Self Defense (Best Self Defense Strategies For You And Your Family)
 Survive Any Crisis (Best  Items To Hoard For A Long Term Crisis)
Survive The End Days (Biggest Cover Up Of Our President)