Bix Weir-Implosion and Restart of Financial System Coming
Is inflation or deflation coming? Financial analyst Bix Weir says, "It's not really inflation or deflation. It is a ceasing of the system. After the system crashes, no one is going to accept a Federal Reserve Note. So, I wouldn't call it deflation. I would call it a restart. What they call it at the Fed is a 'creative destruction event.' Meaning, in order to move on to the next step, you have to destroy all the bad that has built up, and there is a lot of bad. We see the derivatives, and we say oh, that's bad. There is so much more going on behind the scenes. We're talking hundreds of trillions, if not quadrillions, of dollars in electronic assets that need to be wiped away, wiped clean completely. Otherwise, where all these assets are concentrated, they will have control over us, and that's what we need to get rid of. We need to get rid of their control of us. . . . They seem to be making decisions completely off the wall, but truthfully, it is all leading to the same thing. Blow the bubble as big as possible so that it implodes. Then, you will see a fight to get control of the monetary system after the implosion."
RELATED : The Great Reset is Coming – Get Ready for the Second Great Depression

On war, Bix says, "The bad guys right now are trying to start World War III. That is the real dark side of how this thing might end. It will be China and Russia against us, and that is not a good thing."
RELATED : A Financial Collapse Will Result In Untold Suffering And Possibly Millions In Deaths.
RELATED : How to Live and Survive When Your Country Enters an Economic Collapse
FİNANCİAL EXPERT US ECONOMİC COLLAPSE imminent James Rickards "2015"
RELATED : Economic collapse – The suffering to come
Peter Schiff — Dollar Headed Down For The Count!
Peter Schiff breaks down developments in the economy, with the latest jobs report showing a dwindling labor market. Peter Schiff is a well-known commentator appearing regularly on CNBC, TechTicker and FoxNews. He is often referred to as "Doctor Doom" because of his bearish outlook on the economy and the U.S. Dollar in particular. Peter was one of the first from within the professional investment field to call the housing market a bubble. Peter has written a book called "Crash Proof" and a follow-on called "The Little Book of Bull Moves in Bear Markets". He is the President of EuroPacific Capital, which is a brokerage specializing in finding dividend-yielding, value-based foreign stocks.
 RELATED : Economic Apocalypse-Preparing for an Economic Collapse

RELATED : The Next Economic Collapse Will Be So Horrifying In The U.S.
Other useful resources: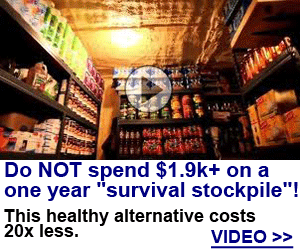 Survive Attack to Our Power Grid System (Weapon That Can Instantly End Modern Life in America)
Survival MD (Best Post Collapse First Aid Survival Guide Ever)
Backyard Innovator (A Self Sustaining Source Of Fresh Meat,Vegetables And Clean Drinking Water)
Blackout USA (EMP survival and preparedness)
Conquering the coming collapse (Financial advice and preparedness )
Liberty Generator (Build and make your own energy source)
Backyard Liberty (Easy and cheap DIY Aquaponic system to grow your organic and living food bank)
Bullet Proof Home (A Prepper's Guide in Safeguarding a Home )
Family Self Defense (Best Self Defense Strategies For You And Your Family)
 Survive Any Crisis (Best  Items To Hoard For A Long Term Crisis)
Survive The End Days (Biggest Cover Up Of Our President)
Drought USA(Discover The Amazing Device That Turns Air Into Water)