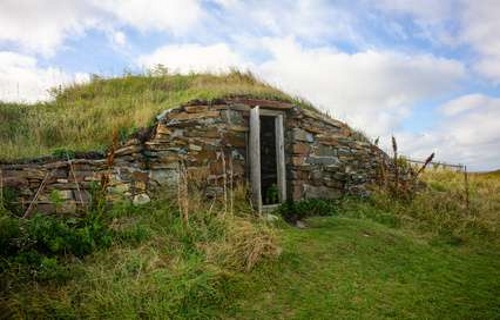 A correctly built root cellar is the 'secret' to refrigeration for food without electricity. It is an excellent way to help ensure surviving an EMP, loss of the power grid, world war, or other catastrophic disaster in the modern age. If you do it right.
How to build a root cellar: Tips and tricks from experienced preppers show us how to safely store several types of fruits and vegetables.
Whether your root cellar is a simple aluminum garbage can or 55 gallon drum buried in the ground, or an expensive and elaborate set-up that doubles as a storm shelter, root cellars provide a place to use the steady temperatures of earth underground to keep certain foods fresh without electricity during the winter months.
Sustainable living and preparedness leads many people to build and maintain a root cellar not just in case the electrical grid goes down, but also as a cost-saving way to store or hide food during winter.
Higher Elevations or Northern States Prolong a Root Cellar's Annual Use
Essentially, anywhere the temperature of the sun is kept in moderate check during the spring and summer months, that helps ensure that a root cellar always stays in the desired temperature range. More on this "temperature range" below that you need to know.
Where Should You Live for the Best Use of a Root Cellar?
So, when deciding where to invest in property for building or buying an off grid home, if that is part of your plans in the near future, locations in the northern states and higher elevations make sense when it comes to factoring in food storage as well as the lack of air conditioning (during hot summers) following a loss of the power grid.
What is a Root Cellar?
The reason it is called a root cellar is because typically root vegetables such as carrots or turnips or potatoes are stored in root cellars. It was always done this way on farms and in homes before modern refrigeration and the technique is growing in popularity today. Besides these root vegetables, other crops such as cabbage, onions, and garlic can also be stored in a root cellar.
For a more complete list of what foods can be stored in a root cellar, go here: What foods can be stored in a root cellar?
Understand the Basics to Building and Using a Root Cellar
Experienced preppers know that no matter what design you use for your root cellar, there are certain basic characteristics that every root cellar must have in order to successfully store the root vegetables.
1. The root cellar needs to be at least ten feet deep in order to be low enough in the ground to maintain a fairly even temperature throughout the winter months. This stable temperature below ground is what burrowing animals look for in a winter shelter. Using the same principle, you will be using the cool moist earth to keep your food fresh without electricity.
2. There must be some kind of entrance or door to the cellar. Because winter winds come from the north, it is better to have the entrance facing north. This doesn't have to be fancy. You can make a door out of pallet wood if you have the time and materials. Another reason for building a root cellar facing north? As much as possible, you want to ensure that the rising or setting sun, and especially the mid-day sun, never shine on your root cellar. This helps ensure the lowest possible temperature, using the terrain and even a hill or trees for shade, where your root cellar resides.
3. There must be air circulation. This air circulation in a root cellar typically consists of a simple vent at ground level to let cool air in, and a simple vent near the top of the cellar to let warm air out. Both vents need to be well-covered with wire to keep out animals; an attention to detail should be put into that covering because if you do a poor job using strong metal mesh and securing it in place, a hungry animal and the rest of it's family may get to your food and now you are empty handed.
4. There must be good drainage in the soil. When choosing a site for your root cellar, you need to look for a place where the ground has good drainage and does not pool up with water when it rains. Even after you select your site, you will also want to build in some gravel trenches around the cellar and even under the cellar, directly below where food is stored. Gravel trenches allow ground water to trickle down to the soil below, rather than collect and pool. It is an important detail not to overlook.
5. You must have storage bins inside your cellar that keep the vegetables off the ground but still moist.
6. The cellar needs to maintain a temperature of between 32 degrees and 40 degrees. The humidity needs to be somewhere between 85 to 95 percent. Temperature and humidity gauges need to be placed inside the root cellar and checked often.
How-to Books
Looking for design plans for a root cellar? Here's a good book to consider: Build Your Own Underground Root Cellar.

Keeping Your Root Cellar Cool … With Ice Blocks
According to Wikipedia, archaeologists have found remains of ice pits in China from the seventh century, and records show that Alexander the Great around 300 BC stored snow in pits dug for that purpose. But do we really have to look at ancient history to realize that it just makes sense to store ice blocks created in winter, specifically if you live at a high elevation or somewhere in the northern U.S. states, Europe or Canada?
Harvesting Ice for Root Cellar Use
During the winter months, ice and snow are plentiful. With enough ice blocks stored correctly, you can have a "glacier" of sorts that stays frozen year round. A glacial effect takes place when you have so many ice blocks stored next to each other, that each ice block helps keep the adjoining ice block cold; the more ice blocks you have, the slower the melt takes place. (If you have good drainage, those gravel trenches mentioned earlier, that slow melt of your ice won't present an issue.
In parts of the United States where winter temperatures remain below freezing for long periods of time, self-sufficient folks have also historically harvested ice blocks for the purposed of storing in ice houses. After being cut into blocks that could be transported by wagons or sleds, the ice was stored and packed in sawdust or other insulating material to slow the melt. These ice houses kept food stored and cold long before the invention of the modern refrigerator. (Some of you reading this may have even heard the term "ice box" used to describe a refrigerator.)
Ice Harvests Can Keep a Root Cellar Cool Year-Round
Ice harvests are still going on today, for both residential and commercial purposes, since the harvest is essentially "free" ice made by nature and available for the taking from lakes and rivers and ponds. For preppers, an ice harvest during winter, stored in north-facing buildings that are kept dark and out of sunlight, can provide cooling temperatures for storing food and drink for several months at a time. In ideal conditions, the ice could last until the next winter season.
Ice houses keep foods cool in the warmer months of the year, and can be a way to add to your already well-stocked pantry. Keep in mind that ice houses will have a moisture level that may not be right for some foods, and you'll need to make sure you are storing food safely. It is certainly not worth saving on electricity if the food you store goes bad or makes your family ill.
Your ice harvest can be simple, using just a simple saw or other heritage tools, or more efficient using modern chainsaws, but here's how the pros do it with an ice plow: YouTube: Harvest Ice with an Ice Plow
Root Cellars and Food Sources
One of the modern reasons for creating and maintaining a root cellar is to protect and preserve local food either grown on site or obtained at a local farmer's market. When building your root cellar, you'll want to consider a location that is close to the garden (if you have one) and close to the house. In the winter, you don't want to have to walk very far to get a few potatoes or cabbages from your root cellar.
Root cellars are also convenient since, once established, the food is simply stored there in bins without elaborate processing such as drying or canning. So you found a great price on winter squash at the farmer's market? All you need to do is make sure the skin on the vegetable hardens or "cures" and then store the food in your root cellar.
Fresh food is always going to maintain flavor and nutrients. That's another reason why root cellars are a great alternative to processing surplus, heirloom, or organic fruits and vegetables.
After your food is stored in your root cellar, check on the temperature and humidity often. Look over the bins and if you notice any spoiled fruit or vegetables, remove them and discard them on your compost pile. If the food is just beginning to show signs of spoilage, you may be able to cut away the moldy parts and feed the good parts to chickens or other farm animals.
Survival Food Prepping Ideas/ULTIMATE Top Skills 2017
Discover how to survive: Most complete survival tactics, tips, skills and ideas like how to make pemmican, snow shoes, knives, soap, beer, smoke houses, bullets, survival bread, water wheels, herbal poultices, Indian round houses, root cellars, primitive navigation, and much more at: The Lost Ways
The Lost Ways is a far-reaching book with chapters ranging from simple things like making tasty bark-bread-like people did when there was no food-to building a traditional backyard smokehouse… and many, many, many more!
Here's just a glimpse of what you'll find in The Lost Ways:
From Ruff Simons, an old west history expert and former deputy, you'll learn the techniques and methods used by the wise sheriffs from the frontiers to defend an entire village despite being outnumbered and outgunned by gangs of robbers and bandits, and how you can use their wisdom to defend your home against looters when you'll be surrounded.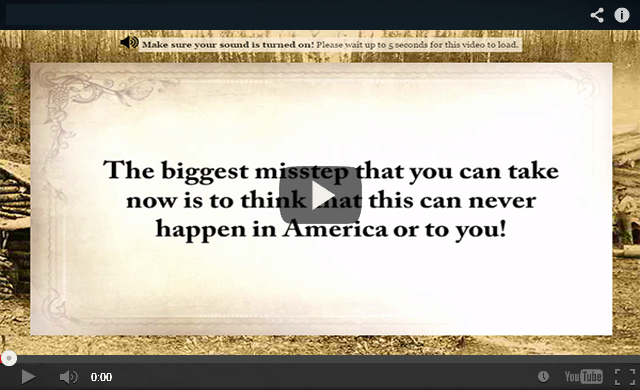 Books can be your best pre-collapse investment.
The Lost Ways (Learn the long forgotten secrets that helped our forefathers survive famines,wars,economic crisis and anything else life threw at them)
Survival MD (Best Post Collapse First Aid Survival Guide Ever)
Conquering the coming collapse (Financial advice and preparedness )
Liberty Generator (Build and make your own energy source)
Backyard Liberty (Easy and cheap DIY Aquaponic system to grow your organic and living food bank)
Bullet Proof Home (A Prepper's Guide in Safeguarding a Home )
Family Self Defense (Best Self Defense Strategies For You And Your Family)
 Survive Any Crisis (Best  Items To Hoard For A Long Term Crisis)
Survive The End Days (Biggest Cover Up Of Our President)
Drought USA (Discover The Amazing Device That Turns Air Into Water)
Originally appeared : secretsofsurvival.com