Trump Prepares Carrots for Russia Ahead of Hamburg, Brandishes Stick at China
But these 'carrots' are gift-wrapped American-style, and no one knows whether they are fresh and edible
For long-time observers of the US-Russia-China triangle, this week presents a fantastic panorama. Much as the G20 summit in Hamburg on July 7-8 ponders over the great issues of growth in the world economy, the limelight will fall on what happens on the sidelines when US President Donald Trump holds 'bilaterals' with Russian President Vladimir Putin and Chinese President Xi Jinping.
En route to Hamburg, Xi arrived in Moscow on Monday on a state visit. The Chinese commentaries  have presented the partnership with Russia in effusive terms as the number one foreign-policy priority for Beijing. (People's Daily, Global Times) Xi himself extravagantly praised the quality of the Sino-Russian strategic partnership.
On the other hand, there was no matching rhetoric from the Russian side. Moscow is instead approaching the Putin-Trump meeting with great expectations and is single-mindedly focusing on that event. The official media highlighted with barely-concealed glee that there will be a "full-fledged 'sit-down' meeting" between Putin and Trump on July 7. Moscow heaves a sigh of relief that Trump is crossing the Rubicon, finally, despite the relentless pressures over his 'Russia connection'.
Washington has held out three 'carrots' to Moscow. One, the Republican Congressmen in the House of Representatives stalled the debate/vote on the sanctions bill passed by the Senate against Russia; two, Washington is dangling the prospect of returning the two Russian properties unlawfully confiscated by President Obama in December.
Three, importantly, snippets of a conversation between US state secretary Rex Tillerson and UN Secretary-General Antonio Guterres last week have been 'leaked' to the media, signalling US willingness to let Russia take the lead in Syria in finding a solution to the conflict.
Of course, these 'carrots' are typically gift-wrapped American-style, and no one knows whether they are fresh and edible. It will take a while for the Kremlin to know for sure. Trump probably is waging 'psywar' on Beijing. The point is, if Trump administration offered 3 carrots to Russia, it has brandished three sticks at China – US plan to sell $1.42 billion worth weapons to Taiwan; sanctions for keeping business ties with North Korea; and, US Senate Armed Services Committee approval of a bill for US naval vessels to make regular stops at Taiwan ports.
China initially took the 'sticks' on its stride. But then, on Sunday, the ground shifted dramatically when USS Stethem, a guided-missile destroyer based in Japan, sailed within 12 nautical miles of Triton Island, which is part of the Paracel Islands located in the South China Sea between China and Vietnam. Curiously, Trump, the deal maker, phoned Xi on Monday – probably to get a sense of the play in Beijing. According to the Xinhua news agency, Xi told Trump upfront that China-US relations stand "affected by some negative factors."
At any rate, in a sharp editorial on Tuesday, China Daily blamed the Trump administration for "raising tensions between the two militaries." It pointed out,
The latest provocation shows Trump is yet to discard the strategy of stirring up confrontation in the South China Sea adopted by his predecessor. Such a practice is both dangerous and counterproductive because it could easily throw China-US relations off balance and squander the fruitful results achieved so far in advancing bilateral cooperation.
To be sure, at the weekend meeting in Hamburg with Trump, Xi will first want to figure out whether there has been "a reversal in the US' China policies a some are claiming." (China Daily).
That makes the score card this weekend difficult to predict. Putin probably will be the only 'winner'. Trump can't afford to go back empty-handed from Hamburg. And he is also facing the wrath of the hostess at the G20 summit – German Chancellor Angela Merkel. Putin has a fair chance of leveraging US-China tensions.
But then, count on him to also make sure that Xi gets the space to negotiate effectively with Trump. The 'takeaway' from Xi's visit to Moscow has been Russia's full unequivocal support for the Chinese stance on the North Korea problem. Don't be surprised if the consummate deal-maker in the White House over-reached. (Source: Indian Punchline)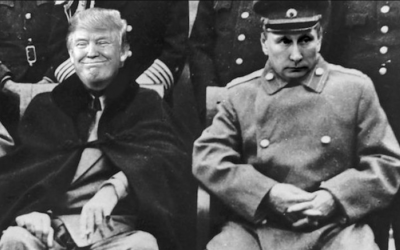 As Trump prepares to meet with Russian President Vladimir Putin on the sidelines of the upcoming G20 summit in Hamburg, Americans ("preppers" excluded, since they are already amply prepared) are frantically stocking up on canned beans and shotgun slugs.
There is absolutely no doubt in anyone's mind that the pillars of western civilization (NATO, CNN) will self-destruct if Trump so much as half-smiles at Putin during their scheduled encounter in Germany.
This self-explanatory truth was verbalized by none other than John McCain's voluptuous daughter during Fox News' critically-acclaimed program, "Boring People Sit and Talk".
Meghan McCain's candid advice to Trump? "Be vigilant. If you smile too much, hug, and behave too friendly with Putin" everyone will go bananas.
She's 100 percent correct.
Can you imagine the headlines if Trump and Putin respectfully greet one another? "KGB PAPA BEAR GETS COZY WITH YOUNG CUB"; "SMILEGATE: MUELLER CONFIRMS PROBE INTO TRUMP'S FACIAL EXPRESSIONS"; "THE HANDSHAKE THAT MURDERED THE US CONSTITUTION"; etc. etc.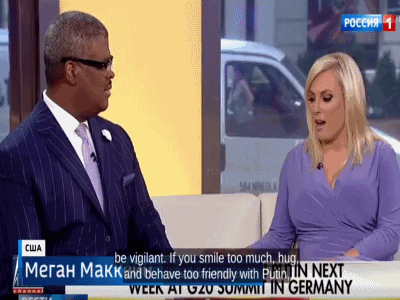 Putin undoubtedly recognizes the tremendous power that he now possesses. Imagine if he gives Trump a playful slap on the ass? Rachel Maddow would jump out the nearest available window.
We're not even being facetious. The great and beautiful irony of RussiaGate is that as a result of nonstop, around-the-clock Russia baiting, a simple wink from Putin in the general direction of Trump would probably ignite riots and bank runs across the United States. Also, NATO's high command would probably commit mass seppuku.
We're not saying Putin should do this. We're just saying.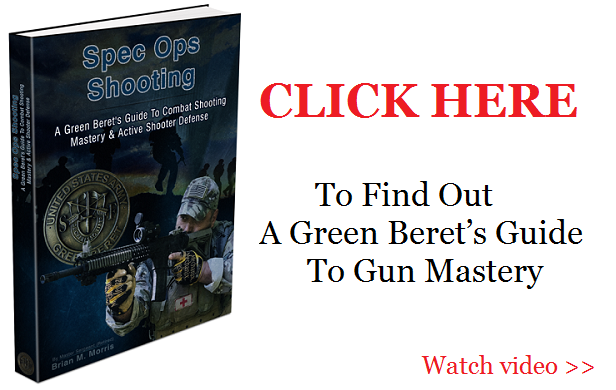 ---
Our grandfathers had more knowledge than any of us today and thrived even when modern conveniences were not available. They were able to produce and store their food for long periods of time. The Lost Ways is the most comprehensive book available. All the knowledge our grandfathers had, in one place.Here's just a glimpse of what you'll find in the book:
Table Of Contents:
Making Your Own Beverages: Beer to Stronger Stuff
Ginger Beer: Making Soda the Old Fashioned Way
How North American Indians and Early Pioneers Made Pemmican
Wild West Guns for SHTF and a Guide to Rolling Your Own Ammo
How Our Forefathers Built Their Sawmills, Grain Mills,and Stamping Mills
How Our Ancestors Made Herbal Poultice to Heal Their Wounds
What Our Ancestors Were Foraging For? or How to Wildcraft Your Table
How North California Native Americans Built Their Semi-subterranean Roundhouses
Our Ancestors'Guide to Root Cellars
Good Old Fashioned Cooking on an Open Flame
Learning from Our Ancestors How to Preserve Water
Learning from Our Ancestors How to Take Care of Our Hygiene When There Isn't Anything to Buy
How and Why I Prefer to Make Soap with Modern Ingredients
Temporarily Installing a Wood-Burning Stove during Emergencies
Making Traditional and Survival Bark Bread…….
Trapping in Winter for Beaver and Muskrat Just like Our Forefathers Did
How to Make a Smokehouse and Smoke Fish
Survival Lessons From The Donner Party
Get your paperback copy HERE
Here's just a glimpse of what you'll find in The Lost Ways:
From Ruff Simons, an old west history expert and former deputy, you'll learn the techniques and methods used by the wise sheriffs from the frontiers to defend an entire village despite being outnumbered and outgunned by gangs of robbers and bandits, and how you can use their wisdom to defend your home against looters when you'll be surrounded.
Native American ERIK BAINBRIDGE – who took part in the reconstruction of the native village of Kule Loklo in California, will show you how Native Americans build the subterranean roundhouse, an underground house that today will serve you as a storm shelter, a perfectly camouflaged hideout, or a bunker. It can easily shelter three to four families, so how will you feel if, when all hell breaks loose, you'll be able to call all your loved ones and offer them guidance and shelter? Besides that, the subterranean roundhouse makes an awesome root cellar where you can keep all your food and water reserves year-round.
From Shannon Azares you'll learn how sailors from the XVII century preserved water in their ships for months on end, even years and how you can use this method to preserve clean water for your family cost-free.
Mike Searson – who is a Firearm and Old West history expert – will show you what to do when there is no more ammo to be had, how people who wandered the West managed to hunt eight deer with six bullets, and why their supply of ammo never ran out. Remember the panic buying in the first half of 2013? That was nothing compared to what's going to precede the collapse.
From Susan Morrow, an ex-science teacher and chemist, you'll master "The Art of Poultice." She says, "If you really explore the ingredients from which our forefathers made poultices, you'll be totally surprised by the similarities with modern medicines." Well…how would you feel in a crisis to be the only one from the group knowledgeable about this lost skill? When there are no more antibiotics, people will turn to you to save their ill children's lives.
If you liked our video tutorial on how to make Pemmican, then you'll love this: I will show you how to make another superfood that our troops were using in the Independence war, and even George Washington ate on several occasions. This food never goes bad. And I'm not talking about honey or vinegar. I'm talking about real food! The awesome part is that you can make this food in just 10 minutes and I'm pretty sure that you already have the ingredients in your house right now.
Really, this is all just a peek.
The Lost Ways is a far–reaching book with chapters ranging from simple things like making tasty bark-bread-like people did when there was no food-to building a traditional backyard smokehouse… and many, many, many more!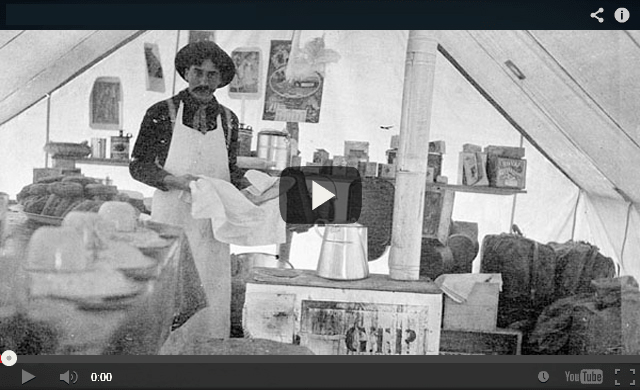 The Lost Ways (Learn the long forgotten secrets that helped our forefathers survive famines,wars,economic crisis and anything else life threw at them)
Survival MD (Best Post Collapse First Aid Survival Guide Ever)
Conquering the coming collapse (Financial advice and preparedness )
Liberty Generator (Build and make your own energy source)
Backyard Liberty (Easy and cheap DIY Aquaponic system to grow your organic and living food bank)
Bullet Proof Home (A Prepper's Guide in Safeguarding a Home )
Family Self Defense (Best Self Defense Strategies For You And Your Family)
 Survive Any Crisis (Best  Items To Hoard For A Long Term Crisis)
Survive The End Days (Biggest Cover Up Of Our President)
SOURCE : russia-insider.com