Gerald Celente – America On The Verge Of Coming Down Like A House Of Cards
Gerald Celente joins the show today to decode current world events and give his take on what the oligarchs are discussing at Bilderberg.
The truth is that middle class U.S. consumers are tapped out.  Most families are just scraping by financially from month to month.  For most Americans, there simply is not a whole lot of extra money left over to go shopping with these days.
In fact, at this point approximately one out of every four Americans spend at least half of their incomes just on rent…
More than one in four Americans are spending at least half of their family income on rent – leaving little money left to purchase groceries, buy clothing or put gas in the car, new figures have revealed.

A staggering 11.25 million households consume 50 percent or more of their income on housing and utilities, according to an analysis of Census data by nonprofit firm, Enterprise Community Partners.

And 1.8 million of these households spend at least 70 percent of their paychecks on rent.

The surging cost of rental housing has affected a rising number of families since the Great Recession hit in 2007. Officials define housing costs in excess of 30 percent of income as burdensome.
For decades, the U.S. economy was powered by a free spending middle class that had plenty of discretionary income to throw around.  But now that the middle class is beingsystematically destroyed, that paradigm is changing.  Americans families simply do not have the same resources that they once did, and that spells big trouble for retailers.
As you read this article, the United States still has more retail space per person than any other nation on the planet.  But as stores close by the thousands, "space available" signs are going to be popping up everywhere.  This is especially going to be true in poor and lower middle class neighborhoods.  Especially after what we just witnessed in Baltimore, many retailers are not going to hesitate to shut down underperforming locations in impoverished areas.
And remember, the next major economic crisis has not even arrived yet.  Once it does, the business environment in this country is going to change dramatically, and a few years from now America is going to look far different than it does right now.(source)

China equity funds took in $4.6bn from overseas over the past week, according to data from EPFR released on Friday, more than double the previous high set in the second quarter of 2008. At that time, Chinese stocks were in the middle of long and painful downturn after the popping of the 2007 stock market bubble.
A note from Credit Suisse adds to the heat, saying "the market direction has clearly detached from underlying fundamentals."
Bank of America Merrill Lynch analysts also provided a helpful chart showing just how massive the inflows into Chinese funds are: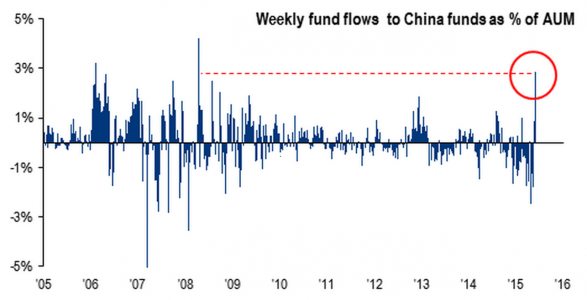 BAML
London Capital Group analyst Ipek Ozkardeskaya said on Thursday that "the economic conjuncture and companies' performance in China and elsewhere have little to do with the stock prices we see currently on our screens." Capital Economics added: "With valuations divorced from economic fundamentals, the heightened volatility we have seen is likely to continue."
Here's Credit Suisse again:
Technical indicators (percentage deviation from 200 day moving average and the relative strength index) are at among the most stretched levels in at least 15 years and comparable to the 2007 China A-shares bubble.
That's a pretty astonishing take — a long-term look at China's Shanghai Composite Index shows just how much Chinese shares tumbled after the 2007 bubble burst: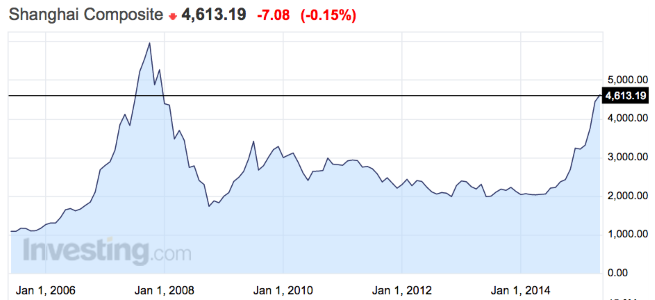 Investing.com
David Scutt at Business Insider Australia notes that not long after Friday's open, Chinese shares plunged by about 5%, adding to the 6.5% collapse recorded Thursday. In total, that was a swing of more than 11%.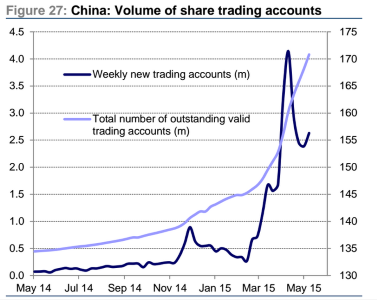 Credit Suisse
Usually in markets any drop of 10% or more is considered a "technical correction." For stocks to make that move in just a few hours of trading is a major deal. That the index then came back to make up those gains again (it closed down just 0.15% for the day) shows just how choppy things are.
A colossal number of new trading accounts are being opened in China, sparking fears about who exactly is trading and how well equipped they are to do so.
Those fears were compounded in March when a report suggested that 6% of China's new equity investors couldn't even read.
Whatever happens next in Chinese markets, you can expect a bumpy ride.(source)
Hope for the best, but prepare for the worst.
This is a good motto to live by, despite how you think about things.
Individuals can still hope for the best (that things can and will eventually work out), but what good is your prosperity going to do if you don't have anything to eat or a safe place to hang out for an extended period of time?
Why not prepare while you still can — when things are readily available and can still be purchased at cheap prices? The coming hyper-inflation will make any such purchases beforehand look very intelligent…
To prepare for the worst, you need a plan. Why are most people so against doing basic preparations that could be the difference on how they survive — or whether they survive?
History shows time and again that those who prepare always fare better than those who did not.
Having a plan and being determined to act on that plan will always be the best way to handle any contingencies, should they occur.
After disaster strikes, your mind is going to be racing around like a car on a race track. Preplanning and having a written set of measures to take will make someone's life go much smoother when the SHTF.
Survival MD (Best Post Collapse First Aid Survival Guide Ever)
Backyard Innovator (A Self Sustaining Source Of Fresh Meat,Vegetables And Clean Drinking Water)
Blackout USA (EMP survival and preparedness)
Conquering the coming collapse (Financial advice and preparedness )
Liberty Generator (Build and make your own energy source)
Backyard Liberty (Easy and cheap DIY Aquaponic system to grow your organic and living food bank)
Bullet Proof Home (A Prepper's Guide in Safeguarding a Home )
Family Self Defense (Best Self Defense Strategies For You And Your Family)
Sold Out After Crisis (Best 37 Items To Hoard For A Long Term Crisis)
Survive The End Days (Biggest Cover Up Of Our President)