Hyperinflation Brought Riots and Civil Unrest to This City! Will Yours Be Next?
DEFINITION of 'Hyperinflation'
Extremely rapid or out of control inflation. There is no precise numerical definition to hyperinflation. Hyperinflation is a situation where the price increases are so out of control that the concept of inflation is meaningless.
EXPLAINS'Hyperinflation'
When associated with depressions, hyperinflation often occurs when there is a large increase in the money supply not supported by gross domestic product (GDP) growth, resulting in an imbalance in the supply and demand for the money. Left unchecked this causes prices to increase, as the currency loses its value.
When associated with wars, hyperinflation often occurs when there is a loss of confidence in a currency's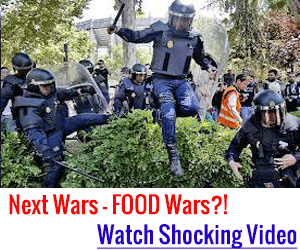 ability to maintain its value in the aftermath. Because of this, sellers demand a risk premium to accept the currency, and they do this by raising their prices.
One of the most famous examples of hyperinflation occurred in Germany between January 1922 and November 1923. By some estimates, the average price level increased by a factor of 20 billion, doubling every 28 hours.(source)
Venezuelan supermarkets are increasingly being targeted by looters as swollen lines and prolonged food shortages spark frustration in the OPEC nation struggling with an economic crisis.
Shoppers routinely spend hours in lines to buy consumer staples ranging from corn flour to laundry soap, turning lines into venues for shoving matches and now more frequent attempts to plunder shops.
The economic crisis has hit President Nicolas Maduro's approval ratings and raised tension levels in the country.
Fifty-six incidents of looting and 76 looting attempts took place in the first half of 2015, according local NGO Venezuelan Observatory of Social Conflict, which based the figures on media reports and testimony of observers around the country.(source)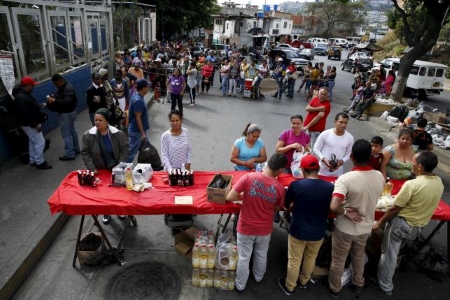 People queue to buy staple items in a Mercal, a subsidized state-run street market, in Caracas August 4, 2015.

As the world's economical crisis deepens and inequality tears the very fabric of society the discontentment of the masses manifests itself in violent public disturbances and civil disorder.
Marines with the Bravo Fleet Anti-terrorism Security Team Company on Naval Weapons Station Yorktown, Yorktown, Virginia conducted an operational readiness exercise, which evaluates the team's ability to perform riot control. The ORE determines of the marines are ready to take their final step in pre-deployment training. After completing and meeting the requirements of the ORE evaluation the Marines will go to Quantico, Virginia for their final phase of pre-deployment training.
Hyperinflation Brought RIOTS and CIVIL UNREST to THIS City! Will Yours Be Next?
Survival MD (Best Post Collapse First Aid Survival Guide Ever)
Backyard Innovator (A Self Sustaining Source Of Fresh Meat,Vegetables And Clean Drinking Water)
Blackout USA (EMP survival and preparedness)
Conquering the coming collapse (Financial advice and preparedness )
Liberty Generator (Build and make your own energy source)
Backyard Liberty (Easy and cheap DIY Aquaponic system to grow your organic and living food bank)
Bullet Proof Home (A Prepper's Guide in Safeguarding a Home )
Family Self Defense (Best Self Defense Strategies For You And Your Family)
Sold Out After Crisis (Best 37 Items To Hoard For A Long Term Crisis)
Survive The End Days (Biggest Cover Up Of Our President)
Drought USA(Discover The Amazing Device That Turns Air Into Water)