Lindsey Williams –
Warning to prepare for an emergency. Stock up on food, water and supplies now! It is 5 days before the economic collapse."   So, what do you do?
Here is the scenario.  "Government agencies are having difficulty making their payments.  State governments are issuing vouchers to pay their bills.  US Social Security is late in issuing its payments to retirees and the disabled.  Many banks are issuing warnings about liquidity.   The prices of food are escalating by the hour.  Instead of talking about the latest inane reality TV show, everyone is talking about inflation, money, mass layoffs, etc.  It is 5 days before the economic collapse."   So, what do you do?
Our current recession/depression is slow creeping at this point towards a bad outcome.  Although I believe US and Canada are still 3 to 5 years away from an economic collapse, I woefully believe that the collapse is coming.  Euro will collapse first.  Greece and Spain have already collapsed.  Italy and Portugal are soon to collapse next.  Having this insight, I have been preparing vigorously for the past 2 years.  During these past 2 years, I have often thought about what the last 5 days would look like before a collapse.  Because governments will do everything and anything to delay the onset of an economic collapse, as they should, I believe the problem will build to a dramatic point, where the economy will fall off a ledge very quickly.  With the US Federal Government running $1 trillion dollar deficits for the past 3 years, how long can that continue?   As some point in time, no foreign government or domestic entity will want to buy US Federal debt.   Then the only option is for the US Federal Reserve to generate artificial money, not backed by tax revenues nor by any tangible assets, in order for the Fed to buy US Federal debt.  At some point in time, the continual injection of fiat currencies will trigger a hyper-inflation period.  At that point in time, the spiral towards economic collapse will accelerate.
There are 5 key foods that should be part of every long-term food storage plan.
Wheat — Properly stored, wheat has the best long-term storage potential for common foods.  Hard Red Wheat berries have a 30+ storage life.  Be store to store the pre-ground wheat, which are called wheat berries.  Once ground into flour, it last only about one year.  Soft red wheat berries stores up to 20 years.   The white soft and hard wheat berries stores for 10 or less years.  For your critical long-term preps, stick with hard red wheat.   Be sure to have a wheat grind on hand, so that may flour from the stored wheat berries.  If you allergic to wheat, consider oats or quinoa instead.
Salt — This is not so much a food, but rather an essential mineral needed by your body.  If kept dry and sealed, salt has an endless storage life.   I store two types of salt.  Pure salt, or often called canning salt, has no iodine.  I reserve the canning salt for food preservation.  Before refrigeration, meat, fish and cheese were storable due to salt preservation.   And I store several pounds of salt with iodine added for cooking and table usage.  Salt is an item that is often overlooked in food storage.  Yet is has so many usage and is vital to good health.  Both too much and too little salt is bad for your health.
Sugar (or honey) — Pure white sugar and honey, if properly stored, never expires.  Keep sugar in a sealed container, and it never goes bad.   For more preps, I storeDomino's sugar that is already pre-sealed in 4 pound plastic canisters.    Honey is best stored in glass jars in a cool, dark place.  If honey crystallizes over time, just warm it a bit to become fluid again.  Honey has a lot of micro-nutrients, and is my preferred way to store sugar for the long-term.  Occasionally, my local drug store, CVS, has the Dominos 4 pound canisters on sale or I might buy with CVS extra-bucks.
Rice — White rice, if sealed in cans with oxygen absorbers, can have a 20 year storage life.  Brown rice has a storage life of around 5 years.  White rice is simply brown rice with the husk removed.  Brown rice has more flavor and more nutrition.  But white rice stores longer, since the husk of brown rice has small amounts of oil within that go bad much quicker.  What I like about storing rice is the amount of dense calories it provides.   Rice is easier to prepare versus grinding wheat berries.  A cups of white rice plus of vegetables from your garden makes a filling meal.  Many people don't realize the rice has some protein.  Rice combined with beans provides all the protein your body needs.
Powdered milk — If you have children, this is a key food to store.  Regular powdered milk has a shelf life of 2 years.  If packed in meal cans by a reliable vendor, powdered milk can be stored for 5 or more years.   Fat free powdered milk stores a bit long.  Most baking recipes call for milk, of which powdered milk is an adequate substitute.  My favorite powdered milk for long-term storage is Future Essentials Canned Powdered Homestyle Creamery Milk Substitute and Honeyville's powdered milk.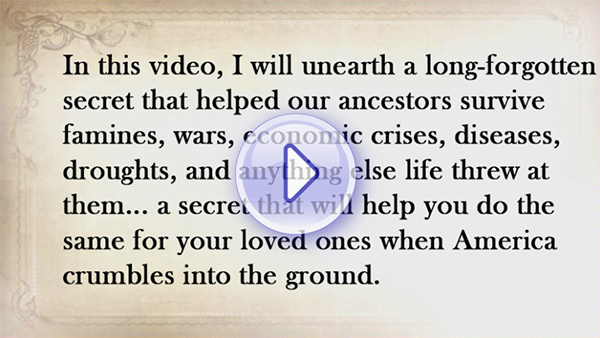 These are the 5 basic long-term foods that should be the beginning of your long-term food storage plan.
A couple honorable mentions are dried beans, TVP (textured vegetable protein typically made from soy beans), dried pasta, freeze-dried meats, dehydrated vegetables, dehydrated fruits.
The truly best long-term food plan is your own garden.
With Summer harvests coming in, now is the time to start home canning.  The canning season is upon us.  I'm a big gruff city boy who learned how to do home canning.  My blueberry jam is fabulous.  If I can learn, anyone can learn to do home canning.
In good times and bad, many your family always have enough to eat.
This is a video put out by fema that I thought was important to repost. There are so many disasters going on in the world right now, it would be very wise to prepare for anything. Earthquakes, volcanoes, floods, economic collapse, hurricanes, you name it.
Are you worried about your future? Are you worried by the many disasters that you face in your everyday life? Worry no more. The Lost Ways comes in to solve your woes. This program was created by Davis Claude and its major role is to prepare and teach you how to handle worst-case scenarios using the least independence. This program will therefore motivate you to protect your family and friends during the worst period without the help of the modern technology.
Remember, calamities are everywhere: at work, home, school and many other places. These calamities cause tension and leads to a decrease in productivity. This may finally lead to a reduction in life. Fortunately, the lost ways review will provide solutions to these situations. It will give you the tips for preparing yourself when nothing seems to go as expected.
Generally, most people are optimistic. This makes them unprepared for failure. However, the best thing is to prepare for worst times. It is important to tell your kids about earthquakes, fire outbreaks, extreme weather conditions and other calamities. Tell them how to deal with these calamities in case they occur.
The Lost Ways (Learn the long forgotten secrets that helped our forefathers survive famines,wars,economic crisis and anything else life threw at them)
Survival MD (Best Post Collapse First Aid Survival Guide Ever)
Backyard Innovator (A Self Sustaining Source Of Fresh Meat,Vegetables And Clean Drinking Water)
Blackout USA (EMP survival and preparedness)
Conquering the coming collapse (Financial advice and preparedness )
Liberty Generator (Build and make your own energy source)
Backyard Liberty (Easy and cheap DIY Aquaponic system to grow your organic and living food bank)
Bullet Proof Home (A Prepper's Guide in Safeguarding a Home )
Family Self Defense (Best Self Defense Strategies For You And Your Family)
 Survive Any Crisis (Best  Items To Hoard For A Long Term Crisis)
Survive The End Days (Biggest Cover Up Of Our President)
Drought USA (Discover The Amazing Device That Turns Air Into Water)