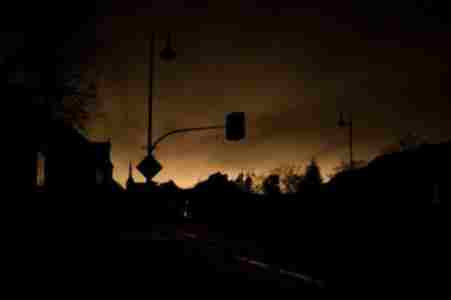 Prepare Yourself: Obama's War On Coal Will Lead To Electricity Price Hikes and Blackouts
News reports tell us that he who thinks he is God, President Obama, is urging the Russians not to cut the gas supply to Ukraine as it could provoke the start of a humanitarian crisis because millions of Ukrainians may not be able to heat their homes next winter.
The same man has declared a war on coal, and indirectly on the American people, based on spurious 'climate science' and the need to reduce carbon emissions by closing down coal fired power stations. This will leave millions of Americans unable to turn on the lights or heat their homes and businesses.
By 2015 all power generators in the United States will have to comply with the new Mercury and Air Toxics Standards. With little choice but to comply power generators have started to retire coal fired power plants that do not comply with the new regulations. Dozens of coal fired power station are destined to close, you can see a full list here.

Last winter was the coldest in many years, with many young Americans never having experienced weather like it. Even though last winter was exceptional the United States is no stranger to brutal winters with  feet of snow, as well as freezing rain and ice storms.
Mike Duncan from The American Coalition for Clean Energy told Fox News:
"Regulation from five years ago is closing about 20 percent of the coal plants. Regulations being proposed now could close an additional 20 percent of coal plants. And that creates huge stresses — we're just not ready for anything like that in this country,"
Last winter American Electric Power (AEP) had to run almost 90% of the plants destined for closure at full capacity in order to meet demand. They are concerned about what will happen when those plants are shuttered and cannot be brought back online to help  keep our  lights on and our homes warm.
A report by America's Power also indicates that there are problems ahead if the EPA continue down this path. They predict huge price rises in the cost of electricity and the loss of almost 3 million jobs:
The NERA analysis found that NRDC's plan could cost consumers $13 billion to $17 billion per year in higher electricity and natural gas prices. Ratepayers in most states could face double digit electricity price increases. NRDC's updated analysis now projects no costs at all. NERA also found that NRDC's proposal could cause job losses totaling as high as 2.85 million between 2018 and 2033. By comparison, NRDC projects that its proposal would increase jobs.
The report goes on to say that there will be reliability issues with demand not been met in extreme weather situations, be that winter cold, or summer heat.
Senator Lisa Murkowski (Republican Alaska) told a senate hearing this week that the grid was at its operational limits.
"Eight-nine percent of the coal electricity capacity that is due to go offline was utilized as that backup to meet the demand this winter," She said.

In a rare display of cross party agreement West VirginiaSenator Joe Manchin said at the same meeting:
"Add the fact that EPA is proposing new source performance standard, what this is going to do will effectively ban the construction of any new coal plants. How do we keep the lights on so people's lives will not be in danger?"
Make no mistake if this goes ahead people will die. Extreme weather kills people, it really is that simple. If Obama allows the enforcement of these regulations he is condemning a proportion of his own citizens to death. The weak, the sick and the vulnerable will not survive even a regular winter without heating.
The government is getting more and more blatant in moving forward it's Agenda 21 plans using the guise of sustainability and climate change. When you know that shutting down power plants is going to kill people, but you do it anyway it can only be described as murder, and pre-meditated murder at that.
Other useful resources:
Survive Attack to Our Power Grid System (Weapon That Can Instantly End Modern Life in America)
Survival MD (Best Post Collapse First Aid Survival Guide Ever)
Backyard Innovator (A Self Sustaining Source Of Fresh Meat,Vegetables And Clean Drinking Water)
Blackout USA (EMP survival and preparedness)
Conquering the coming collapse (Financial advice and preparedness )
Liberty Generator (Build and make your own energy source)
Backyard Liberty (Easy and cheap DIY Aquaponic system to grow your organic and living food bank)
Bullet Proof Home (A Prepper's Guide in Safeguarding a Home )
Family Self Defense (Best Self Defense Strategies For You And Your Family)
 Survive Any Crisis (Best  Items To Hoard For A Long Term Crisis)
Survive The End Days (Biggest Cover Up Of Our President)
Drought USA(Discover The Amazing Device That Turns Air Into Water)
SOURCE : undergroundmedic.com