Preparing for a Disaster or Emergency
Emergency Preparedness – Planning Ahead
Preparing for an emergency now, provides you your best chance of survival, in the event of an actual attack. Emergency preparedness should always be considered in the home and workplace for any unexpected event.
This site provides a step-by-step approach to emergency preparedness by walking the reader through emergency plans in a variety of scenarios. As you make your emergency plan, carefully consider the information you'll find throughout this website.
RELATED : Lindsey Williams – Warning to prepare for an emergency. Stock up on food, water and supplies now!
Introduction To Emergency Preparedness
Devastating acts, such as 911 and the terrorist attacks on the World Trade Center and the Pentagon, have left many concerned about the possibility of future events and their potential impact. They have raised uncertainty and heightened our awareness of the importance of emergency preparedness. There are specific steps you can take to prepare for the unexpected and reduce the stress that you may feel now and later should another emergency arise. Taking preparatory action can reassure you, your family and co-workers n that you can exert a measure of control even in the face of such events.
Emergency Preparedness – What You Can Do to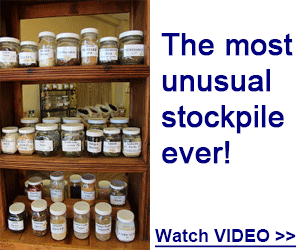 Finding out what can happen is the first step. Once you have determined the events possible and their potential in your community, it is important that you discuss them with your family or household. Develop a disaster/ emergency preparedness plan together.
Create an emergency communications plan.
Choose an out-of-town contact your family or household will call or e-mail to check on each other should a disaster occur. Your selected contact should live far enough away that they would be unlikely to be directly affected by the same event, and they should know they are the chosen contact.
Make sure every household member has that contact's, and each other's, e-mail addresses and telephone numbers (home, work, pager and cell). Leave these contact numbers at your children's schools, if you have children, and at your workplace. Your family should know that if telephones are not working, they need to be patient and try again later or try e-mail. Many people flood the telephone lines when emergencies happen but e-mail can sometimes get through when calls don't.
RELATED : The 50-dollar 30-day Emergency Food Kit
Assemble a disaster supplies or 72 hour emergency preparedness kit.
If you need to evacuate your home or are asked to "shelter in place," having some essential supplies on hand will make you and your family more comfortable. Prepare an emergency preparedness kit in an easy-to-carry container such as a duffel bag or small plastic trash can. Include "special needs" items for any member of your household (infant formula or items for people with disabilities or older people), first aid supplies (including prescription medications), a change of clothing for each household member, a sleeping bag or bedroll for each, a battery powered radio or television and extra batteries, food, bottled water and tools.
It is also a good idea to include some cash and copies of important family documents (birth certificates, passports and licenses) in your kit. Copies of essential documents-like powers of attorney, birth and marriage certificates, insurance policies, life insurance beneficiary designations and a copy of your will-should also be kept in a safe location outside your home. A safe deposit box or the home of a friend or family member who lives out of town is a good choice.
RELATED : 55 Preparedness Items
Check on the school emergency preparedness plan of any school-age children you may have.
You need to know if they will they keep children at school until a parent or designated adult can pick them up or send them home on their own. Be sure that the school has updated information about how to reach parents and responsible caregivers to arrange for pickup. And, ask what type of authorization the school may require to release a child to someone you designate, if you are not able to pick up your child. During times of emergency the school telephones may be overwhelmed with calls.
Remain calm and be patient.
Follow the advice of local emergency officials.
Listen to your radio or television for news and instructions.
If the disaster occurs near you, check for injuries. Give first aid and get help for seriously injured people.
If the disaster occurs near your home while you are there, check for damage using a flashlight. Do not light matches or candles or turn on electrical switches. Check for fires, fire hazards and other household hazards. Sniff for gas leaks, starting at the water heater. If you smell gas or suspect a leak, turn off the main gas valve, open windows, and get everyone outside quickly.
Shut off any damaged utilities.
Confine or secure your pets.
Call your family contact, do not use the telephone again unless it is a life-threatening emergency.
Check on your neighbors, especially those who are elderly or disabled.(source)
RELATED : Survival Prepper Items At Your Grocery Store
Prepare an Emergency Food Supply
Keep foods that:
Have a long storage life
Require little or no cooking, water, or refrigeration, in case utilities are disrupted
Meet the needs of babies or other family members who are on special diets
Meet pets' needs
Are not very salty or spicy, as these foods increase the need for drinking water, which may be in short supply
How To Store Emergency Food
A disaster can easily disrupt the food supply at any time, so plan to have at least a 3-day supply of food on hand.
When storing food, it is not necessary to buy dehydrated or other types of emergency food. Canned foods and dry mixes will remain fresh for about 2 years.
Certain storage conditions can enhance the shelf life of canned or dried foods. The ideal location is a cool, dry, dark place. The best temperature is 40 to 60°F. Keep foods away from ranges or refrigerator exhausts. Heat causes many foods to spoil more quickly.
Keep food away from petroleum products, such as gasoline, oil, paints, and solvents. Some food products absorb their smell.
Protect food from rodents and insects. Items stored in boxes or in paper cartons will keep longer if they are heavily wrapped or stored in airtight containers.
Date all food items. Use and replace food before it loses freshness.
RELATED : 89 Tips That Will Help You Prepare For The Coming Economic Depression
Preparing Food
Preparing food after a disaster or emergency may be difficult due to damage to your home and loss of electricity, gas, and water. Having the following items available will help you to prepare meals safely:
Cooking utensils
Knives, forks, and spoons
Paper plates, cups, and towels
A manual can- and bottle-opener
Heavy-duty aluminum foil
Gas or charcoal grill; camp stove
Fuel for cooking, such as charcoal. (CAUTION: Never burn charcoal indoors. The fumes are deadly when concentrated indoors.)
Prepare an Emergency Water Supply
Store at least 1 gallon of water per day for each person and each pet. You should consider storing more water than this for hot climates, for pregnant women, and for persons who are sick.
Store at least a 3-day supply of water for each person and each pet (try to store a 2-week supply if possible).
Observe the expiration date for store-bought water; replace other stored water every six months.
Store a bottle of unscented liquid household chlorine bleach to disinfect your water and to use for general cleaning and sanitizing.
Note: Caffeinated drinks and alcohol dehydrate the body, which increases the need for drinking water.
RELATED : Hydration for the Apocalypse: How to Store Water for Long-Term Emergencies
Water Containers (Cleaning and Storage)
Unopened commercially bottled water is the safest and most reliable emergency water supply.
Use of food-grade water storage containers, such as those found at surplus or camping supply stores, is recommended if you prepare stored water yourself.
Before filling with safe water, use these steps to clean and sanitize storage containers:
Wash the storage container with dishwashing soap and water and rinse completely with clean water.
Sanitize the container by adding a solution made by mixing 1 teaspoon of unscented liquid household chlorine bleach in one quart of water.
Cover the container and shake it well so that the sanitizing bleach solution touches all inside surfaces of the container.
Wait at least 30 seconds and then pour the sanitizing solution out of the container.
Let the empty sanitized container air-dry before use OR rinse the empty container with clean, safe water that already is available.
RELATED : Staggering Security Holes In Power, Water, and Oil Grid Infrastructure; 40% of Utility Companies Expect to Be Attacked in the Next 12 Months
Avoid using the following containers to store safe water:
Containers that cannot be sealed tightly
Containers that can break, such as glass bottles
Containers that have ever been used for any toxic solid or liquid chemicals (includes old bleach containers)
Plastic or cardboard bottles, jugs, and containers used for milk or fruit juices
For proper water storage,
Label container as "drinking water" and include storage date.
Replace stored water that is not commercially bottled every six months.
Keep stored water in a place with a fairly constant cool temperature.
Do not store water containers in direct sunlight.
Do not store water containers in areas where toxic substances such as gasoline or pesticides are present.(source)
During an emergency learn how to Make Water Safe and about Finding Emergency Water Sources.
Emergency preparedness – Each Persons Responisbility
Don't wait until disaster strikes to realize the benefits of a good emergency preparedness plan. Begin gathering the items you will need and going over your plan with all family members, at regular intervals.
Survive Attack to Our Power Grid System (Weapon That Can Instantly End Modern Life in America)
Survival MD (Best Post Collapse First Aid Survival Guide Ever)
Backyard Innovator (A Self Sustaining Source Of Fresh Meat,Vegetables And Clean Drinking Water)
Blackout USA (EMP survival and preparedness)
Conquering the coming collapse (Financial advice and preparedness )
Liberty Generator (Build and make your own energy source)
Backyard Liberty (Easy and cheap DIY Aquaponic system to grow your organic and living food bank)
Bullet Proof Home (A Prepper's Guide in Safeguarding a Home )
Family Self Defense (Best Self Defense Strategies For You And Your Family)
 Survive Any Crisis (Best  Items To Hoard For A Long Term Crisis)
Survive The End Days (Biggest Cover Up Of Our President)
Drought USA(Discover The Amazing Device That Turns Air Into Water)