This Is How Bad It Will Get! Prepare! It Is Better To Be Three Hours Too Soon Than Three Minutes Too Late
Society as we know it will break down and collapse . While it can be accelerated by certain events like war, a natural disaster, pandemic, terrorist attack, or even an impending asteroid impact, history has shown that economic collapse will essentially happen . To survive the collapse, it is important to read and interpret the signs and understand what assets are important to the current situation so you can be prepared for the worst.
As we noted last week, one of the biggest problems for the Central Banks was physical cash.
'The financial system is predominantly comprised of digital money. Actual physical Dollars bills and coins only amount to $1.36 trillion. This is only a little over 10% of the $10 trillion sitting in bank accounts. And it's a tiny fraction of the $20 trillion in stocks, $38 trillion in bonds and $58 trillion in credit instruments floating around the system.
If a significant percentage of people ever actually moved their money into physical cash, it could very quickly become a systemic problem.
Indeed, this is precisely what caused the 2008 meltdown, when nearly 24% of the assets in Money Market funds were liquidated in the course of four weeks. The ensuing liquidity crush nearly imploded the system.
Because of this, Central Banks and the regulators have declared a War on Cash in an effort to stop people trying to get their money out of the system.
One policy they are considering is to put a carry tax on physical cash meaning that your Dollar bills would gradually depreciate once they were taken out of the bank. Another idea is to do away with actual physical cash completely.
Perhaps the most concerning is the fact that should a "systemically important" financial entity go bust, any deposits above $250,000 located therein could be converted to equity… at which point if the company's shares, your wealth evaporates.'
This video explains the steps one should take to prepare for an Economic Collapse
It is Going to Get Worse
The total collapse of the economy begins after a significant and prolonged decline. The government implements price controls.The government begins to print currency to pay its bills and support the tens of millions on public assistance. Inflation increases even more and unemployment exceeds 25%. Banks and businesses fail at ever increasing rates. Nobody seems to have any money. Labor unions instigate strikes, civil unrest, and large scale riots. Government services are interrupted and unreliable. Local and national infrastructure is in decay. Violent gangs begin to appear and assert themselves. The government begins confiscation of firearms from law abiding citizens. Violence is everywhere. Cities and urban areas become very dangerous places to live.
Prioritary steps to take :
Gold and Silver coins
Cash
Plans to relocate to a secluded rural hideaway
Small livestock – chicken, rabbit, fish…
Job
Automobile
Home
Short term food supplies
Short term fuel stores
Firearms and ammo
Survival knowledge and skills
RELATED : 5 steps to PROTECT your family from the coming economic COLLAPSE
The Decay Begins
The biggest bank in Norway is calling for the complete and total elimination of cash. Many local bank branches in Norway already don't deal in cash, but that is not good enough for DNB. They want a blanket ban on the use of cash, and they are selling this as a way to crack down on criminals and money launderers. But in the end, the truth is that they want to be able to force everyone in society to use the banks and it would enable them to collect fees on almost every transaction. It is an agenda that is being driven by greed, but it could also open the door for great tyranny. Unfortunately, we are not just seeing aggressive movement toward a cashless society in Norway. It is also happening in Sweden, in Denmark and in many other nations all around the globe. The Beast system is rising, and yet very few people out there even seem alarmed by this.
Prioritary steps to take :
Health Insurance
Lifestyle Image
Good Credit Rating for Debt Accumulation
Career
Home Value
Savings
Investments – Stocks and bonds
The Slippery Slope
The economy goes into a slow but steadily increasing decline. Unemployment is on the rise. Ever increasing numbers of people receive government assistance in one form or another. People are paid not to work. Government spending has increased dramatically. The price of gold, silver, and other precious metals rise to prices unheard of just a few years earlier. Inflation reaches the double digit levels.
Prioritary steps to take :
Elimination of debt
Health Insurance
Home Equity
Cash
Precious Metals, Gold and Silver coins
Job Stability
Automobile with good MPG
Gold is still expensive, but rising economic risks and market turmoil mean investors should buy it for insurance, Deutsche Bank said Friday.
The recovery since the global and European financial crises had put theprice of gold under some pressure. The yellow metal, which some analysts view as a safe haven or as a protection against rising inflation, typically underperforms during periods when the economy is growing or inflation is low. However, in a note issued Friday, the German Bank said economic signs are pointing in gold's favor.
"There are rising stresses in the global financial system; in particular the rising risk of a U.S. corporate default cycle and the risk of a sharp one-off renminbi devaluation due to the sharp increase in China's capital outflows," Deutsche Bank added."Buying some gold as 'insurance' is warranted."
Word of the day: Prepare! And do it the old fashion way, like our fore-fathers did it and succeed long before us, because what lies ahead of us will require all the help we can get. Watch this video and learn the 3 skills that ensured our ancestors survival in hard times of  famine and war.
Canadians Panic As Food Prices Soar
The currency's decline is having a pronounced effect on Canadians' grocery bills. As Bloomberg reminds us, Canada imports around 80% of its fresh fruits and vegetables. When the loonie slides, prices for those goods soar. "With lower-income households tending to spend a larger portion of income on food, this side effect of a soft currency brings them the most acute stress," Bloomberg continues.
Of course with the layoffs piling up, you can expect more households to fall into the "lower-income" category where they will have to fight to afford things like $3 cucumbers, $8 cauliflower, and $15 Frosted Flakes. Have a look at the following tweets which underscore just how bad it is in Canada's grocery aisles.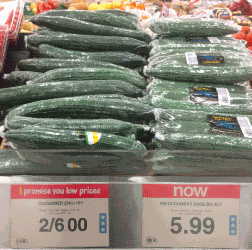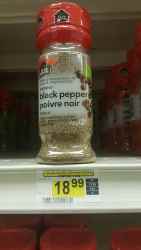 Amid Food Shortages, Venezuela
As food shortages become the norm in Venezuela, its government has ordered companies to distribute food staples to government-run supermarkets, according to the country's Food Industry Chamber Monday.
Federal authorities mandated producers of milk, pasta, oil, rice, sugar and flour to supply between 30 percent and 100 percent of their goods to the state stores, reported the Associated Press.
Chamber President Pablo Baraybar told the Associated Press that the order would cause major supply problems for private stores, which outnumber the state-run supermarkets by 15 times. Food industry companies have also complained of strict regulations, which they say make it impossible to turn a profit.
The nation's high inflation rates have led to frequent food shortage crises that send Venezuelans raiding nearly empty stores.
The Grab for Power
The collapse can transition to this stage at any time . Most of the middle class have lost everything. What used to be well manicured middle class neighborhoods are filled with the carcasses of empty houses damaged and destroyed by vandals. The power grid becomes unreliable. Rolling blackouts are a daily occurrence. Now the economy collapses. There is a rush for everything and the shelves go empty in a matter of hours. Society falls into chaos. The control of urban areas shifts when violent gangs takeover control of the streets and urban neighborhoods. Everything is in short supply and heavily rationed. Food and gasoline is very expensive and there are very long lines to get them when they are available. You will discover what it is to live in a third world country.
Prioritary steps to take :
Relocation to the rural hideaway
Firearms and ammo
Long term food supplies (1 year minimum)
Adequate fuel stores
Security plan to protect the group and assets
A working knowledge of survival gardening
Survival knowledge and skills
Once all of the above has come to pass, the realization of the current circumstances at this moment must be all too obvious. It is too late to prepare at this point. What you did not acquire earlier, you are not going to possess now. Anything of value necessary for your survival has already been claimed. The situation gets worse… much worse.
Freedom, Liberty, and Independence are Lost
The government implements martial law. Fighting between civilians and government forces break out nationwide. Maintaining more than a 30 day supply of food is considered hoarding food and is illegal. Severe poverty and starvation become a common sight. The government offers marginally acceptable food, water and shelter in exchange for your Freedom, Liberty, and Independence. A Totalitarian regime assumes power and the individual freedoms and liberties once enjoyed by the people are completely eliminated.
Prioritary steps to take :
A working and producing garden capable of feeding 150% of the group
A stable supply of clean water
Vegetable seeds for long term food production and barter
Rural Hideaway
Security plan to protect the group and assets
Living below the radar in a community
Firearms and the ability to use them
Survival knowledge and skills
As you can see, priorities change as the world changes. Your most prized assets of today – are no longer important after the economy collapses.
Would you be able to sustain your loved ones when all hell brakes loose?In this video, I will unearth a long-forgotten secret that helped our ancestors survive famines, wars, economic crises, diseases, droughts, and anything else life threw at them… a secret that will help you do the same for your loved ones when America crumbles into the ground.I'm also going to share with you three old lessons that will ensure your children will be well fed when others are rummaging through garbage bins. Click here to learn all about the 3 skills that will help you thrive in any crises situation.
History is littered with financial crises and other disturbing events resulting from reckless monetary policies
Thousands of years ago trade between people began through a system of barter. This method of payment was effective but very limiting. Trade could not occur unless both parties had the goods or services demanded by the other. If a metal smith, for example, did not need wheat, a farmer seeking a new sickle would have to find alternative goods or services to offer the metalsmith.
These limitations and the growing desires to conduct trade with parties over further distances required a more robust system. Accordingly, trade graduated from the barter system to that of a common currency. Aristotle stated the rationale for a common currency eloquently:
"When the inhabitants of one country became more dependent on those of another, and they imported what they needed, and exported what they had too much of, money necessarily came into use". At first, in almost all cases, the currency was a commodity. While eliminating some of the problems associated with barter, this system presented new ones. Carrying gold or other commodities such as silver, grain, shells, or livestock can be cumbersome and difficult to properly measure for weight and purity. Dividing most commodities into fractions for ease of exchange produced additional difficulties.
In this video I am re-introducing talk regarding the economic disaster now at our footsteps. In this video, I cover what you need to personally do to PROTECT YOURSELF in this crisis. The crisis is NOT at the door. Currencies like gold the Canadian dollar and us dollar will be critical very soon now. The Baltic Dry Index is at HISTORIC LOWS – Oil is collapsing right now. Most commodities have already colapsed. With worldwide shipping coming to a standstill- the economic end is close. Call this fear port all you want but that won't stop the reality of what is here and here now. Advice on how to get ready and prepared is given for you to act NOW! PROTECT YOUR FAMILY – What other things do you need to get up and moving on protecting your own family.
Other useful resources:
The Lost Ways (Learn the long forgotten secrets that helped our forefathers survive famines,wars,economic crisis and anything else life threw at them)
Survive Attack to Our Power Grid System (Weapon That Can Instantly End Modern Life in America)
Survival MD (Best Post Collapse First Aid Survival Guide Ever)
Backyard Innovator (A Self Sustaining Source Of Fresh Meat,Vegetables And Clean Drinking Water)
Blackout USA (EMP survival and preparedness)
Conquering the coming collapse (Financial advice and preparedness )
Liberty Generator (Build and make your own energy source)
Backyard Liberty (Easy and cheap DIY Aquaponic system to grow your organic and living food bank)
Bullet Proof Home (A Prepper's Guide in Safeguarding a Home )
Family Self Defense (Best Self Defense Strategies For You And Your Family)
 Survive Any Crisis (Best  Items To Hoard For A Long Term Crisis)
Survive The End Days (Biggest Cover Up Of Our President)
Drought USA (Discover The Amazing Device That Turns Air Into Water)