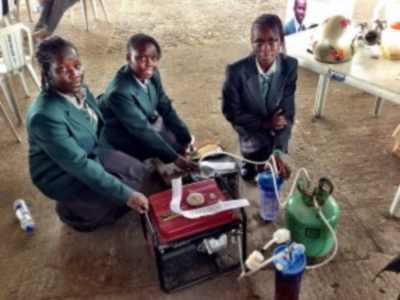 While the mainstream media continues to push the idea that we are facing an energy crisis due to a lack of resources, more people are actually looking into alternative energy and discovering that there really is no energy crisis at at all. We aren't facing a lack of resources, we have multiple means to provide energy to billions of people without damaging the environment and diminishing resources. . These methods use very little input, and in some cases achieve infinite output.  One of these ways to generate energy is through urine. It sounds a little nasty, but the story is quite remarkable. Approximately 1 year ago, a group of 14 year old's from Lagos, Nigeria, developed a urine powered generator that can provide 6 hours of power on 1 liter of pee. It's not uncommon for innovate energy ideas to come out of the third world, many of their problems stem from a lack of power, so some from that area are looking for ways to solve it with whatever they have.

The model you see in this article was created by four girls, Duro-Aina Adebola, Akindele Abiola, Faleke Oluwatoyin, and Bello Eniola. The group of 14 year old's  developed a system that works like this:
 Urine is put into an electrolytic cell, which separates out the hydrogen.
 The hydrogen enters a water filter for purification, which then gets pushed into a gas cylinder.
 The gas cylinder pushes hydrogen into a cylinder of liquid borax, which is used to remove the moisture from the hydrogen.
This purified hydrogen gas is pushed into the generator.
Prior to the development of this technology, a firm called E3 Technologies, LLC, based in Athens, Ohio, developed a similar technology called the "Greenbox." It's designed to clean commercial and agricultural waste water and produces hydrogen energy. The process has been patented. It is a low energy electrolysis process that converts ammonia and urea in waste water to hydrogen, nitrogen and pure water. The electric current in the device creates an electrochemical reaction that oxidizes urea and turns it into carbon dioxide which is then moved into the electrolyte material in the machine. This technology was developed by Professor Gerardine Botte, a chemical engineer at Ohio University.
What these kids are doing is taking urea electrolysis and making hydrogen and then using that hydrogen to make electricity – Gerardine Botte
The implications behind this technology, or any clean energy technology for that matter is far reaching. We are constantly presented with better ways of doing things, but rarely do we see a quick implementation or production of these technologies. The urine powered generator technology has many applications. Agriculture and waster water treatment operations for example, not to mention the construction industry all deal with the disposal of ammonia.  Why not use this ammonia for energy generation in multiple ways? The invention could aid farmers to treat the ammonia waste. A technology like this would only require 1 kilowatt of power to operate an entire commercial building with 300 employees.
Check out this incredible way of becoming food independent on Backyard Liberty, and find out more about off-grid survival on Conquering the Coming Collapse.
Imagine if the waste from your bathroom visits was transported into a tank which converted it into energy to power your own house. What if all the toilets in your city all led to one spot which converted the waste to harness immense power? I know it's not that easy, but the technology is there.
If we want to help our planet we must move away from the use of unsustainable energy technologies such as oil and nuclear, on a mass scale. Energy generation practices that aren't clean should be banned from use. The cleaner and greener options are already here, we just need the information to reach more people.
Everybody on the planet should have access to clean green power, we have the solutions to make this possible. The implications of some clean green energy generation techniques are far reaching, and would eliminate poverty worldwide.
Other useful resources: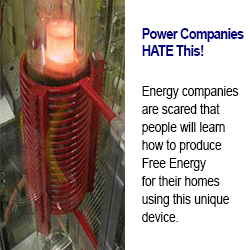 Blackout USA (EMP survival and preparedness)
Conquering the coming collapse (Financial advice and preparedness )
Liberty Generator (Build and make your own energy source)
Backyard Liberty (Easy and cheap DIY Aquaponic system to grow your organic and living food bank)
SOURCE : www.ohio.edu