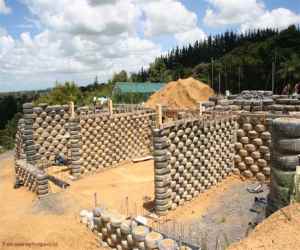 If there's one thing we're not short of on Earth, it's used tires! There are tire dumps like the one pictured here in every country in the world. There are even places that will pay you by the tire to take them away.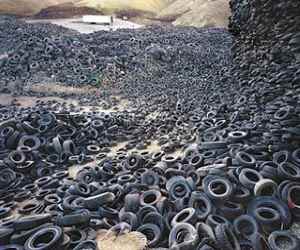 The walls (above the tires) are created by placing plastic and glass bottles in concrete. When the Earthship team was in Haiti after the earthquake, they employed local kids to both clean up the streets and provide all of the bottles required for building their Earthship. Plus, they look pretty sexy.
10) Think Different
The most powerful thing Earthships do is force people to think differently about how we live. If housing can be this awesome, and be beneficial to the environment, then what else can we change? What else can become more simple, cheaper and better at the same time?
It's time for us to re-think much of what we consider normal.
RELATED : Build a $300 underground greenhouse for year-round gardening
RELATED : The Best 5 Gardening System to Grow Food for all Your Family Every Year Even in a Desert
RELATED : Pioneer Lessons From The Past That Can Save Your Life In The Future
About Earthship Biotecture
Earthship Biotecture is based in Taos, New Mexico, and has been providing humans with the tools necessary to sustain themselves and the planet for over 45 years. By using carbon-zero technology in building plans and integrating all systems with food production, our designs are the first truly sustainable, independent models on the market today. We able to construct comfortable units in any climatemade primarily out of natural and recycled materials.
Earthship construction drawings are designed to meet standard building code requirements so you can get a permit no matter where you are. Earthship Biotecture is beyond LEED Architecture. Earthships are green buildings that meet standard building codes. EarthshipBiotecture is based on the work of principal architect, Michael Reynolds.
Don't wait until food becomes scarce; start preparing for the future now by becoming as self-reliant as possible. Your long-term chances of survival could very well depend on your ability to feed yourself and your family without relying on someone else.
The Lost Ways (Learn the long forgotten secrets that helped our forefathers survive famines,wars,economic crisis and anything else life threw at them)
Survival MD (Best Post Collapse First Aid Survival Guide Ever)
Backyard Innovator (A Self Sustaining Source Of Fresh Meat,Vegetables And Clean Drinking Water)
Blackout USA (EMP survival and preparedness)
Conquering the coming collapse (Financial advice and preparedness )
Liberty Generator (Build and make your own energy source)
Backyard Liberty (Easy and cheap DIY Aquaponic system to grow your organic and living food bank)
Bullet Proof Home (A Prepper's Guide in Safeguarding a Home )
Family Self Defense (Best Self Defense Strategies For You And Your Family)
 Survive Any Crisis (Best  Items To Hoard For A Long Term Crisis)
Survive The End Days (Biggest Cover Up Of Our President)
Drought USA (Discover The Amazing Device That Turns Air Into Water)