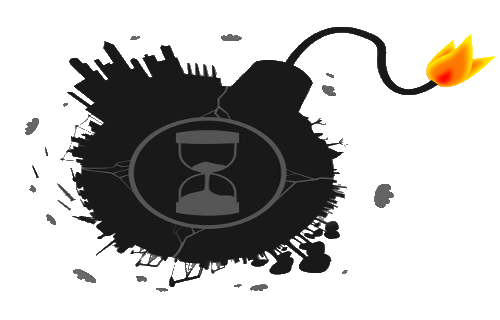 According to the International Monetary Fund, global debt has grown to a staggering grand total of 152 trillion dollars.  Other estimates put that figure closer to 200 trillion dollars, but for the purposes of this article let's use the more conservative number.  If you take 152 trillion dollars and divide it by the seven billion people living on the planet, you get $21,714, which would be the share of that debt for every man, woman and child in the world if it was divided up equally.
So if you have a family of four, your family's share of the global debt load would be $86,856.
Very few families could write a check for that amount today, and we also must remember that we live in some of the wealthiest areas on the globe.  Considering the fact that more than 3 billion people around the world live on two dollars a day or less, the truth is that about half the planet would not be capable of contributing toward the repayment of our 152 trillion dollar debt at all.  So they should probably be excluded from these calculations entirely, and that would mean that your family's share of the debt would ultimately be far, far higher.
Of course global debt repayment will never actually be apportioned by family.  The reason why I am sharing this example is to show you that it is literally impossible for all of this debt to ever be repaid.
We are living during the greatest debt bubble in the history of the world, and our financial engineers have got to keep figuring out ways to keep it growing much faster than global GDP because if it ever stops growing it will burst and destroy the entire global financial system.
Bill Gross, one of the most highly respected financial minds on the entire planet, recently observed that "our highly levered financial system is like a truckload of nitro glycerin on a bumpy road".
And he is precisely correct.  Everything might seem fine for a while, but one day we are going to hit the wrong bump at the wrong time and the whole thing is going to go KA-BOOM.
The financial crisis of 2008 represented an opportunity to learn from our mistakes, but instead we just papered over our errors and cranked up the global debt creation machine to levels never seen before.  Here is more from Bill Gross…
My lesson continued but the crux of it was that in 2017, the global economy has created more credit relative to GDP than that at the beginning of 2008's disaster. In the U.S., credit of $65 trillion is roughly 350% of annual GDP and the ratio is rising. In China, the ratio has more than doubled in the past decade to nearly 300%. Since 2007, China has added $24 trillion worth of debt to its collective balance sheet. Over the same period, the U.S. and Europe only added $12 trillion each. Capitalism, with its adopted fractional reserve banking system, depends on credit expansion and the printing of additional reserves by central banks, which in turn are re-lent by private banks to create pizza stores, cell phones and a myriad of other products and business enterprises. But the credit creation has limits and the cost of credit (interest rates) must be carefully monitored so that borrowers (think subprime) can pay back the monthly servicing costs. If rates are too high (and credit as a % of GDP too high as well), then potential Lehman black swans can occur. On the other hand, if rates are too low (and credit as a % of GDP declines), then the system breaks down, as savers, pension funds and insurance companies become unable to earn a rate of return high enough to match and service their liabilities.
WARNING: WHAT IS COMING WILL BE A SCARY TIME FOR EVERYONE. I AM DOING THIS TO HELP PEOPLE PREPARE THEMSELVES TO SURVIVE, EVEN THRIVE THROUGH THE COMING COLLAPSE.
There is always a price to be paid for going into debt.  It mystifies me that so many Americans seem to not understand this very basic principle.
On an individual level, you could live like a Trump (at least for a while) by getting a whole bunch of credit cards and maxing all of them out.
But eventually a day of reckoning would come.
The same thing happens on a national level.  In recent years we have seen examples in Greece, Cyprus, Zimbabwe, Venezuela and various other European nations.
Here in the United States, more than 9 trillion dollars was added to the national debt during the Obama years.  If we had not taken more than 9 trillion dollars of consumption and brought it into the present, we would most assuredly be in the midst of an epic economic depression right now.
Instead of taking our pain in the short-term, we have sold future generations of Americans as debt slaves, and if they get the chance someday they will look back and curse us for what we have done to them.
Many believe that Donald Trump can make short-term economic conditions even better than Obama did, but how in the world is he going to do that?
Is he going to borrow another 9 trillion dollars?
A big test is coming up.  A while back, Barack Obama and the Republican Congress colluded to suspend the debt ceiling until March 15th, 2017, and this week we are going to hit that deadline.
The U.S. Treasury will be able to implement "emergency measures" for a while, but if the debt ceiling is not raised the U.S. government will not be able to borrow more money and will run out of cash very quickly.  The following comes from David Stockman…
The Treasury will likely be out of cash shortly after Memorial Day. That is, the White House will be in the mother of all debt ceiling battles before the Donald and his team even see it coming.

With just $66 billion on hand it is now going to run out of cash before even the bloody battle over Obamacare Lite now underway in the House has been completed. That means that there will not be even a glimmer of hope for the vaunted Trump tax cut stimulus and economic rebound on the horizon.
Trump is going to find it quite challenging to find the votes to raise the debt ceiling.  After everything that has happened, very few Democrats are willing to help Trump with anything, and many Republicans are absolutely against raising the debt ceiling without major spending cut concessions.
So we shall see what happens.
If the debt ceiling is not raised, it will almost certainly mean that a major political crisis and a severe economic downturn are imminent.
But if the debt ceiling is raised, it will mean that Donald Trump and the Republicans in Congress are willingly complicit in the destruction of this country's long-term economic future.
When you go into debt there are consequences.
And when the greatest debt bubble in human history finally bursts, the consequences will be exceedingly severe.
The best that our leaders can do for now is to keep the bubble alive for as long as possible, because what comes after the bubble is gone will be absolutely unthinkable.
Survival Food Prepping Ideas/ULTIMATE Top Skills 2017
Discover how to survive: Most complete survival tactics, tips, skills and ideas like how to make pemmican, snow shoes, knives, soap, beer, smoke houses, bullets, survival bread, water wheels, herbal poultices, Indian round houses, root cellars, primitive navigation, and much more at: The Lost Ways
The Lost Ways is a far-reaching book with chapters ranging from simple things like making tasty bark-bread-like people did when there was no food-to building a traditional backyard smokehouse… and many, many, many more!
Here's just a glimpse of what you'll find in The Lost Ways:
From Ruff Simons, an old west history expert and former deputy, you'll learn the techniques and methods used by the wise sheriffs from the frontiers to defend an entire village despite being outnumbered and outgunned by gangs of robbers and bandits, and how you can use their wisdom to defend your home against looters when you'll be surrounded.
Native American ERIK BAINBRIDGE – who took part in the reconstruction of the native village of Kule Loklo in California, will show you how Native Americans build the subterranean roundhouse, an underground house that today will serve you as a storm shelter, a perfectly camouflaged hideout, or a bunker. It can easily shelter three to four families, so how will you feel if, when all hell breaks loose, you'll be able to call all your loved ones and offer them guidance and shelter? Besides that, the subterranean roundhouse makes an awesome root cellar where you can keep all your food and water reserves year-round.
From Shannon Azares you'll learn how sailors from the XVII century preserved water in their ships for months on end, even years and how you can use this method to preserve clean water for your family cost-free.
Mike Searson – who is a Firearm and Old West history expert – will show you what to do when there is no more ammo to be had, how people who wandered the West managed to hunt eight deer with six bullets, and why their supply of ammo never ran out. Remember the panic buying in the first half of 2013? That was nothing compared to what's going to precede the collapse.
From Susan Morrow, an ex-science teacher and chemist, you'll master "The Art of Poultice." She says, "If you really explore the ingredients from which our forefathers made poultices, you'll be totally surprised by the similarities with modern medicines." Well…how would you feel in a crisis to be the only one from the group knowledgeable about this lost skill? When there are no more antibiotics, people will turn to you to save their ill children's lives.
If you liked our video tutorial on how to make Pemmican, then you'll love this: I will show you how to make another superfood that our troops were using in the Independence war, and even George Washington ate on several occasions. This food never goes bad. And I'm not talking about honey or vinegar. I'm talking about real food! The awesome part is that you can make this food in just 10 minutes and I'm pretty sure that you already have the ingredients in your house right now.
Really, this is all just a peek.
The Lost Ways is a far-reaching book with chapters ranging from simple things like making tasty bark-bread-like people did when there was no food-to building a traditional backyard smokehouse… and many, many, many more!
And believe it or not, this is not all…
Table Of Contents:
The Most Important Thing
Making Your Own Beverages: Beer to Stronger Stuff
Ginger Beer: Making Soda the Old Fashioned Way
How North American Indians and Early Pioneers Made Pemmican
Spycraft: Military Correspondence During The 1700's to 1900's
Wild West Guns for SHTF and a Guide to Rolling Your Own Ammo
How Our Forefathers Built Their Sawmills, Grain Mills,and Stamping Mills
How Our Ancestors Made Herbal Poultice to Heal Their Wounds
What Our Ancestors Were Foraging For? or How to Wildcraft Your Table
How Our Ancestors Navigated Without Using a GPS System
How Our Forefathers Made Knives
How Our Forefathers Made Snow shoes for Survival
How North California Native Americans Built Their Semi-subterranean Roundhouses
Our Ancestors'Guide to Root Cellars
Good Old Fashioned Cooking on an Open Flame
Learning from Our Ancestors How to Preserve Water
Learning from Our Ancestors How to Take Care of Our Hygiene When There Isn't Anything to Buy
How and Why I Prefer to Make Soap with Modern Ingredients
Temporarily Installing a Wood-Burning Stove during Emergencies
Making Traditional and Survival Bark Bread…….
Trapping in Winter for Beaver and Muskrat Just like Our Forefathers Did
How to Make a Smokehouse and Smoke Fish
Survival Lessons From The Donner Party
Books can be your best pre-collapse investment.
The Lost Ways (Learn the long forgotten secrets that helped our forefathers survive famines,wars,economic crisis and anything else life threw at them)
Survival MD (Best Post Collapse First Aid Survival Guide Ever)
Conquering the coming collapse (Financial advice and preparedness )
Liberty Generator (Build and make your own energy source)
Backyard Liberty (Easy and cheap DIY Aquaponic system to grow your organic and living food bank)
Bullet Proof Home (A Prepper's Guide in Safeguarding a Home )
Family Self Defense (Best Self Defense Strategies For You And Your Family)
 Survive Any Crisis (Best  Items To Hoard For A Long Term Crisis)
Survive The End Days (Biggest Cover Up Of Our President)
Drought USA (Discover The Amazing Device That Turns Air Into Water)
SOURCE : theeconomiccollapseblog.com