6 Cheap Ways To Build A Greenhouse
A greenhouse is something every homesteader should strive for, but good ones aren't cheap and don't always fit into the budget. What if you could build your own and not break the bank doing it. Well check out these great DIY greenhouse projects.
Build A Greenhouse Use Plastic Bottles

This one looks like it could be a little labor intensive but what a great way to reuse your old plastic bottles. Rather than try to explain the process of building a greenhouse like this I figured it would be better to refer you to a page that explains how to do it.
Students at Georgia Southern University in Statesboro recently constructed a greenhouse for an after-school garden program for local school kids. The greenhouse is unique, being build from discarded plastic beverage bottles and repurposed wood. The Monitor's Kenny Burgamy explains. The Greenhouse Of The Future – No Extra Heating Needed
Easy and cheap DIY the best system to grow your organic and living food bank
Build A Greenhouse Use An Old Trampoline

Another great reporpose of old items you can get really cheap and sometimes free. Just cut the frame of the trampoline in half and attach a pipe to the legs at whatever length you want your greanhouss to be, frame in a door, wrap in plastic and you have a nice usable greenhouse. It doesn't get much easier than that. Greenhouse "Start to Finish", this is my wife's and I design we came up with it out of the thin air I guess you could say, its a Ez DIY Project and recycling at the same time , How to build and poly tunnel.
Build A Greenhouse Old House Windows and Glass Doors

What a great way to repurpose something that will probably just end up in a landfill. This is great option if you need a smaller greenhouse especially, but it's not limited in size. You can sometimes just attach the frames of the items used together or you can use lumber to build a heavier frame and attach the windows to that. If you want to cover a small raised bed you can do something as simple as stack straw bales around the bed and lay the windows across them. DIY Hoop house built on a budget using recycled doors and windows. Growing with hydroponic vertical towers! How You Can Grow 10 Times The Food In Half The Time -The Benefits of an Aquaponics System –
Build A Greenhouse PVC Pipe Frame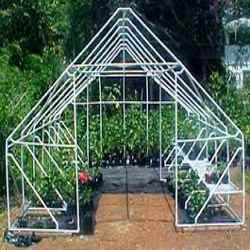 This is a inexpensive and easy way to put up a greenhouse. One of the negatives would be it's durability, because of it's light weight and slightly flexible frame strong winds could be your enemy. I have been in a couple of these and I will say there probably stronger than you think so it's definitely a viable option for someone looking for a cheap greenhouse especially if your in a suburban or urban setting with a lot of structures around to help block strong winds.  Putting it up or taking it down by yourself takes only 15-20 minutes. Learn how to build a simple, small, portable, A-Frame greenhouse with PVC pipe and plastic sheeting for less than $50.
Build A Greenhouse Stock Fence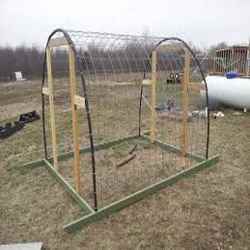 This looks like a great design for an inexpensive, sturdy, durable greenhouse. A DIY video on building a portable, inexpensive greenhouse that's VERY easy to build, and will cost you about 150 bucks (depending on materials in your area) and a few hours of your time. It's a design I call "TexasPrepper's Greenhouse". I did an earlier video showing the finished greenhouse, but this one details the construction. The Secrets of Growing Giant Vegetables – How to Make Compost Tea (Simplest method on earth)
Build A Greenhouse  From Straw Bale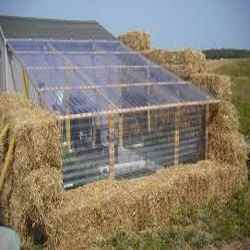 Many people have mentioned an interest in building a straw bale greenhouse. I have seen several different approaches to this idea over the years. I have two different column in which these projects have fallen. Some of the greenhouses have been absolute disasters, while others have proven to be beautiful and successful. Just how to move forward and how the design is realized will affect the column into which your project lands. It is possible to build a hybrid system in which the bales are load bearing for the majority of the building and the glass walls are the only framed portions. This may cause uneven settling of the plaster, but that is easily remedied with some long term maintenance. This is probably the best option available to you for your greenhouse. Your foundation will have to support the bales and a frame on the solar wall. I suggest a rubble trench foundation with an earth bag cap for the load bearing portion and a series of small piers for the framed section with earth bag foundation in between the piers to support the walls. The Best Way to Grow Sweet Potato in Straw Bales, Bags and Containers
Build and make your own energy source
Don't wait until food becomes scarce; start preparing for the future now by becoming as self-reliant as possible. Your long-term chances of survival could very well depend on your ability to feed yourself and your family without relying on someone else.
Whatever design you would choose to use for your do-it-yourself greenhouse will be better than having no greenhouse at all and when Spring is just around the corner how nice would it be to get an early start on those seedling and boost the progress of your garden. I hope this post inspires you and below are a few items you can order to help you along in your greenhouse pursuits. Straw Bale Gardening (The latest trend is growing vegetables in straw bales, a method that resembles container gardening, except that the bales are both the container and the planting medium)
The Lost Ways (Learn the long forgotten secrets that helped our forefathers survive famines,wars,economic crisis and anything else life threw at them)
Survive Attack to Our Power Grid System (Weapon That Can Instantly End Modern Life in America)
Survival MD (Best Post Collapse First Aid Survival Guide Ever)
Backyard Innovator (A Self Sustaining Source Of Fresh Meat,Vegetables And Clean Drinking Water)
Blackout USA (EMP survival and preparedness)
Conquering the coming collapse (Financial advice and preparedness )
Liberty Generator (Build and make your own energy source)
Backyard Liberty (Easy and cheap DIY Aquaponic system to grow your organic and living food bank)
Bullet Proof Home (A Prepper's Guide in Safeguarding a Home )
Family Self Defense (Best Self Defense Strategies For You And Your Family)
 Survive Any Crisis (Best  Items To Hoard For A Long Term Crisis)
Survive The End Days (Biggest Cover Up Of Our President)
Drought USA (Discover The Amazing Device That Turns Air Into Water)