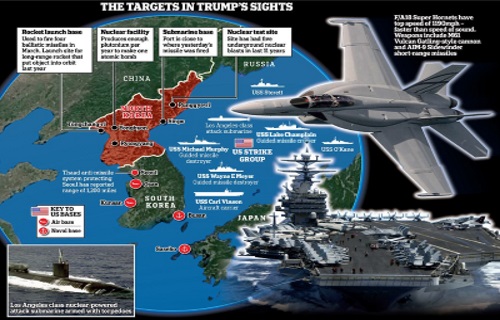 The Senate Armed Services Committee held a hearing on U.S. military strategy in the Asia-Pacific region. Admiral Harry Harris, commander of U.S. Pacific Command, testified primarily on the escalating situation with North Korea and offered his assessment of where the U.S. stands militarily.
By all reports, Pacific Command commander Admiral Harry Harris is a cool-headed warrior, not someone given to shouting that the sky is falling. (A Japanese-American, his appointment as PACOM boss unsettled the Chinese.) A friend of mine who knew Harris very well during their days at the Naval Academy said he's "as straight a shooter as you can get.")
Testifying to Congress last week about North Korea's ability to strike the United States with a nuclear-armed ballistic missile, Harris said, "The crisis on the Korean peninsula is real — the worst I've seen.… There is some doubt within the intelligence community whether Kim Jong Un has that capability today or whether he will soon, but I have to assume he has it, the capability is real, and that he's moving towards it." When a gent such as Harris says that it's something we have to take seriously.
What, then, do we do?
Relying on China to stop North Korea's nuclear and missile programs simply won't succeed. Chinese Foreign Minister Wang Yi told the U.N. that "the key to solving the nuclear issue on the [Korean] peninsula does not lie in the hands of the Chinese side."
Beyond anything else, we have to realize that North Korea, like Iran, will never give up its nuclear weapons or ballistic missiles peacefully. That's not our choice, but it is reality.
We're doing some things right. The deployment to South Korea of our Terminal High-Altitude Air Defense system — THAAD — began last week. It doesn't entirely cancel the threat of the North Korean missiles but clearly reduces the threat substantially. (President Trump's demand that South Korea pay for it was, fortunately, corrected by National Security Advisor Lt. Gen. H. R. McMaster.)
Kim's regime must have been unsettled by our dropping the MOAB — the 20,000 pound Massive Ordinance Air Blast bomb — on the Taliban a couple of weeks ago. Unless they're dumber than I think they are, they understand that one of those bombs, dropped by a stealthy B-2, would obliterate a square mile of their massed artillery.
North Korea will soon have the ability to launch a nuclear attack against the U.S. that would detonate at an altitude planned to create a massive electromagnetic pulse across Hawaii or a large part of the U.S. mainland. If successful, millions of Americans could die in the aftermath.
Our missile defenses stand in the way, but they must — as Adm. Harris warned — be increased and improved.
As I've written before, if we have the ability to perform a cyberattack that prevents missile launches or nuclear tests, we should use it at every opportunity. If we don't, we should develop it as soon as possible.
Shooting down North Korean missiles will have to be done whenever we detect a launch that could result in a warhead being delivered to South Korea, Japan, or the United States.
While the US has said that the warships are there to put pressure North Korea who has threatened to attack the US with nuclear weapons, China is increasingly worried over the presence of the fleet so close to its own waters.
Beyond that, there's not much we can do without going to war. If the North Koreans want to start a war, there's nothing more we can do than defeat it and destroy the Kim regime.
War with North Korea — and Iran — will come. Living with the threat of their nuclear weapons and missiles isn't a choice because they will use them when — by ideology, insanity or paranoia — they are driven to do so. Deterrence works but only up to that point.
North Korea 'not afraid' as it plans sixth nuclear test, UK ambassador says. Hope this video will help less for you. This is the latest warning North Korea after Donald Trump sent an 'armada', including a nuclear-powered submarine and aircraft carriers, into the region in a show of force.
South Korea's newly elected President Moon Jae-in has vowed to begin efforts solve the "security crisis" on the peninsula amid tensions between North Korea and America.
Can North Korea attack the US power grid? Dr. Peter Pry, executive director of the Task Force on National and Homeland Security, on North Korea allegedly preparing to attack the U.S. power grid.
Survival Food Prepping Ideas/ULTIMATE Top Skills 2017
Discover how to survive: Most complete survival tactics, tips, skills and ideas like how to make pemmican, snow shoes, knives, soap, beer, smoke houses, bullets, survival bread, water wheels, herbal poultices, Indian round houses, root cellars, primitive navigation, and much more at: The Lost Ways
The Lost Ways is a far-reaching book with chapters ranging from simple things like making tasty bark-bread-like people did when there was no food-to building a traditional backyard smokehouse… and many, many, many more!
Here's just a glimpse of what you'll find in The Lost Ways:
From Ruff Simons, an old west history expert and former deputy, you'll learn the techniques and methods used by the wise sheriffs from the frontiers to defend an entire village despite being outnumbered and outgunned by gangs of robbers and bandits, and how you can use their wisdom to defend your home against looters when you'll be surrounded.
Native American ERIK BAINBRIDGE – who took part in the reconstruction of the native village of Kule Loklo in California, will show you how Native Americans build the subterranean roundhouse, an underground house that today will serve you as a storm shelter, a perfectly camouflaged hideout, or a bunker. It can easily shelter three to four families, so how will you feel if, when all hell breaks loose, you'll be able to call all your loved ones and offer them guidance and shelter? Besides that, the subterranean roundhouse makes an awesome root cellar where you can keep all your food and water reserves year-round.
From Shannon Azares you'll learn how sailors from the XVII century preserved water in their ships for months on end, even years and how you can use this method to preserve clean water for your family cost-free.
Mike Searson – who is a Firearm and Old West history expert – will show you what to do when there is no more ammo to be had, how people who wandered the West managed to hunt eight deer with six bullets, and why their supply of ammo never ran out. Remember the panic buying in the first half of 2013? That was nothing compared to what's going to precede the collapse.
From Susan Morrow, an ex-science teacher and chemist, you'll master "The Art of Poultice." She says, "If you really explore the ingredients from which our forefathers made poultices, you'll be totally surprised by the similarities with modern medicines." Well…how would you feel in a crisis to be the only one from the group knowledgeable about this lost skill? When there are no more antibiotics, people will turn to you to save their ill children's lives.
If you liked our video tutorial on how to make Pemmican, then you'll love this: I will show you how to make another superfood that our troops were using in the Independence war, and even George Washington ate on several occasions. This food never goes bad. And I'm not talking about honey or vinegar. I'm talking about real food! The awesome part is that you can make this food in just 10 minutes and I'm pretty sure that you already have the ingredients in your house right now.
Really, this is all just a peek.
The Lost Ways is a far–reaching book with chapters ranging from simple things like making tasty bark-bread-like people did when there was no food-to building a traditional backyard smokehouse… and many, many, many more!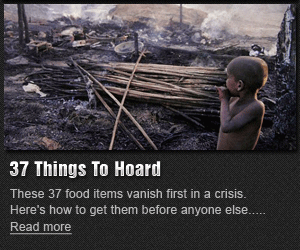 And believe it or not, this is not all…
Table Of Contents:
The Most Important Thing
Making Your Own Beverages: Beer to Stronger Stuff
Ginger Beer: Making Soda the Old Fashioned Way
How North American Indians and Early Pioneers Made Pemmican
Spycraft: Military Correspondence During The 1700's to 1900's
Wild West Guns for SHTF and a Guide to Rolling Your Own Ammo
How Our Forefathers Built Their Sawmills, Grain Mills,and Stamping Mills
How Our Ancestors Made Herbal Poultice to Heal Their Wounds
What Our Ancestors Were Foraging For? or How to Wildcraft Your Table
How Our Ancestors Navigated Without Using a GPS System
How Our Forefathers Made Knives
How Our Forefathers Made Snow shoes for Survival
How North California Native Americans Built Their Semi-subterranean Roundhouses
Our Ancestors'Guide to Root Cellars
Good Old Fashioned Cooking on an Open Flame
Learning from Our Ancestors How to Preserve Water
Learning from Our Ancestors How to Take Care of Our Hygiene When There Isn't Anything to Buy
How and Why I Prefer to Make Soap with Modern Ingredients
Temporarily Installing a Wood-Burning Stove during Emergencies
Making Traditional and Survival Bark Bread…….
Trapping in Winter for Beaver and Muskrat Just like Our Forefathers Did
How to Make a Smokehouse and Smoke Fish
Survival Lessons From The Donner Party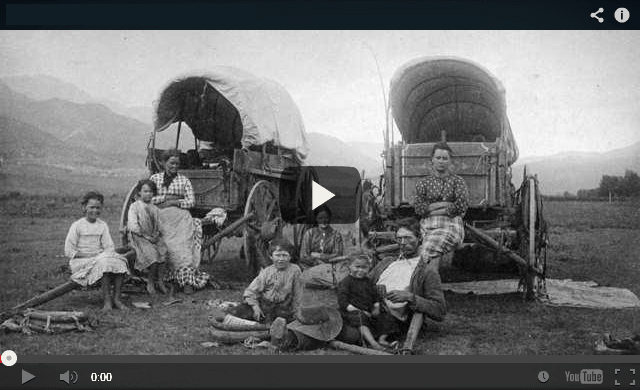 Books can be your best pre-collapse investment.
The Lost Ways (Learn the long forgotten secrets that helped our forefathers survive famines,wars,economic crisis and anything else life threw at them)
Survival MD (Best Post Collapse First Aid Survival Guide Ever)
Conquering the coming collapse (Financial advice and preparedness )
Liberty Generator (Build and make your own energy source)
Backyard Liberty (Easy and cheap DIY Aquaponic system to grow your organic and living food bank)
Bullet Proof Home (A Prepper's Guide in Safeguarding a Home )
Family Self Defense (Best Self Defense Strategies For You And Your Family)
 Survive Any Crisis (Best  Items To Hoard For A Long Term Crisis)
Survive The End Days (Biggest Cover Up Of Our President)
Drought USA (Discover The Amazing Device That Turns Air Into Water)