Best Solar Powered Devices for Survival
You'll never think to include solar powered survival devices to your shopping cart until you absolutely need them and are left wishing you had. Preparing a survival plan can seem overly cautious, but it is an important component to helping you feel safe and ready for anything. In the modern world, it's hard to imagine a loss of power, but in the event that we are faced with this, finding solar powered survival tools is a must. With so many gadgets on the market today, its hard to know which are the most beneficial. At Modernize you can find tons of suggestions on how to switch to solar. It can be fun to find interesting solar powered gadgets that will also give you a sense of security and peace of mind.
RELATED : When Disaster Strikes and Security Systems Fail: How do We Fix That?
Hybrid Solar Powered Oven
Solar ovens are relatively low-tech and easy to maneuver. They can make an incredible accessory for cooking meals off the grid. SunFocus creates a hybrid solar oven which enables it to continue to cook efficiently even when its cloudy. The oven itself is large and can handle up to twelve pounds of food at a time. The modern design and bright yellow color has quickly made it a favorite for modern survivalists.
Solar Fire Starter
The Tinder Hot Box solar fire starter could be a lifesaver when it comes to starting a fire. This remarkable device can start a fire with no fuel or moving parts. It is airtight and watertight and needs only access to the sun to create a flame. Survivalists know that being able to start a fire in the wilderness is essential to any plan and this device makes it so easy.
RELATED : The Multi-Fuel Generator: Don't Depend on Just Gas…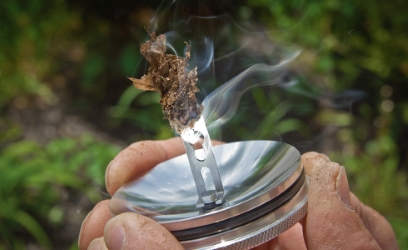 Via Gearhungry
Solar Charging Backpack
The Voltaic Solar Backpack charges all of your electronics inside the backpack. This pack is perfect for hikes or any other traveling. Over the front of the pack are three waterproof and durable charging solar panels which give off plenty of energy to charge all of your devices. Inside the pack, channels run down the straps that link into eleven different adaptors to fit into your charging ports. A light alerts you to when you are picking up solar energy to make it easy to determine your charging power.
RELATED : Building your own generator (on the cheap).
Earl Solar Powered Survival Tablet
Earl is an Android powered solar tablet with two-way radio. Earl was designed as the perfect off-grid gadget and can help you survive in any conditions. With a touchscreen and totally waterproof design, this device will be ready for anything. Earl can handle temperatures from 0 to -50C and altitudes to 40,000 ft. The GPS gives you access to over 300,000 trail maps and senses weather conditions and can even forecast the conditions in the future. Earl features a walkie talkie mode that can reach up to 20 miles away. All of these stunning features make it a must-have for any eco survivalist.
Via Meetearl
Solar Powered Tent
Solar threads are woven right into the fabric of the Kaleidoscope Concept tent. A control center contains a wireless charging pouch and uses high-tech magnetic charging to keep all of your devices charged inside. The control center also features an indoor heating system allowing survivalists to stay warm in the cooler months. The tent also features Glo-tech technology, helping you find your tent by sending out a glow signal at your command.
RELATED : The 11 Things You'll Need To Survive The End Of The World

Other useful resources:
Survival MD (Best Post Collapse First Aid Survival Guide Ever)
Backyard Innovator (A Self Sustaining Source Of Fresh Meat,Vegetables And Clean Drinking Water)
Blackout USA (EMP survival and preparedness)
Conquering the coming collapse (Financial advice and preparedness )
Liberty Generator (Build and make your own energy source)
Backyard Liberty (Easy and cheap DIY Aquaponic system to grow your organic and living food bank)
Bullet Proof Home (A Prepper's Guide in Safeguarding a Home )
Family Self Defense (Best Self Defense Strategies For You And Your Family)
Sold Out After Crisis (Best 37 Items To Hoard For A Long Term Crisis)
Survive The End Days (Biggest Cover Up Of Our President)
Drought USA(Discover The Amazing Device That Turns Air Into Water)