BREAKING: OBAMA  WILL ASK CAMERON & THE EU FOR SUPPORT IN WAR AGAINST RUSSIA
Is Obama trying to cling on to power of presidency for as long as possible, Since he cannot be removed from office during a major conflict?
Reports are coming from German Economic News Station that on April 25th, the U.S. President will hold a "summit meeting" in Hannover Germany with the leaders Angela Merkel, Matteo Renzi, Francois Hollande, & David Cameron. The presumed objective of this meeting is to establish in NATO's countries bordering on Russia, a military force of all five countries that are headed by these leaders, a force threatening Russia with an invasion, if NATO subsequently decides that the 'threat from Russia' be 'responded to' militarily.
The media recently stated that Russia simulated an air attack on U.S Naval Ships, but failed to show how close they were to Russian territory.  The prospect of a war with Russia looms as The EU & America push to try and gain a closer relationship with the Ukraine, who if and when become members of the EU, would be able to accommodate western armies and nuclear warheads on Russia's doorstep, something that Vladimir Putin is trying desperately to prevent.
As you can see, the 'Baltic Sea' where these U.S warships were, is thousands of miles away from America, and close to Russia.  Where as Russia has NO warships coasting near U.S waters.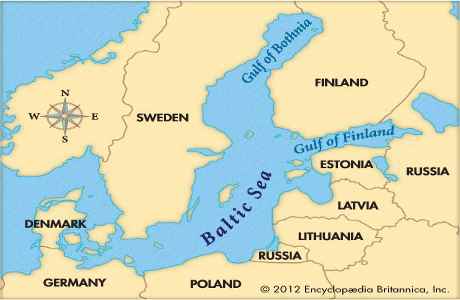 GlobalResearch.CA:  According to Deutsche Wirtschafts Nachrichten (German Economic News), on April 23rd, U.S. President Barack Obama is "demanding the active deployment of the Bundeswehr [Germany's armed forces, including their Army, Navy, and Air Force] to NATO's eastern borders" at Poland and the Baltic republics, to join the quadrupling of America's forces there, on and near those borders of Russia.  This is an extreme violation of what Russian leader Mikhail Gorbachev agreed to when he ended the Soviet Union and its NATO-mirror organization the Warsaw Pact, but it's actually culminating a process that began shortly after he agreed to America's terms, which included that NATO "not move one inch to the east."Ron Paul Warns of Dollar Collapse 100% In 28 May 2016 – China And Russia Are Preparing For A Bankrupt US Financial System
NATO's surrounding Russia with hostile forces is supposedly defensive against Russia — not an offensive operation. During the 1962 Cuban Missile Crisis, America's President JFK didn't consider Soviet dictator Nikita Khrushchev's plan to base nuclear missiles in Cuba to be 'defensive' on the USSR's part — and neither does Russia's President Vladimir Putin consider America's far bigger operation, of surrounding Russia with such weapons, to be 'defensive' and not offensive. The U.S. Government, and NATO, act as if Russia is surrounding them, instead of them surrounding Russia — and their 'news' media transmit this lie as if it should be taken seriously, not as its being a lie; but, in actual fact, NATO has already expanded right up to Russia's western borders.
Obama is thus now adding to the economic sanctions against Russia that he had imposed allegedly because of Russia's alleged 'seizure' of Crimea from Ukraine after Obama's coup overthrew Russia's ally Viktor Yanukovych who led Ukraine until the coup in February 2014.
Right after Crimean's voted overwhelmingly to rejoin Russia, Obama slapped sanctions against Russia (even though Western-sponsored polls in Crimea, both before and after the coup, had shown higher than 90% support by Crimean's for rejoining with Russia), and nuclear weapons were prepared, both on the U.S.-EU side and on the Russian side, for a possible nuclear war.
This is no mere restoration of the Cold War (which was based upon the capitalist-communist ideological disagreement); it's instead getting forces into position for a possible invasion of Russia, pure-and-simple — raw conquest — though no major news-media in the West are reporting it as being such.
That preparation doesn't necessarily mean a nuclear war will result. Russia might accept whatever the demands of 'the West' are, and thus lose its national sovereignty. Otherwise, 'the West' (the U.S leadership, and the leaderships in its allied countries) might quit their evermore-ominous threats, and simply withdraw from Russia's borders, if Russia stands-its-ground and refuses to yield up its national sovereignty.
Basically, the U.S. leadership decided to take over Ukraine, and refused to acknowledge the rights of the Crimean people to reject being conquered by the U.S. — and Russia's leadership decided to protect them against the type of invasion that subsequently occurred in Ukraine's former Donbass region, where the opposition to Obama's coup was even more intense. How to Survive a Russian Invasion of the United States
Supposedly, 'the West' is asserting that Russia is somehow in the wrong here; but, since even the head of Stratfor has called what Obama did in Ukraine "the most blatant coup in history", and since the fact that it was a U.S. coup has been documented extensively on cell-phone and other videos, and in the most thorough academic investigation that has been performed of the matter — and was even acknowledged by Ukraine's Petro Poroshenko, a participant in the coup, to have been a coup — and since evidence survives on the Internet of the U.S. Embassy's preparations as early as 1 March 2013for the February 2014 coup; and since even the U.S. government's hired polls showed that Crimean's rejected overwhelmingly the U.S. coup and supported rejoining Russia; the question still needs to be answered: What basis of 'the West's' aggressive actions threatening Russia's national security is there, other than such lies by the West, against Russia's President? And, that's a very worrisome basis — worrisome regarding, essentially, dictatorship in 'the West', rather than -regarding any dictatorship outside 'the West'. The dictatorship here seems clearly to be coming from the West, against the East. Countdown to War: The Coming U.S.-Russia Conflict
SOURCE : truthcdm.com
Would you be able to sustain your loved ones when all hell brakes loose?In this video, I will unearth a long-forgotten secret that helped our ancestors survive famines, wars, economic crises, diseases, droughts, and anything else life threw at them… a secret that will help you do the same for your loved ones when America crumbles into the ground.I'm also going to share with you three old lessons that will ensure your children will be well fed when others are rummaging through garbage bins. Click here to learn all about the 3 skills that will help you thrive in any crises situation.
The Lost Ways (Learn the long forgotten secrets that helped our forefathers survive famines,wars,economic crisis and anything else life threw at them)
Survive Attack to Our Power Grid System (Weapon That Can Instantly End Modern Life in America)
Survival MD (Best Post Collapse First Aid Survival Guide Ever)
Backyard Innovator (A Self Sustaining Source Of Fresh Meat,Vegetables And Clean Drinking Water)
Blackout USA (EMP survival and preparedness)
Conquering the coming collapse (Financial advice and preparedness )
Liberty Generator (Build and make your own energy source)
Backyard Liberty (Easy and cheap DIY Aquaponic system to grow your organic and living food bank)
Bullet Proof Home (A Prepper's Guide in Safeguarding a Home )
Family Self Defense (Best Self Defense Strategies For You And Your Family)
 Survive Any Crisis (Best  Items To Hoard For A Long Term Crisis)
Survive The End Days (Biggest Cover Up Of Our President)
Drought USA (Discover The Amazing Device That Turns Air Into Water)